A familiar gorgeous 6.5-inch, FullHD+, 120Hz Super AMOLED display
The Galaxy A53 5G borrows its display from the A52s 5G, which borrows it from the A52 5G, so it is essentially being carried forward a second time. We are hardly complaining since this is an excellent panel. At 6.5-inches in diagonal and with a FullHD+ resolution of 1080 x 2400 pixels (20:9), it has a sharp 405 ppi or so.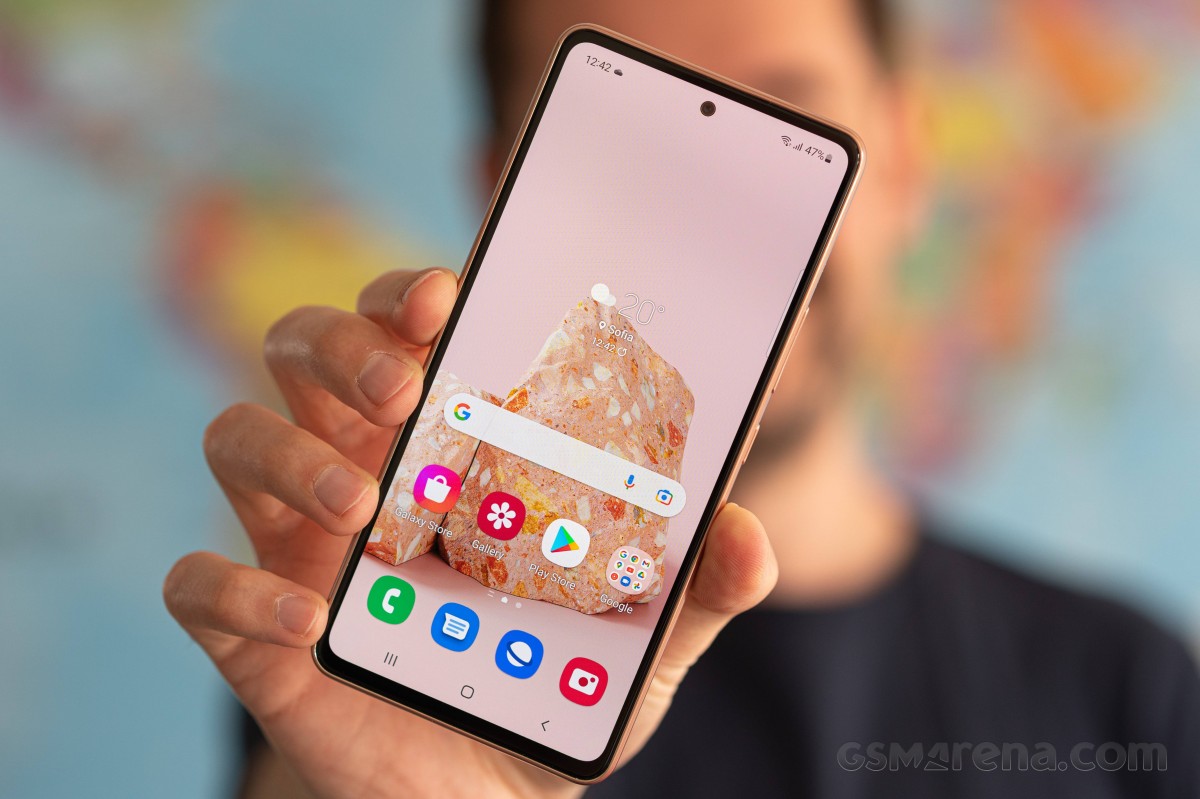 In general, Samsung maintains an industry-leading position when it comes to its OLED panels. Even though the particular one inside the Galaxy A53 5G isn't a top-of-the-line Dynamic AMOLED but rather a slightly simpler Super AMOLED unit, it is still excellent. Plus, the Korean giant hasn't stopped innovating and incrementally upgrading any of its OLED lines. While we didn't manage to track down the particular panel tech generation for the A53 5G, we did verify its excellent performance in testing.
It managed an excellent 427 nits of max brightness on the slider and then hit an impressive 830 nits of max auto when exposed to bright sunlight. That's more than the advertised 800 nits and a truly great showing, making the A53 5G perfectly usable outdoors.
Display test
100% brightness
Black,cd/m2
White,cd/m2
Contrast ratio
Samsung Galaxy S22 Ultra (Max Auto)
0
1266
∞
Samsung Galaxy S22 (Max Auto)
0
982
∞
Samsung Galaxy A53 5G (Max Auto)
0
830
∞
Samsung Galaxy A52s 5G (Max Auto)
0
800
∞
Samsung Galaxy A52 (Max Auto)
0
794
∞
Samsung Galaxy S21 FE 5G
0
792
∞
Samsung Galaxy A52 5G (Max Auto)
0
787
∞
Samsung Galaxy M52 5G (Max Auto)
0
777
∞
Xiaomi Redmi Note 11 Pro+ 5G (Max Auto)
0
760
∞
Poco X4 Pro (Max Auto)
0
754
∞
Xiaomi Redmi Note 11 Pro 5G (Max Auto)
0
746
∞
Xiaomi Redmi Note 11 (Max Auto)
0
736
∞
Poco F3 (Max Auto)
0
716
∞
Realme 9 Pro+ (Max Auito)
0
613
∞
Realme 9 Pro (Max Auto)
0.385
567
1473:1
Poco F3
0
511
∞
Samsung Galaxy S22 Ultra
0
494
∞
Xiaomi Redmi Note 11 Pro+ 5G
0
479
∞
Poco X4 Pro
0
477
∞
Xiaomi Redmi Note 11 Pro 5G
0
470
∞
Samsung Galaxy S22
0
465
∞
Xiaomi Redmi Note 11
0
465
∞
Realme 9 Pro
0.288
461
1601:1
Realme 9 Pro+
0
433
∞
Samsung Galaxy A53 5G
0
427
∞
Samsung Galaxy M52 5G
0
402
∞
Samsung Galaxy A52
0
386
∞
Samsung Galaxy S21 FE 5G (before second slide)
0
385
∞
Samsung Galaxy A52s 5G
0
383
∞
Samsung Galaxy A52 5G
0
378
∞
The minimum brightness at point white we measured was 1.9 nits, so no issues with usage in a dark room either.
Naturally, since this is an OLED panel, you get the benefits of perfect blacks and essentially infinite contrast ratio. Light uniformity is also perfect, which can sometimes be an issue on cheaper LCD panels.
The screen is tuned to comply with the DCI-P3 (Vivid mode) or sRGB (Natural mode) color spaces. The accuracy is great for the Vivid profile - the colors are not too saturated, but the white and grey hues are a bit bluish. The Natural mode yields perfect against sRGB.
The Galaxy A53 5G does not officially advertise HDR support. That is to say that its display is not formally certified for HDR and that the OS won't trigger any special HDR mode when presented with HDR content. The video decoder is more than happy to decode some HDR content for you, though. In software, the A53 5G reports HDR10 and HLG support. The missing standards are Dolby Vision and HDR10+. Of course, to actually display said content on screen, the phone will do some on-the-fly HDR to SDR tone mapping for you.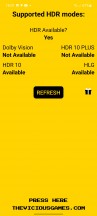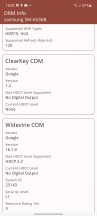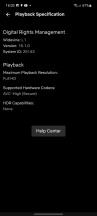 HDR support • Widevine DRM • Netflix playback capabilities
Naturally, the A53 5G also has Google's highest Widevine L1 DRM certification that allows it to stream high-definition video from services like Netflix. Netflix was more than happy to offer up FullHD streams in order to saturate the native 1080p+ display resolution.
High refresh rate handling
The Galaxy A53 5G has a 120Hz Super AMOLED display but lacks any fancy automatic switching logic, like what you would see on Galaxy S devices. The A53 5G just has two options for Motion Smoothness - Normal, which is a fixed 60Hz mode and High, which is a fixed 120Hz mode. Digging through the Android display APIs, there are clearly no hidden additional refresh rate modes either. It's either 60Hz all of the time or 120Hz all of the time.
That's not necessarily a bad thing either, since it ultimately leads to less confusion regarding day-to-day use and varying refresh rates. It is also good to note that the display refresh rate and the fps the system is rendering are two different things.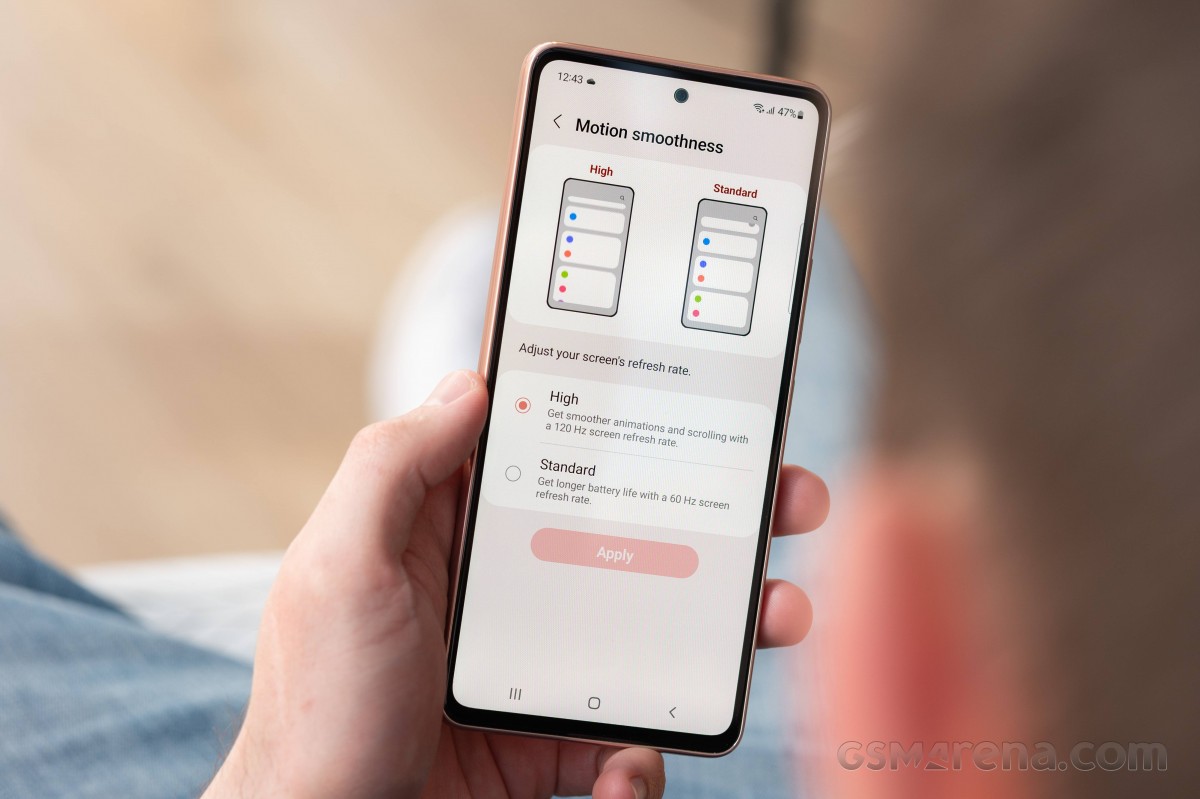 The refresh rate is sort of an "fps cap", while the Android OS can still decide how many frames a second to render things at in various scenarios, reducing the system load and saving power. To monitor that, Samsung has included a nifty tool in the Developer menu called GPU Watch, which exposes an overlay for what the Android SurfaceFlinger is outputting to the graphical buffer. In other words, this is an fps counter rather than a refresh rate setting for the display.
In 120Hz mode, you can expect almost every app and system UI to render at 120-ish fps while there is some movement on the screen. Once you leave a static image alone for a while, the Surface Flinger eventually drops down to 1fps in terms of rendering, which is good for battery efficiency.
You can observe the same behavior in pretty much any app as well.
While playing video, you can also see the rendering fps mostly match the video fps, but with the display still refreshing at 120Hz the whole time, which is not the most efficient setup. If you consume a lot of video, you can probably benefit from switching manually to 60Hz.
There are very few special apps that can still force the Galaxy A53 5G down to 60Hz even when it is set to 120Hz. Google Maps is a notable example since some of the rendering of the map is tightly tied to a 60Hz refresh rate.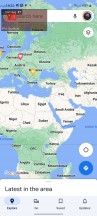 Google Maps always runs at 60Hz
The app itself can request a 60Hz refresh rate if the developer deems it necessary. Technically, nothing is preventing Samsung from implementing a system-wide, per-app refresh rate selector in place of automatic refresh rate switching that would arguably even be simpler and clearer to deal with. That's not a thing yet on One UI, though other manufacturers have already implemented the feature. But, we digress.
All of the browsers we tried (Samsung Internet, Google Chrome and Mozilla Firefox) were perfectly happy to run in 120Hz mode and render at more than 60Hz for smoother scrolling and animation. Using the popular UFO test, in particular, none of the browsers actually managed to lock a 120fps rendering pace, which suggests the hardware is not powerful enough to do so. Even so, you can easily get fps numbers above 60 and benefit from smoother browsing.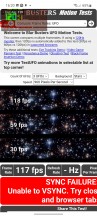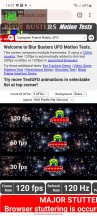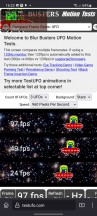 Web browsers working at 120Hz: Samsung Internet • Google Chrome • Mozilla Firefox
High frame rate gaming remains one of the most viable use cases for a high refresh rate display. We tried a few Android games known to be able to render at more than 60fps and are happy to say that all of them did so on the Galaxy A53 5G. That being said, it is still evident that the GPU inside the Galaxy A53 5G isn't super powerful and can't push 120fps on some more graphically-intense titles. However, any simpler and especially 2D games, however, are perfectly happy to essentially lock at 120fps.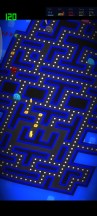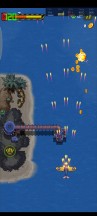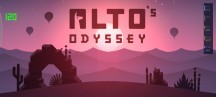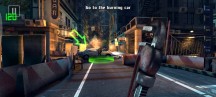 Games making use of the 120Hz refresh rate
On a side note, we appreciate that Samsung has a way to display an in-game FPS counter that works on many of its phones. However, it is still not baked into the default Game Launcher for some odd reason and is poorly advertised overall. The feature is called Perf Z and is actually a plugin that adds an in-game FPS counter, presumably taken from hooking directly into the graphics rendering pipeline. You need to obtain it through the Game Plugins app available for many Samsung phones on the Samsung app store. We used it for our game testing.
Quickly summing up our observations, the Galaxy A53 5G basically has two static refresh rate modes - 120Hz and 60Hz. No automatic switching or fancy logic is in place, and that has its negatives and plenty of positives. You can expect most apps and games to render at over 60fps and as near to 120fps as available performance permits while running in 120Hz mode - no further complexities.
Battery life
The Galaxy A53 5G has a 5,000mAh battery which stands out with the A52s 5G, the A52 5G and the A52 all rocking 4,500mAh batteries. An argument could be made that with a 5nm manufacturing process, the new Exynos 1280 chipset should be theoretically more efficient than the 6nm Snapdragon 778G it is replacing. That's, unfortunately, not as simple or nearly as straightforward, especially when trying to compare manufacturing processes across different chip foundries. Regardless, with the display essentially the same as last year, all of the responsibility for battery life falls on the new Samsung chipset and its network modem.
The Galaxy A53 5G managed a solid 113 hours of total battery endurance in our standardised testing. Exactly the same as its predecessor, but with slightly different individual scores.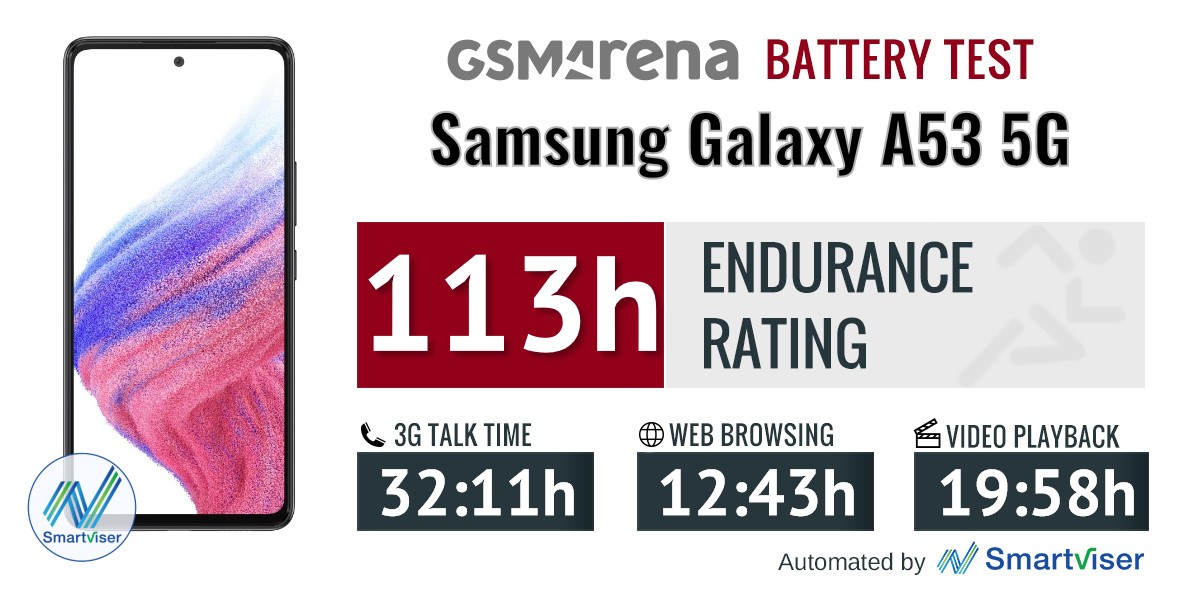 The A53 5G managed to squeeze a few more hours of standby from a single charge but then fell short in the 3G call test. Both on-screen endurance ratings are nearly identical to those on the A52s 5G, with just a slight uptick. Just to clarify, the web test was done at 120Hz, whereas the video playback was at 60Hz.
While overall, we can't complain about the battery endurance at all, we can't glance over the fact that the A53 5G has 500 mAh of battery extra, which isn't translating into obviously better battery scores. Of course, some of this might de down to tuning and tweaking. The Exynos 1280 is a brand new chip, after all. Then again, there is also the possibility that the Exynos 1280 simply isn't as efficient overall as Qualcomm chips from past Galaxy A5X devices, like the Snapdragon 778G. In that sense, the 500 mAh extra battery might have been a necessity rather than a bonus. Though, since its neither increasing the weight nor the girth of the phone, it is hard to complain once more.
Our battery tests were automated thanks to SmartViser, using its viSerDevice app. The endurance rating denotes how long the battery charge will last you if you use the device for an hour of telephony, web browsing, and video playback daily. More details can be found here.
Video test carried out in 60Hz refresh rate mode. Web browsing test done at the display's highest refresh rate whenever possible. Refer to the respective reviews for specifics. To adjust the endurance rating formula to match your own usage patterns check out our all-time battery test results chart where you can also find all phones we've tested.
Charging speed
The Galaxy A53 5G supports 25W fast charging, just like its predecessor and quite a few other recent Samsung devices. In fact, it has sort of become the de facto standard for the Korean Giant lately. Said 25W is achieved using USB Power Delivery, which is great to see for its universal nature.
Although Samsung does include some funky PPS profiles in its own chargers, they don't seem to make much difference, and you can just as easily get a good, standard PD charger. Something you'll probably have to do since, in most markets, the Galaxy A53 5G ships without a charger in the box.
As is typically the case with charging wattages, that figure is merely the peak output and hardly tells the whole story. In reality, the A53 5G is far from a speedy charger and gets outperformed by its predecessor in a 30-minute charge race.
30min charging test (from 0%)
Higher is better
Xiaomi Redmi Note 11 Pro+ 5G
100%
Xiaomi Redmi Note 11 Pro
78%
Realme 9 Pro+
77%
Poco X4 Pro 5G
75%
Xiaomi Redmi Note 11 Pro 5G
74%
Poco F3
67%
Samsung Galaxy S22
63%
Samsung Galaxy S22 Ultra (25W)
61%
Samsung Galaxy S20 FE (25W)
57%
Samsung Galaxy A72
54%
Samsung Galaxy A52s 5G
53%
Samsung Galaxy A52 (25W)
52%
Realme 9 Pro
52%
Samsung Galaxy S21 FE 5G
51%
Xiaomi Redmi Note 11
51%
Samsung Galaxy M52 5G (25W)
50%
Samsung Galaxy A53 5G
45%
Samsung Galaxy A52 5G
34%
Samsung Galaxy A13
27%
Samsung Galaxy A22
23%
Samsung Galaxy A22 5G
23%
Samsung Galaxy A32 5G
23%
Time to full charge (from 0%)
Lower is better
Xiaomi Redmi Note 11 Pro+ 5G
0:16h
Xiaomi Redmi Note 11 Pro 5G
0:45h
Xiaomi Redmi Note 11 Pro
0:48h
Poco X4 Pro 5G
0:49h
Realme 9 Pro+
0:49h
Poco F3
0:56h
Samsung Galaxy S22
1:03h
Samsung Galaxy S22 Ultra (25W)
1:04h
Samsung Galaxy S20 FE (25W)
1:10h
Realme 9 Pro
1:14h
Samsung Galaxy A72
1:15h
Samsung Galaxy S21 FE 5G
1:15h
Xiaomi Redmi Note 11
1:18h
Samsung Galaxy M52 5G (25W)
1:19h
Samsung Galaxy A53 5G
1:24h
Samsung Galaxy A52s 5G
1:28h
Samsung Galaxy A52 (25W)
1:30h
Samsung Galaxy A52 5G
1:39h
Samsung Galaxy A13
2:18h
Samsung Galaxy A22
2:20h
Samsung Galaxy A32 5G
2:24h
Samsung Galaxy A22 5G
2:29h
Once we factor in the larger battery capacity, charging curves and trickle charge, however, a gull charge on the A53 5G takes just under an hour and a half or basically the same as last year's model and pretty much what we've come to expect from mid-range Galaxy devices lately.
Speakers
The Galaxy A53 5G has a hybrid stereo speaker setup with the earpiece acting as the second channel. Not a perfect approach, but quite decent when executed correctly. The A52 5G isn't particularly loud, but even so, its GOOD loudness score in our testing is consistent with what we've seen from other recent Samsung phones.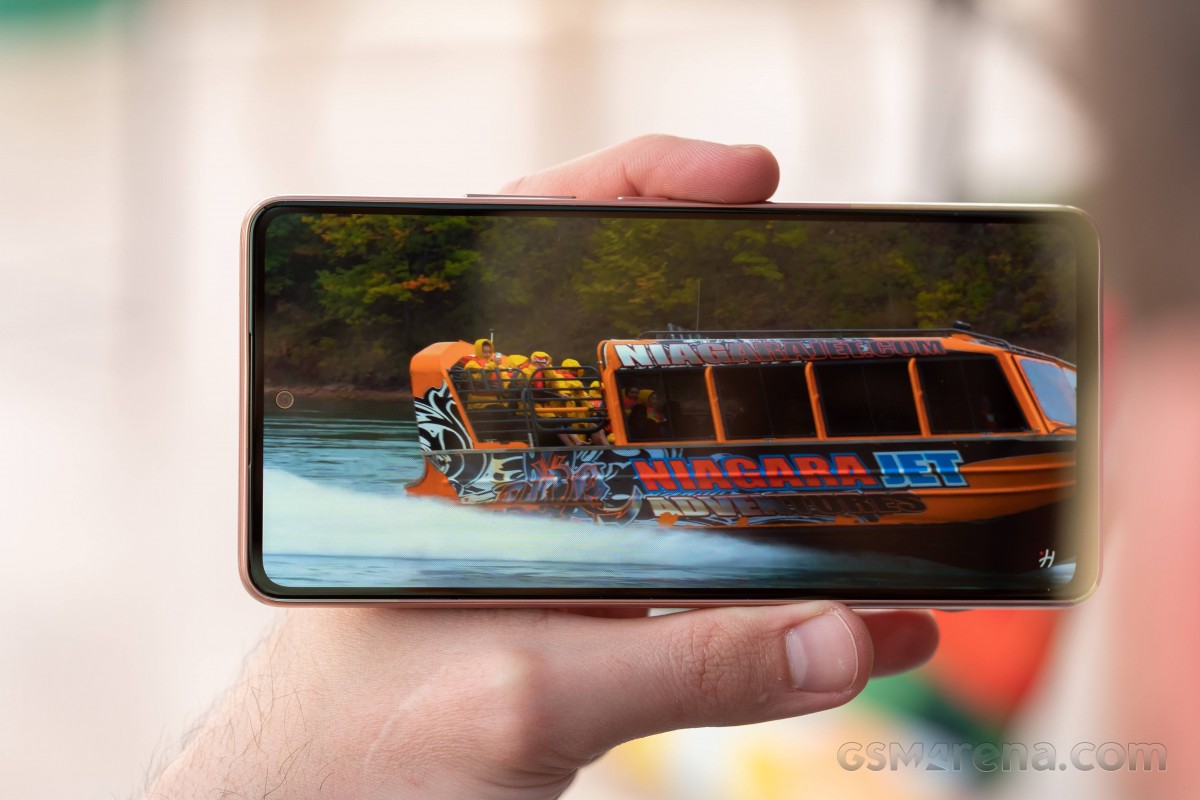 That being said, though, the speaker setup on the A53 does seem like a bit of a downgrade compared to last year's A52s 5G. They don't get quite as loud, but more important still, the frequency response curve isn't as tight, with slightly muddier mids. A competitor with an actual symmetric stereo setup, like the Xiaomi Redmi Note 11, can offer more powerful sound.
On a more positive note, despite its disadvantage in size, the earpiece produces a well-balanced sound compared to the dedicated bottom-firing speaker. Perhaps that tuning required running the latter at less than its potential power, but it's worth it in our book for the sake of a better multimedia experience. Plus, neither speaker distorts audio even at max volume, which is great.
Audio quality can be cleaned up a lot either by using the included equalizer or one of the Dolby Atmos profiles. There is a selection of general multimedia ones as well as a version specifically for games and enhancing things like footsteps for an extra edge. Both do take away from the max loudness of the phone, though. There is also a UHQ upscaler and Adapt sound that lets you tune the sound to your liking or hearing needs.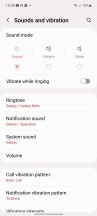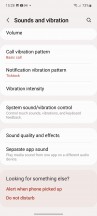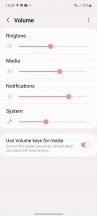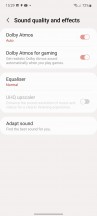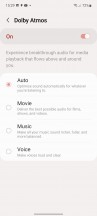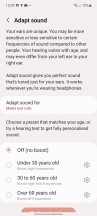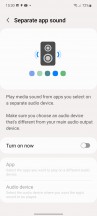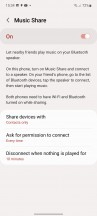 Audio settings, equalizers, Dolby Atmos and additional audio features
Separate app sound is a particularly nifty trick that lets you play the sound from just a given app on a separate audio device like a Bluetooth speaker or headset while the phone is free to play other audio. And Music Share is also on board the A53 5G. It lets nearby friends see a Bluetooth speaker or another audio device already connected to your phone and lets them play audio on said device without connecting to it themselves.
Use the Playback controls to listen to the phone sample recordings (best use headphones). We measure the average loudness of the speakers in LUFS. A lower absolute value means a louder sound. A look at the frequency response chart will tell you how far off the ideal "0db" flat line is the reproduction of the bass, treble, and mid frequencies. You can add more phones to compare how they differ. The scores and ratings are not comparable with our older loudspeaker test. Learn more about how we test here.