Design
The Galaxy A53 5G is still rocking the familiar design originally pioneered by the Galaxy A52. It is anything but a tired look since it is still attractive and recognizable. The particular matter finish on the back, combined with the gentle slope up to the camera island, makes it flow into the rest of the body. The pastel colors make for a very appealing overall silhouette.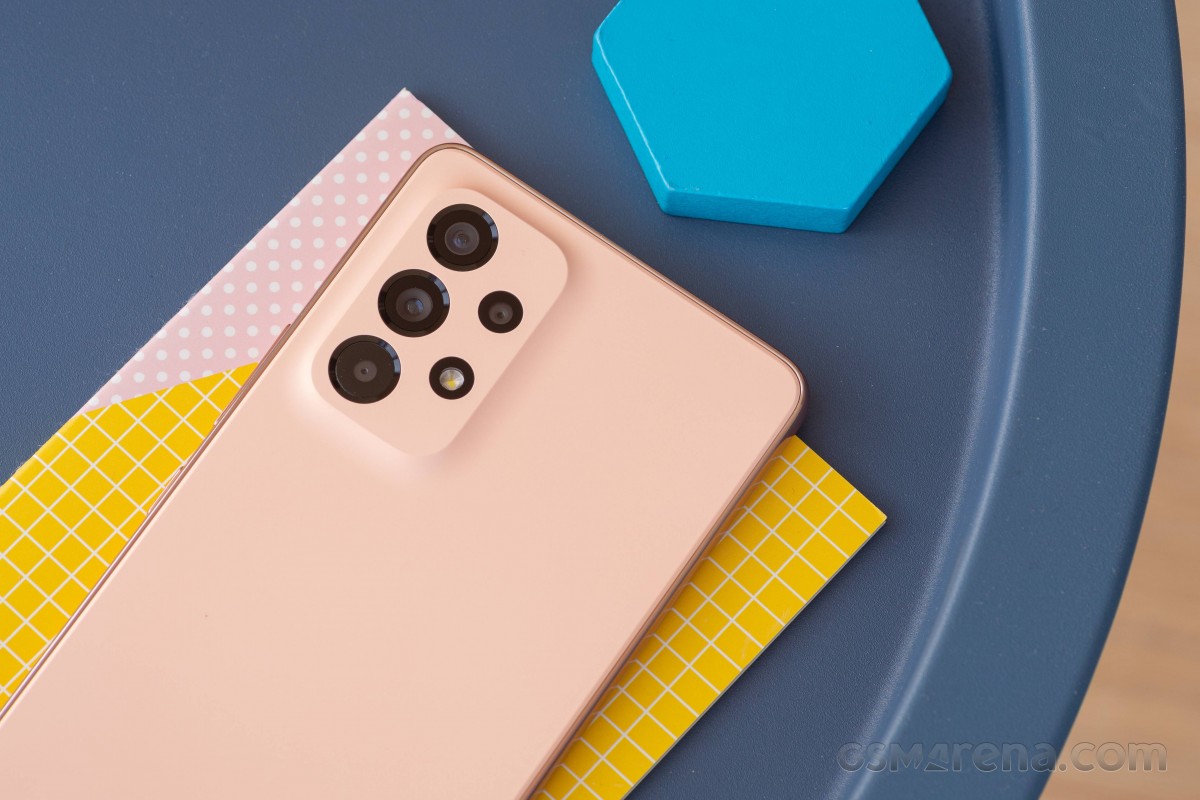 Despite the A53 5G being a bit smaller than its A52s 5G predecessor - 159.6 x 74.8 x 8.1 mm, compared to 159.9 x 75.1 x 8.4 mm, not much has actually changed externally. You would have to actually hold the two devices side by side to notice the said difference in dimensions, and even then, it's hardly major.
You do technically get a better screen-to-body ratio on the front, but we can't pinpoint one of the bezels and call it noticeably "thinner". Perhaps the chin has the most noticeable difference, but in absolute terms, their design is still a mid-range one, and display bezels are still a part of that.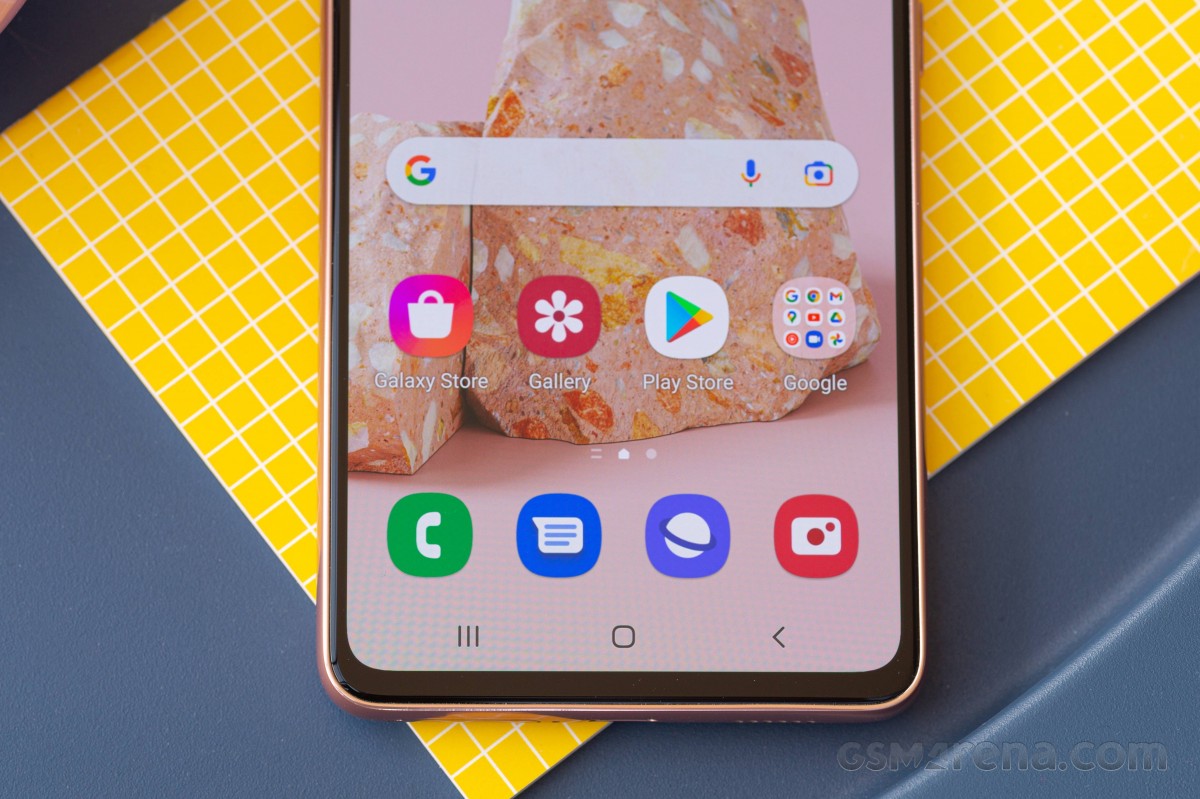 The front of the phone is almost entirely flat, and the AMOLED screen is protected by a flat piece of Gorilla Glass 5. The glass is known for its good shatter resistance, though it isn't as great as scratches are concerned. This being a flat panel, you can easily get a glass screen protector on top if you want that extra peace of mind. Note that if you put a glass shield on, you will also need to re-register your fingerprints for better accuracy.
A smaller body and a bigger battery should mean a heavier phone, but this is not the case since the A53 5G weighs 189 grams, just like its predecessor. Perhaps that's through a combination of improved battery tech and efficiency and some lighter construction for other components. The A53 5G does feel confidently "dense". There is no hollowness to speak of. It is well filled-out on the inside, which inspires confidence while handling. Weight distribution is also great.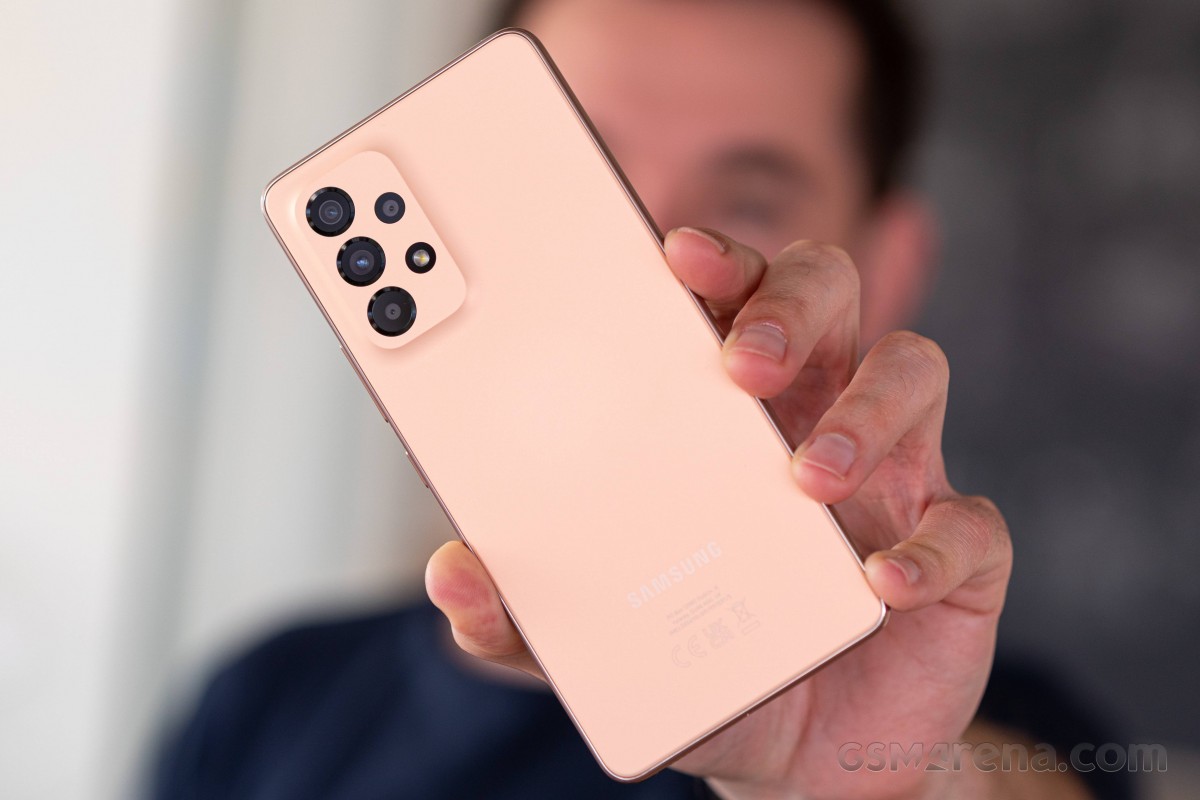 Overall, the A53 5G feels solid and fits snugly in hand. A lot of that has to do with its comfortable rounded body, including a gently-sloping back and rounded middle frame and corners. There is plenty of grip here. Interestingly, despite its glossier finish, the middle frame is even grippier than the back of the phone. It does collect a lot of grease and smudges as well, though.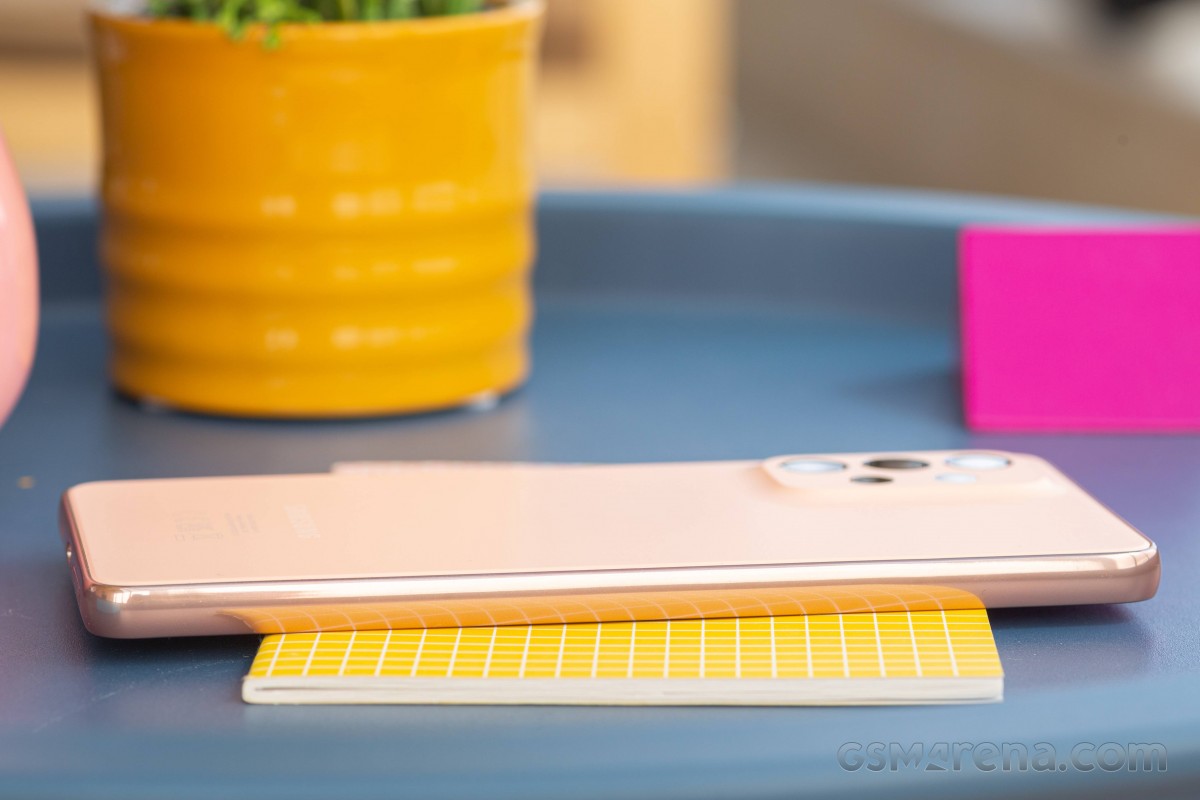 By far, the A53 5G's best angle, however, is from the back. Samsung is mixing up the color selection once again for the A53 5G. You can have it in Black or White as the basic color options, as well as Blue and Peach. Blue has been an option on the A52 and A52 5G, but not the A52s 5G. The first two had the awesome Violet color as well, which you can see in our A52 5G review. The A52s 5G had Purple and Mint as its "fancy" colors. You can check the latter in our A52s 5G review. This year our review unit came in a new color - Awesome Peach. It has a matte pastel tone to it, which we have come to expect and simply looks gorgeous in person, appearing orange or gold depending on the lighting.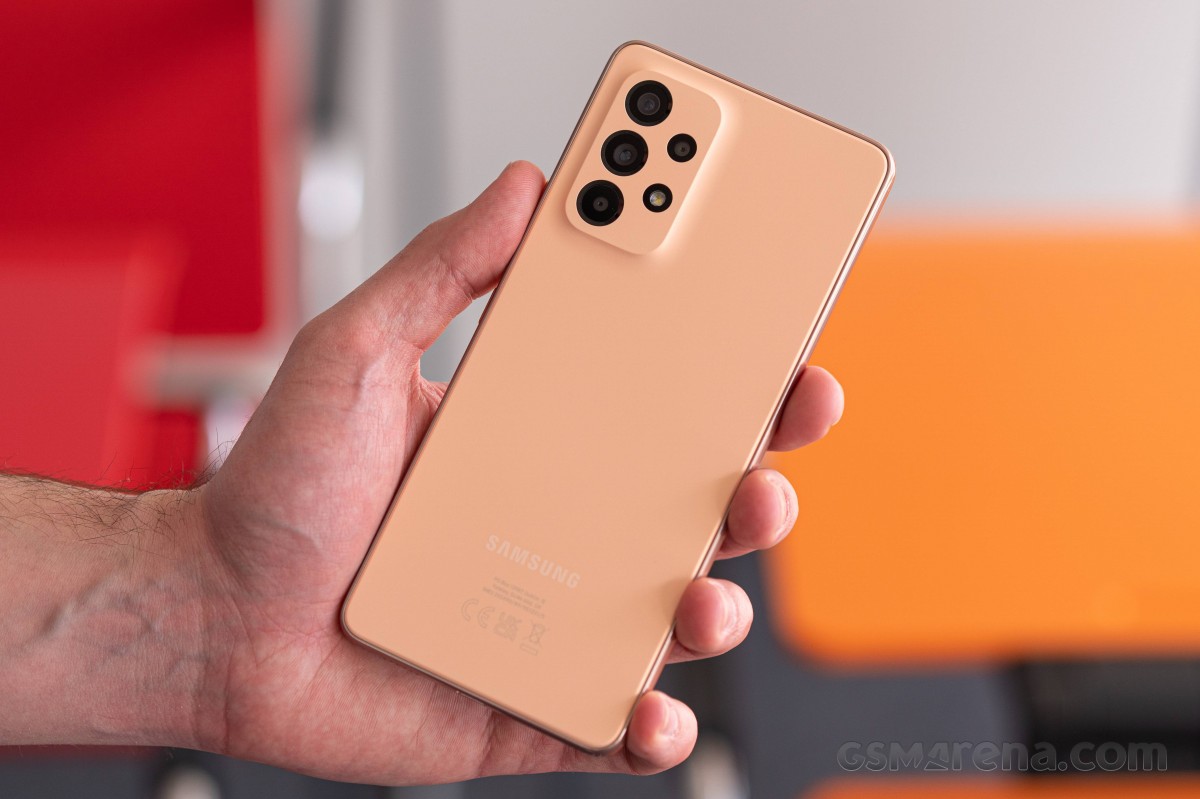 Arguably the best part about the back panel is its finish, though. Like older models, this surface has an almost soft and silky-smooth texture. It is really resistant to fingerprints and smudge. Well, those probably do stick, but you just can't see them. It is not as grippy as it looks, though.
As we mentioned already, the same texture spills out into the sides in a 2.5D manner and also extends up into the camera island. And while we are looking at the quad-camera - it is jutting out of the back just a tiny bit and not sharply, but more like a tiny hill. It makes the phone wobble a bit on a desk or table, but certainly not as much as, say, a Galaxy S22.
Build quality and materials
Living up to the family's pedigree, the Galaxy A53 5G is sturdy and well-constructed. It employs a trusted three-piece "sandwich' construction with a rigid middle frame between a back panel and the Gorilla Glass 5 front side. In terms of the rest of the bill of materials, the A53 5G is mostly made from plastic, including the frame and, from what we gather, the back panel, too.
Honestly, we've defended the merits of plastic as a building material time and time again and intend to continue doing so. It is lightweight while also sturdy and does not scratch, shatter, or dent in the same way metal does. Plus, while glass might have looked more premium on paper, the finish Samsung has going on the back panel, in particular, is something else and arguably just as premium, if not more.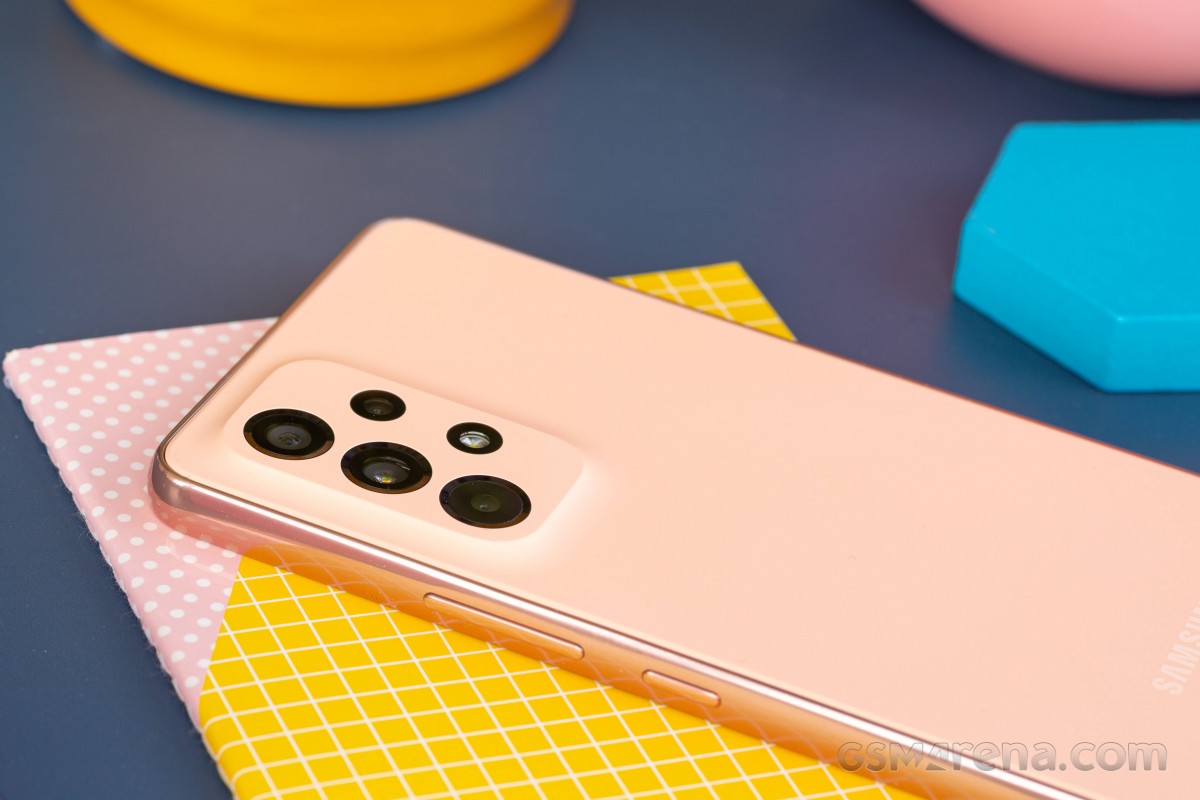 It is also worth remembering that proper ingress protection with an official rating is still hard to come by in the mid-range. Samsung has once again managed to deliver IP67 on the Galaxy A53 5G. We are confident that this alone draws plenty of customers to Samsung's Galaxy A lineup. By the way, this year, the Galaxy A33 5G brings the same IP67 rating to the A3X tier of devices as well, which is one of its major extras for 2022.
Controls, sensors and connectivity
The Galaxy A53 5G has a bog-standard control layout.
There is no sight of a 3.5mm audio jack. Apparently, it didn't make it over from the Galaxy A52s 5G, and we are certain that will disappoint a few potential buyers. With it no longer taking up space, Samsung has decided to move the SIM tray to the bottom of the phone.
The tray itself houses either a single Nano-SIM card on one side and a microSD card on the other or has a second Nano-SIM hybrid slot that can either take a SIM card or a microSD. Unfortunately, that does mean that you have to choose between a second SIM or more storage. Not ideal.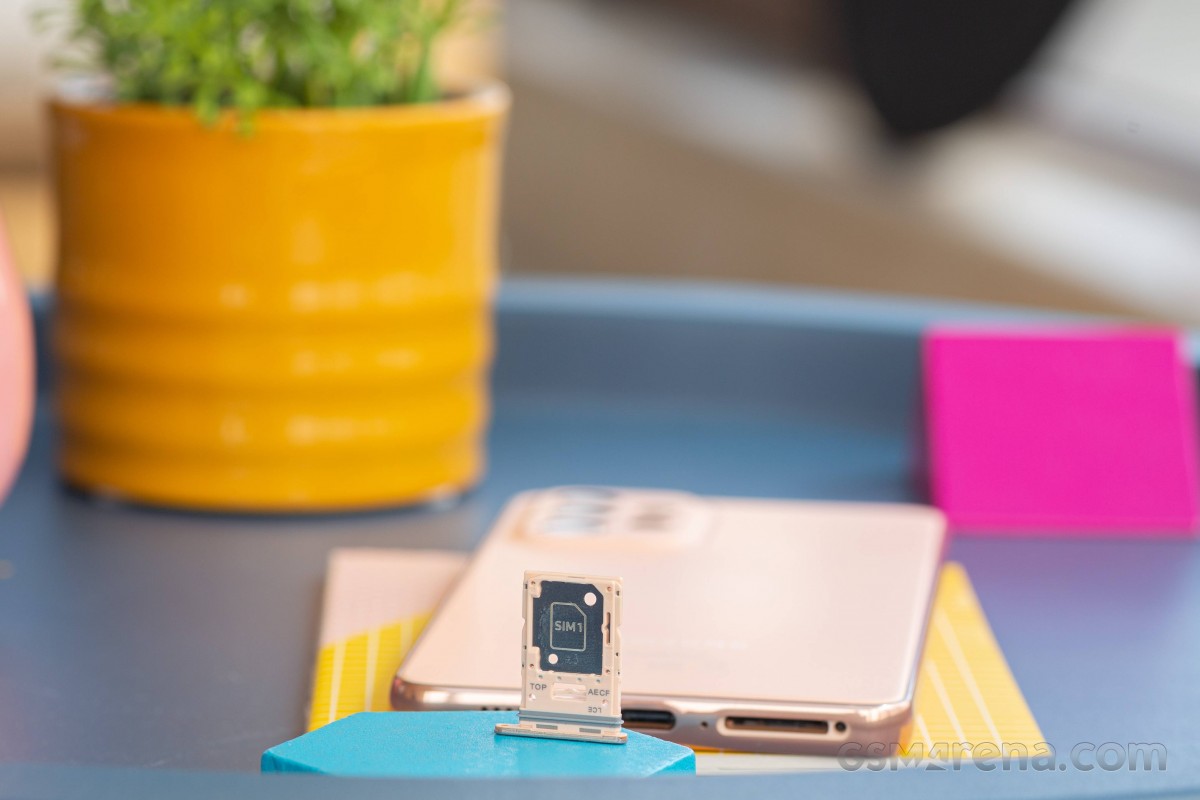 The USB Type-C port is also on the bottom bezel. It is wired for USB 2.0 data transfer speeds. It supports USB Host mode, but no video out, though. That means no wired screen mirroring or display out. No DeX support either. That is reserved for high-end Samsung models. Though, you can still do wireless screen mirroring.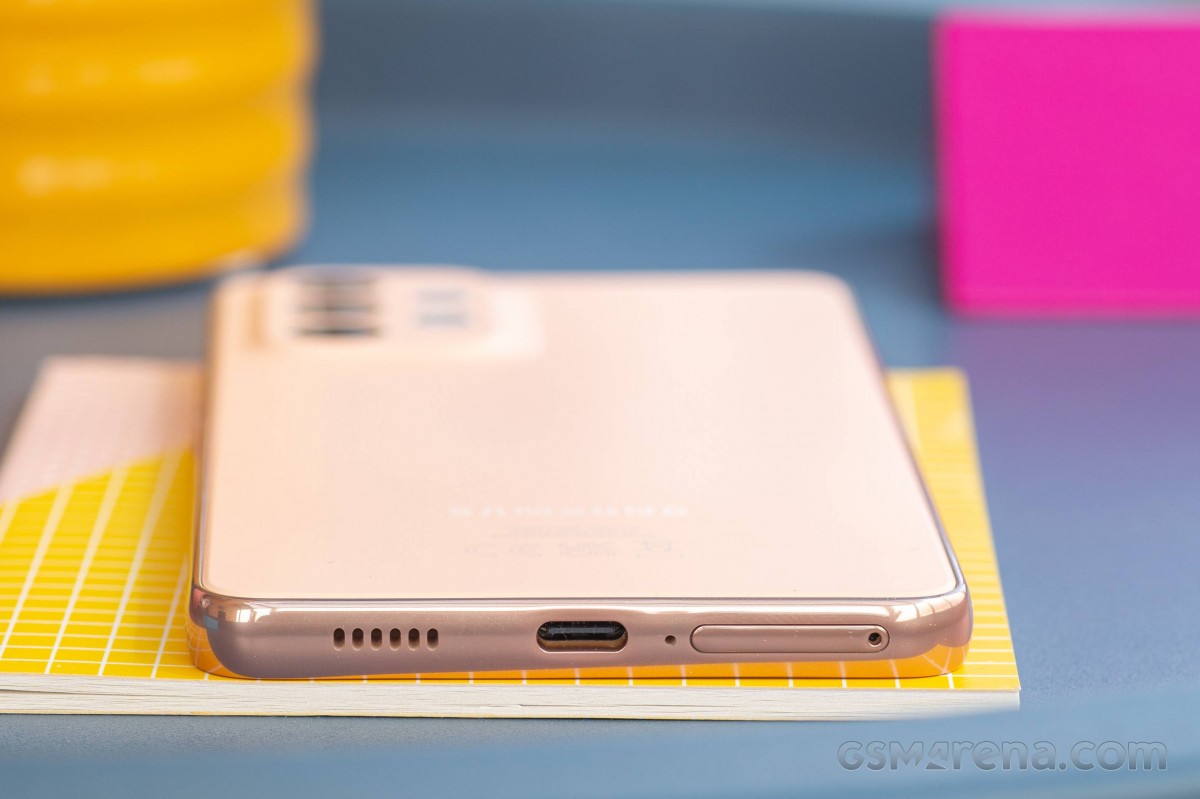 Finally on the bottom side - a dedicated bottom-firing speaker. The Galaxy A53 5G has a hybrid stereo setup, which uses the amplified earpiece as the second channel. The earpiece itself is hardly noticeable on the Galaxy A53 5G since it is just a sliver nuzzled away in the top bezel above the display.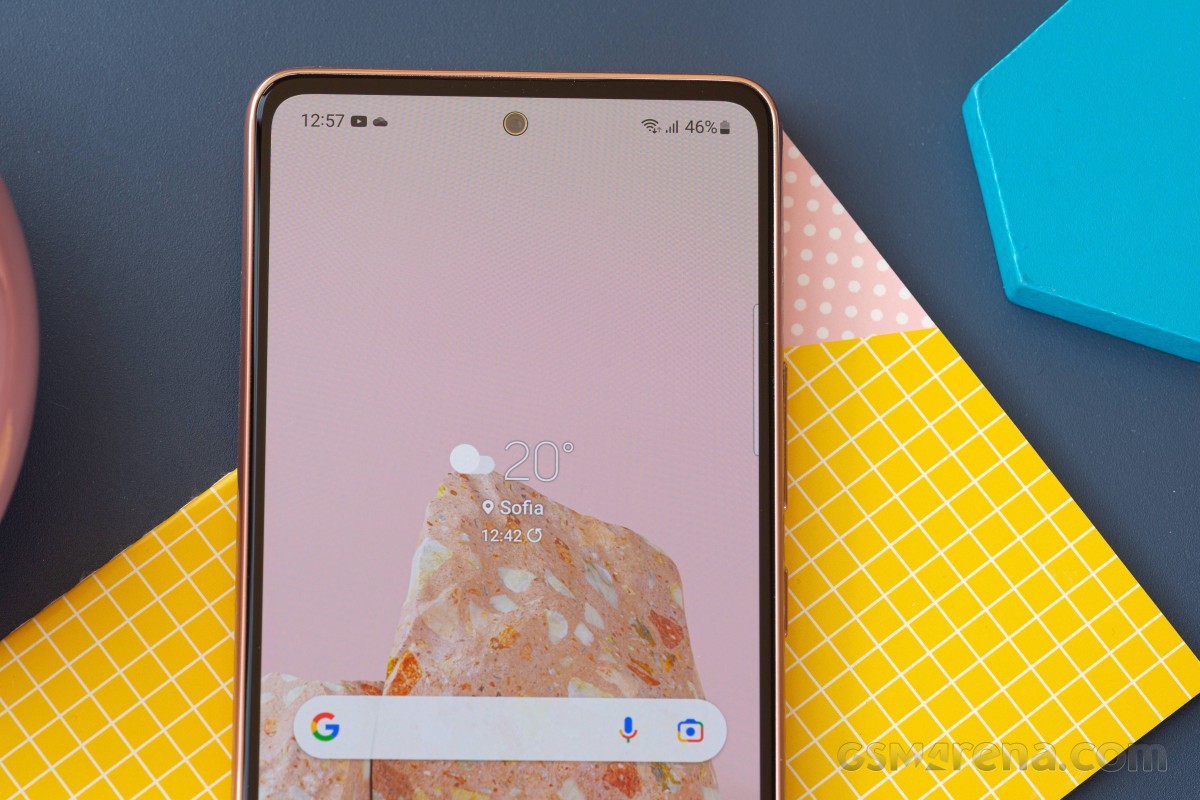 Since we are already discussing the top bezel, there is at least one more thing hidden there. We are happy to report that the A53 5G has a proper ambient light sensor. It is hidden up there. Unfortunately, there is no hardware proximity sensor, and the A53 5G has a less-reliable virtual one instead (Ear Hover Proximity Sensor ProTos). Though that being said, the ambient light sensor is a TCS3701 unit, which also includes color (RGB) sensing and IR proximity detection. So, perhaps, it is lending some assistance in turning off the display. In case you were wondering - there is no notification LED, which is the norm these days.
The other hidden control on the front side is the fingerprint reader. It is an under-display optical unit, which we personally find a bit more reliable and less fiddly than the ultrasonic ones Samsung insists on putting in its higher-end models. These optical units have come a long way since their early days, and the one on the A53 5G is reliable and decently speedy.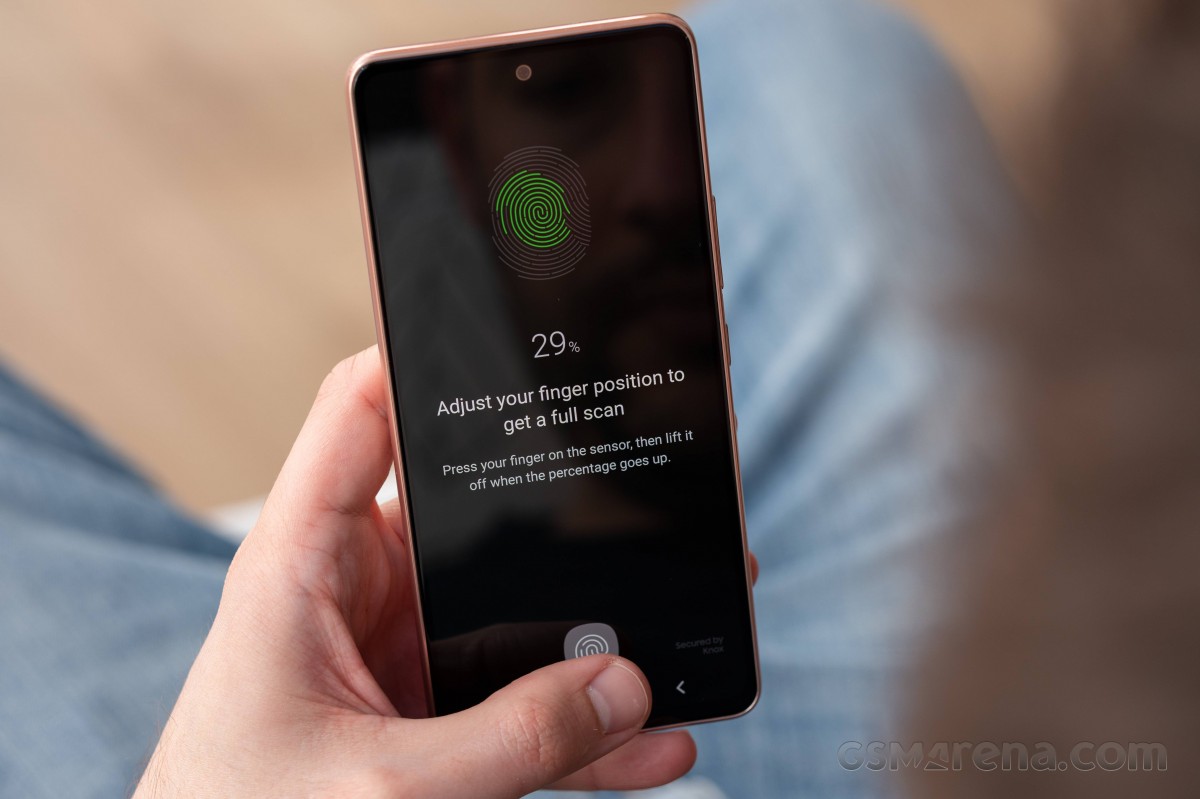 The rest of the Galaxy A53 5G controls are a standard affair. You get a volume rocker and a power button on the right-hand side. Both are well-positioned and with a good tactile feel and feedback.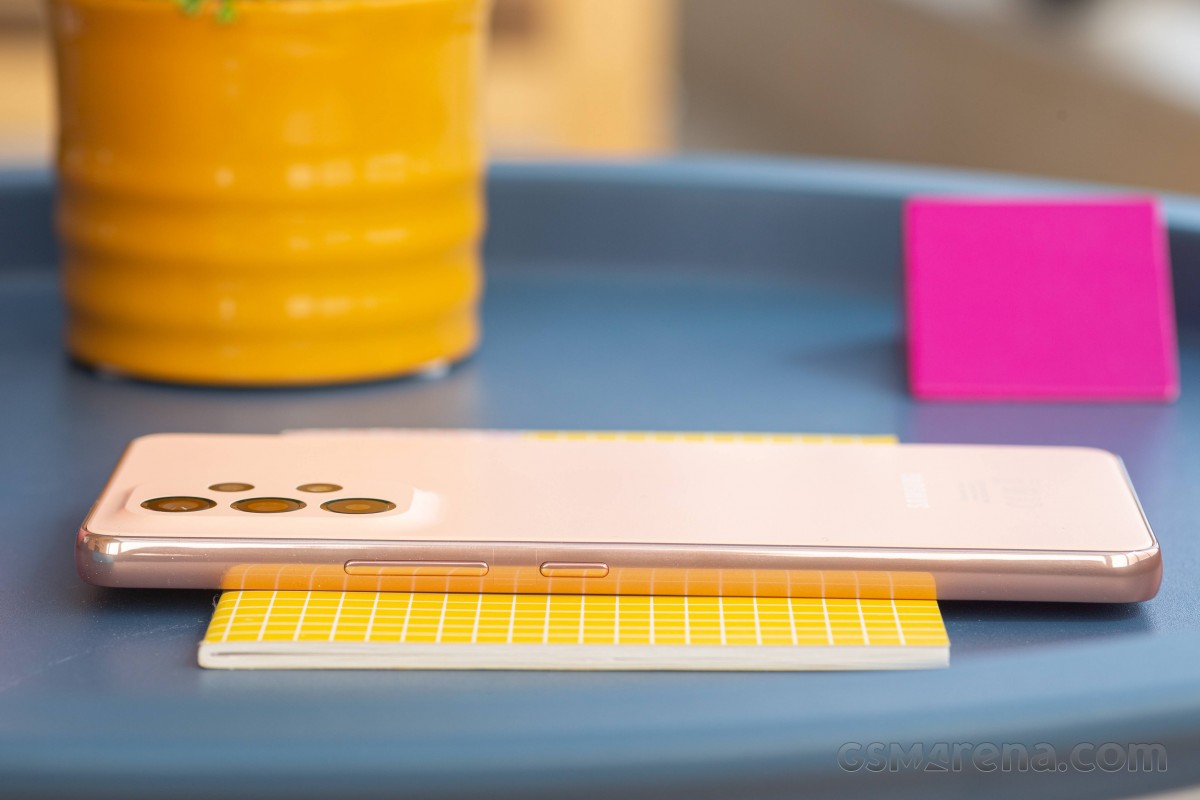 The left side of the frame is empty, and the top of the phone just houses a tiny hole for the secondary noise-canceling microphone.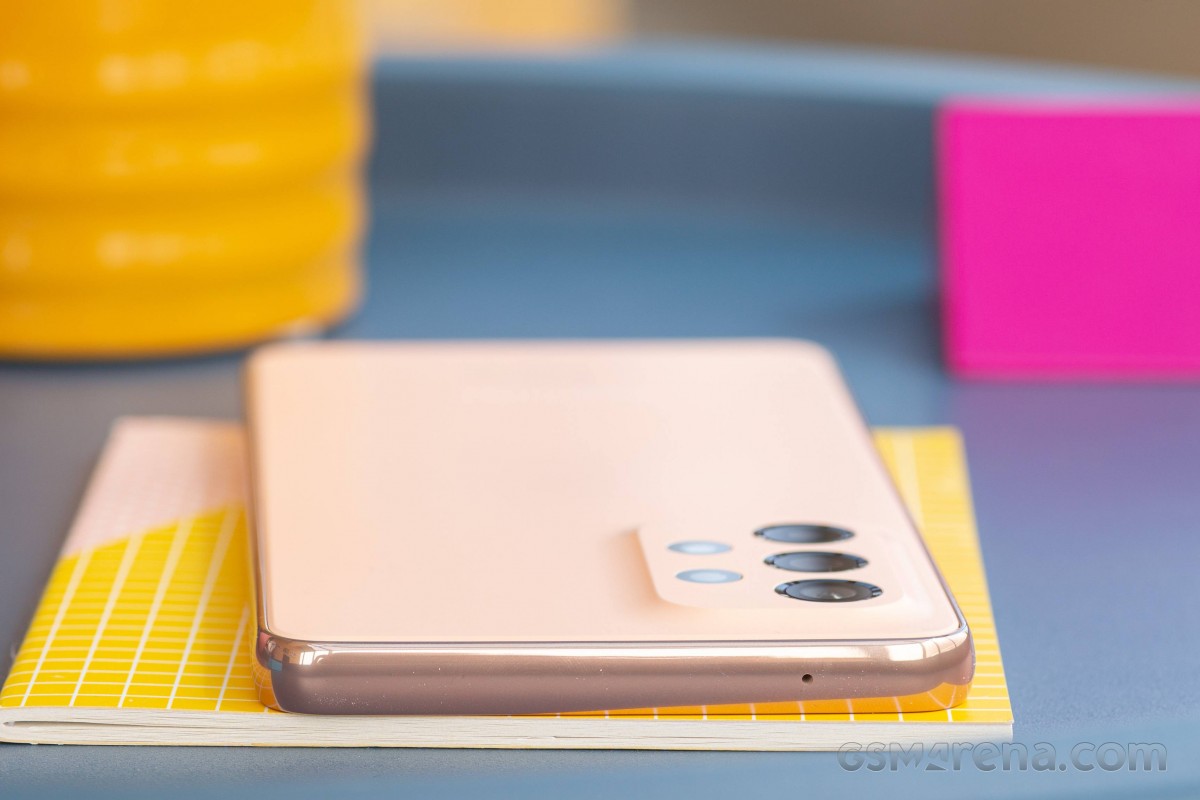 A few words on connectivity. We already mentioned that Samsung hadn't detailed the Exynos 1280 chipset inside the Galaxy A53 5G as of writing this review. It does seem to feature a pretty capable 5G modem, though, with optional mmWave support. You can pick one of these up from, say, Verizon to use with their network. It should be noted that Samsung's website says that the mmWave version is just mmWave and lacks Sub-6 support. All other units get SA and NSA Sub-6 support with plenty of bands and LTE-A and dual-SIM standby.
We appreciate the slightly newer Bluetooth 5.1 stack with LE support for local connectivity, but the A53 5G is notably missing Wi-Fi 6 support, which its predecessor does have. You get the standard Dual-Band Wi-Fi with Wi-Fi Direct and hotspot mode. NFC is a thing in some markets (check locally). There is no on-board FM Radio receiver. The positioning capabilities are also standard - GPS with A-GPS, GLONASS, GALILEO and BDS. And we already went over the Type-C port, which just has USB 2.0 data and no video out.