Realme has its own UI, premieres on Android 10
The Realme 6i is among the first Realme devices to boot Android 10 with the brand new Realme UI launcher. The maker has promised us a new take on ColorOS that's made by Oppo, and with the most recent Series 6 and X50 it surely delivered.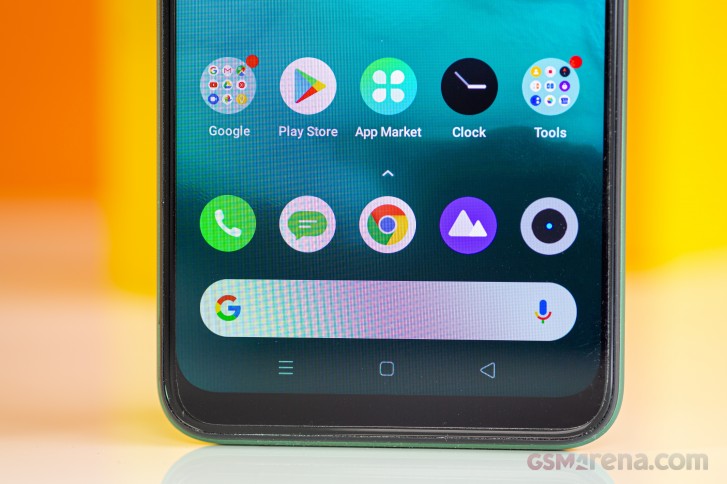 The new launcher looks a lot like vanilla Android with no-nonsense homescreens, simplistic notification/toggles area, and easy-to-use task switcher. An App drawer is available, too, and it is as clutter-free as one could hope for.
The new Realme UI supports different icon packs, so if you are not happy with the default one, you can opt for material style, pebbles, or you can even fully customize them by your liking.
There are a lot of powerful tools within the settings menu if you want full control over your Android OS. Or you can leave everything as is and enjoy hassle-free Android experience optimized by Realme's AI algorithms and machine learning.
Similar to the recent Galaxies, the Realme UI offers a Smart Sidebar on the edge of the screen - you can customize the actions and app shortcuts that appear there.
The multimedia apps such as Gallery, Music, and Videos - are provided by Realme. There is also a redesigned File Manager and even a Phone Manager app. And with that, the non-Google app list is complete.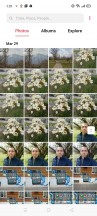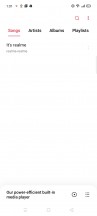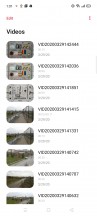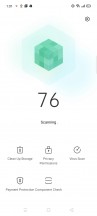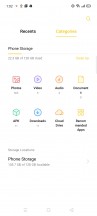 Gallery • Music • Videos • Phone Manager • File Manager
Depending on the market, your Realme 6i may or may not come with some pre-installed third-party apps that may or may not display annoying notifications. Worst-case scenario, you'd have to disable or remove such apps and services.
Performance and benchmarks
The Realme 6i packs the newly introduced MediaTek Helio G80 - a gaming-centric SoC for budget purposes. It is fabricated on the 12nm FinFET manufacturing process from TSMC.
The Helio G80 packs an octa-core CPU with two high-performance Cortex-A75 cores ticking at 2.00GHz and six energy-efficient Corext-A55 cores working at 1.8GHz.
The Mali-G52 MC2 GPU is in charge of graphics, and each of its two cores is clocked at 1000MHz (Kirin 810 G52 ones tick at 820MHz). These should provide great performance on the 720p screen.
The Realme 6i here packs 4GB of RAM and has 128GB storage, but a 3GB+64GB model exists on some markets.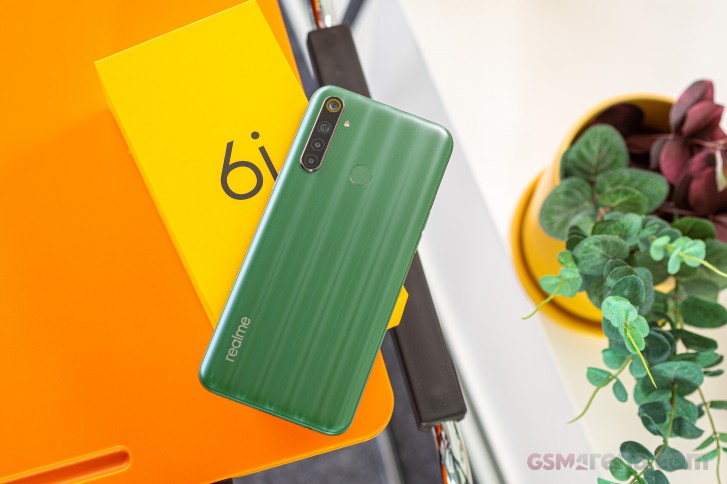 The compound AnTuTu test puts the Realme 6i behind the Realme 6 and 6 Pro, though that's understandable - it has inferior GPU raw performance and a slightly lesser main processor. The performance is more than adequate for the class, though.
AnTuTu 8
Higher is better
Huawei P40 Lite
325777
Honor 9X Pro
312668
Realme 6
288931
Redmi Note 8 Pro
279355
Realme 6 Pro
268785
Realme X2
257443
Realme 6i
202275
Honor 9X
187528
Samsung Galaxy A51
175363
Xiaomi Redmi Note 8T
167395
Indeed, the Realme 6 and 6 Pro use newer high-performance A76 cores, plus all cores run faster. The Realme 6i has A75+A55, once again - enough for the budget class and nobody should be experiencing bottlenecks with this processor.
GeekBench 4.4 (multi-core)
Higher is better
Huawei P40 Lite
7846
Honor 9X Pro
7836
Realme 6
7815
Redmi Note 8 Pro
6999
Realme X2
6926
Realme 6 Pro
6513
Realme X
5915
Realme 6i
5890
Realme 3 Pro
5881
Xiaomi Redmi Note 8T
5620
Samsung Galaxy A51
5401
Honor 9X
5345
Realme 3
4936
GeekBench 4.4 (single-core)
Higher is better
Huawei P40 Lite
2844
Honor 9X Pro
2831
Realme 6 Pro
2639
Realme 6
2606
Realme X2
2508
Redmi Note 8 Pro
2472
Realme 6i
1835
Samsung Galaxy A51
1668
Honor 9X
1559
Xiaomi Redmi Note 8T
1519
Realme 3
1482
Realme X
1475
Realme 3 Pro
1471
GeekBench 5.1 (multi-core)
Higher is better
Honor 9X Pro
1911
Huawei P40 Lite
1862
Realme X2
1750
Realme 6
1726
Realme 6 Pro
1666
Redmi Note 8 Pro
1622
Realme 6i
1349
Samsung Galaxy A51
1294
GeekBench 5.1 (single-core)
Higher is better
Honor 9X Pro
594
Huawei P40 Lite
591
Realme 6 Pro
565
Realme 6
548
Realme X2
545
Redmi Note 8 Pro
493
Realme 6i
388
Samsung Galaxy A51
347
The raw performance of the dual-core Mali-G52 is indeed mediocre at best.
GFX 3.1 Car scene (1080p offscreen)
Higher is better
Honor 9X Pro
21
Huawei P40 Lite
21
Realme 6 Pro
18
Realme 6
18
Redmi Note 8 Pro
18
Realme X2
16
Realme 3 Pro
13
Realme 6i
9.4
Realme 3
8
Honor 9X
7.7
Xiaomi Redmi Note 8T
7
Samsung Galaxy A51
6.6
Luckily, the Realme 6i has a lower resolution screen (720p), and the onscreen tests show it is a great gaming device for the class and provides the same graphic punch as its Realme 6 siblings. Nice!
GFX 3.1 Manhattan (onscreen)
Higher is better
Realme 6i
31
Honor 9X Pro
30
Huawei P40 Lite
30
Realme 6 Pro
27
Realme 6
27
Realme 3
26
Redmi Note 8 Pro
24
Realme X2
24
Realme 3 Pro
20
Honor 9X
12
Xiaomi Redmi Note 8T
11
Samsung Galaxy A51
8.9
GFX 3.1 Car scene (onscreen)
Higher is better
Realme 6 Pro
19
Honor 9X Pro
18
Huawei P40 Lite
18
Realme 6i
17
Realme 6
16
Realme 3
15
Redmi Note 8 Pro
14
Realme X2
13
Realme 3 Pro
11
Honor 9X
6.5
Xiaomi Redmi Note 8T
5.9
Samsung Galaxy A51
5.6
Thanks to the 720p display, the Realme 6i turned out to be an excellent performer. It will not hesitate whatever the task at hand, but most importantly - the 6i should provide unmatched performance for this sub €200 budget class.
We experienced no bottlenecks and throttling, no heating issues either.