No-nonsense camera setup with 108MP main sensor
Essentially, the Realme 10 Pro has just one usable camera on its back since the second one is just a depth sensor. The good news is that the main camera employs a capable 108MP sensor that punches way above the Realme 10 Pro's class. It's relatively big - 1/1.67" and has 0.64µm pixels and the sensor itself is paired with an f/1.8 aperture. It's the exact same setup as the Realme 10 Pro+ and it's also a big upgrade over the previous Realme 9 Pro.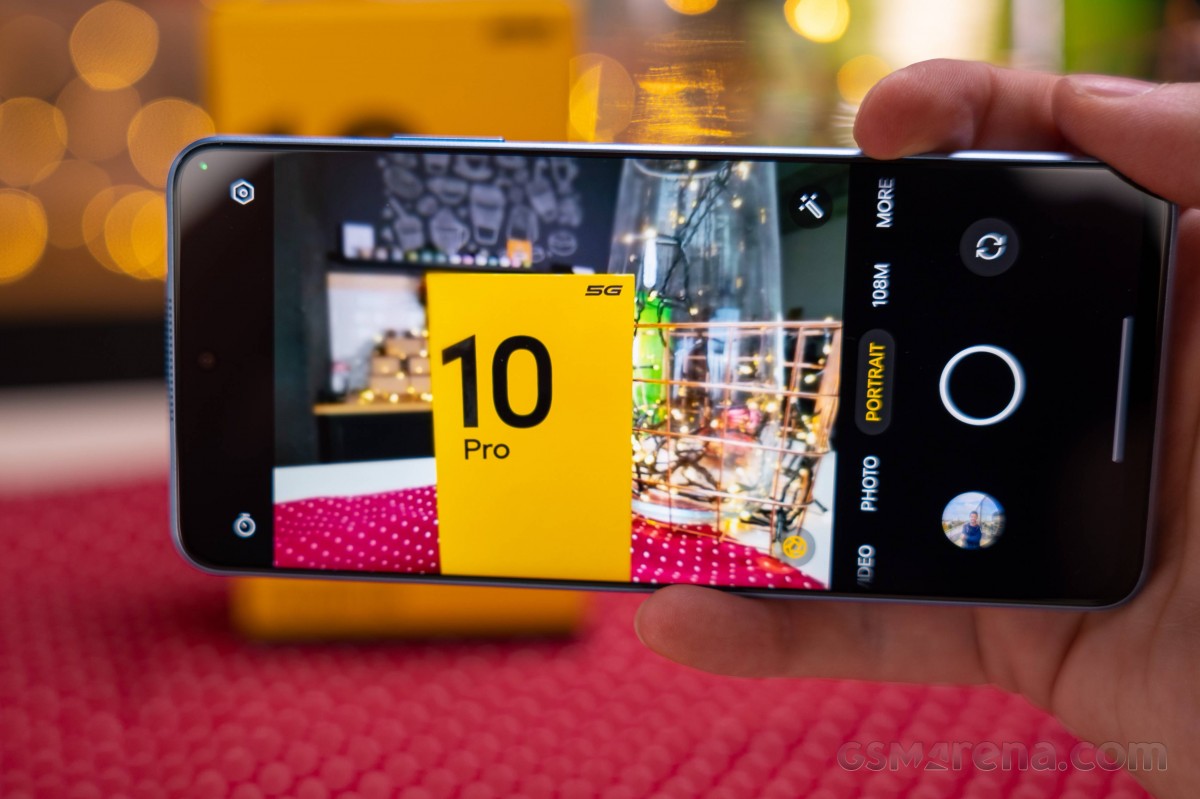 On the other hand, some may say that the Realme 10 Pro's camera setup is a downgrade compared to its predecessor because of the ultrawide and macro cameras missing. We would argue against that, however, since the 8MP ultrawide camera in this price range rarely provides any meaningful value, and the same goes for the borderline useless 2MP macro camera. That's why we think the Realme 10 Pro's camera is no-nonsense. Removing those cameras, albeit being very cheap to buy and implement, cuts off costs and allows Realme to use the headroom for something more meaningful.
The selfie16MP. f/2.5 camera on the front can also be found on the 10 Pro+, and interestingly enough, the 9 Pro presumably had the same 16MP sensor but wider f/2.1 aperture.
Camera menus
The camera app is the familiar Oppo/Realme one. There are fewer menus - most of the modes are now on the main rolodex, which is good.
The viewfinder in the default Photo mode offers AI Scene Enhancement (also known as Chroma Boost or Dazzle Color) - it's like an advanced HDR mode, which may stack several images to offer even further improvements in the dynamic range. Still, the most prominent "improvement" is the higher color saturation. Auto HDR is available, too.
Naturally, there are just two zoom toggles - 1x and 3x, and if you are in Night mode or Video recording mode, the toggle changes to 2x zoom.
You can use both the main and the ultrawide camera in the Pro mode. You get to tweak exposure (ISO in the 100-6400 range and shutter speed in the 1/8000s-30s range), white balance (by light temperature, but no presets), manual focus (in arbitrary 0 to 1 units with 0 being close focus and 1 being infinity) and exposure compensation (-2EV to +2EV in 1/6EV increments). RAW is available only on the main camera.
Daylight photos
The Realme 10 Pro produces nice daylight photos with a high level of detail, likeable colors that are not over the top, good contrast and adequately wide dynamic range. Sharpness is also one of the phone's stronger suits. We like that even objects with plenty of fine detail, such as grass and other kinds of foliage, are rendered excellently. And the whole processing is done without letting in too much noise. In fact, noise is virtually non-existent, and it's hard to spot even in the shadows.
More challenging indoor conditions don't seem to affect image quality all that much - noise levels are low, sharpness is good, and colors look natural. Dynamic range needs a little improvement as shadows often look darker than they should. All in all, there's little to complain about, and we find the Realme 10 Pro to be pretty consistent in a variety of scenarios.
Shooting in the dedicated 108MP mode won't bear any benefits aside from a little extra detail. You will, however, lose sharpness and dynamic range in the process.
Realme feels confident enough to offer a 3x zoom toggle by default. And while there's definitely some processing that mitigates the loss of detail behind those samples, the end results are unimpressive. If the environment is bright enough, say you are outside on a bright sunny day, you will get pretty good results, but most of the photos we took are somewhat noisy and a bit soft. The level of resolved detail is kind of impressive, though, and we are okay with dynamic range, colors and contrast. Either way, the advertised lossless zoom part isn't exactly true. The 3x zoom photos are not as lossless as a proper telephoto camera, for example.
Still, without pixel-peeping, the 3x zoom mode is dependable and good enough for your average social media posting. Maybe just a little fine-tuning by Realme will go a long way and dramatically improve image quality. It has potential.
Low-light photos
We were surprised by the low-light performance in the standard Photo mode, and not in a good way - we expected more. All the stills we took below are without the dedicated Night mode, and to Realme's credit, there's also an Auto Night mode that kicks in every time it detects sub-optimal lighting conditions. We disabled that feature to see how the camera performs without it and as we already said, we have some issues with quality.
Fine detail is missing, sharpness isn't great in some cases, and highlights are often clipped while shadows are a bit too dark, so it's safe to assume that dynamic range needs improvement. Noise is also aplenty. On the other hand, the contrast is good, and color reproduction is on point.
Opting for the manual Night mode, however, fixes all of the issues stated above. The Night mode samples are generally brighter with good highlight/shadows balance, sharper, without noticeable noise and with a lot more detail, especially in the shadows. Light sources look better in general, and colors are somewhat juicier. If we have to be nit-picky, the added sharpness over the Night mode photos produce a somewhat artificial look, and the images look as if they are rendered in a video game. Otherwise, the Night mode samples are excellent, and we strongly recommend using this one instead of the standard Photo mode after dusk.
The 3x zoom mode in low-light conditions is hard to recommend. They are soft, noisy and too messy.
Switching over to Night mode changes the 3x toggle to 2x, so we took standard 2x zoom samples for the sake of consistency. Expect excellent results as long as you are using Night mode. There's some artificial sharpening to tackle the soft nature of low-light, digital zoom photos, but the end result is impressive. Overall, the rendition is almost identical to the 1x Night mode, which is to be expected. There's virtually no noise too, which is just as impressive.
And here are photos of our test posters, taken by the Realme 10 Pro. You can see how it stacks up against the competition by comparing directly.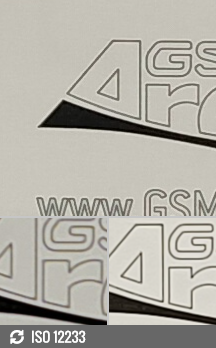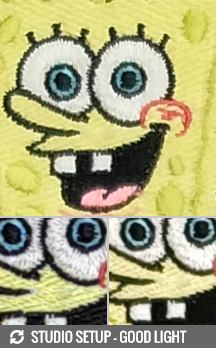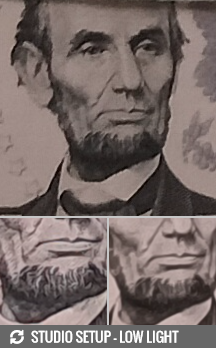 Realme 10 Pro against the Samsung Galaxy A53 and the Xiaomi Redmi Note 11 Pro+ 5G in our Photo compare tool
Portraits
Portraits are a mixed bag. A lot of the samples we took were somewhat blurry, and there's a sharp deterioration in quality under a bit more challenging lighting conditions. But if there's enough light in the room or you are taking the portrait outside, expect good dynamic range, natural skin color, plenty of fine detail and good edge detection. The faux bokeh effect is quite convincing, regardless of the ambient light.
Selfies
The selfies are a bit of a letdown. Detail could be better, and sharpness needs a little boost too. Noise can be spotted in some more challenging scenarios. On the other hand, we found the dynamic range to be adequate and the metering keeps the subject's face well-exposed. In portrait mode, the edge detection algorithm does a decent job of producing that faux bokeh effect.
Video recording
The Realme 10 Pro's video recording capabilities cap at 1080p@60fps, and since the Snapdragon 695's ISP is quite limited, there's no fancy AI low-light mode that the Pro+ has. There is an Ultra Steady mode, which is meant to produce an action-camera-like field of view and stabilization.
Off to the video itself. We can't say we are happy with the overall quality. It comes off a little soft even for 1080p resolution, although fine detail is rather easy to spot. Despite the changing and challenging lighting conditions, however, the handset maintained a good shadow/highlight balance - the dynamic range is great Contrast and color reproduction are also pretty nice. The soft nature of the video is the only complaint we got, but it's not a small one.
EIS is available in the standard 1080p mode, and it appears to be decent enough, although just a tad shaky.
The Ultra Steady mode is supposed to mimic action camera-like stabilization, but we struggle to find any meaningful difference between the standard video recording mode and this one. In fact, the Ultra Steady mode produces videos with muted color and are slightly softer, so better stick with the default Video mode.
Finally, you can compare the Realme 10 Pro video output against other phones we've reviewed in our comparison tool below.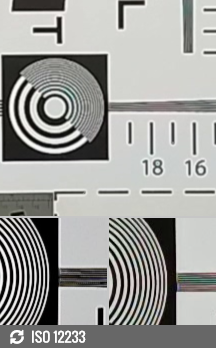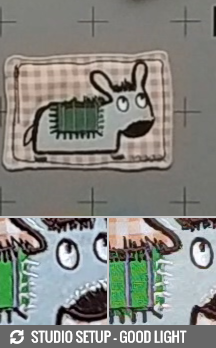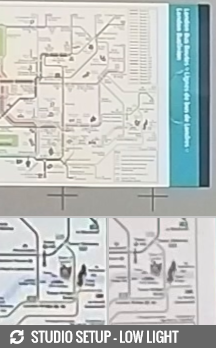 Realme 10 Pro (1080p) against Samsung Galaxy A53 (2160p) and the Redmi Note 11 Pro+ 5G (2160p) in our Video compare tool