Android 12 with Realme UI 3.0
The Realme 10 boots Android 12 with Realme UI 3.0. The third version of Realme's launcher offers an improved and more fluid interface, even richer customization options across the entire system, enhanced privacy dashboard and privacy indications, better floating window, Omojis and more.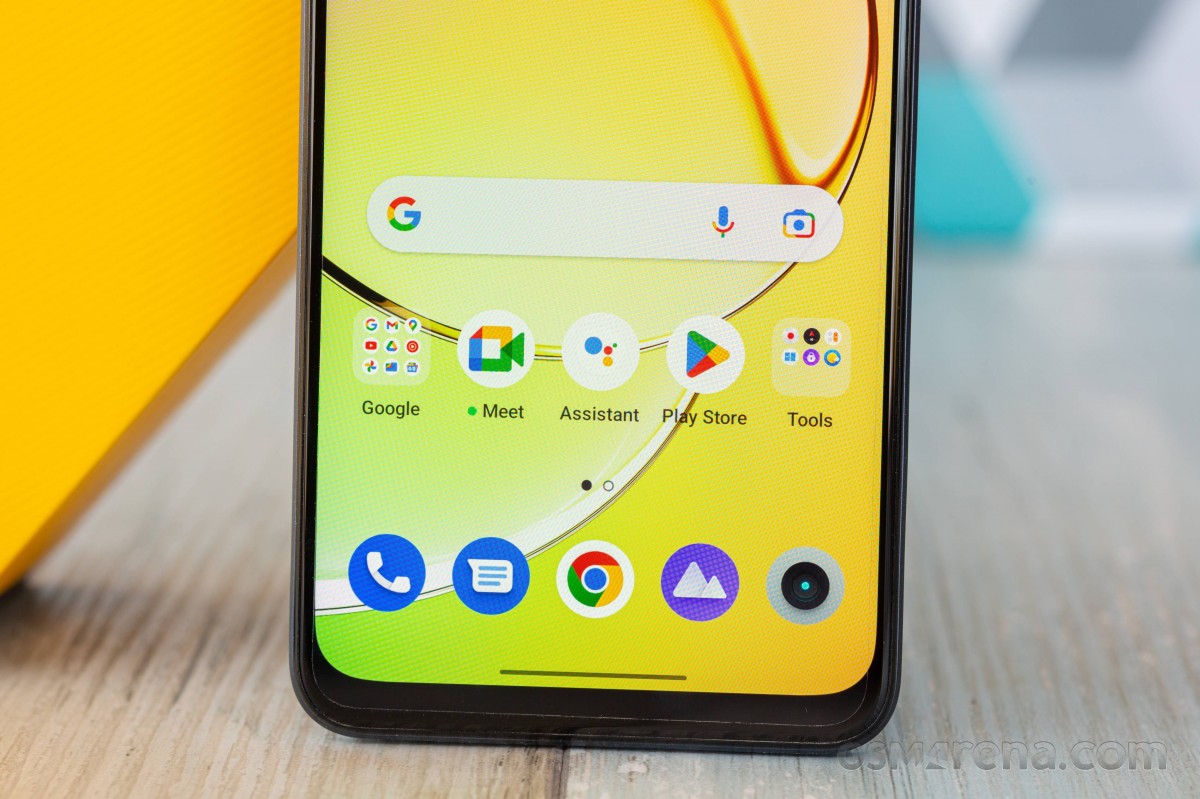 The phone supports fingerprint unlock, and the side-mounted scanner works great - it's fast as they come. You can also set up face unlock for an even speedier unlock - though this is not as secure.
Always-on screen is available, and it can show the usual content - clock, date, notifications icons, battery. There are no themes on the Realme 10, just the default. You can opt-out of some of the information like date, battery, or notifications.
The AOD can be battery-saving (hide after a short motionless period), scheduled, or always on.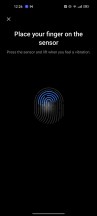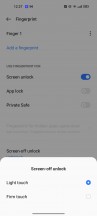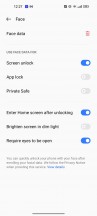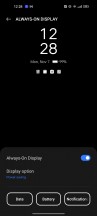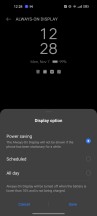 Biometrics • Biometrics • Biometrics • Always-on display
And while we are talking about personalization, the Realme UI 3.0 is flexible when it comes to this. There is an entire Personalizations page in Settings. You can change, switch to different icon packs, different quick toggles icon shapes, change fonts, and choose completely different colors that will change the entire Realme UI look.
The Realme 10 doesn't appear to support live wallpapers.
The launcher has no-nonsense homescreens, a simplistic and clean notification/toggles area, and an easy-to-use task switcher. An App drawer is available, too, and it is as clutter-free as one could hope for. You can opt-out of the app drawer if you prefer.
Dark Mode is available, and it supports three different dark styles - black, dark gray or light gray. You can also opt for Automatic Contrast - the Dark Mode will choose its style based on the available ambient light.
There are many powerful tools within the settings menu if you want full control over your Android OS. Or you can leave everything as is and enjoy a hassle-free Android experience optimized by Realme's AI algorithms and machine learning.
You can also minimize an app to a floating window, now called a flexible window because it's super easy to resize it on the go. You can exchange files between the full-screen and flexible apps by drag and drop.
Flexible windows are available within the Task Switcher or the Sidebar. If an app is compatible, you can do either of these or use the familiar Split Screen.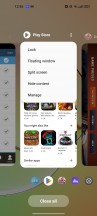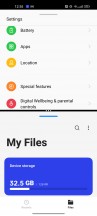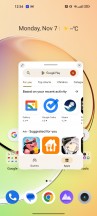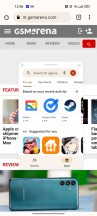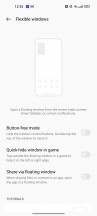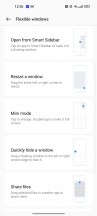 Task Manager • Split screen • Flexible window • Flexible window
And speaking about the Sidebar, it's quite familiar - a small visible mark on the edge of the screen that expands into a menu anytime you swipe on it. You can customize the actions for this menu and the app shortcuts that appear there.
The Realme 10 also supports the Dynamic RAM Expansion (DRE) feature. As evident from the name, DRE lets you expand your smartphone's RAM - albeit virtually - by using the phone's internal storage. You can add from 2GB up to 5GB virtual RAM. This feature is active by default, and Realme has chosen 3GB for the default setting.
Within the Realme lab section, you will find Dual-mode audio and DC dimming. The Dual-mode audio allows you to connect both wired and wireless headphones and listen to music through both. DC dimming reduces the screen flickering at low brightness, but it may cause some issues (hence it's found in the experimental section).
The multimedia apps such as Photos, Music, and Videos - are provided by Realme. There is also a revamped File Manager and even a Phone Manager app. This completes the non-Google app list.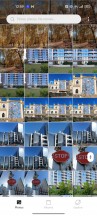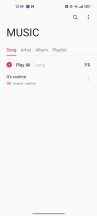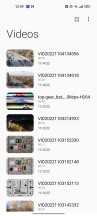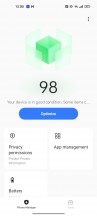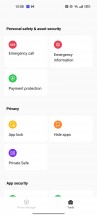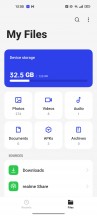 Photos • Music • Videos • Phone Manager • Phone Manager • File Manager
We liked the Realme UI 3.0. The interface is clutter-free and easy to use, and it feels great when working with 90fp. Yet, it retains plenty of powerful tools should you choose to dig deeper and use them.
Performance and benchmarks
The Realme 10 is the first smartphone we review with the Helio G99 chipset. It's a 6nm chip from Mediatek with a 2+6 core CPU configuration (2x2.2GHz Cortex-A76 and 2x2.0GHz Cortex-A55) and a Mali-G57 MC2 GPU. The base storage version has 4GB of LPDDR4X RAM and 64GB of UFS 2.2 storage. There are also 4GB/128GB, 6GB/128GB, 8GB/128GB (ours) and 8GB/256GB versions.
The Realme 10 won't be a chart-topping phone for sure, but with that G99 chip, it's no slouch either. It is a notable step up from the Realme 9's Snapdragon 680 chip.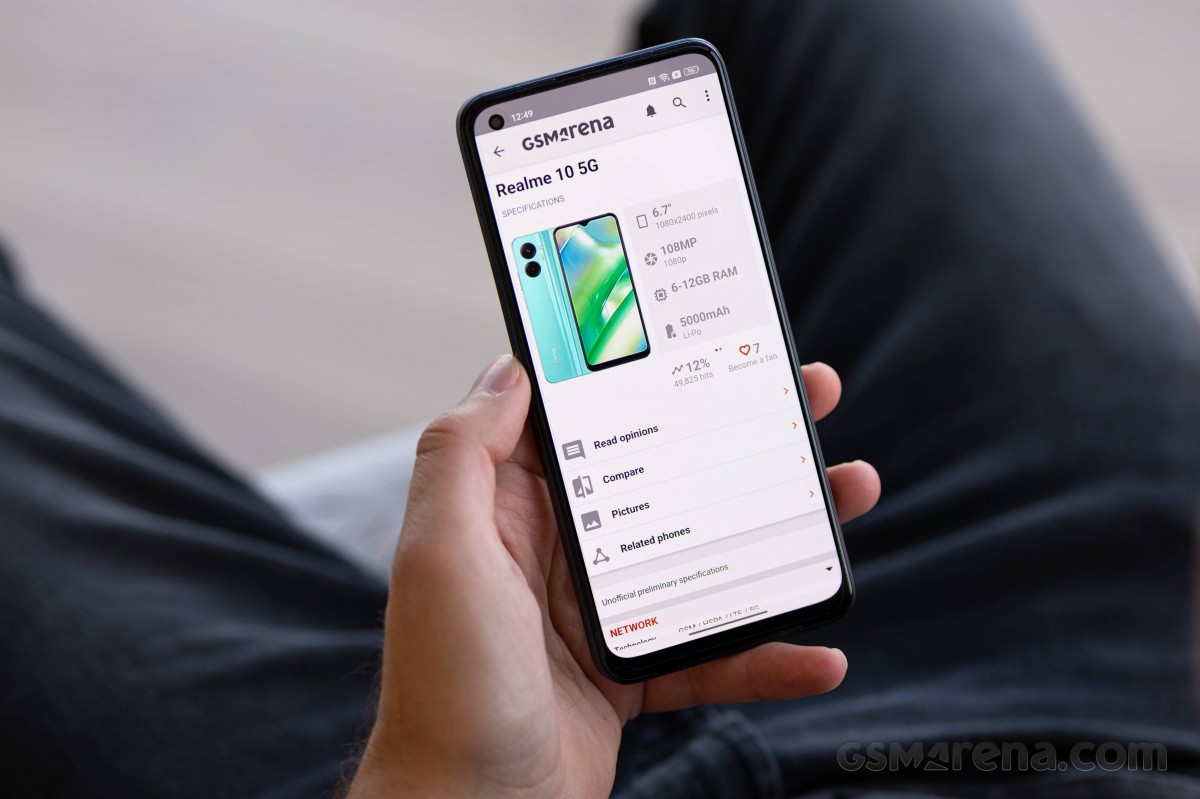 Let's see some benchmarks now.
The Realme 10 CPU is a notable update over the Realme 9's, obvious in single-core operations, which are crucial for smooth Android operation.
GeekBench 5 (multi-core)
Higher is better
Realme 9 Pro
2020
Samsung Galaxy A33 5G
1900
Xiaomi Redmi Note 11S
1873
Poco M4 Pro
1836
Poco M5s
1831
Realme 9 5G
1823
Xiaomi Redmi Note 11S 5G
1820
Poco M4 Pro 5G
1797
Realme 10
1762
Poco M4 5G
1730
Xiaomi Redmi Note 11
1662
Realme 9
1601
GeekBench 5 (single-core)
Higher is better
Samsung Galaxy A33 5G
742
Realme 9 Pro
694
Realme 9 5G
610
Poco M4 Pro 5G
597
Xiaomi Redmi Note 11S 5G
588
Realme 10
567
Poco M4 5G
552
Xiaomi Redmi Note 11S
526
Poco M4 Pro
523
Poco M5s
516
Realme 9
380
Xiaomi Redmi Note 11
376
The GPU is the real strength of the Helio G99 chipset - the Realme 10 is among the best-scoring phone in its price range, as powerful as the Realme 9 Pro. This demonstration of raw power is quite promising for smooth gaming on the go, not with maximum graphic quality, of course.
GFX Car Chase ES 3.1 (onscreen)
Higher is better
Samsung Galaxy A33 5G
20
Poco M5s
18
Realme 10
17
Realme 9 Pro
16
Realme 9 5G
14
Xiaomi Redmi Note 11S 5G
13
Poco M4 Pro 5G
13
Xiaomi Redmi Note 11S
12
Poco M4 Pro
12
Poco M4 5G
12
Realme 9
7.3
Xiaomi Redmi Note 11
6.8
GFX Manhattan ES 3.1 (onscreen)
Higher is better
Samsung Galaxy A33 5G
35
Realme 9 Pro
29
Realme 10
28
Poco M5s
28
Realme 9 5G
25
Xiaomi Redmi Note 11S 5G
23
Poco M4 Pro 5G
23
Xiaomi Redmi Note 11S
21
Poco M4 Pro
21
Poco M4 5G
21
Realme 9
13
Xiaomi Redmi Note 11
12
3DMark Wild Life Vulkan 1.1 (offscreen 1440p)
Higher is better
Realme 10
1320
Poco M4 Pro 5G
1232
Xiaomi Redmi Note 11S 5G
1231
Realme 9 5G
1228
Realme 9 Pro
1211
Poco M4 5G
1186
Xiaomi Redmi Note 11S
1101
Poco M4 Pro
1099
Xiaomi Redmi Note 11
439
AnTuTu 9 puts the Realme 10 on top of all other phones and very close to the Realme 9 Pro.
AnTuTu 9
Higher is better
Realme 9 Pro
401894
Samsung Galaxy A33 5G
394918
Realme 10
385829
Poco M5s
360681
Xiaomi Redmi Note 11S 5G
360255
Poco M4 Pro 5G
353663
Poco M4 5G
336380
Poco M4 Pro
318444
Xiaomi Redmi Note 11S
308741
Realme 9
290097
Xiaomi Redmi Note 11
244526
The Realme 10 and its Helio G99 chipset are a recipe for a smooth Android experience and a more than acceptable game frame rate. Sure, games won't run fine with the best graphics options, but with the automatic settings, we were able to see action games display with about 50fps or more, which is plenty enough for a phone on a budget.
What's even better - the Realme 10 demonstrated outstanding stability. The phone scored 84% on the CPU stress test and 99.3% on the 3D Mark stress test. This means that even when running at peak performance for prolonged periods of time, the Realme 10 won't throttle. The phone doesn't get hot; on the contrary, after an hour of benchmarking, it's barely got warm.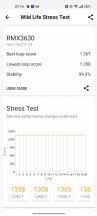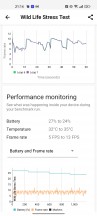 CPU stress test • GPU stress test
Overall, the Realme 10 offers excellent performance and stability for its price bracket.