Display
The Realme 10 offers a 6.4-inch AMOLED screen of 1080p resolution (409ppi), 90Hz refresh rate, and 360Hz touch response. It has a small perforation around the top left part and is protected by a Gorilla Glass 5.
Realme is advertising the panel as capable of up to 1,000nits of peak brightness. There is DCI-P3 color support and no mention of HDR whatsoever.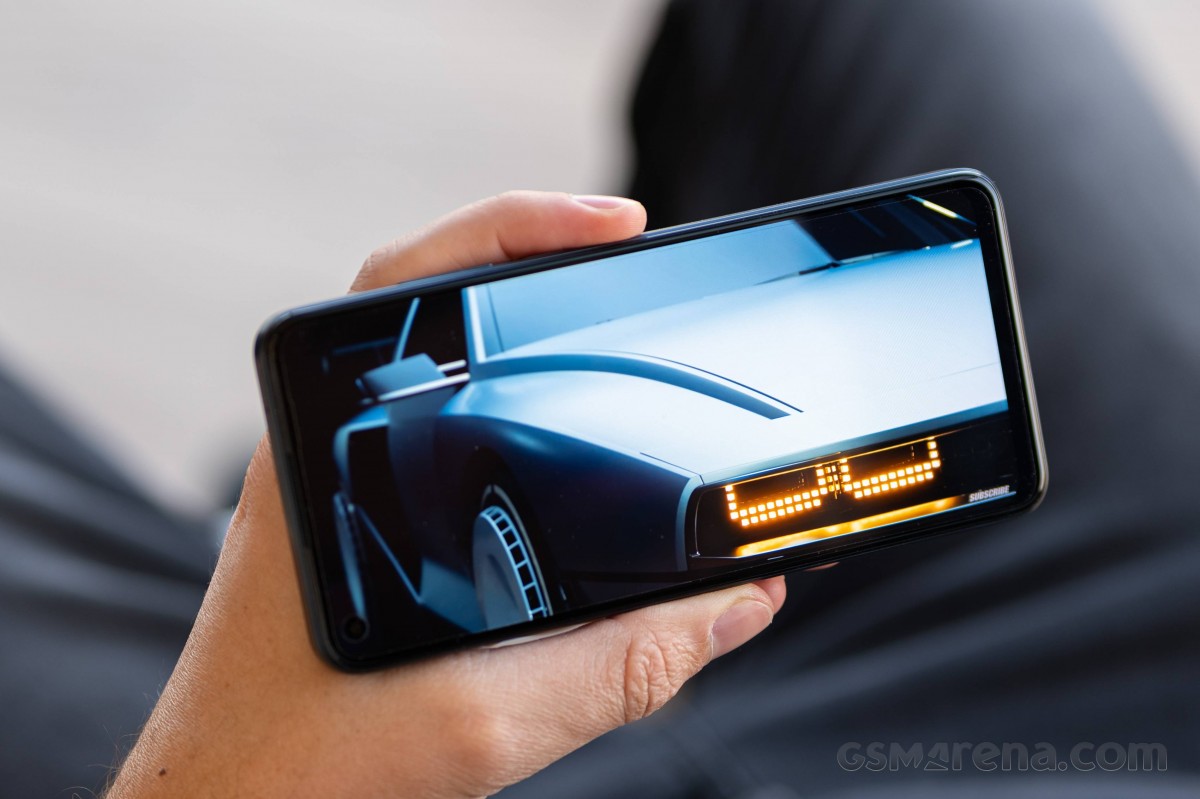 We've completed our display test, and the Realme 10's AMOLED panel seems to be similar to the one on the Realme 9. We captured 427nits of maximum brightness when using the brightness slider and 610nits in Auto mode when the sunlight boost kicks in. These are average numbers for an OLED panel, and while the sunlight legibility is far from great, it is not that bad as you can see what's on the screen, even if the colors are washed out.
The minimum brightness we captured at point white is 1.8 nit.
Display test
100% brightness
Black,cd/m2
White,cd/m2
Contrast ratio
Realme 10
0
427
∞
Realme 10 (Max Auto)
0
610
∞
Realme 9
0
455
∞
Realme 9 (Max Auto)
0
647
∞
Realme 9 Pro+
0
433
∞
Realme 9 Pro+ (Max Auito)
0
613
∞
Xiaomi Redmi Note 11
0
465
∞
Xiaomi Redmi Note 11 (Max Auto)
0
736
∞
Xiaomi Redmi Note 11S
0
465
∞
Xiaomi Redmi Note 11S (Max Auto)
0
744
∞
Samsung Galaxy A33 5G
0
407
∞
Samsung Galaxy A33 5G (Max Auto)
0
728
∞
Sony Xperia 10 IV
0
683
∞
Poco M5s
0
473
∞
Poco M5s (Max Auto)
0
756
∞
Color accuracy
The Realme 10 has three color modes - Vivid (corresponds to DCI-P3 color space), Natural (sRGB color space), and Pro mode, where you can choose between Cinematic (warmer P3) and Brilliant (widest color available) options. Each of these modes offers a color temperature slider.
Vivid mode is the default option, and it offers good accuracy towards P3 targets; the white and grays were the only notable deviations with a slightly bluish tinge.
The Standard mode with sRGB targets is pretty accurate, with an average deltaE of 2.
If you want the best possible accuracy and widest color, we suggest the Cinematic option from the Pro model - it offers an average deltaE of 2.5 against P3 targets.
Refresh rate
The Realme 10 has three refresh rate modes - Auto, High (90Hz) and Standard (60Hz) options. Choosing either High or Auto will do the same - offer 90Hz through the Realme interface and revert back to 60Hz when the image is static.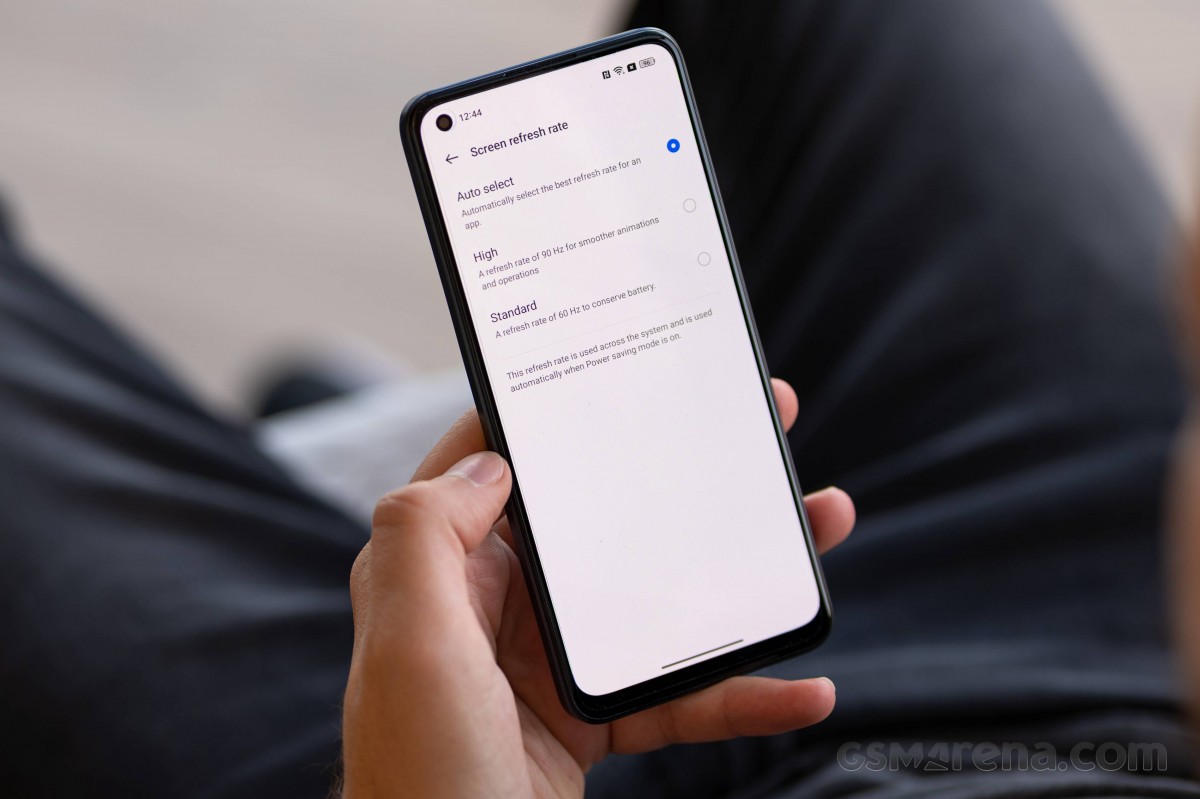 Video playback is always done at 60Hz. Some games seem to run at 90Hz, but even if HRR gaming is possible in theory, the GPU isn't as powerful to make games go beyond 60fps anyways.
HDR and streaming
The Realme 10 comes with Widevine L1 DRM support and will offer Full HD streaming across popular apps. There is no support for HDR streaming, though.
Other enhancements
Realme UI offers O1 Ultra Vision Engine - an SDR to HDR video color enhancer that can be active across selected video apps. We didn't see much of a difference with it, but maybe we didn't use it with the correct app or content.
Battery life
The Realme 10's battery has the same capacity as the one powering the Realme 9 - 5,000mAh. And just like many affordable Realme phones, this one aced our battery life test.
The Realme 10 scored a total endurance rating of 126 hours. It scored presentable times on all of our battery life tests - calls, web browsing, and video playback.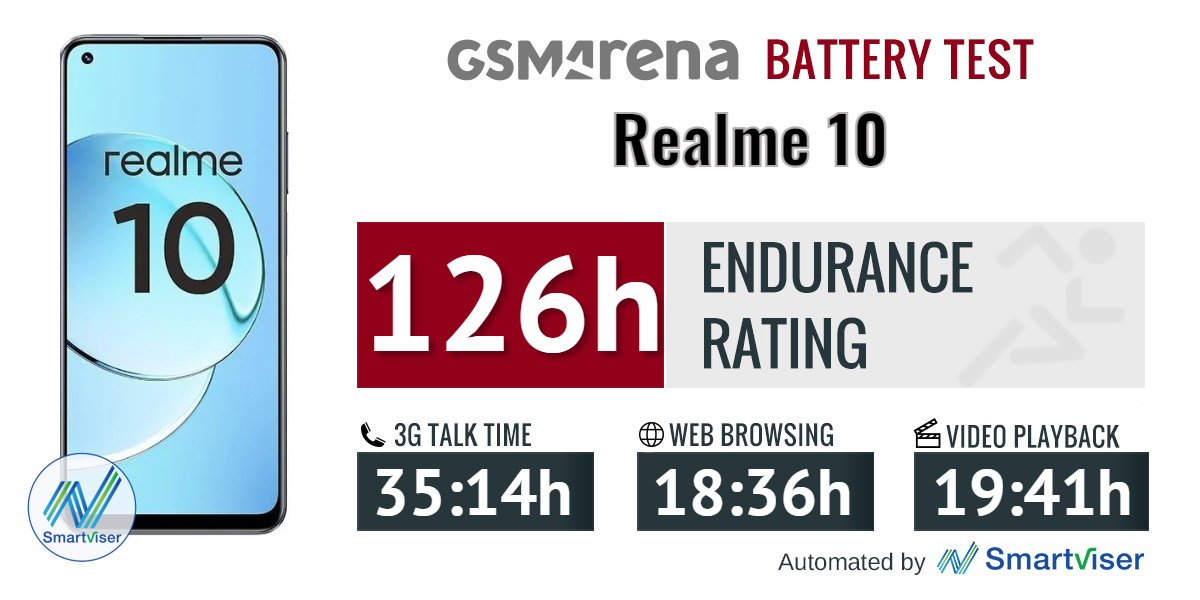 Our battery tests were automated thanks to SmartViser, using its viSerDevice app. The endurance rating denotes how long the battery charge will last you if you use the device for an hour of telephony, web browsing, and video playback daily. More details can be found here.
Our endurance rating is calculated with standby performance, and the Realme 10 did very well here, too. It can do even better if you adjust the standby behavior from the Battery options.
Video test carried out in 60Hz refresh rate mode. Web browsing test is done at the display's highest refresh rate whenever possible. Refer to the respective reviews for specifics. To adjust the endurance rating formula to match your own usage patterns, check out our all-time battery test results chart, where you can also find all phones we've tested.
Charging speed
The Realme 10 supports 33W fast wired charging, and it ships the corresponding power adapter and 3A-rated cable. There is a charging optimization that's active by default, which will slow the charging at nighttime to extend the battery lifespan. We had that off for our testing.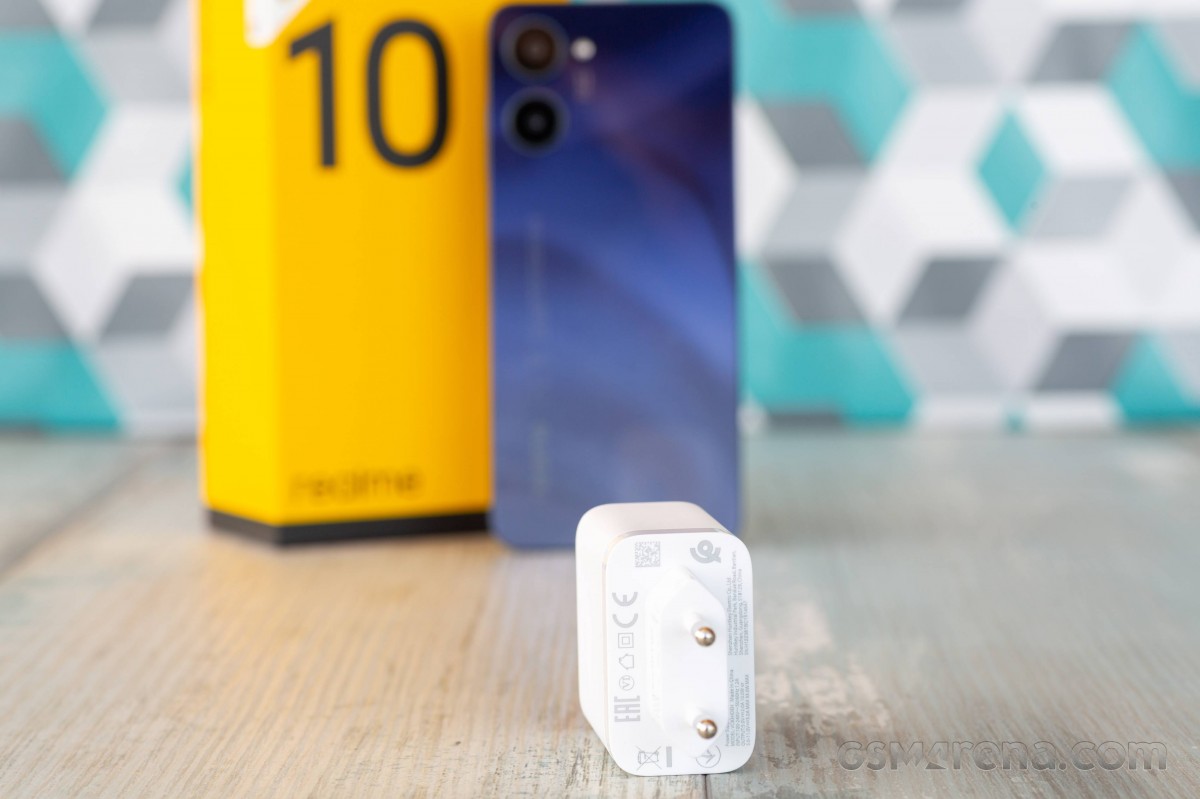 The Realme 10 went from 0% to 30% of charge in 15 minutes when using the supplied 33W charger. Another 15 minutes and the needle showed 48% of the proverbial tank full.
30min charging test (from 0%)
Higher is better
Xiaomi Redmi Note 11 Pro
78%
Realme 9 Pro+
77%
Xiaomi Redmi Note 11S
59%
Poco M5s
53%
Realme 9
50%
Samsung Galaxy A33 5G
50%
Realme 10
48%
Xiaomi Poco M4 5G
31%
Sony Xperia 10 IV (65W PD)
28%
A full charge requires 76 minutes, the same as the Realme 9, which has equal battery capacity and the same 33W charger.
Time to full charge (from 0%)
Lower is better
Xiaomi Redmi Note 11 Pro
0:48h
Realme 9 Pro+
0:49h
Xiaomi Redmi Note 11S
1:02h
Samsung Galaxy A33 5G
1:15h
Realme 10
1:16h
Realme 9
1:16h
Poco M5s
1:24h
Xiaomi Poco M4 5G
2:02h
Sony Xperia 10 IV (65W PD)
2:30h
Speaker
The Realme 10 offers a single speaker, and it's sitting at the bottom of the phone.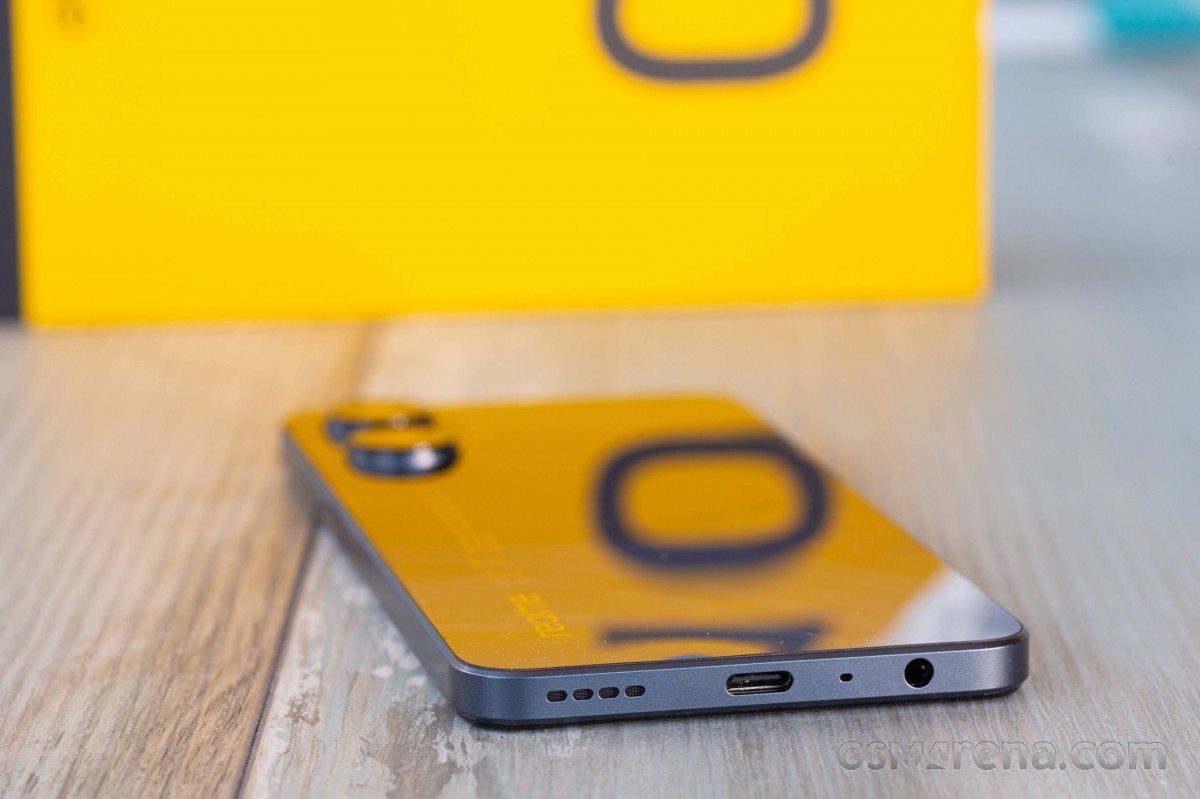 The maker says it is capable of up to 200% boost with the last possible volume setting. Well, the sound does become louder thanks to a massive boost in the high frequency, which can literally make your ears ringing. Without the boost, the sound seems focused on mid-tones and nothing else.
The Realme 10 scored a Very Good mark on our loudness test with the boost; otherwise, you'd get an Average mark.
And, as we said, the maximum volume offers incredibly high-pitch audio, which is not pleasant to listen to from up close. But it will do okay for an improvised party around the table or a picnic, we guess.
Use the Playback controls to listen to the phone sample recordings (best use headphones). We measure the average loudness of the speakers in LUFS. A lower absolute value means a louder sound. A look at the frequency response chart will tell you how far off the ideal "0db" flat line is the reproduction of the bass, treble, and mid frequencies. You can add more phones to compare how they differ. The scores and ratings are not comparable with our older loudspeaker test. Learn more about how we test here.