Superb 6.67" AMOLED with 120Hz refresh rate
The Poco F3's display is probably the biggest upgrade since the F2 Pro and the most noticeable one. It is still a 6.67" AMOLED of extended 1080p resolution, but now it supports 120Hz refresh rate and 360Hz touch sampling.
The screen resolution is the typical 1,080 x 2,400 pixels or 395ppi. There is a tiny punch-hole cutout for the selfie camera, but unlike on the Redmi Note 10 Pro, here the camera has been positioned much better inside.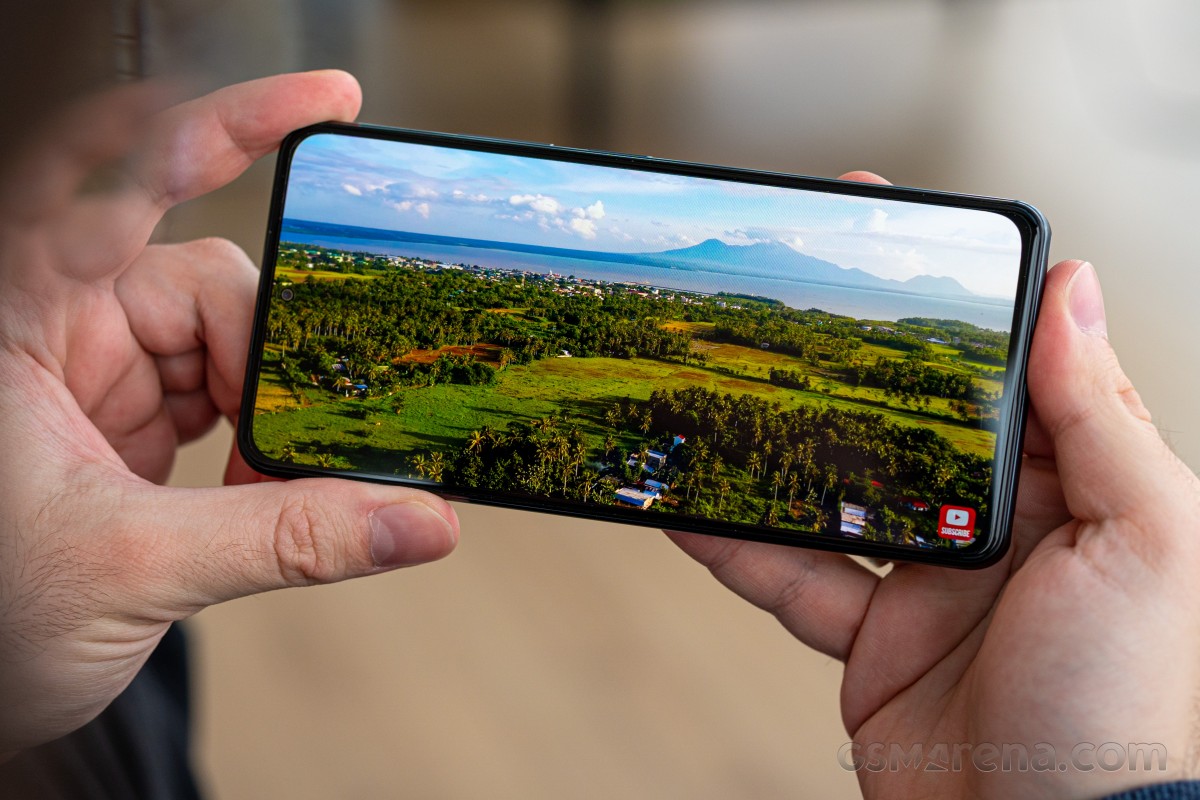 So, the display features Gorilla Glass 5 protection. Like other Xiaomi phones, this one also comes with a thin protective film already applied on the screen, but it's quite cheap and a massive fingerprint magnet, so we peeled it off in the first hour. If you really need a screen protector over, you'd be better off buying a better quality aftermarket one.
The Poco F3 screen supports 60Hz (static) and 120Hz (adaptive) refresh rate.
There is also HDR10+ certification and combined with the Widevine L1 DRM support, you can squeeze the maximum quality of any video streaming service. We tried various HDR-capable streaming services like Netflix, Prime, YouTube - and they all offered us Full HD HDR quality.
Just like on the Redmi Note 10 Pro and the Poco X3 Pro you can choose between 60Hz and 120Hz screen refresh rates called Standard and High. The High 120Hz option works dynamically - in our experience, it can switch automatically between 60Hz, 90Hz and 120Hz depending on the content you are currently displaying. Xiaomi claims the screen can go as low as 30Hz but we couldn't confirm that with Android's built-in refresh rate indicator.
The Poco F3 screen is always showing 120Hz throughout the UI and all system apps, but it reverts to 60Hz when the picture is static for battery-saving reasons - that's a typical behavior across most of the HRR phones out there. In places such as the Task Switcher or when using Picture-in-Picture mode, it would do 90Hz instead.
The screen is working at 120Hz for supported apps and games (like Dead Trigger 2), and 60Hz in Netflix, YouTube, Prime Video, the default Mi Video player, and some games.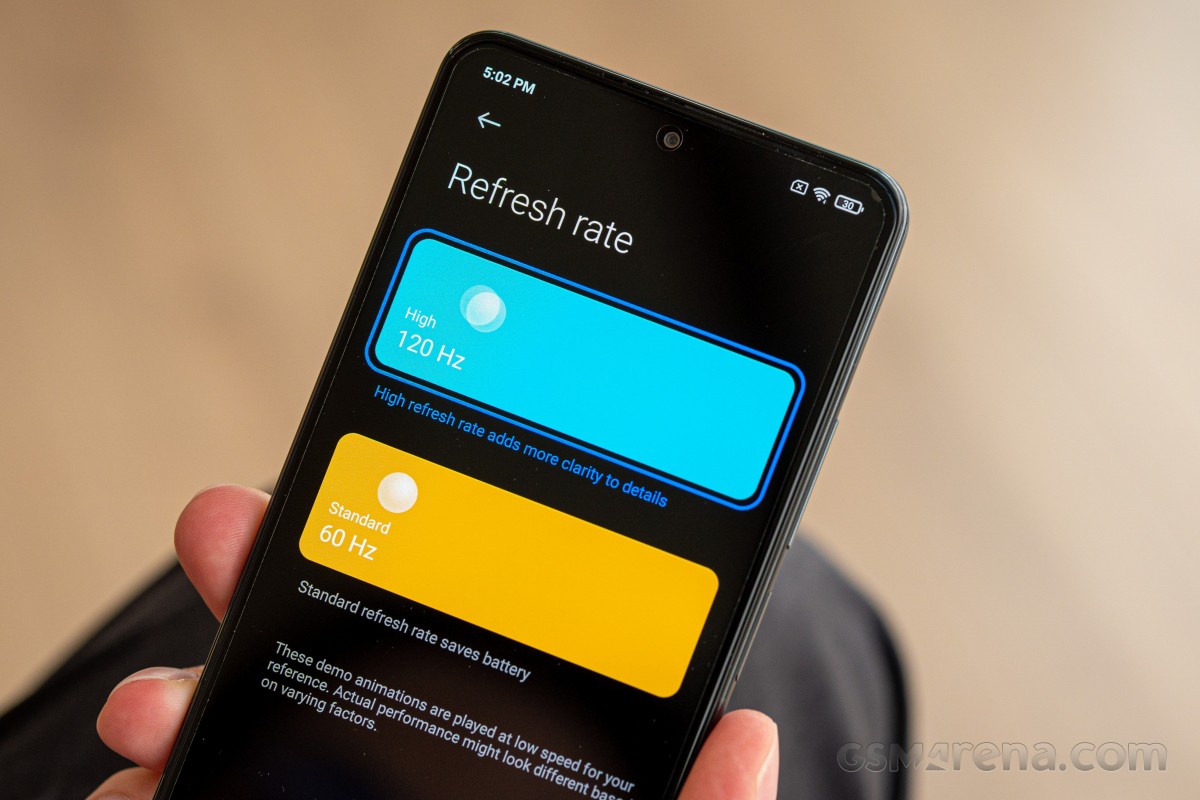 Poco is promising the F3 screen can achieve a maximum auto-brightness of 900 nits (typical) and 1300nits (peak/local) when watching HDR video content.
And we can confirm the 700nits auto brightness - 711 nits to be specific. It is achievable when the screen is set to Auto-Brightness or when you turn the Sunlight Boost in Manual Brightness Mode. Otherwise, the maximum brightness at the end of the brightness slider is 511 nits - which, admittedly, is still plenty enough.
One thing we didn't like is the brightness scrubber levels - for example, 200 nits are achieved at about 85% of the slider, and the other 300+ nits are represented by the last 15% of the slider movement. That's some poor control design, and it annoyed us a lot, especially when we wanted to get a brighter but NOT THAT bright screen.
We measured the minimum brightness at point white, and it is just 2.1 nits, which is commendable.
Display test
100% brightness
Black,cd/m2
White,cd/m2
Contrast ratio
Poco F3
0
511
∞
Poco F3 (Max Auto)
0
716
∞
Xiaomi Poco F2 Pro
0
516
∞
Xiaomi Poco F2 Pro (Max Auto)
0
854
∞
Xiaomi Pocophone F1
0.314
461
1468:1
Realme X3 SuperZoom
0.332
437
1316:1
Xiaomi Poco X3 NFC
0.354
460
1299:1
Xiaomi Poco X3 NFC (Max Auto)
0.515
631
1225:1
Poco X3 Pro
0.327
458
1401:1
Poco X3 Pro (Max Auto)
0.4
534
1335:1
Xiaomi Redmi Note 10 Pro
0
457
∞
Xiaomi Redmi Note 10 Pro (Max Auto)
0
725
∞
Xiaomi Redmi Note 10
0
475
∞
Xiaomi Redmi Note 10 (Max Auto)
0
682
∞
Realme 8 Pro
0
454
∞
Realme 8 Pro (Max Auto)
0
627
∞
Realme 7 Pro
0
459
∞
Realme 7 Pro (Max Auto)
0
585
∞
Realme 7 5G
0.376
484
1287:1
Realme 7 5G (Max Auto)
0.667
571
856:1
Motorola Moto G100
0.349
498
1427:1
Motorola Moto G100 (Max Auto)
0.434
613
1412:1
Xiaomi Redmi Note 9 Pro
0.355
456
1285:1
Xiaomi Redmi Note 9 Pro (Max Auto)
0.487
616
1265:1
Samsung Galaxy A52
0
386
∞
Samsung Galaxy A52 (Max Auto)
0
794
∞
The Poco F3 offers AI Image Engine that can do two things (both disabled by default). The first is convert SDR media to HDR on the go. The second one is MEMC - motion interpolation from low frame rate footage to high frame rate. The latter leads to a soap opera-like effect for some movies/TV shows, so if you feel something is wrong, say too fast or too real, just don't use MEMC.
There are three predefined Color presets - Auto, Saturated, Standard - each representing a specific color space.
The Auto option is tuned to reproduce Wide Color Gamut content faithfully, but it also adjusts the colors to correspond to your current lighting (like Apple's True Tone). We saw some very good calibration in our office's normal daylight conditions, even if with some bluish tinge of the white and gray hues.
The Standard setting corresponds to sRGB, and the screen shows an excellent calibration.
Finally, the Saturated mode makes the colors pop, and they are no longer as accurate to DCI-P3.
Battery life
The Poco F3 is powered by a rather large 4,520mAh battery - nearly 200mAh smaller than the F2's and 500mAh less than the Redmi Note 10 Pro and Poco X3 Pro. It still seems enough for such a smartphone, so we expect some good numbers on our battery life test.
And indeed, the Poco F3 scored some impressive times! The phone posted an outstanding battery endurance rating of 114 hours! It did lovely on the screen-on tests, and you can do calls for a full day.
The phone always shows videos at 60Hz, and it drops the refresh when reading websites to 60Hz, too, with the exceptions being when you touch the screen. Meaning these times are also representative of when the display is set to a static 60Hz refresh rate.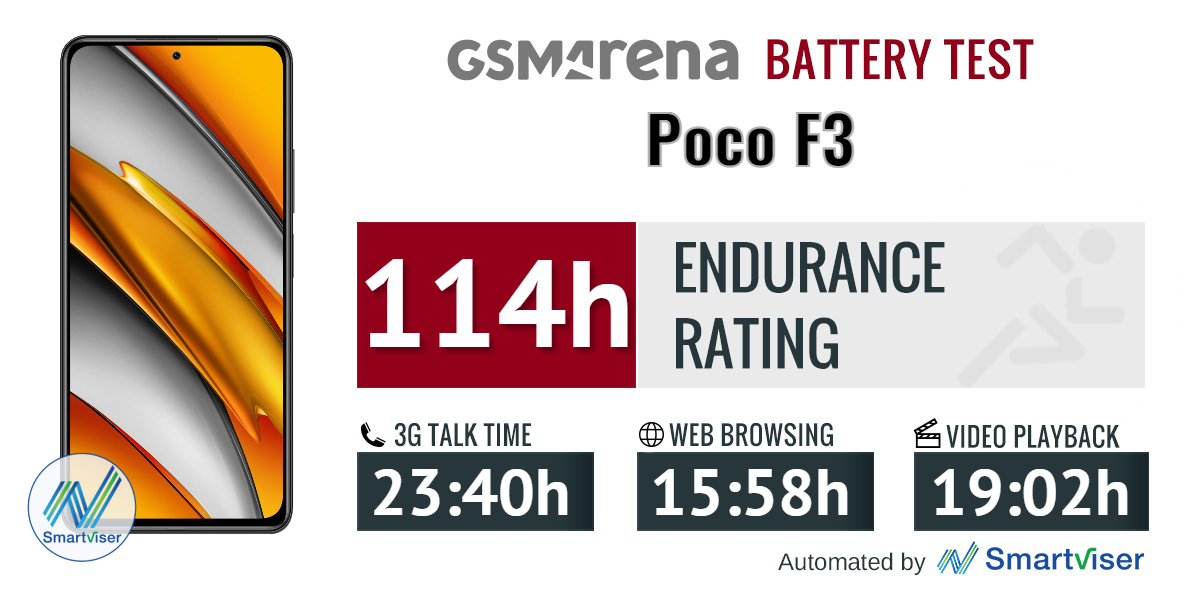 Our battery tests were automated thanks to SmartViser, using its viSerDevice app. The endurance rating denotes how long the battery charge will last you if you use the device for an hour of telephony, web browsing, and video playback daily. More details can be found here.
All test results shown are achieved under the highest screen refresh rate mode. You can adjust the endurance rating formula manually so it matches better your own usage in our all-time battery test results chart where you can also find all phones we've tested.
Charging speed
Just like the Redmi Note 10 Pro and Poco X3 Pro, among other Xiaomi phones, the Poco F3 battery supports 33W Mi Fast charging and the phone ships with a 33W adapter and a 3A-rated cable.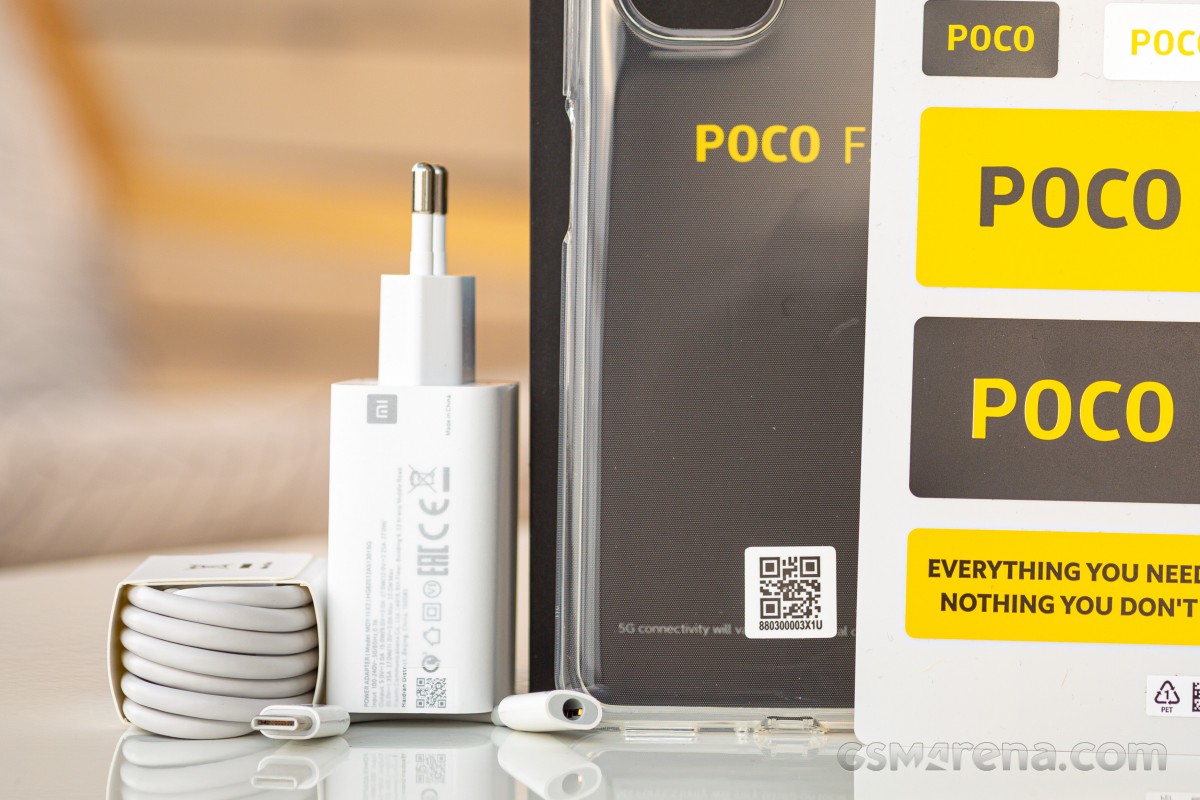 The bundled charger refills 67% of the F3's dead battery in 30 minutes.
30min charging test (from 0%)
Realme 7 Pro
94%
Realme 8 Pro
88%
Poco F3
67%
Xiaomi Redmi Note 10
65%
Xiaomi Redmi Note 9 Pro
63%
Xiaomi Poco F2 Pro
60%
Realme 7
58%
Realme 7 5G
57%
Poco X3 NFC
55%
Samsung Galaxy A52 (25W)
52%
Xiaomi Redmi Note 10 Pro
50%
Poco X3 Pro
50%
Xiaomi Redmi Note 8 Pro
39%
Xiaomi Redmi Note 9S
37%
Pocophone F1
35%
Samsung Galaxy A52
34%
A full charge requires 56 minutes - a truly impressive time for this class!
Time to full charge (from 0%)
Realme 7 Pro
0:37h
Realme 8 Pro
0:38h
Poco F3
0:56h
Xiaomi Poco F2 Pro
1:05h
Realme 7
1:05h
Realme 7 5G
1:06h
Poco X3 Pro
1:08h
Xiaomi Redmi Note 9 Pro
1:11h
Xiaomi Redmi Note 10
1:13h
Poco X3 NFC
1:15h
Xiaomi Redmi Note 10 Pro
1:21h
Samsung Galaxy A52 (25W)
1:30h
Xiaomi Redmi Note 9S
1:45h
Samsung Galaxy A52
2:03h
Speakers
The Poco F3 features a hybrid stereo speaker setup, where the earpiece also doubles as a speaker. While the configurations we've experienced on the Redmi Note 10 Pro and the X3 Pro seemed to have equally loud and powerful speakers, that is not the case on the Poco F3.
The top speaker has two grilles - one front-facing and another one at the top of the phone, on the frame. The front hole is letting high notes through, while the top grille provides for some bass. This speaker seems to be a bit quieter than the bottom-firing one and suited for mostly high frequencies.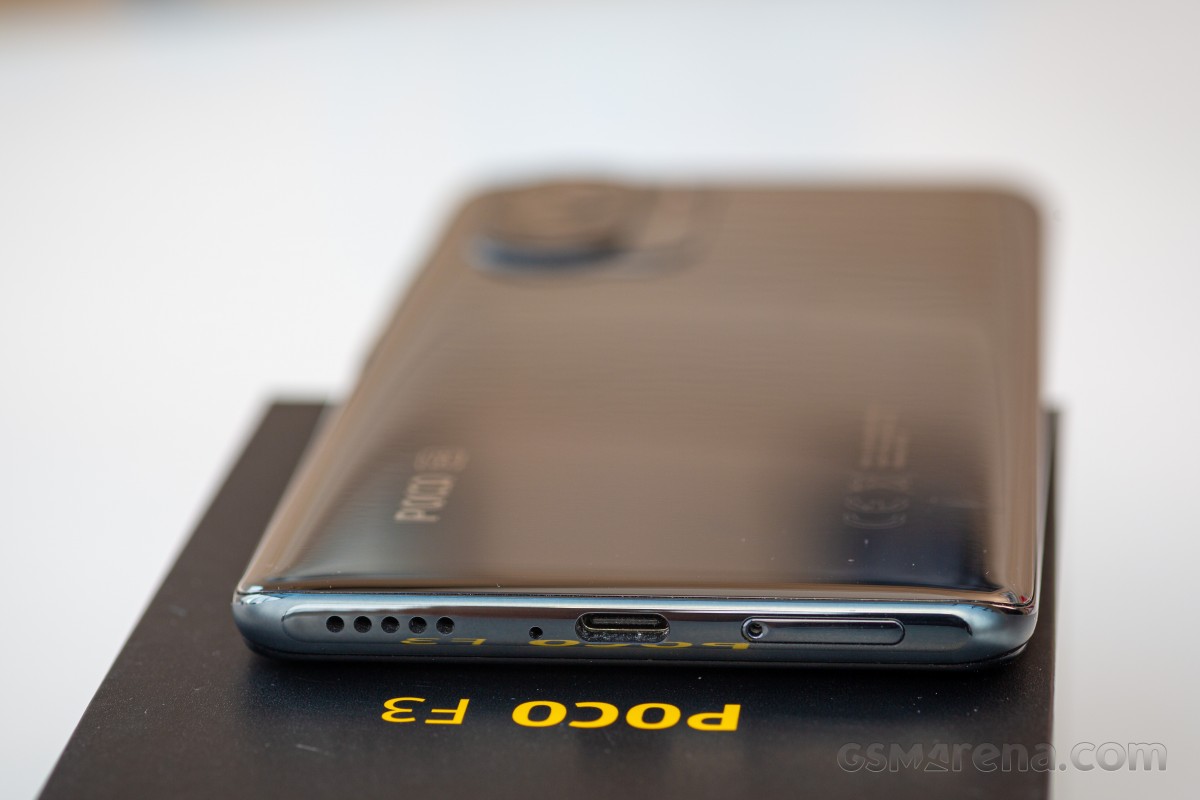 Then there is the bottom speaker, which is louder and provides good bass and excellent mid-tones. And you've probably guessed that right - the high tones aren't its strong suit.
And it's good news from here. The F3 setup scored a Very Good overall loudness on our test and showed us good balance when neither speaker is muffled. We liked the sound quality too; there is some good representation across bass, mid and high tones.
Use the Playback controls to listen to the phone sample recordings (best use headphones). We measure the average loudness of the speakers in LUFS. A lower absolute value means a louder sound. A look at the frequency response chart will tell you how far off the ideal "0db" flat line is the reproduction of the bass, treble, and mid frequencies. You can add more phones to compare how they differ. The scores and ratings are not comparable with our older loudspeaker test. Learn more about how we test here.