6.43" OLED as on other Oppos, this one with 90Hz capability
The Oppo Reno7 comes with a 6.43-inch OLED display - diagonal and technology shared among most of the Reno7 lineup (the Reno7 Pro 5G stands out with a 6.55-inch panel). The screen has a 1080x2400px resolution in a 20:9 ratio for a 409ppi pixel density.
What's not universal among the 6.43-inch Renos is the refresh rate - the Lite, for example, is capped at 60Hz, while the Reno7 proper here goes up to 90Hz. Oppo also specifies a touch sampling rate of 120Hz when using 5 fingers, up to 180Hz for 2 fingers - a somewhat unusual distinction.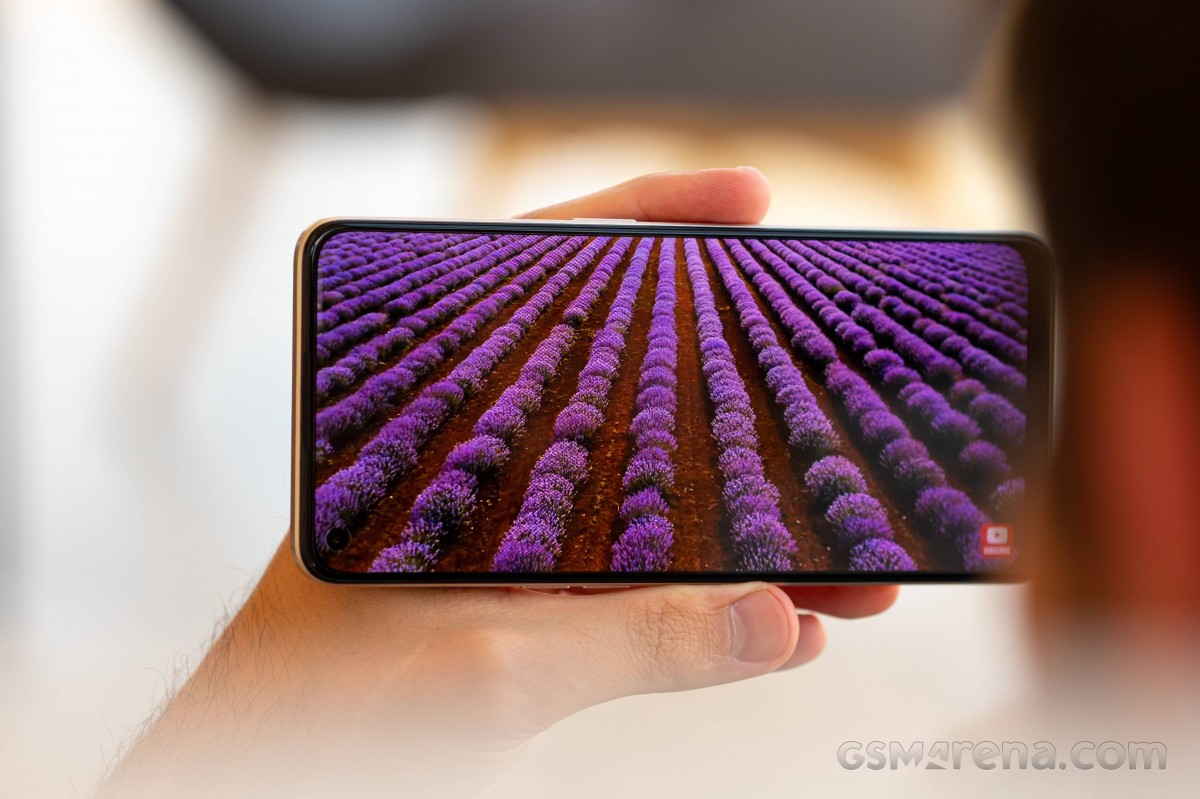 All of the 6.43-inch Reno7s are rated for 430nits of typical brightness, up to 600nits in bright ambient conditions. In our testing, the vanilla Reno7 was good for 439nits when operating the slider manually, with the auto-triggered boost reaching 624nits - so Oppo's claims aren't unfounded. The Reno7 Lite and the Reno7 5G are still marginally brighter, for one reason or another, while Xiaomi and Samsung midrangers can push 150-200nits more in auto brightness mode.
Display test
100% brightness
Black,cd/m2
White,cd/m2
Contrast ratio
Oppo Reno7
0
439
∞
Oppo Reno7 (Max Auto)
0
624
∞
Oppo Reno7 Lite 5G
0
447
∞
Oppo Reno7 Lite 5G (Max Auto)
0
657
∞
Oppo Reno7 5G
0
456
∞
Oppo Reno7 5G (Max Auto)
0
635
∞
Xiaomi Redmi Note 11 Pro+ 5G
0
479
∞
Xiaomi Redmi Note 11 Pro+ 5G (Max Auto)
0
760
∞
Xiaomi Redmi Note 11 Pro
0
470
∞
Xiaomi Redmi Note 11 Pro (Max Auto)
0
746
∞
Samsung Galaxy A53 5G
0
427
∞
Samsung Galaxy A53 5G (Max Auto)
0
830
∞
Samsung Galaxy M53
0
403
∞
Samsung Galaxy M53 (Max Auto)
0
802
∞
Samsung Galaxy A33 5G
0
407
∞
Samsung Galaxy A33 5G (Max Auto)
0
728
∞
Realme 9 Pro
0.288
461
1601:1
Realme 9 Pro (Max Auto)
0.385
567
1473:1
Realme 9 Pro+
0
433
∞
Realme 9 Pro+ (Max Auito)
0
613
∞
You get two modes for color reproduction, and neither is particularly accurate. Vivid mode does offer punchy colors and a wide color gamut, targeting the DCI-P3 color space, while Natural is more muted and sRGB-focused. We got an average dE2000 of around 5 in both modes for their respective test patterns and a similarly blue rendition of the grayscale range between the two. Opting for the Warm color temperature preset only helped marginally with the average numbers, but the grayscale still couldn't get very accurate, only shifting towards red/pink.
Oppo makes no mention of HDR support on the Reno7/F21 Pro spec pages, and despite the odd HDR checker app reporting HDR10, we got no HDR streams from any of the popular platforms (YouTube/Netflix/Amazon Prime Video). The Widevine L1 certification does mean you get to enjoy FullHD streams.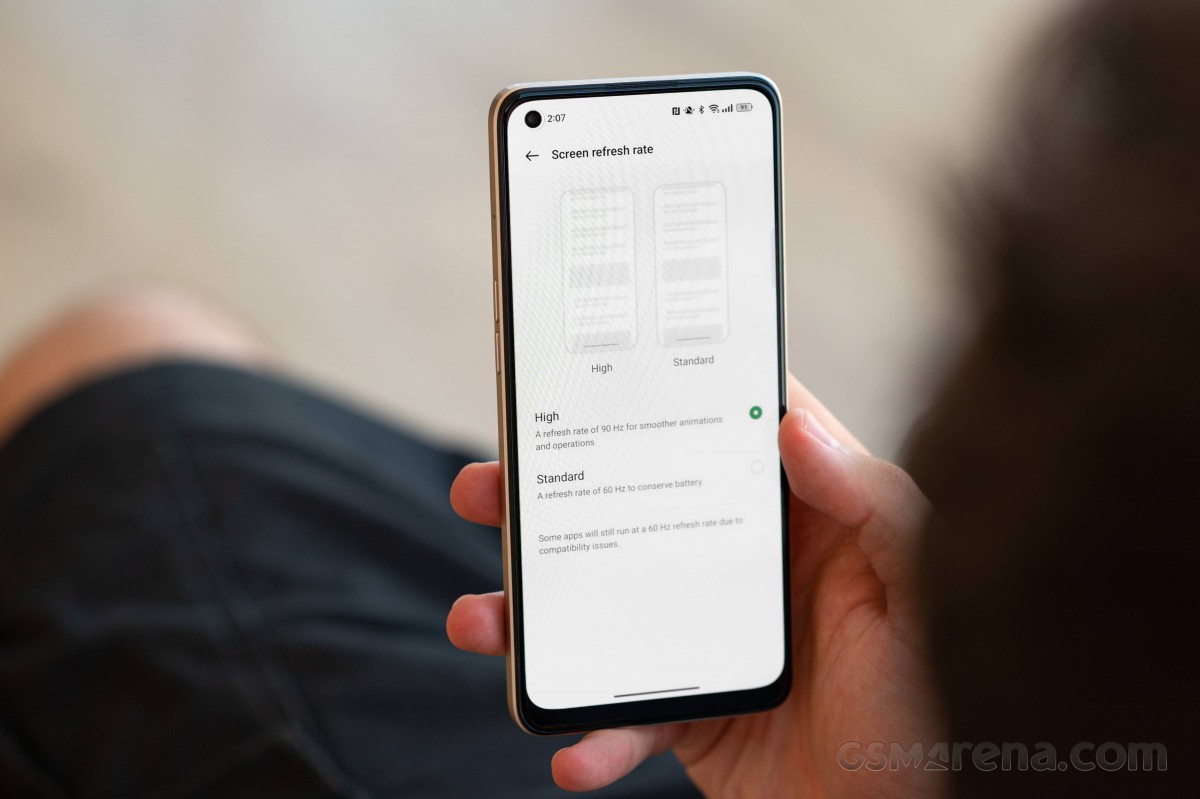 The high refresh rate implementation on the Reno7 is the same one we observed on the Reno7 5G, and it's a fairly basic one (not that we'd expect otherwise). There are two modes - High and Standard, and Standard locks things at 60Hz. The High setting will give you 90Hz in all compatible apps and across the UI, but will switch down to 60Hz after a few seconds of inactivity, as well as in video playback apps, games, the camera viewfinder and Google maps.
Oppo Reno7 battery life
The Reno7 is equipped with a 4,500mAh battery, the same capacity as the rest of the family, and a very reasonable number, given the chipset/display combo. Indeed, we got some excellent endurance out of this ensemble.
We clocked nearly 17 hours of Wi-Fi web browsing. Admittedly, that test was carried out with the display running at 60Hz since the phone wouldn't allow 90Hz for our testing software, but it's a respectable score nonetheless. The 21:28h result we got in video playback (that one at 60Hz, too) is a great number, and the 33 hours of voice calls don't leave anything to be desired.
Factoring in a good standby performance, the Oppo Reno7 arrived at an overall Endurance rating of 127h.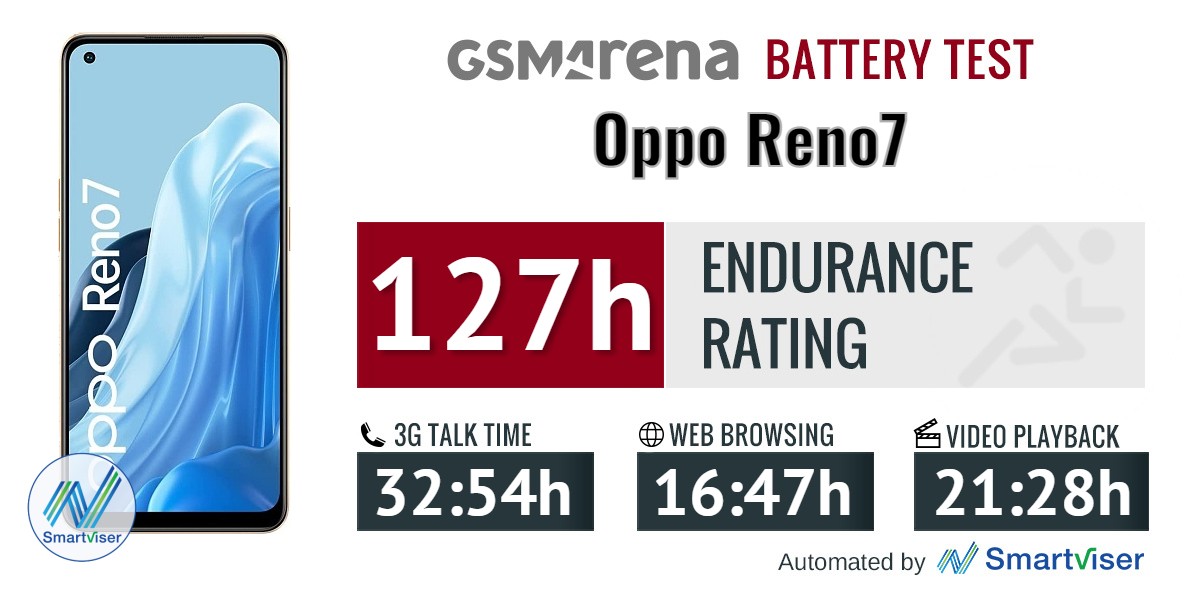 Our battery tests were automated thanks to SmartViser, using its viSerDevice app. The endurance rating denotes how long the battery charge will last you if you use the device for an hour of telephony, web browsing, and video playback daily. More details can be found here.
Video test carried out in 60Hz refresh rate mode. Web browsing test done at the display's highest refresh rate whenever possible. Refer to the respective reviews for specifics. To adjust the endurance rating formula to match your own usage - check out our all-time battery test results chart.
Charging speed
We mentioned already that we didn't have a full retail bundle with our Reno7 review unit, but we did have a 33W charger, just like the one that ships with the phone.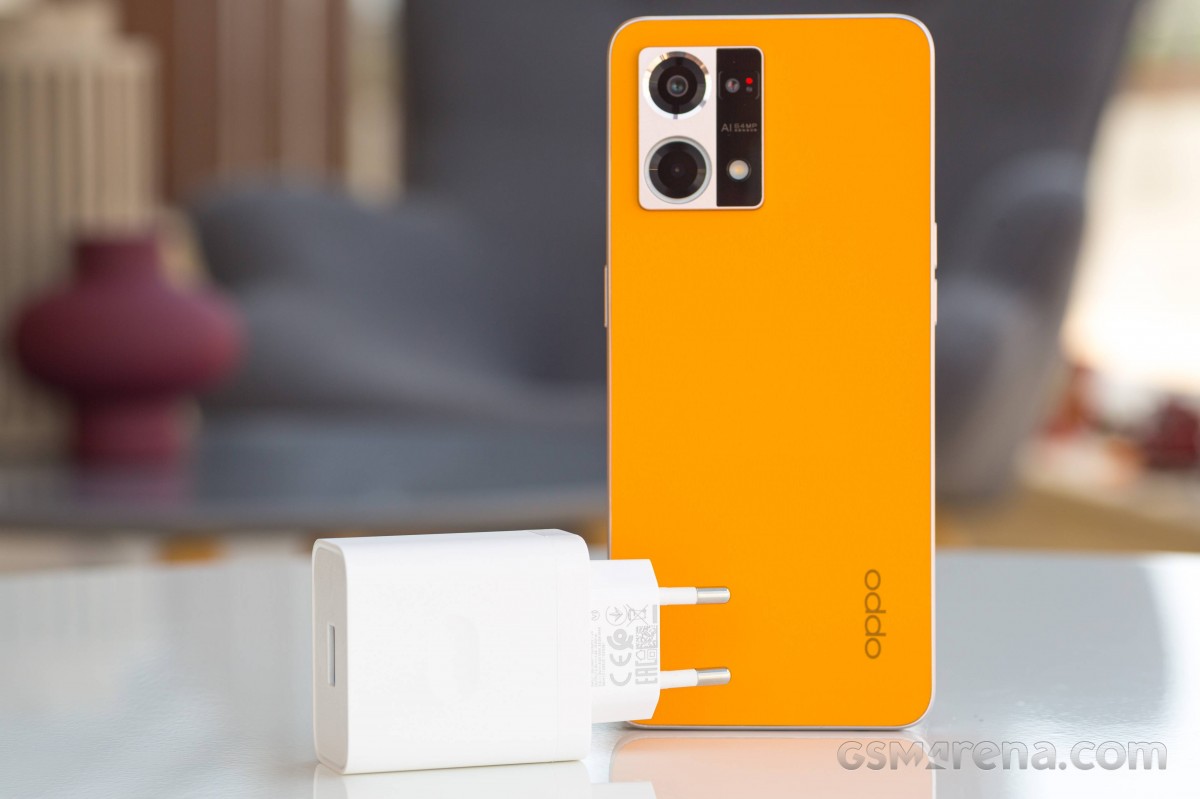 Using that one, we clocked a full charge from flat to take 1:10h, and the battery was half-full at the half-hour mark. These are essentially the same results we got on the Reno7 Lite and the Realme 9 Pro, though higher-end models from both companies can charge faster.
30min charging test (from 0%)
Higher is better
Xiaomi Redmi Note 11 Pro+ 5G
100%
Oppo Reno7 5G
90%
Xiaomi Redmi Note 11 Pro
78%
Realme 9 Pro+
77%
Samsung Galaxy A52s 5G
53%
Oppo Reno7 Lite 5G
52%
Realme 9 Pro
52%
Xiaomi Redmi Note 11
51%
Oppo Reno7
50%
Samsung Galaxy A33 5G
50%
Samsung Galaxy A53 5G
45%
Time to full charge (from 0%)
Lower is better
Xiaomi Redmi Note 11 Pro+ 5G
0:16h
Oppo Reno7 5G
0:37h
Xiaomi Redmi Note 11 Pro
0:48h
Realme 9 Pro+
0:49h
Oppo Reno7
1:10h
Oppo Reno7 Lite 5G
1:11h
Realme 9 Pro
1:14h
Samsung Galaxy A33 5G
1:15h
Xiaomi Redmi Note 11
1:18h
Samsung Galaxy A53 5G
1:24h
Samsung Galaxy A52s 5G
1:28h
Speaker test
The Reno7 has a single loudspeaker on the bottom of the phone, firing out of a three-slotted grille.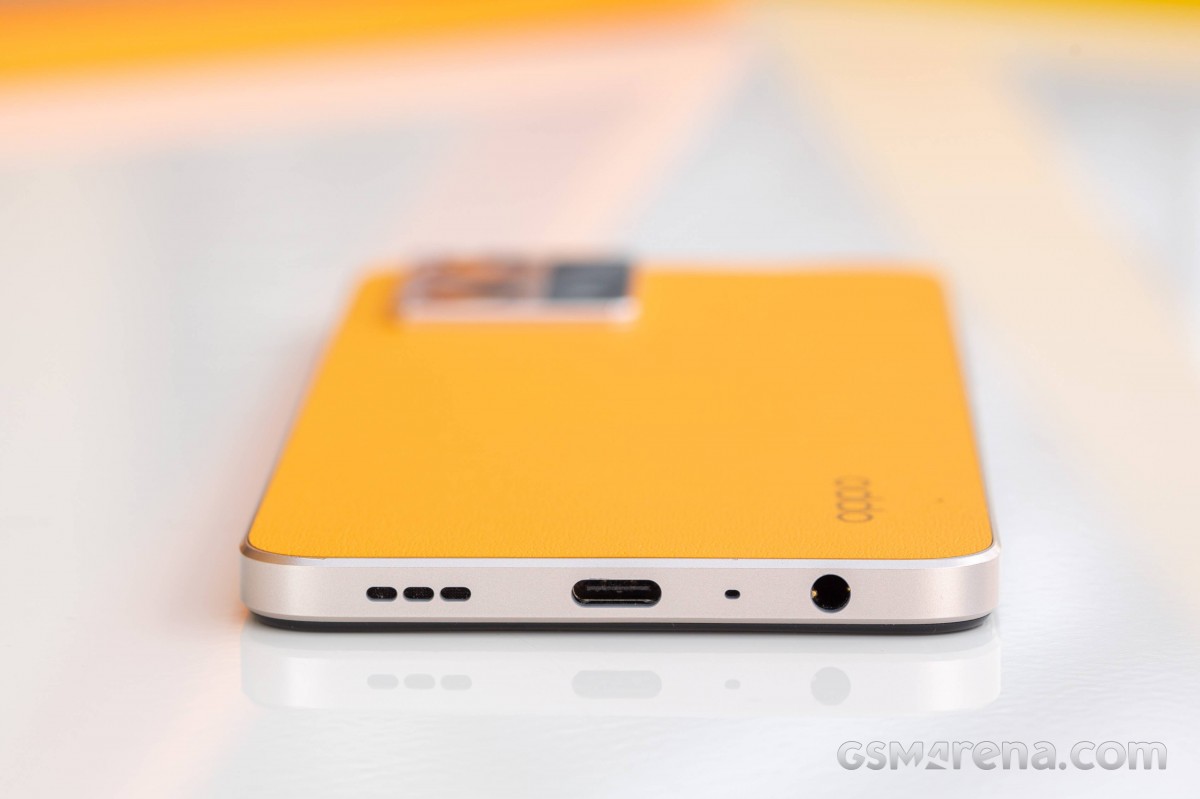 In our testing, the phone earned the same 'Average' mark for loudness as the Reno7 5G and the Reno7 Lite. The vanilla Reno7 sounds a lot like the 5G version, with well-defined treble and clear vocals, if still missing low-end rumble. The Lite remains slightly louder and is a bit more midtone-forward.
Use the Playback controls to listen to the phone sample recordings (best use headphones). We measure the average loudness of the speakers in LUFS. A lower absolute value means a louder sound. A look at the frequency response chart will tell you how far off the ideal "0db" flat line is the reproduction of the bass, treble, and mid frequencies. You can add more phones to compare how they differ. The scores and ratings are not comparable with our older loudspeaker test. Learn more about how we test here.