OxygenOS 11 and Android 11
The Nord CE 5G doesn't bring anything out of the ordinary in terms of software as far as OnePlus devices go. The company promises 2 years of major software updates and 3 years of security patches. This means that if you are buying the Nord CE now, you can expect Android 13, eventually. That's one major Android update short of what you are getting compared to flagship OnePlus devices, but it's still competitive enough.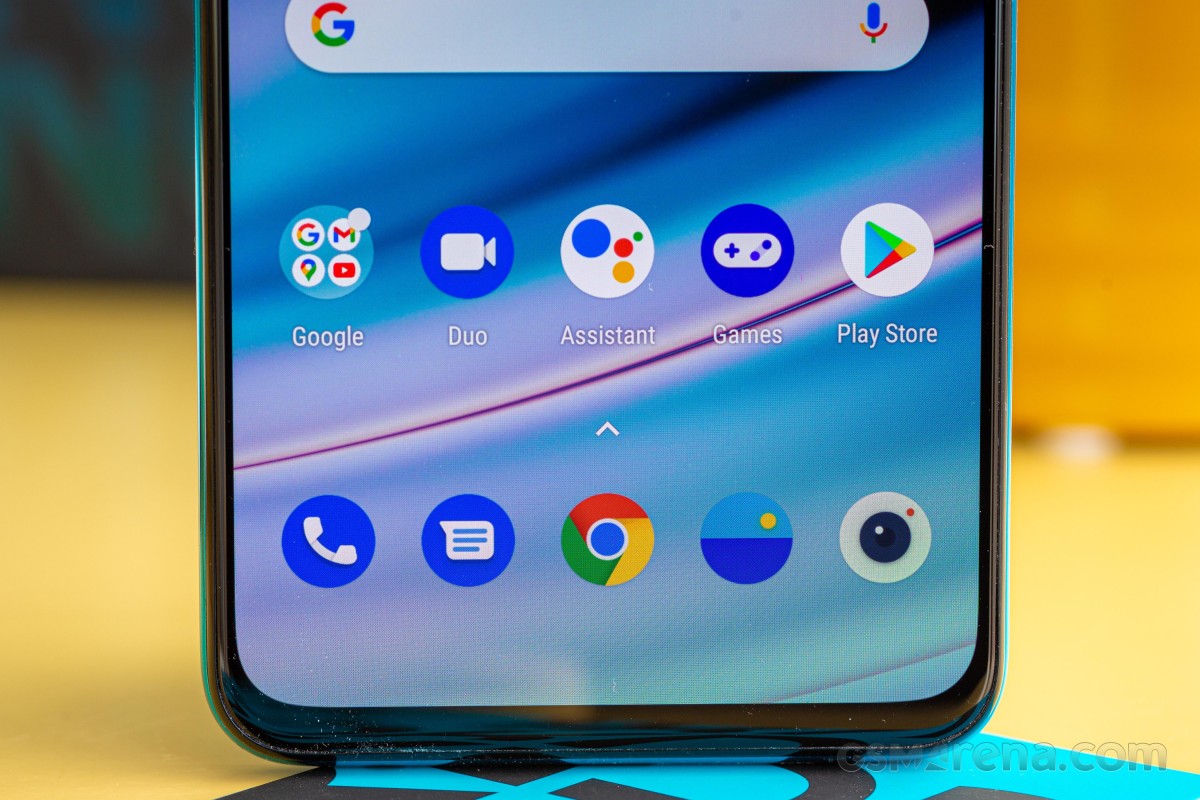 Anyway, the OxygenOS 11 still looks clean, but it's no longer as stock-looking as before. A lot of the UI elements have been modified in one way or the other. System menus and the notification shade are all optimized for one-handed use by bringing much of the content closer to the bottom half of the screen, so you don't have to reach up too much with your thumb. This is also true for some of the default OxygenOS apps such as the Gallery and Clock.
Interestingly, the default phone app is now Google's dialer instead of OnePlus'. It's a strange move as OnePlus' own app is more polished and more in line with OxygenOS overall design language.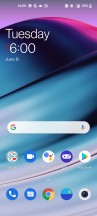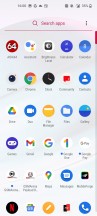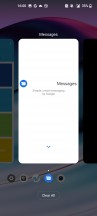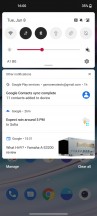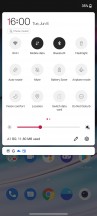 Home screen, recent apps, app drawer, notificaton shade
The OEM highlights the always-on display as one of the main features on this phone, and we can agree to an extent. It's not a mainstream feature in this price range, and it's also not a standard feature for OnePlus phones in general. In fact, even older OnePlus flagship phones are yet to receive an update enabling the functionality.
Unfortunately, we've stumbled upon a strange issue with the always-on display - the fingerprint area blinks uncontrollably, making the unlocking troublesome. You'd have to press the power button to turn on the screen and then unlock with your finger.
If you want to avoid the extra battery drain that comes with the AOD, the second best thing is the so-called Ambient display where the phone shows you information when you touch the screen or when you pick it up.
In the customization menu, you can apply a different icon pack, pick a font, select fingerprint unlock animation and also choose an accent color. You can even type in a color code to match your wallpaper if you are into design.
Of course, since the handset runs on Android 11, the highlight features of this OS release are also at hand - one-time permission for apps, conversation grouping in the notification panel, as well as notification bubbles that work and look almost exactly like Messenger's chat heads.
Battery management and optimization settings aren't exactly new to OxygenOS, but it's nice to see them implemented into more budget OnePlus phones too. You get granular control over background app usage as well as optimized charging to preserve the battery's long-term health. The system learns your charging habits and will stop charging the phone until minutes before you wake up.
The fingerprint reader is another contributing factor to the overall excellent software experience. It's fast, accurate and reliable even in bright outdoors. There's also an additional Quick Launch feature that opens an app or executes a task if you keep your finger on the scanner for a second or two. There's plenty of slots to occupy, and you can cycle them by holding your thumb and swiping left or right.
Another notable feature is the screen-off gestures. You can play/pause the media player or launch an app by drawing on the locked screen. Some letters are easier to register and execute than others, and there's a learning curve to it.
There is also a Games app that helps you organize your downloaded games and tinker with some game-related settings and customize the behavior of notifications and incoming calls during gaming.
Last, but not least, there is the so-called Zen Mode - it blocks the ability to interact with the phone and blocks distractions by the phone for a certain period of your choice, helping you regain your focus. You can still receive or make emergency calls. Practicing Zen Mode daily earns you rewards like medals for your digital-free time frames each day.
As you can see, OnePlus has kept additional features to a minimum, but it aims to deliver a burden-less experience by doing so. We can say they've achieved their goal. OxygenOS feels snappy, fluent and efficient. You won't see any slow or useless animations, too.
Performance
The Qualcomm Snapdragon 750G (8nm) is a fairly new SoC to the scene, and it's touted as a direct successor to the Snapdragon 732G. It integrates an octa-core CPU separated into two clusters - 2x Kryo 570 cores (Cortex-A77 derivative) clocked at 2.2 GHz and 6x Kryo 570 cores (Cortex-A55 derivative) ticking at 1.8 GHz. The Adreno 619 takes care of the graphically intensive tasks.
The SoC is paired with either 6, 8 or 12GB of LPDDR4X RAM and a choice between 128 or 256GB UFS 2.1 storage. It's nice to see 128GB being the base memory configuration, especially since there's no slot for microSD cards.
GeekBench 5 (multi-core)
Higher is better
OnePlus Nord
1953
OnePlus Nord CE 5G
1812
Xiaomi Redmi Note 10 Pro
1780
Realme 8 Pro
1678
Samsung Galaxy A52
1577
GeekBench 5 (single-core)
Higher is better
OnePlus Nord CE 5G
641
OnePlus Nord
610
Xiaomi Redmi Note 10 Pro
569
Realme 8 Pro
566
Samsung Galaxy A52
525
AnTuTu 8
Higher is better
Poco F3
631850
OnePlus Nord CE 5G
318672
OnePlus Nord
312794
Xiaomi Redmi Note 10 Pro
295442
Realme 8 Pro
286666
Samsung Galaxy A52
261282
GFX Car Chase ES 3.1 (offscreen 1080p)
Higher is better
OnePlus Nord
21
OnePlus Nord CE 5G
19
Xiaomi Redmi Note 10 Pro
19
Realme 8 Pro
18
Samsung Galaxy A52
17
GFX Car Chase ES 3.1 (onscreen)
Higher is better
OnePlus Nord
19
OnePlus Nord CE 5G
17
Realme 8 Pro
16
Xiaomi Redmi Note 10 Pro
16
Samsung Galaxy A52
15
3DMark SSE ES 3.1 (offscreen 1440p)
Higher is better
OnePlus Nord
3285
OnePlus Nord CE 5G
2801
Samsung Galaxy A52
2529
3DMark Wild Life Vulkan 1.1 (offscreen 1440p)
Higher is better
Realme 8 Pro
1051
Samsung Galaxy A52
1040
OnePlus Nord CE 5G
113
Performance-wise, the Snapdragon 750G holds up pretty well even compared to the more powerful Snapdragon 765G. When it comes to raw computational loads and compound tests, the Snapdragon 750G even comes out on top. However, in strictly GPU-intensive benchmarks, the Snapdragon 765G is still the more powerful of the two.