Bright HRR display with a cutout
Although the first Nord and the Nord CE have almost identical displays on paper, there are a couple of key differences. The most notable one is the missing HDR10 video support. Full sRGB and DCI-P3 coverage and 90Hz refresh rate are still at hand.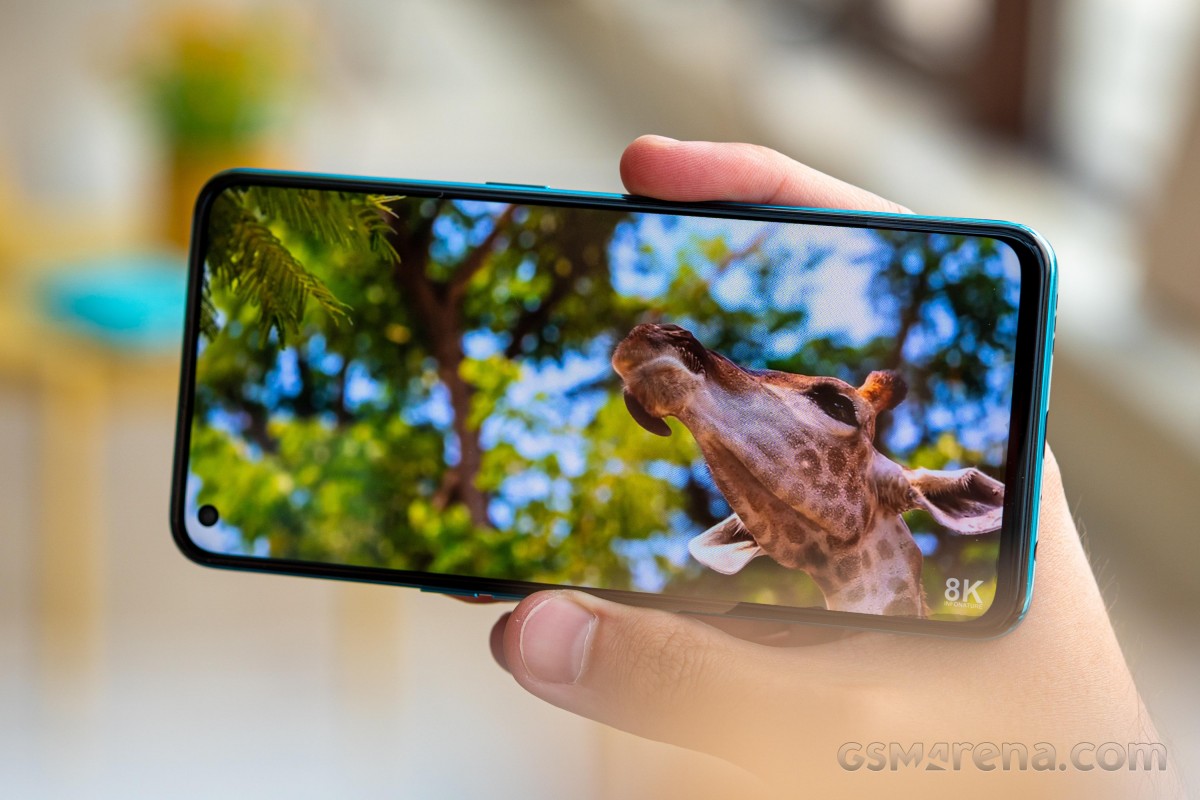 Anyway, the 6.43-inch Fluid AMOLED display adopts a standard for these days resolution of 1080 x 2400px, forming a tall 20:9 aspect ratio. The cutout for the front-facing camera appears to be a tad bigger than expected for an OLED panel, and it's placed further from the corner too. The current implementation eats away a significant chunk of the screen's real estate.
Doing our usual round of tests revealed another key difference between the vanilla Nord's display and the CE's - brightness. The latter has higher manual brightness and lower peak auto brightness but still sufficient for comfortable outdoor use. In manual mode, the display peaked at 429 nits while leaving the control on auto can boost that to 607 nits. A respectable result.
Display test
100% brightness
Black,cd/m2
White,cd/m2
Contrast ratio
OnePlus Nord
0
323
∞
OnePlus Nord (Max Auto)
0
756
∞
OnePlus Nord CE 5G
0
429
∞
OnePlus Nord CE 5G (Max Auto)
0
607
∞
Samsung Galaxy A52
0
386
∞
Samsung Galaxy A52 (Max Auto)
0
794
∞
Poco F3
0
511
∞
Poco F3 (Max Auto)
0
716
∞
Xiaomi Redmi Note 10 Pro
0
457
∞
Xiaomi Redmi Note 10 Pro (Max Auto)
0
725
∞
Realme 8 Pro
0
454
∞
Realme 8 Pro (Max Auto)
0
627
∞
Color accuracy isn't great with the default Vivid mode, so switching to Natural mode for less blue-ish whites and grays is advisable. The average dE2000 in this mode is just 2.2, which means very accurate color reproduction.
Nice to see that even the budget version of the Nord gets HRR display. It may seem this screen still falls short of Redmi Note 10 Pro's 120Hz OLED screen, but the implementation on the Nord CE is not without its merits as you get a proper automatic refresh rate control.
If you are watching a video using the default player in the gallery, Netflix or YouTube, the panel will lower the refresh rate to 60Hz to preserve power. The same occurs when you are not interacting with the display, so for instance, if you are scrolling a page in Chrome and stop for a couple of seconds, the software will default to 60Hz. The refresh rate would shoot up to 90Hz once again when you touch the display again.
This is one of the well-executed refresh rate controls, especially in the mid-range segment. This ensures power efficiency and smooth operation at the same time.
Battery life
To be honest, we were a bit skeptical at first given the 4,500 mAh battery. However, the Nord CE managed to surprise us with excellent battery endurance in all of the tests. It did particularly well in the screen-on tests, which are arguably the more important aspect of battery endurance. The video playback times and the web browsing runtimes are higher than any of its direct rivals, and as a result, OnePlus' contender gets an impressive overall rating of 117h.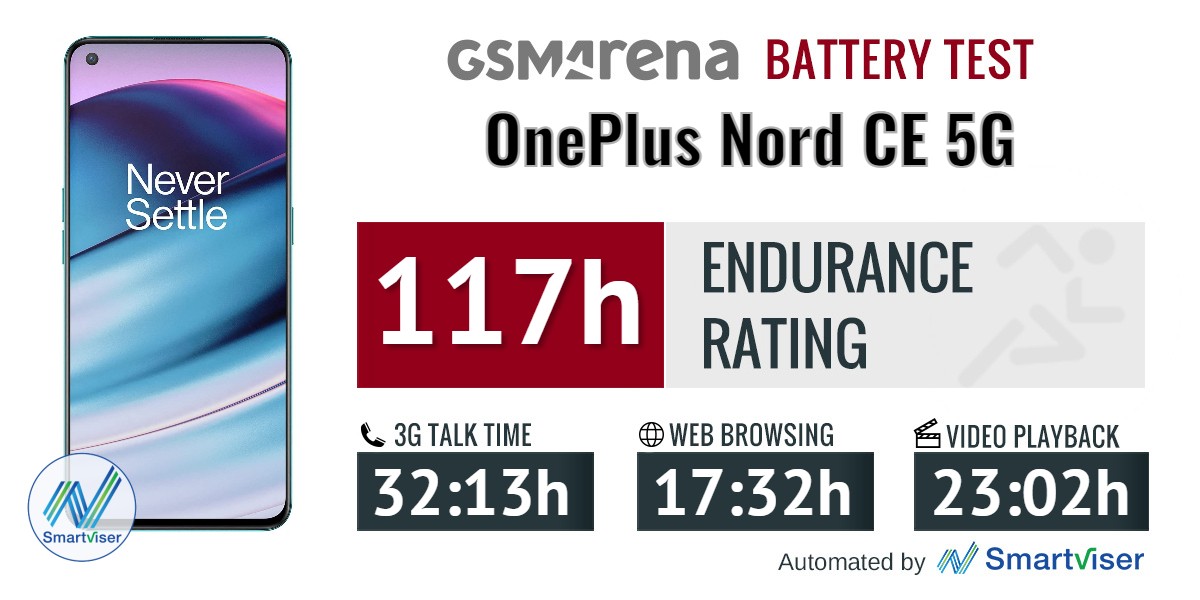 Our battery tests were automated thanks to SmartViser, using its viSerDevice app. The endurance rating denotes how long the battery charge will last you if you use the device for an hour of telephony, web browsing, and video playback daily. More details can be found here.
Video test carried out in 60Hz refresh rate mode. Web browsing test done at the display's highest refresh rate whenever possible. Refer to the respective reviews for specifics. To adjust the endurance rating formula to match your own usage patterns check out our all-time battery test results chart where you can also find all phones we've tested.
Charging speed
The company has a long history of implementing fast charging in its phones, but the competition has caught up, and OnePlus is no longer in the lead. The Nord CE is the perfect example. It can charge fast, but it's not much faster than its rivals. Especially when considering the fact that it employs a 4,500 mAh cell.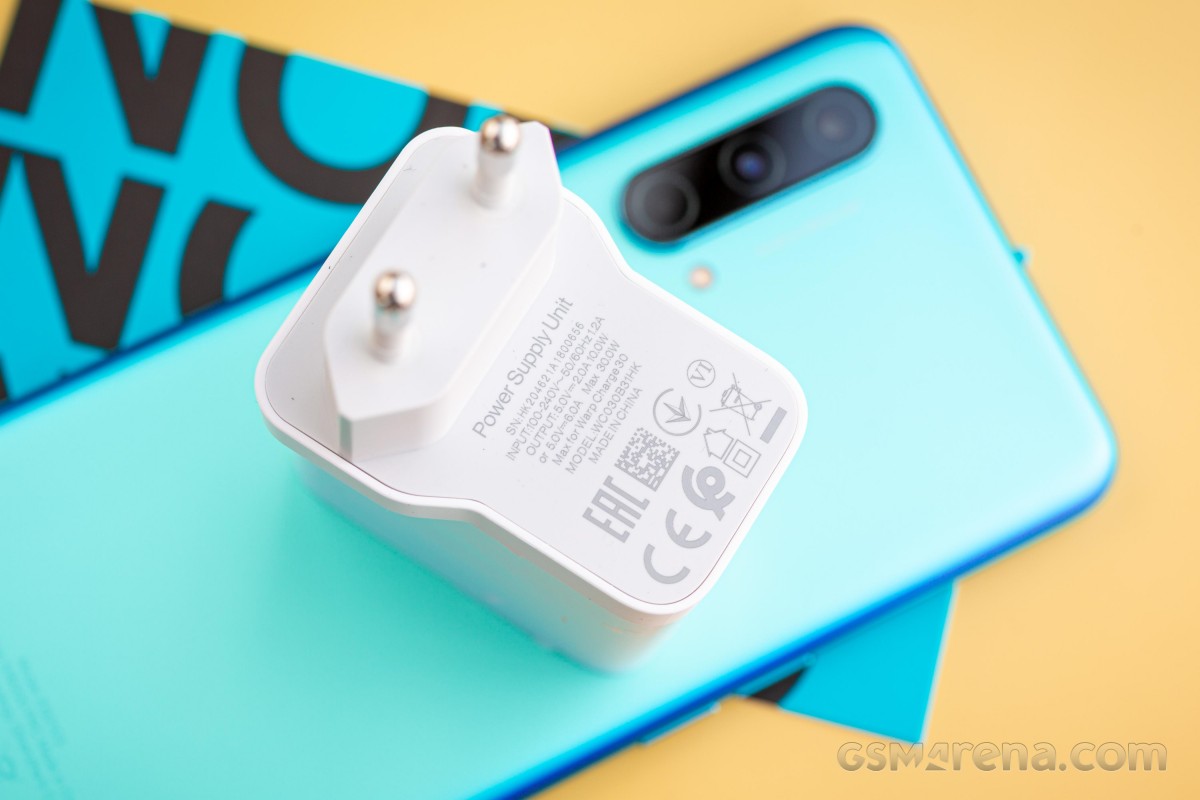 Still, a full charge from 0% would take you a respectable 63 minutes, while the 30-minute charge pumped up 67%, a few percent shy of the advertised 70%. Only the Realme 8 Pro stands out with its 50W charging solution.
30min charging test (from 0%)
Realme 8 Pro
88%
OnePlus Nord CE 5G
67%
Poco F3
67%
OnePlus Nord
60%
Samsung Galaxy A52 (25W)
52%
Xiaomi Redmi Note 10 Pro
50%
Samsung Galaxy A52
34%
Time to full charge (from 0%)
Realme 8 Pro
0:38h
Poco F3
0:56h
OnePlus Nord CE 5G
1:03h
OnePlus Nord
1:05h
Xiaomi Redmi Note 10 Pro
1:21h
Samsung Galaxy A52 (25W)
1:30h
Samsung Galaxy A52
2:03h
Speaker
The Core Edition doesn't have a set of stereo speakers, even though this appears to be a common feature in this price segment.
As far as its audio output quality goes, the lows are lacking, but otherwise, it's decent. Distortion in the highs is common as you go up with the volume slider. Speaking of volume, the speaker isn't particularly loud.
Use the Playback controls to listen to the phone sample recordings (best use headphones). We measure the average loudness of the speakers in LUFS. A lower absolute value means a louder sound. A look at the frequency response chart will tell you how far off the ideal "0db" flat line is the reproduction of the bass, treble, and mid frequencies. You can add more phones to compare how they differ. The scores and ratings are not comparable with our older loudspeaker test. Learn more about how we test here.