OxygenOS 11.3 brings hidden ColorOS code
The OnePlus Nord 2 5G runs on the Android 11-based OxygenOS 11.3, and it is the first phone to boot this specific version. While its number doesn't suggest anything major, there is, in fact, one big update - it has a unified code with the Oppo's ColorOS 11.3. That's part of the recent Oppo and OnePlus merger - and this under-the-hood tweak will enable smartphones from either company to receive the latest software advancements easily and on time.
Don't panic, OnePlus fans, OxygenOS is here to stay, and it will work as before; nothing user-related has changed or is about to change. That's what OnePlus is promising, at least, and we surely hope that's true.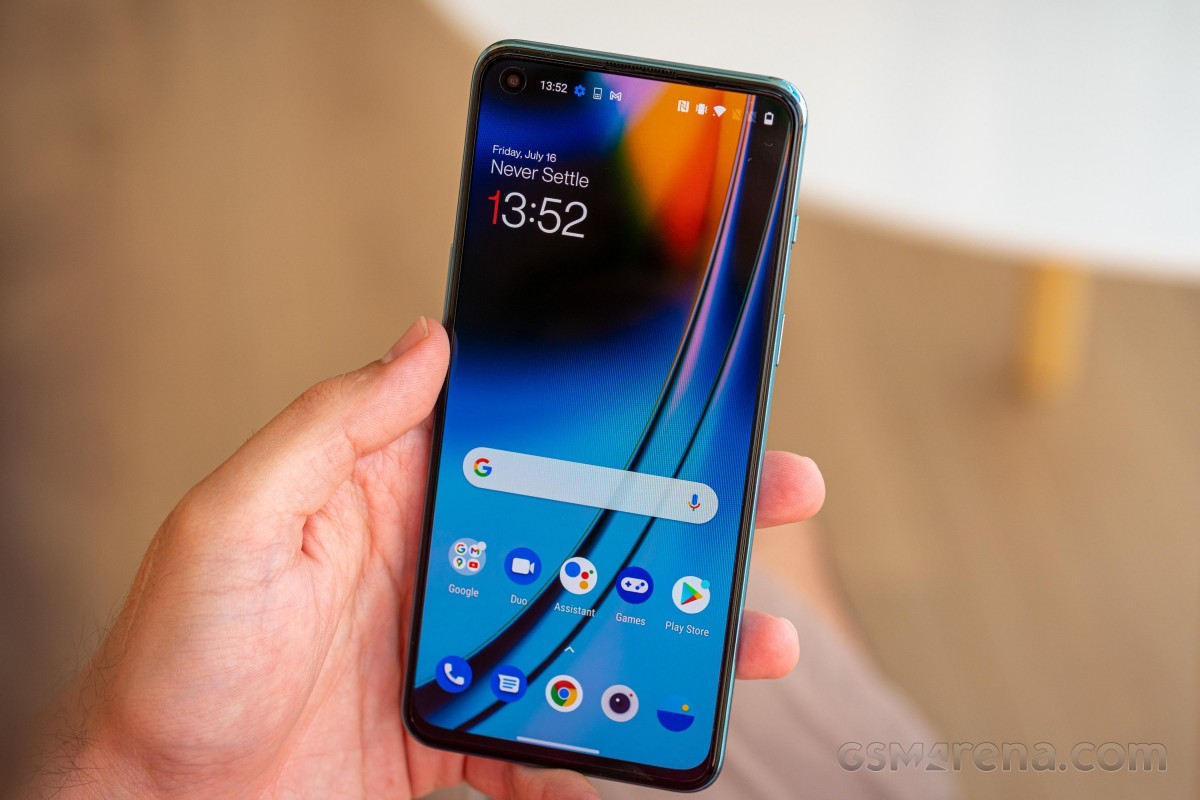 The OnePlus Nord 2 supports fingerprint unlock, and the optical sensor works very well - it's fast and with commendable accuracy. You can also add a face for an even speedier unlock - though this is not as secure.
There's is a Quick Launch feature (in Convenience Tools) that opens an app or executes a task if you keep your finger on the scanner for a second or two. There's plenty of slots to occupy, and you can cycle them by holding your thumb and swiping left or right.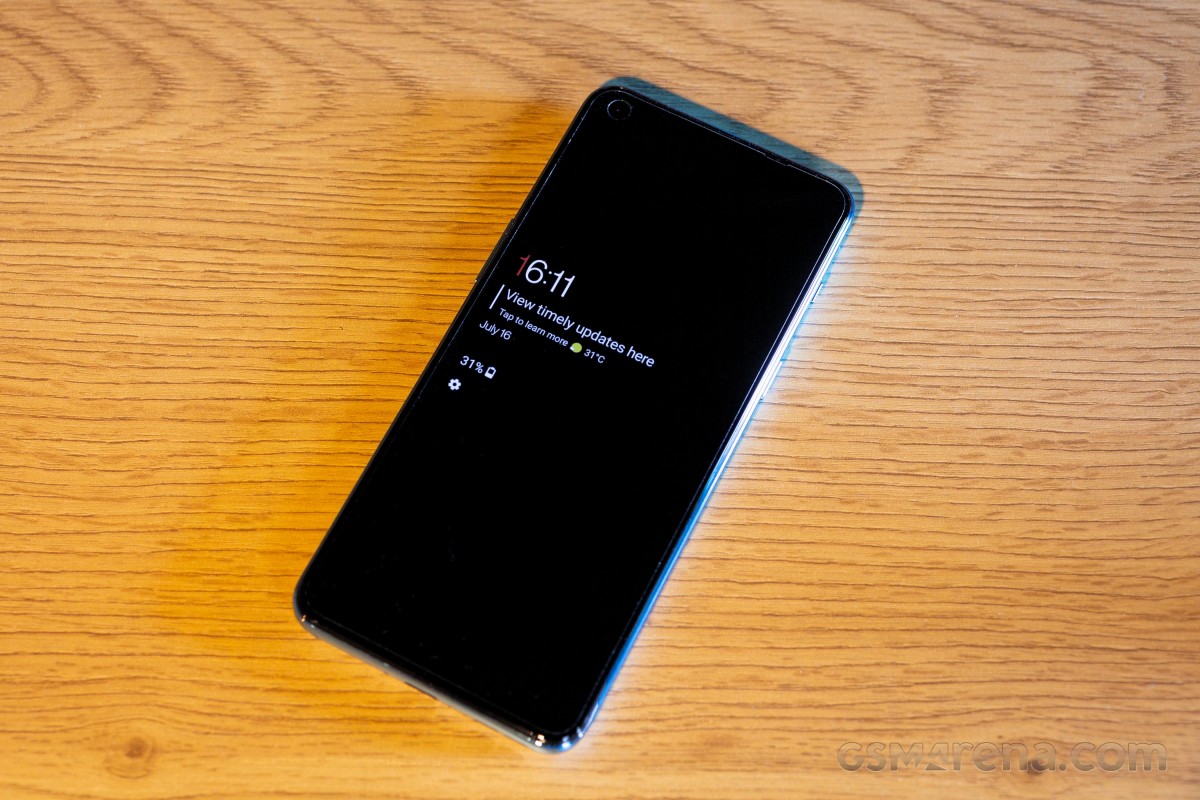 As we already mentioned before, the fingerprint scanner is not always-on unless you enable the Always-on Ambient Display. If not, you need to hit the Power key first, and they use the scanner.
The good news is that the Ambient Display can be always-on, scheduled, power-saving (on for just a bit), or shown only on pickup - the option we used, and we recommend.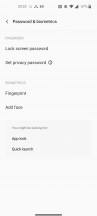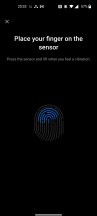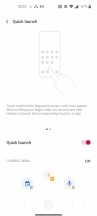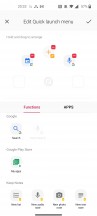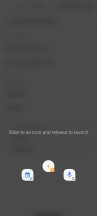 Biometrics • Fingerprint • Quick Launch
And while we are talking about AOD settings - you can choose from many unique themes. It's also worth noting the Nord 2 offers Horizon Light, also known as Edge Light on other phones. It's independent of the Ambient Screen and lighter on the battery, and it is a good alternative to a notification LED.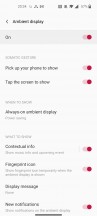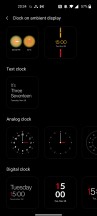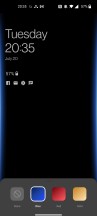 Ambient Display • Themes • Horizon Light
The OxygenOS has lost its stock-ish looks a while ago, but it's still incredibly fluid and easy to use. It has no-nonsense homescreens, a simplistic and clean notification/toggles area, and an easy-to-use task switcher. An App drawer is available, too, and it is as clutter-free as one could hope for. You can opt out of the app drawer if that's your thing.
The task manager supports tap and hold on an app card, and you can enable Split Screen from the newly opened menu.
OxygenOS supports different icon packs, so if you are not happy with the default one, you can opt for material style, pebbles, or you can even fully customize them by your liking. You can also change the system colors, the fingerprint scanner animation, the notification drawer icons, even the system font.
A notable feature is the screen-off gestures. You can play/pause the media player or launch an app or the flashlight by drawing on the locked screen. Some letters are easier to register and execute than others, and there's a learning curve to it.
You can also use some gestures with three fingers for easier screenshot taking.
There is also a Games app that helps you organize your downloaded games and tinker with some game-related settings and customize the behavior of notifications and incoming calls during gaming.
You may want to check the unique Zen Mode - it blocks the ability to interact with the phone and blocks distractions by the phone for a certain period of your choice, helping you regain your focus. You can still receive or make emergency calls. Practicing Zen Mode daily earns you rewards like medals for your digital-free time frames each day.
OnePlus offers its own Gallery, File Manger, Notes and Weather apps. For everything else, you either use Google's or a third-party one.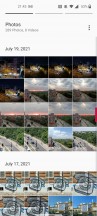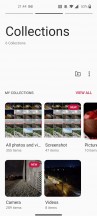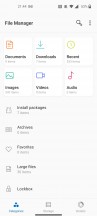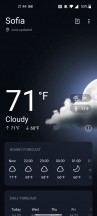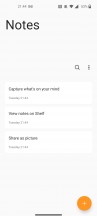 Gallery • Gallery • File Manager • Weather • Notes
The OxygenOS is unbelievably fast and fluid, stutter-free and absolutely no-nonsense. It's one of our favorites, and we loved our experience with the OnePlus Nord 2 and its OxygenOS.
Performance and benchmarks
The OnePlus Nord 2 5G is equipped with the best MediaTek chipset to date - Dimensity 1200 5G. OnePlus isn't dropping Qualcomm in favor of MediaTek, in case you were wondering, but it decided that this platform fits better the Nord 2 narrative. While being the flagship MT chip, the Dimensity 1200 is comparable to Snapdragon 870 in terms of performance - meaning even if it is not the fastest, it is definitely part of the top-tier bunch.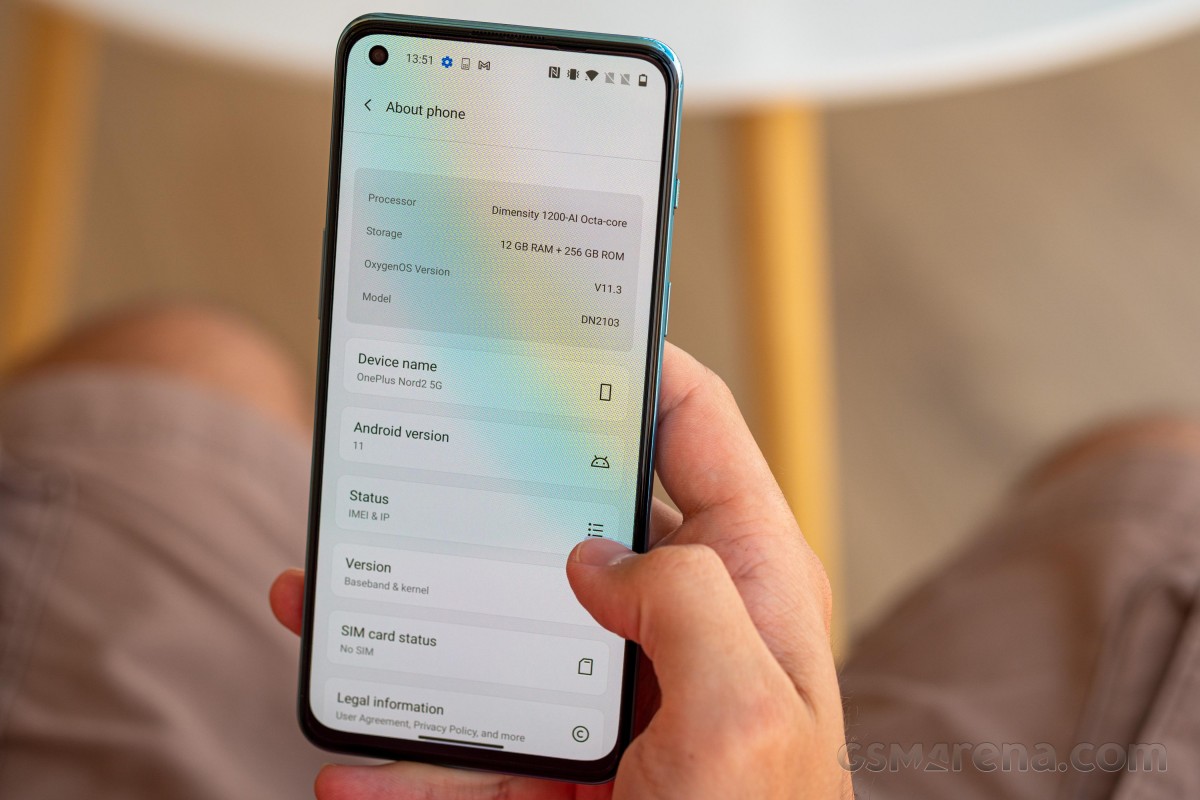 So, the Dimensity 1200 5G chip offers an octa-core processor with a rather familiar 1+3+4 core configuration - 1x3.0GHz Cortex-A78 + 3x2.6 GHz Cortex-A78 + 4x2.0 GHz Cortex-A55.
For graphics, the chipset has a total of nine Mali-G77 computing cores.
The Dimensity 1200 chip package also includes a potent 5G NR Sub-6 GHz and LTE, built-in combo modem. It is noteworthy that the Nord 2 5G and its Dimensity 1200 are capable of Dual SIM 5G standby (SA/NSA supported), which is not always a given.
Speaking of connectivity features, the chipset also has Dual-Band Wi-Fi 6, NFC and Bluetooth 5.2, with support for AAC, APTX, APTX HD, LDAC codecs. All of this and more is crammed into the chip package using a current and efficient, though not industry-leading 6nm manufacturing process.
The OnePlus Nord 2 is available with 6GB, 8GB and 12GB LPDDR4X RAM and you can choose between 128GB and 256GB UFS3.1 storage options.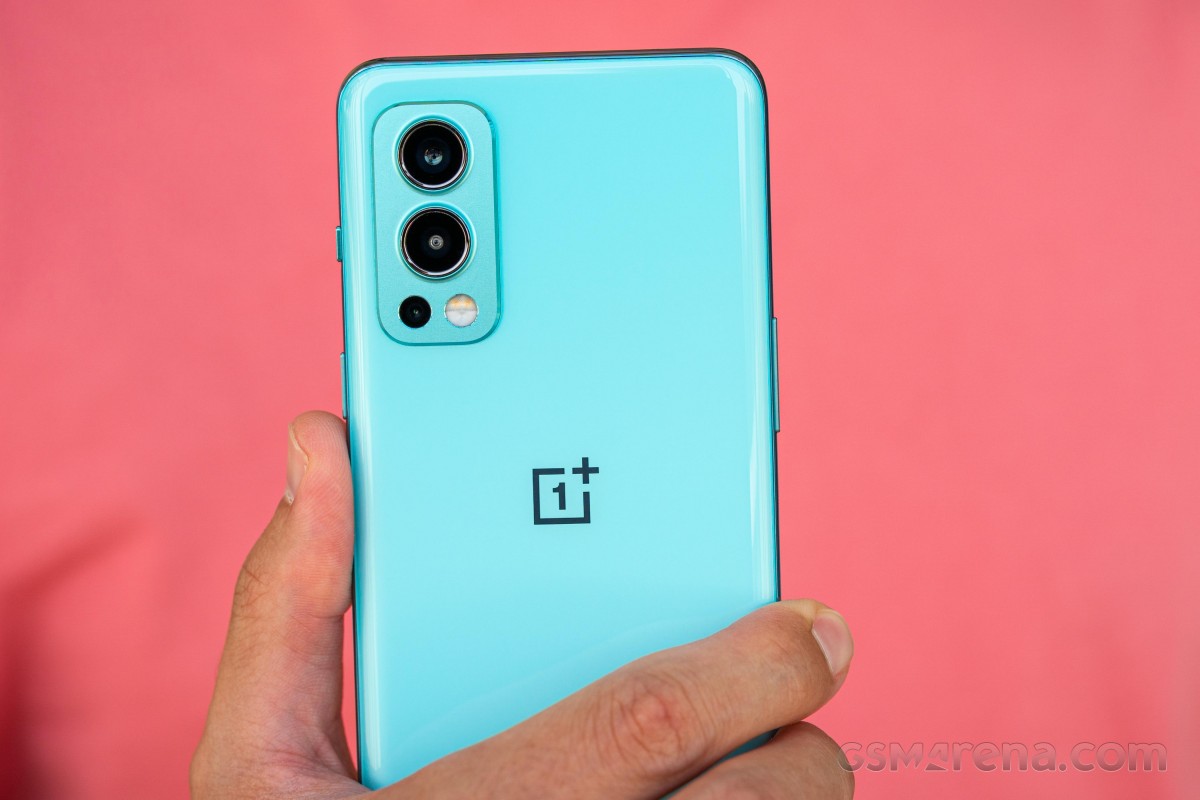 The synthetic performance of the Dimensity 1200 processor is on par with the Mi 11 Lite 5G's Snapdragon 780 and close to OnePlus 9R's Snapdragon 870.
GeekBench 5 (multi-core)
Higher is better
Xiaomi Black Shark 4
3448
OnePlus 9R
3117
Xiaomi Mi 11 Lite 5G
2909
OnePlus Nord 2
2792
Realme X7 Max 5G
2614
Poco X3 Pro
2574
OnePlus Nord
1953
OnePlus Nord CE 5G
1812
Xiaomi Redmi Note 10 Pro
1780
GeekBench 5 (single-core)
Higher is better
Xiaomi Black Shark 4
1029
OnePlus 9R
969
Realme X7 Max 5G
967
OnePlus Nord 2
814
Xiaomi Mi 11 Lite 5G
803
Poco X3 Pro
735
OnePlus Nord CE 5G
641
OnePlus Nord
610
Xiaomi Redmi Note 10 Pro
569
The synthetic performance of the 9-core Mali-G77 is quite good and not far from the flagship-grade Snapdragon 870 chip inside the OnePlus 9R.
GFX Manhattan ES 3.0 (offscreen 1080p)
Higher is better
Xiaomi Black Shark 4
139
OnePlus 9R
132
Realme X7 Max 5G
129
OnePlus Nord 2
123
Poco X3 Pro
102
Xiaomi Mi 11 Lite 5G
89
OnePlus Nord
55
OnePlus Nord CE 5G
46
GFX Manhattan ES 3.1 (offscreen 1080p)
Higher is better
Xiaomi Black Shark 4
97
OnePlus 9R
93
Realme X7 Max 5G
86
OnePlus Nord 2
75
Poco X3 Pro
75
Xiaomi Mi 11 Lite 5G
65
OnePlus Nord
38
OnePlus Nord CE 5G
34
3DMark Wild Life Vulkan 1.1 (offscreen 1440p)
Higher is better
OnePlus Nord 2
4224
Realme X7 Max 5G
4216
Xiaomi Black Shark 4
4212
OnePlus 9R
4154
Poco X3 Pro
3401
Xiaomi Mi 11 Lite 5G
3136
Unfortunately, the OnePlus Nord 2 allows only one app to run at 90fps - the game Brawl Stars. OnePlus is promising to whitelist more games in the future, but for now - all benchmarks and games (excluding Brawl Stars) are capped at 60fps. The potential is there, though, and we hope OnePlus keeps its promise.
GFX Manhattan ES 3.1 (onscreen)
Higher is better
Xiaomi Black Shark 4
85
Realme X7 Max 5G
79
Poco X3 Pro
67
OnePlus 9R
60
OnePlus Nord 2
57
Xiaomi Mi 11 Lite 5G
57
OnePlus Nord
34
OnePlus Nord CE 5G
30
GFX Car Chase ES 3.1 (onscreen)
Higher is better
Xiaomi Black Shark 4
50
OnePlus 9R
49
Realme X7 Max 5G
44
OnePlus Nord 2
38
Poco X3 Pro
38
Xiaomi Mi 11 Lite 5G
35
OnePlus Nord
19
OnePlus Nord CE 5G
17
Xiaomi Redmi Note 10 Pro
16
GFX Aztek Vulkan High (onscreen)
Higher is better
OnePlus 9R
34
Xiaomi Black Shark 4
34
Realme X7 Max 5G
31
Poco X3 Pro
27
OnePlus Nord 2
26
OnePlus Nord
13
OnePlus Nord CE 5G
13
The AnTuTu 9 score chart is all over the place, but what we can take from it is that the Nord 2 is doing very well in terms of performance and is pretty close to the SD870-powered Black Shark 4.
AnTuTu 9
Higher is better
OnePlus 9R
676913
Xiaomi Black Shark 4
605569
OnePlus Nord 2
598022
Xiaomi Mi 11 Lite 5G
522490
OnePlus Nord CE 5G
391770
Well, the performance of the Dimensity 1200 isn't an exact match to the Snapdragon 870's, but we'd say it's in the top-tier ballpark, and that's plenty enough for a €399 smartphone. The OnePlus Nord 2 5G has the raw power to handle every task and game in the next few years hiccup-free, and if allowed by its maker, it can do HRR very well, too.
OnePlus was recently found to prevent certain apps from accessing the most powerful core. The company stated that it is due to battery-saving optimizations and doesn't affect the actual performance.
We did not notice this behavior on our Nord 2 unit - the Vivaldi web browser scores as much as Chrome. As far as we managed to check, Chrome is also definitely utilizing the powerful core. We are glad that there doesn't seem to be any preferential treatment between apps any longer.
As a positive turn of events from these discoveries, OnePlus has promised to push a firmware update that will allow the users to disable such automatic throttling across the affected devices.
Stability and sustained performance are important, and that's why we ran our usual stress tests on the Nord 2. The phone has aluminum chassis but a plastic frame, and it seems most of the heat is dissipated from a spot on the rear glass near the camera. While at 100% the phone gets quite warm, the hot part is actually tolerable on touch, and it is far from your palms fingers, so you'll rarely touch it.
So, The Nord 2 scored a 60% stability score on the 3D Mark Wild Life Stress Test - an uninspiring number. Oddly, it did much better on the CPU Throttling test we ran for a whole hour. The Nord 2 cooling solution allowed the CPU to keep 76% of its maximum performance - an impressive number for a non-gaming smartphone.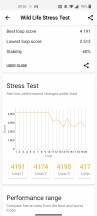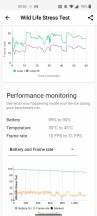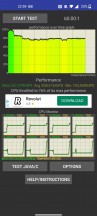 3D Mark Stress Test • 3D Mark Stress Test • CPU Throttle test
All things considered, we'd say the OnePlus Nord 2 is not only well equipped for top-notch performance, but it is also cooled well enough to support peak performance for prolonged periods of time. And note that no game or app uses 100% of the available resources. We did not notice throttling or unusual heating no matter the game we played.
Finally, OxygenOS and its default apps simply fly on this Nord 2, and we had one of the most enjoyable Android experiences we've had since, oh well, the OnePlus 9 trio.