Fluid AMOLED screen
The OnePlus Nord 2 5G features a 6.43-inch Fluid AMOLED screen with a 90Hz refresh rate. It has a 20:9 panel with the usual rounded corners and 2,400 x 1,080 pixels resolution (409pp). A Gorilla Glass 5 is keeping the screen safe.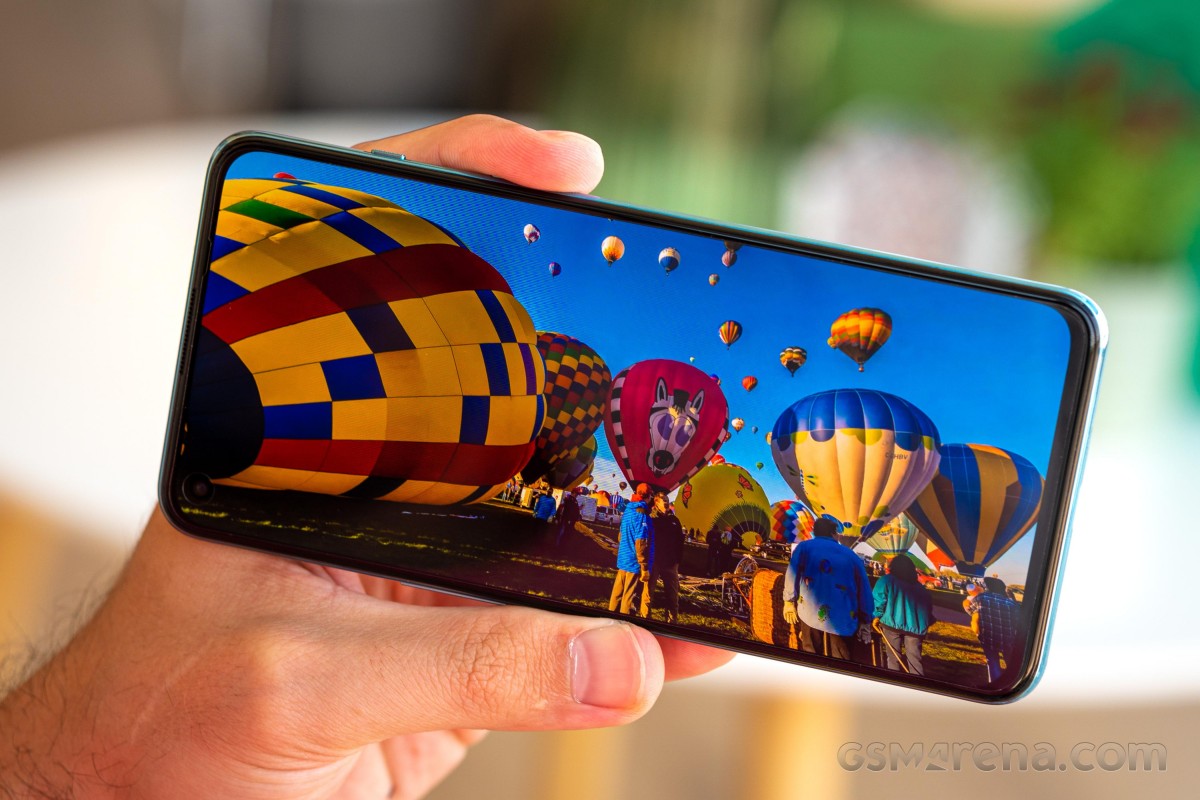 The OnePlus Nord 2 display supports HDR10 and HDR10+, at least on paper. It is recognized as HDR10 capable by all hardware reading apps. YouTube streams HDR10 content, but Netflix and Prime Video consider the OnePlus Nord 2 as an unsupported device even though it has Widevine L1 DRM. We guess this issue will be fixed rather quickly post-launch.
OnePlus offers a couple of video enhancements though these are responsible for higher battery drain. The first is AI resolution boost - it enhances the resolution of low-quality videos up to HD. It works on YouTube, SnapChat, and Instagram. There is also AI Color boost - it does exactly what the name suggests - it tries to boost the colors of your videos. This works only in YouTube, MX Player Pro, and VLC. We tried these AI enhancements, but honestly, we didn't notice much of a difference.
The Nord 2 display supports up to 90Hz refresh rate. You can choose between 60Hz and 90Hz. There is no Auto Select, but the 90Hz setting acts like Auto - it runs all compatible apps (games excluded) in 90Hz and reverts back to 60Hz for static images and video playback/streaming.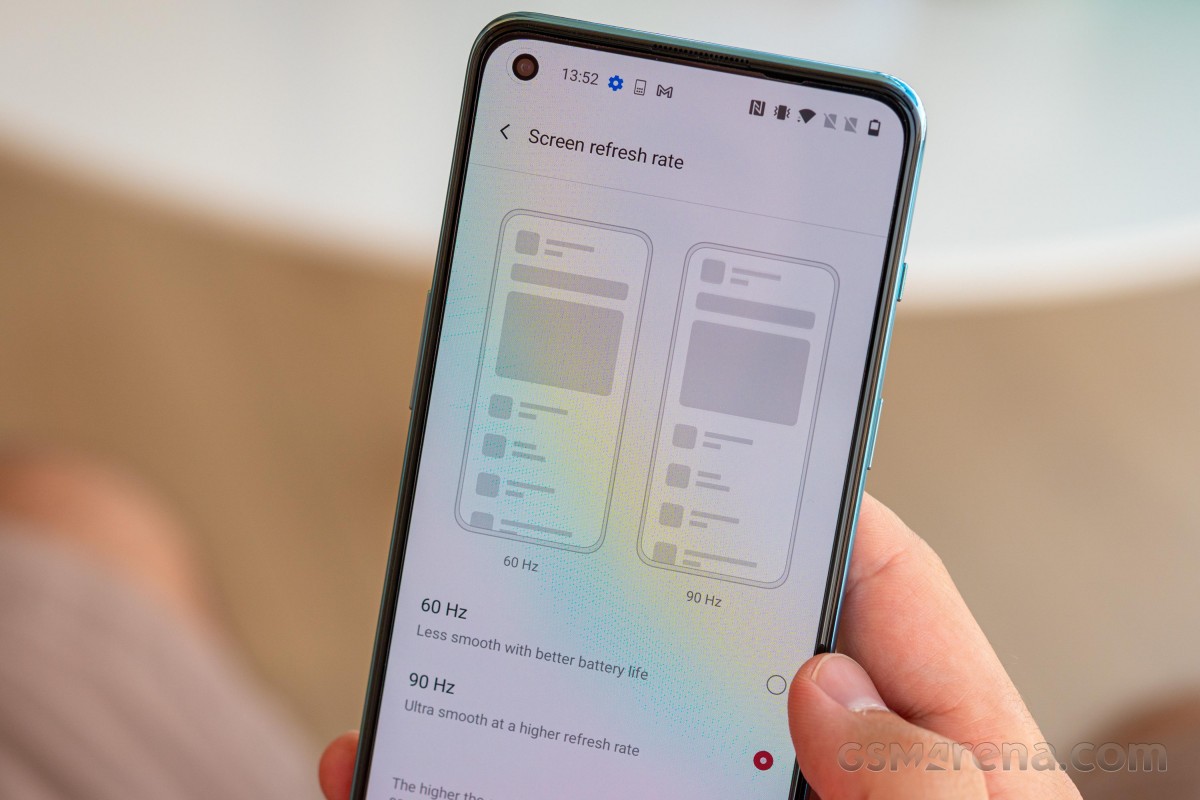 The HRR gaming has been the forbidden fruit for both Realme and OnePlus smartphones, but it seems that's about to change sooner rather than later. And OnePlus is promising to whitelist a number of titles for high framerate gaming in the future, so here is hoping. At launch, the only game that can currently run at 90Hz/90fps is Brawl Stars.
We completed our traditional brightness measurements. The display maxes out at 438 nits when brightness is adjusted manually. If you enable Smart Ambient Brightness and the Nord 2 is exposed to bright light, its screen can go as high as 633 nits.
The minimum brightness at point white we measured at point white is 2.0 nits.
Display test
100% brightness
Black,cd/m2
White,cd/m2
Contrast ratio
OnePlus Nord 2 5G
0
438
∞
OnePlus Nord 2 5G (Max Auto)
0
633
∞
OnePlus Nord
0
323
∞
OnePlus Nord (Max Auto)
0
756
∞
OnePlus Nord CE 5G
0
429
∞
OnePlus Nord CE 5G (Max Auto)
0
607
∞
OnePlus 9
0
450
∞
OnePlus 9 (Max Auto)
0
821
∞
Realme GT 5G
0
443
∞
Realme GT 5G (Max Auto)
0
650
∞
Poco F3
0
511
∞
Poco F3 (Max Auto)
0
716
∞
Xiaomi Redmi Note 10 Pro
0
457
∞
Xiaomi Redmi Note 10 Pro (Max Auto)
0
725
∞
Samsung Galaxy A52
0
386
∞
Samsung Galaxy A52 (Max Auto)
0
794
∞
Xiaomi Black Shark 4
0
498
∞
Xiaomi Black Shark 4 (Max Auto)
0
694
∞
vivo X60 Pro
0
472
∞
vivo X60 Pro (Max Auto)
0
818
∞
Xiaomi Mi 11
0
498
∞
Xiaomi Mi 11 (Max Auto)
0
926
∞
Realme X7 Max 5G
0
433
∞
Realme X7 Max 5G (Max Auto)
0
640
∞
The screen is tuned to comply with the DCI-P3 (Vivid mode) or sRGB (Natural mode) color spaces. The accuracy is good for both - the profiles are not too saturated, but the white and gray hues are a bit bluish. You can fix that by using the Warmest setting of the Color Temperature bar.
Battery life
The OnePlus Nord 2 5G is powered by a 4,500 mAh battery - that's about 10% increase over the first Nord. The battery capacity and the screen are similar to the recently launched Realme GT's, but the Nord 2 has a less powerful Dimensity 1200 5G chipset and less fluid (oh, the irony) 90Hz screen refresh rate.
The OnePlus Nord 2 scored a 102h endurance rating on our battery life test. It can last over a day in 3G calls; you can browse for more than 16 hours or watch videos for 16 hours. The frugal standby performance helped a lot, too.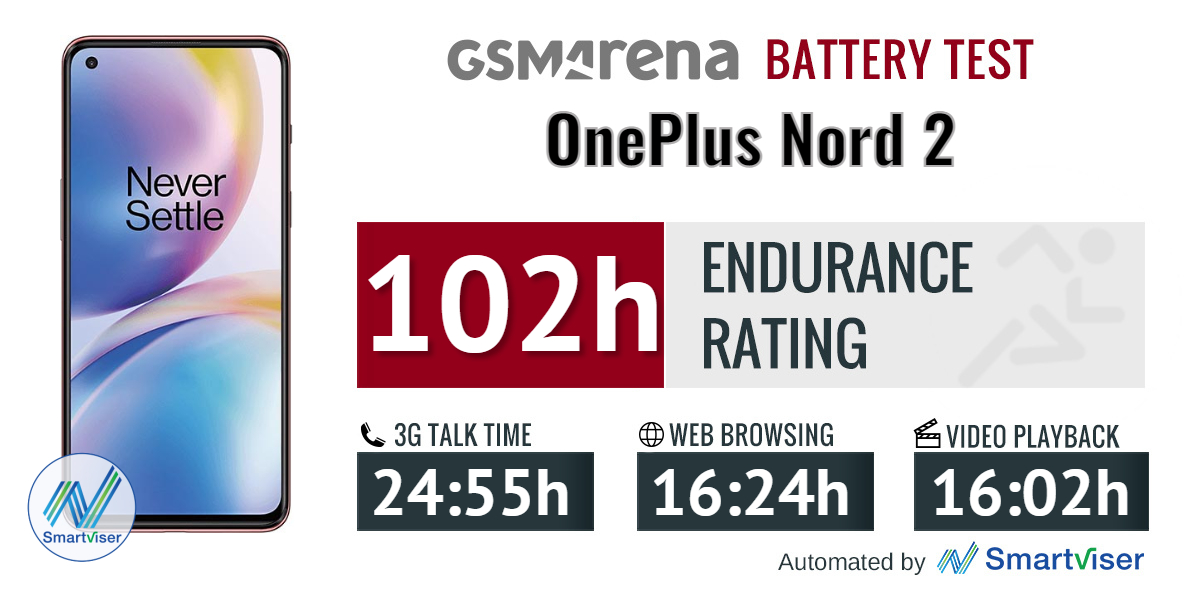 Our battery tests were automated thanks to SmartViser, using its viSerDevice app. The endurance rating denotes how long the battery charge will last you if you use the device for an hour of telephony, web browsing, and video playback daily. More details can be found here.
Video test carried out in 60Hz refresh rate mode. Web browsing test done at the display's highest refresh rate whenever possible. Refer to the respective reviews for specifics. To adjust the endurance rating formula to match your own usage patterns check out our all-time battery test results chart where you can also find all phones we've tested.
Charging speed
One of the flagship features OnePlus wanted to give the Nord series is the latest 65W Warp Charge. The retail bundle contains the proper 65W power adapter and a 6.5A-rated USB cable.
There is no wireless charging or reverse charging support on the Nord 2.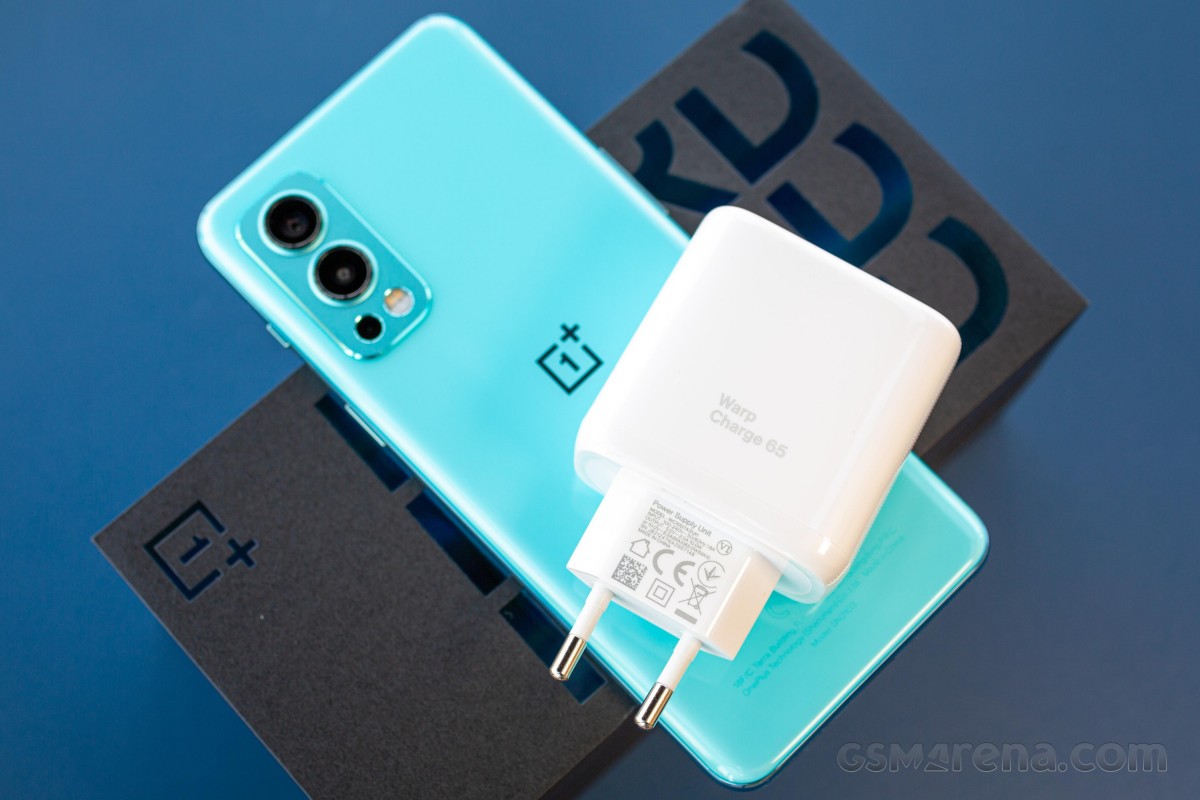 OnePlus explained the battery is split into two cells, and there are 12 temperature sensors monitoring everything for your safety. And when everything works as expected, and your ambient temperature isn't tropical, you should go from 0% to 100% in 30 minutes.
And indeed, in our testing, the supplied charger refilled 98% of the flat battery in 30 minutes.
30min charging test (from 0%)
Higher is better
OnePlus 9
100%
Xiaomi Black Shark 4
100%
OnePlus Nord 2
98%
Realme GT 5G (65W)
87%
OnePlus Nord CE 5G
67%
Poco F3
67%
OnePlus Nord
60%
Realme X7 Max 5G
60%
Samsung Galaxy A52 (25W)
52%
Samsung Galaxy A52
34%
Give it one more minute, and we are at 100%.
Note that just like the OnePlus 9 phones and the Realme GT, it took the Nord 2 4 more minutes for Charged to appear on the screen.
Time to full charge (from 0%)
Lower is better
Xiaomi Black Shark 4
0:19h
OnePlus 9
0:29h
OnePlus Nord 2
0:31h
Realme GT 5G (65W)
0:39h
Poco F3
0:56h
Realme X7 Max 5G
1:00h
OnePlus Nord CE 5G
1:03h
OnePlus Nord
1:05h
Samsung Galaxy A52 (25W)
1:30h
Samsung Galaxy A52
2:03h
Speakers
The OnePlus Nord 2 5G has two speakers - one at the bottom, and the other one is the earpiece. The bottom-firing speaker seems to be offering a bit more bass than the top one, and maybe it's also a bit louder. But that's not what matters. The important thing is that the sound is well balanced and tuned for satisfying listening in both portrait and landscape orientations.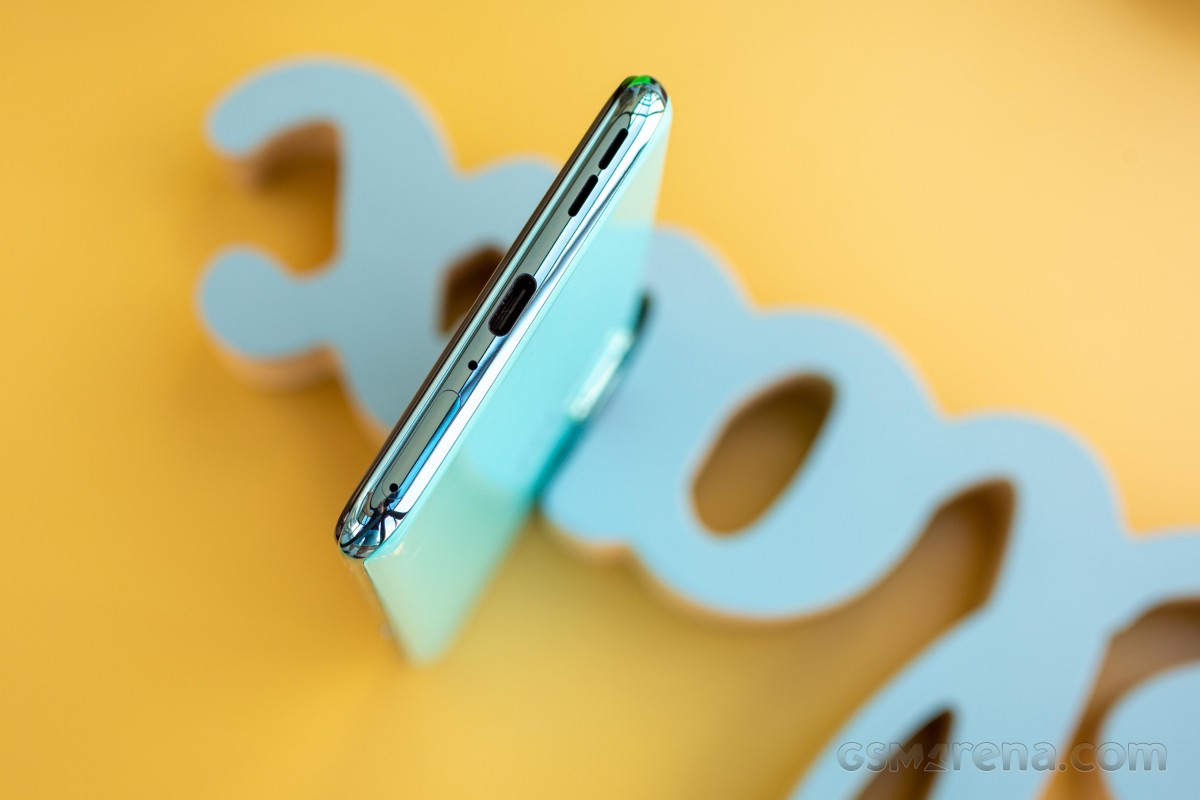 It seems the OnePlus Nord 2 5G speakers are similar to the Realme GT 5G's. The Nord 2 setup scored a Very Good mark for loudness even if it (subjectively, of course) sounds quieter.
The measurements differ from our listening perceptions because of the rather average audio quality. See, the speakers aren't tuned that good - they lack a bit in mid-tones, the bass is barely there, but the high notes are well presented.
Use the Playback controls to listen to the phone sample recordings (best use headphones). We measure the average loudness of the speakers in LUFS. A lower absolute value means a louder sound. A look at the frequency response chart will tell you how far off the ideal "0db" flat line is the reproduction of the bass, treble, and mid frequencies. You can add more phones to compare how they differ. The scores and ratings are not comparable with our older loudspeaker test. Learn more about how we test here.