Affordable luxury
Motorola DROID RAZR M review: Affordable luxury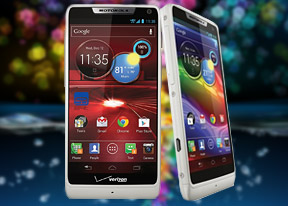 Google Chrome is your default web browser
The Motorola DROID RAZR M comes with Google Chrome as the default web browser. It offers arguably the best experience on Android, even though its speed marks left something to be desired. Still, we doubt it you will be looking too hard for the stock ICS browser.
Having left the Beta realm for some time now, Google Chrome on your Moto syncs seamlessly with your desktop, thus allowing for easily switching tasks between your smartphone and any other device you have, running Google's browser.
Top notch organizer
Quickoffice is an excellent app that has support for viewing several file types - Word, Excel, PowerPoint and PDF. It can also edit and create new .DOC, .XLS and .PPT files (both 2003 and 2007 versions are supported). You have plenty of formatting options, inserting images, Excel formulas and so on.
The calendar has four views - Daily, Weekly, Monthly and Agenda. The app can easily handle several online calendars as well as the local calendar.
You can add multiple reminders for each event and search through all events.
The Clock app defaults to a desk clock mode that looks a lot like the lockscreen. The best part here is that you can tap to turn the light almost all the way down - with only the time staying on the display just bright enough to see it (it's much easier to see in the dark). This is a very power-efficient mode and you can actually use the phone as a desk clock without worrying about killing the battery.
The usual alarm functionality is still present - you can set multiple alarms, each with its own repeat pattern, ringtone and label.
The good old calculator is here too - it has big keys and you can swipe to the left to bring up the advanced functions (trigonometry, square root, brackets, etc.).
There's a file manager on board as well - it can browse both the internal 16GB memory and the microSD card. Also, there's support for browsing shared folders on the Wi-Fi network you're connected.
Finally, there's a really clever app called Smart Actions - it allows you to create automatic actions triggered by different conditions you set. You can have the phone do various things (e.g. disable background sync, change screen brightness, display a notification to remind you of something, etc.). There are several sample actions that are useful in various situations but you can create your own from scratch too.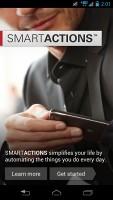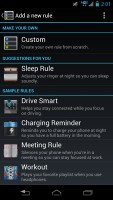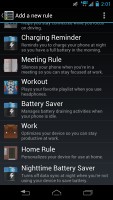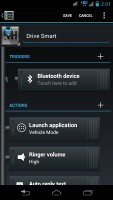 Smart Actions is a neat feature
Google Maps
Google Maps is a standard part of the Android package and we've covered it many times before. It offers voice-guided navigation in certain countries and falls back to a list of instructions elsewhere.
3D buildings are shown for some of the bigger cities and you can use two-finger camera tilt and rotate to get a better view of the area.
Google Maps uses vector maps, which are very data efficient. The latest version has an easy to use interface for caching maps - you just choose "Make available offline from the menu" and pan/zoom around until the desired area is in view (there's an indicator showing how much storage caching that area will take). You can later view cached areas and delete ones you no longer need.
Note that there's a limit to the size of the area you can cache - you can't just make all of Europe available offline, not even a whole country. We managed to fit New York and some surrounding area before Maps told us the area is too big. Also, there's no address search in the cached maps and you can only cache map data in supported regions of the world.
You can plan routes, search for nearby POI and go into the always cool Street View. The app will reroute you if you get off course, even without a data connection.
Google Play store
The Google Play store features several scrollable tabs - categories, featured, top paid, top free, top grossing, top new paid, top new free and trending. Apps usually have several screenshots (some even offer a demo video) so you can get an idea of what the app looks like before installing it. You can also check out comments and ratings, as well as the number of downloads and so on, to help you decide if the app is worth it.
Along with applications and video games, you can also access and purchase movies, music, books and magazines (where available).