Affordable luxury
Motorola DROID RAZR M review: Affordable luxury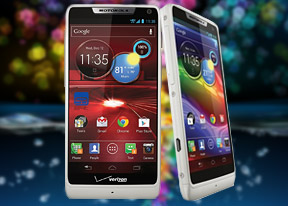 Stock phonebook
The phonebook of the Motorola DROID RAZR M is mostly a standard Android ICS affair. The middle tab is the default - a list of all contacts. Contacts are listed with a name and a picture to the right. They can be sorted by first or last name and displayed with the first or last name first. The other two tabs in the phonebook are Groups and Favorites. Groups are listed by service (e.g. your Gmail account), while favorites are a listed as a grid of large contact photos, which is really thumbs friendly.
There's a permanent scroll bar available that you can grab and drag to jump straight to contacts starting with a certain letter. There's a regular search too.
While editing a contact, you can add new fields of different types to fill in more info for the contact. You can link contacts too, if you've added the same person on multiple services.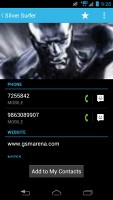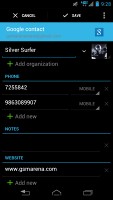 Editing a contact is a straightforward process
Telephony has smart dialing
We didn't experience any issues with the signal and call quality of the Motorola DROID RAZR M. As expected, the phone did a commendable job on this instance, thanks to Verizon's superb network.
Smart dialing is enabled on the handset, which is great as it spares you the time to go into your phonebook or a specific contact widget to find a contact. It shows only one matching contact at a time - you can use the down arrow to reveal all the suggestions.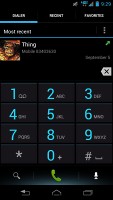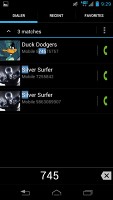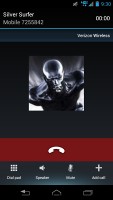 Smart dialing is neat • calling Silver Surfer
The recent calls tab is straightforward in terms of functionality. The favorites tab is neat, as it allows you to dial the contacts with a single tap.
Messaging is brimming with options
Text messaging is a standard ICS operation. All SMS/MMS communication is organized into threads - each thread consists of all messages between you and one of your contacts. You can select multiple threads to mass delete them.
Each thread is organized like an IM chat session, the latest message at the bottom. You can manage individual messages (forward, copy, delete) and even lock them (to prevent deletion). You can use search to find a specific message in all conversations.
You can add multimedia (photos, videos, sounds, etc.), which will convert the message to an MMS. If you need multiple slides or multiple attachments, you can go to a full-blown MMS editor as well.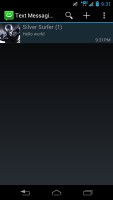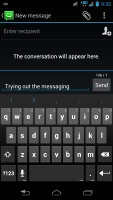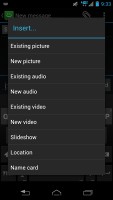 Text messaging holds no surprises
The Gmail app supports batch operations, which allow multiple emails to be archived, labeled or deleted. The app supports multiple Gmail accounts, but there's no unified inbox for other email services.
There is also a generic email app for all your other email accounts and it can handle multiple POP or IMAP inboxes. You have access to the messages in the original folders that are created online, side by side with the standard local ones such as inbox, drafts and sent items.
Google Talk handles the Instant Messaging department. The GTalk network is compatible with a variety of popular clients like Pidgin, Kopete, iChat and Ovi Contacts.
You are presented with two text input options out of the box. The first one is the standard Android ICS keyboard which is really good. The popular Swype keyboard is also preinstalled. In case these two don't cut it for you, the Google Play store is full of options.