Telephony
The LG V20 is available only in single-SIM flavor. It offers strong reception and good sound quality. VoLTE is available (if your carrier supports it), which offers better audio quality than regular GSM calls.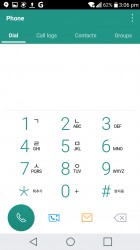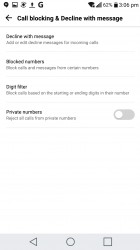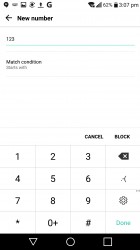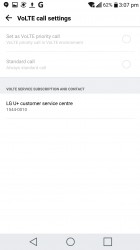 The Dialer • Blocking calls • Screening calls by number • VoLTE is supported
The new OS offers native number blocking and call screening. You can block numbers based on their initial or final digits or just specific numbers. Third-party apps can ask Android which numbers are blocked, so apps that use them to identify users (like WhatsApp and Viber) can also reject calls and messages from those numbers.
Loudspeaker
The LG V20 has a single bottom-firing loudspeaker. It scored a Good mark - it has a full sound with no distortion. Its volume depends on what you play - it goes from good to very loud.
| | | | | |
| --- | --- | --- | --- | --- |
| Speakerphone test | Voice, dB | Pink noise/ Music, dB | Ringing phone, dB | Overall score |
| HTC 10 (Theater mode) | 61.9 | 66.0 | 62.1 | Below Average |
| Sony Xperia XZ | 61.6 | 65.5 | 67.6 | Below Average |
| LG V10 | 66.1 | 64.7 | 70.7 | Average |
| OnePlus 3 | 62.4 | 71.0 | 77.8 | Good |
| Samsung Galaxy Note7 | 69.7 | 69.9 | 72.3 | Good |
| LG G5 | 68.7 | 70.9 | 73.5 | Good |
| Lenovo Moto Z Force Droid | 69.5 | 68.0 | 77.6 | Good |
| LG V20 | 68.2 | 68.6 | 80.9 | Good |
| Huawei P9 Plus | 71.7 | 73.7 | 81.3 | Very Good |
| Sony Xperia XA Ultra | 88.9 | 79.3 | 82.7 | Excellent |
Messaging and text input
The LG V20 comes with a simple but functional app for texts. It has the familiar threaded view, an emoji keyboard, themeable background and bubble styles and so on.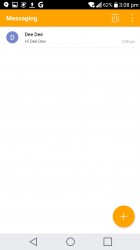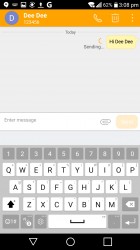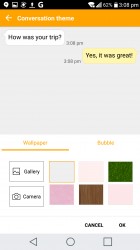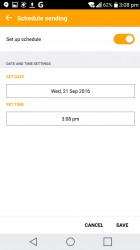 The Messaging app • Sending a text • Theming the app • Scheduling a message
Two helpful features are scheduled messages (good for paying for time-based parking, we guess, or for sending birthday greetings) and the search, which can easily dig up old messages.
The LG keyboard offers extensive customizations. You can change its size, hide/show the number row, add/remove some buttons and more.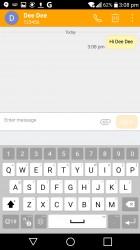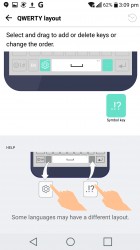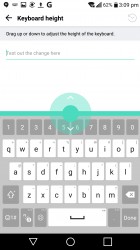 The keyboard • Customizing the keys • Changing the keyboard's height
A Split keyboard is available, great for thumb typing in landscape. In portrait, you can use the One-handed keyboard instead. Swipe input is available as well.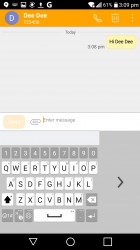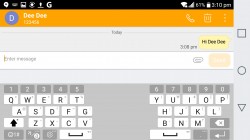 One-handed keyboard • Split keyboard
Other apps
Google In Apps is a recent addition and premiers with Android Nougat. It's essentially Google search for your phone. It searches inside apps so that you can find contacts, emails and chat messages, music, even your browsing history. Note that apps need to support this feature in order to provide results for In Apps searches.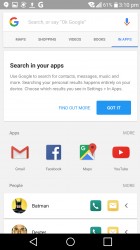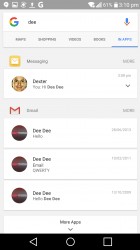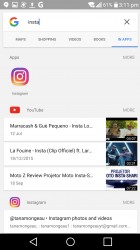 The new In Apps search finds content not on the Internet, but on your phone
LG's HD Audio Recorder app deserves a special mention. The Normal UI is quite basic, but Concert has some astounding features. LG V20's High Acoustic Overload Point mics can record sound up to 132dB - much louder than the already deafening 120dB the V10 could manage.
And the quality is top notch - uncompressed WAV and compressed FLAC are available at up to 24-bit and 192kHz. Going to Custom gives you manual control over Gain, Low cut filter (75Hz/150Hz) and Limiter (prevents clipping of low-frequency sounds).
The app lets you record voice over an audio file (say, a vocal track for your new song) and you can use headphones to monitor the sound.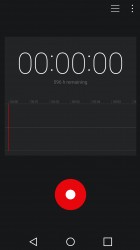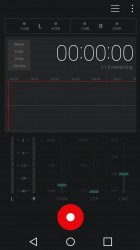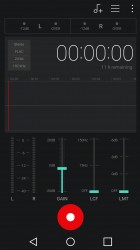 HD Audio recorder: Normal • Concert • Manual • Settings
Using LG V20's IR blaster and the QRemote app you can control most electronic equipment at home - TVs, set-top boxes, audio players, projectors and air conditioners. The phone can also learn control codes from existing remotes, so it supports everything that's IR-controlled (think LED strips, some cleaning robots, etc.).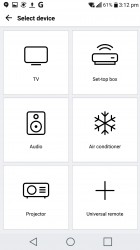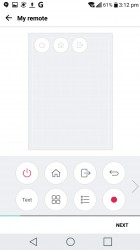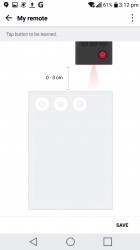 QRemote creates a virtual universal remote
The LG Backup app has two functions - backup (obviously) and transfer. Using the latter, you can copy most data off your old phone onto the V20, simplifying the upgrade process. Backups store personal data and settings, data from the internal storage and downloaded apps. There's no cloud backup solution, though - you have to manually upload the backup file to your cloud storage provider of choice.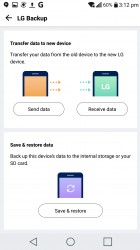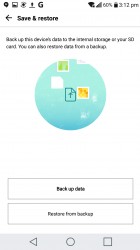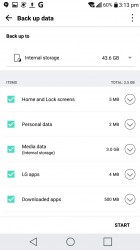 LG Backup can also transfer your data between phones
Smart doctor takes care of your storage and battery. It can free up both RAM and internal storage. It also serves as a portal to Android's battery saving features. Diagnose goes a bit further and will look for issues with apps, network connectivity, storage and battery and point you to the right section of the online Help documents.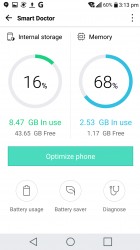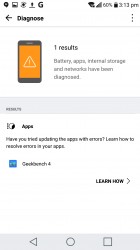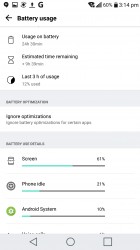 A quick glance at your phone's health • Any issues with apps • Any battery hogs?