User interface
The LG V20 is the first phone to launch with Android 7.0 Nougat and LG made a big deal about it during the initial promo campaign. There's plenty to brag about as Nougat brings features that Android has long lacked.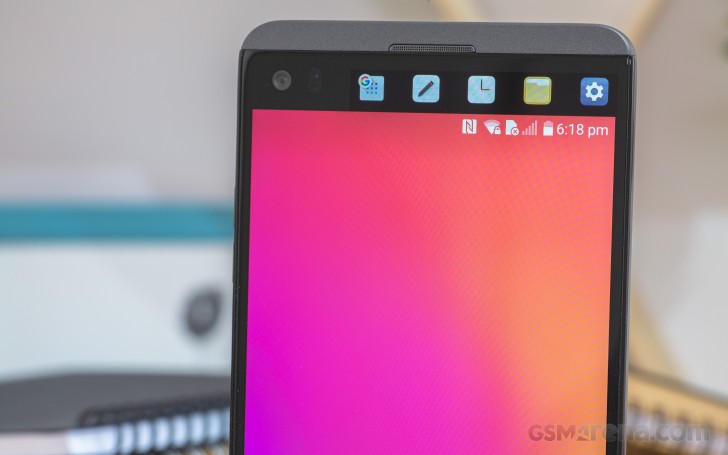 Native split screen multitasking has finally arrived. Some phone makers have their custom versions (including LG itself), but with this one coming straight from Google, we can finally start talking about wider adoption and app support.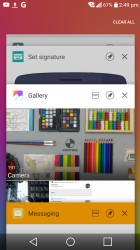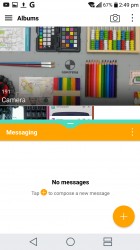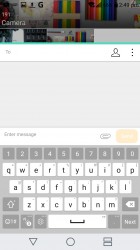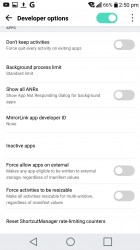 Launching split screen • Two apps at a time • Typing in split screen • Forcing compatibility
Many (but not all) apps can work in split-screen mode. You can use it in either portrait and landscape, but note that the dividing line is adjustable only in portrait - in landscape view, it's always 50/50. When an app needs a keyboard, the other app is squished into a small space to give room to the keyboard.
Note: from the Developers options, you can force Android to enable split-screen multitasking for all apps. There are no guarantees they will work properly, though. Also from here, you can make all apps movable to the microSD card.
Anyway, some apps have a natural interaction with the split screen view. In Chrome, for example, selecting the "Open in another window" option on a shortcut opens the new page on the other half of the screen.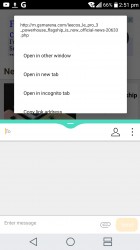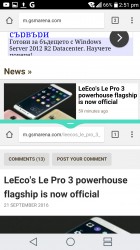 Chrome works with split screen mode for a more desktop-like browsing experience
QSlide, LG's floating app implementation, is still available in some places - the Phone, Messaging, and the video player. But those are the exception rather than the rule.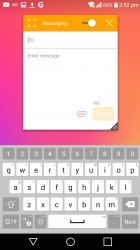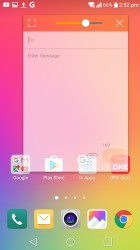 QSlide works for some apps - it creates a resizeable, floating (optionally translucent) window)
Another cool, valuable feature is the Quick switch - double tap the app switcher button to alt+tab to the first background app. This works with split screen mode too, so you can easily juggle more than two apps.
In split screen view, the Home button shows your homescreen but does not dismiss the apps - the app switcher button shows the split screen icon and double tapping it brings back the two. This is great since normally you can only pick apps from the app switcher rolodex for split screen use, but in this state, any app you launch from the homescreen goes straight into split screen mode.
And you will find all the apps on the homescreen - by default, LG has removed the app drawer, leaving shortcuts and widgets sharing the homescreen. If you're not a fan, you can change to the Home & app drawer launcher, which is more traditional. Alternatively, you can just hide the apps you don't use.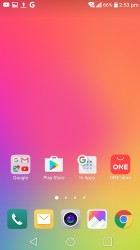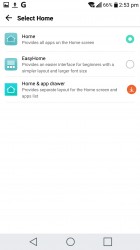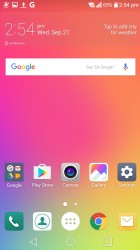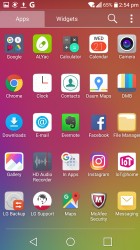 No app drawer by default • Adding back the app drawer • And it's back!
The V20 comes with a curated selection of wallpapers, including some B&O branded ones. A nice way to show off the beautiful wallpapers is to pinch out, which temporarily hides all shortcuts and widgets from the current screen.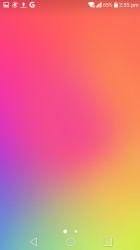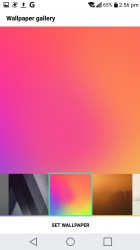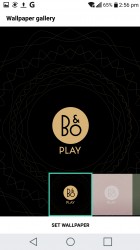 Pinch out hides app shortcuts and widgets • Preloaded wallpaper selection
Sugary Nougat gives you plenty of energy to multitask. The notifications have Quick actions. Quick reply is perhaps the most common of those, letting you reply to a message from the notification. Other actions like share, archive, delete and so on are available too.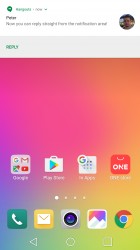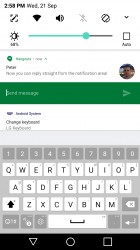 Quick reply from the notifications
Nougat's notifications also have a priority filter to let you focus on what's important. Low-priority ones can be set to "show silently" while mission critical ones can be set to bypass even the Do Not Disturb mode.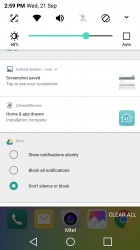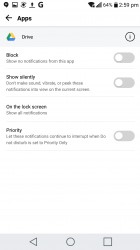 Changing notification priority to separate important events from distractions
The notification area followed what custom skins have been doing for ages and put some quick toggles on the top row. LG added to that a brightness slider with an Auto checkbox. The Edit button lets you re-arrange toggles and hide the ones you don't need.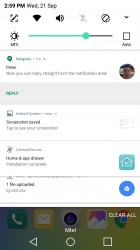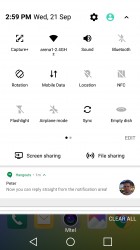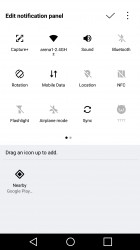 The notification area • Quick toggles • Editing the toggles
Sidenote: here hides one of Nougat's Easter eggs - a patience game that has you luring in virtual cats with a dish. When a cat saunters by, you get a notification - tapping that adopts the cat and lets you name it. It's not quite Pokemon Go, but it's fun in a minimalist way.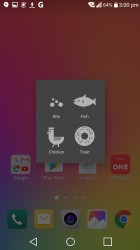 Catching cats instead of Pokemon
Android 7.0 Nougat brings an updated Doze. It optimizes apps so that power is used sparingly, but important notifications are not missed. You can disable this for select apps if it's ever an issue. The LG V20 adds to that the option to disable the second screen when battery saver is on.
Another efficiency tool is the Data saver. It prevents apps from using mobile data for background syncing (only Wi-Fi data is allowed). Again, you can exempt apps from this (it's a good idea to do this for messengers).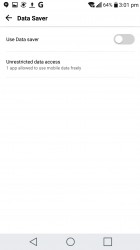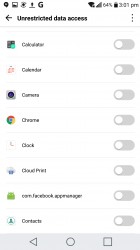 Data saver • Exempting apps from data rationing
The new OS makes the file access permission more granular with Scoped directory access - instead of giving access to the entire storage system, you can permit apps to access only certain folders. The app needs to support that feature, though, so it doesn't work for current apps.
Some people are heavy app users and will try out multiple ones before settling on the right app. LG V20 and Nougat change the way you uninstall apps. Uninstalling an app doesn't remove it immediately. Instead, it just gets disabled and is only removed after 24 hours in case you change your mind and want it back.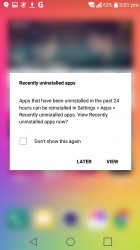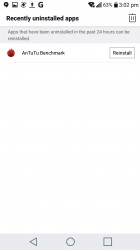 Re-installing apps you uninstalled recently is now much quicker
We know it's early to talk about upgrades, but when it comes to it, Nougat's Seamless update system will streamline the process. Essentially, it keeps two copies of the OS - a current one and another one for updating. The second partition can be updated in the background while the LG V20 idles and next time you restart the phone, it will boot into the new version on Partition 2 in which case the first partition will be used for Seamless updating next time. Should the update fail for any reason, the phone can always revert to the old partition. Auto-installation of updates can be disabled, if you want.
The LG V20 UI is fully themeable. Three themes are pre-installed - the usual LG look, a black & white theme, and a high-contrast one. You can download additional themes from SmartWorld.
Fingerprint reader
LG V20's lockscreen is nothing new, but the always-on secondary screen shows notifications before you even wake the phone (and you can wake the screen with a double tap).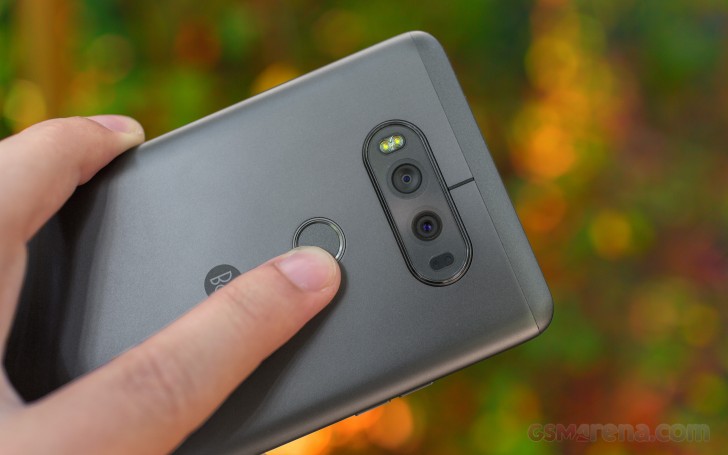 We found the fingerprint reader to be our preferred option though - it only needs a light touch of your finger (you don't even need to press it). It unlocks instantly and bypasses the lockscreen.
You can add up to 5 shortcuts on the lockscreen, but between the instant fingerprint unlock and the shortcuts on the secondary screen, chances are you won't be using the lockscreen much.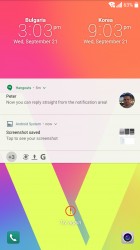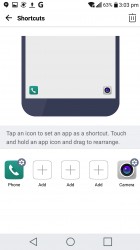 Familiar lockscreen • Up to 5 shortcuts
When you setup the fingerprint, you are required to select an alternative unlock method - like PIN or Knock Code (LG's Simon Says-like method that replaces passwords with different patterns of knocks).
The Content lock feature also uses the fingerprint to secure Gallery and QuickMemo+ items.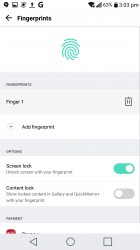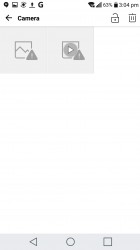 Setting up the fingerprint reader • Content lock
Our LG V20 also came with the Paynow service, but that's an LG Uplus feature available only in S. Korea so Western units will probably miss out on the wireless payment service.