Display
The LG V20 has an IPS screen, well, two of them - we're sure you should see the trend by now.
The main screen has a 5.7" diagonal and QHD resolution and 513ppi. The second screen is a single line (2.1" in diagonal, but it's very wide) - its resolution is 160 x 1,040px (it's not the full 1,440px wide since a part is cut off for the selfie cam and sensors).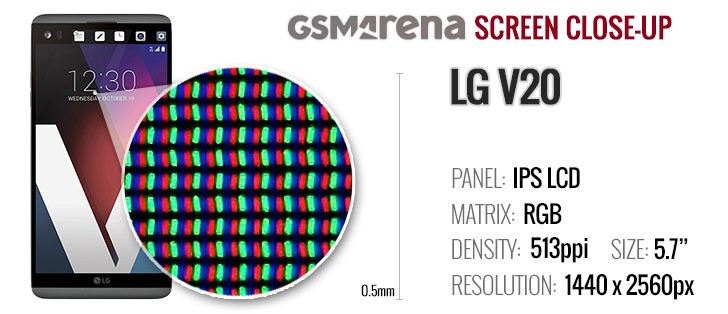 Only the second screen is always on, unlike the LG G5 which uses the main screen for that. Its touch input still works, though, so you can access shortcuts even when the phone is locked (unlike the G5).
Back to the main screen, it's sharp and bright. We measured a maximum of 475nits in manual mode, much higher than the G5's screen (even at full blast). LG V20's display is brighter, though, on Auto mode it reached a peak of 628nits while keeping the contrast.
Contrast is good - about 1,000:1, but below G5's and even V10's readings. The black levels are comparable to the iPhone 6s Plus, though not as low as LG's previous premium displays.
Display test
100% brightness
Black, cd/m2
White, cd/m2
Contrast ratio
LG V20
0.43
475
1097
LG V20 Max auto
0.59
628
1064
LG V10
0.29
432
1490
LG G5
0.17
306
1855
LG G5 max auto
0.20
378
1881
Samsung Galaxy Note7
0.00
428
∞
Samsung Galaxy Note7 (Max auto)
0.00
647
∞
Apple iPhone 6s Plus
0.43
590
1382
LG does not provide color modes for the screen aside from a blue light filter, which has become a popular feature lately. It reduces blue light emitted from the screen so that using your phone in the evening will not mess up your body's internal clock and thus disrupt your sleep.
Regarding color accuracy, the LG V20 is a slight improvement over the G5, reigning in the max deltaE (9.5) while the average deltaE is similar (5.1). These results are better than average - better than most LCDs in fact - though there are phones that do better (the iPhone 7, for instance, comes perfectly calibrated off the factory floor).
Sunlight legibility has also improved noticeably since the LG G5, which itself was slightly better than the V10.
Sunlight contrast ratio
Samsung Galaxy S6 edge+
4.615
Samsung Galaxy S7 edge
4.439
OnePlus 3
4.424
Samsung Galaxy S7
4.376
HTC One A9
4.274
Samsung Galaxy Note7
4.247
Samsung Galaxy A3
4.241
Samsung Galaxy S6 edge
4.124
Samsung Galaxy Note5
4.09
Huawei Nexus 6P
4.019
Vivo Xplay5 Elite
3.983
OnePlus X
3.983
Oppo R7s
3.964
Huawei P9 Plus
3.956
Samsung Galaxy A7 (2016)
3.918
Samsung Galaxy C7
3.896
Samsung Galaxy A5
3.895
Samsung Galaxy J7 outdoor
3.879
Samsung Galaxy J2 outdoor
3.873
Samsung Galaxy A8
3.859
Samsung Galaxy A9 (2016)
3.817
Motorola Moto X (2014)
3.816
Samsung Galaxy J7 (2016) outdoor mode
3.802
Samsung Galaxy A5 (2016)
3.789
Apple iPhone 6s
3.783
Meizu Pro 5
3.781
Microsoft Lumia 650
3.772
Samsung Galaxy J7 (2016)
3.756
Oppo F1 Plus
3.709
Vivo X5Pro
3.706
Apple iPhone SE
3.681
Samsung Galaxy A7
3.679
Meizu PRO 6
3.659
BlackBerry Priv
3.645
Apple iPhone 6s Plus
3.53
Samsung Galaxy J3 (2016) outdoor mode
3.523
Samsung Galaxy J3 (2016)
3.523
Acer Jade Primo
3.521
Microsoft Lumia 950
3.512
Oppo R7 Plus
3.499
Samsung Galaxy J7
3.422
Meizu MX5
3.416
LG V20
3.402
Oppo R7
3.32
Samsung Galaxy J2
3.235
Sony Xperia X Performance
3.234
Motorola Moto X Play
3.222
Huawei P9
3.195
Lenovo Vibe Shot
3.113
Motorola Moto X Force
3.105
LG Nexus 5X
3.092
Huawei Mate S
3.073
Microsoft Lumia 640 XL
3.065
Apple iPhone 6 Plus
3.023
Sony Xperia X
2.989
Samsung Galaxy Note
2.97
Huawei Mate 8
2.949
Sony Xperia XA Ultra
2.906
LG G5
2.905
HTC One S
2.901
Sony Xperia Z5
2.876
Microsoft Lumia 550
2.851
Xiaomi Redmi 3 Pro
2.803
Sony Xperia Z5 compact
2.784
LG V10
2.744
Xiaomi Redmi 3
2.735
Sony Xperia M5
2.69
Huawei P9 Lite
2.679
Vivo V3Max
2.659
Xiaomi Mi 4i
2.641
Sony Xperia XA
2.609
Xiaomi Mi 4c
2.574
LeEco Le Max 2
2.567
Microsoft Lumia 640
2.563
Lenovo Moto G4
2.544
Oppo F1
2.528
Sony Xperia Z5 Premium
2.525
Huawei Honor 7 Lite / Honor 5c
2.506
Sony Xperia M4 Aqua
2.503
Oppo F1s
2.481
Motorola Moto G
2.477
Lenovo Vibe K5 Plus
2.473
Huawei G8
2.471
Huawei nova
2.467
Sony Xperia Z
2.462
Lenovo Vibe K5
2.459
Huawei Honor 7
2.406
Sony Xperia E5
2.386
ZUK Z1 by Lenovo
2.382
Samsung Galaxy J5 (2016)
2.378
HTC 10
2.378
Huawei nova plus
2.329
HTC One E9+
2.305
Alcatel One Touch Hero
2.272
Apple iPhone 4S
2.269
Lenovo Vibe K4 Note
2.254
Sony Xperia C5 Ultra
2.253
Xiaomi Redmi Note 3 (MediaTek)
2.249
Sony Xperia C4 Dual
2.235
Xiaomi Mi Note
2.234
Motorola Moto G (2014)
2.233
LG Nexus 5
2.228
Huawei P8
2.196
Xiaomi Redmi Note 2
2.166
OnePlus Two
2.165
HTC One X
2.158
LG Aka
2.145
Archos 50 Diamond
2.134
Xiaomi Redmi Note
2.119
Acer Liquid X2
2.084
Huawei P8lite
2.078
Moto G 3rd gen max manual
2.026
Xiaomi Mi Max
1.996
Sony Xperia E4g
1.972
OnePlus One
1.961
Meizu m3 note
1.923
Meizu m2 note
1.892
BlackBerry Leap
1.892
HTC Butterfly
1.873
ZTE Nubia Z9 mini
1.759
Sony Xperia U
1.758
Asus Zenfone Selfie
1.68
Motorola Moto E (2nd Gen)
1.675
ZTE Nubia Z9
1.659
Jolla Jolla
1.605
Motorola Moto E
1.545
Sony Xperia M
1.473
HTC Desire C
1.3
Sony Xperia C
1.283
Meizu MX
1.221
Sony Xperia E
1.215
The LG V20 has a setting called "Display size." Obviously, the hardware screen stays at 5.7" big, this is a DPI slider. It has three settings ranging from tiny icons and menu options to big ones. Your choice here would depend on the keenness of your eyesight and the precision of your fingers.
Connectivity
The LG V20 has fast connectivity thanks to Qualcomm's modem. It offers LTE Cat. 12 - that's up to 600Mbps down and up to 150Mbps up. The V20 is the first phone to support AWS-3 - a newly sold LTE band that will roll out in metropolitan areas in the US, Canada and elsewhere starting next year. That's a nice piece of future-proofing right there but hardly of importance now.
Locally, the phone supports Wi-Fi a/b/g/n/ac, Bluetooth 4.2 (with aptX for audio) and NFC. There's an IR blaster with LG's capable remote control app to boot.
Wired connections are USB Type-C and a standard 3.5mm headphone jack.
That one is hooked up to an ESS ES9218 "32-bit stereo quad-DAC." The phone supports lossless formats (FLAC, ALAC and a couple of rarer ones). You can also output audio over the Type-C port if you have the right headset, but that bypasses the phone's DAC and uses the one in the headset.
In the notification area you'll find two buttons - Screen sharing and File sharing. The first does wireless Miracast (though wired MirrorLink is available if your car supports it). The second makes your LG V20 permanently visible over Bluetooth Low Energy so people can easily send you files.
LG V20 battery life
The LG V20 comes with a 3,200mAh battery and it is removable - just pop off the back! And all that with V20's shockproofing - impressive stuff indeed.
The battery capacity isn't huge by any standard, especially considering it has to feed a very bright 5.7" screen, not to mention the secondary screen. Speaking of the latter, it's worth mentioning that it operates as an Always-On Display for various status information or notifications. The best part is that it changes brightness depending on the ambient light, and it even completely turns off when the phone is in your pocket (proximity).
Update (Dec 16, 2016): We've received the final firmware for our V20 review units and we're updating what needed updating. We've duly retested the battery life, and for the most part the numbers turned out similar.
At 7:35h the V20's web browsing endurance matches the G5's to the minute. That's not great by any stretch - the Pixel XL can do about two hours more in this discipline, while the Galaxy S7 edge lasts 13 and a half hours and the Huawei Mate 9 is even better at more than 14h.
With just 8 hours in video playback, the V20 is bested by all, again. More than 11 hours for the Mate 9 and Pixel XL and a whopping 20 hours for the S7 edge mean the V20 isn't terribly well suited to video playback on the go. Even the G5 outlasts it by more than 2 hours.
On a 3G voice call, on the other hand, the V20 exceeds the manufacturer's specs by about an hour and at close to 20 hours its voice call longevity is half an hour longer than the Mate 9's. The S7 edge, and especially the Pixel XL will last substantially longer, though.
We also test the standby battery draw, and in the V20's case we did it with the always on display set to on, and out of pockets (so no proximity switch off). It turned out remarkably efficient as it is, so we figured there's not much point in testing with the feature off.
Even so, the V20's overall endurance rating of 68h is noticeably shorter than the majority of the competition.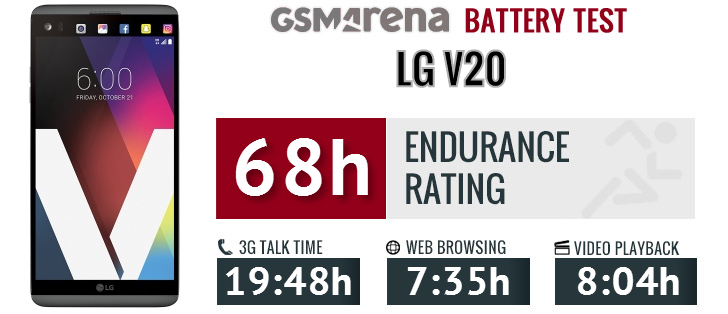 The battery testing procedure is described in detail in case you're interested in the nitty-gritties. You can also check out our complete battery test table, where you can see how all of the smartphones we've tested will compare under your own typical use.