Sharp and high-contrast 5.5-inch LCD, a bit dim though
A key feature for the K3 Note's breed is the FullHD 5.5-inch display. Sure, there are plenty of inexpensive large-screen smartphones, but resolution is typically the first victim to budget cuts. The K3 Note, along with the Xiaomi Redmi Note 2 and Meizu m2 note (the m1 note, too) are the most prominent of the select few, which prove that it doesn't have to be so.
It's an IPS panel with 401ppi density and a standard RGB arrangement, as our microscope shot reveals.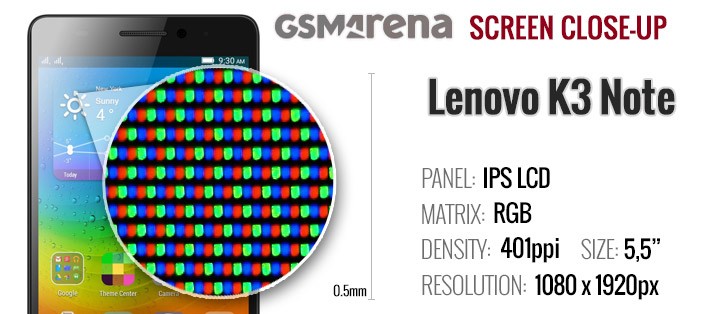 Color rendering is fairly accurate (Avg deltaE 6.2 for the primary colors plus black and white), with white being not as accurate as we would expect. With a deltaE of 11.4, it's on the colder bluish side, but you would hardly notice that unless you get some sort of a reference to compare it side by side.
As usual, display colors are a matter of personal taste and perception so if you don't need calibrated color output, you will probably be quite happy with the color rendition on the Lenovo K3 Note.
There are no options for fine tuning the color rendering or the white point temperature.
The maximum display brightness of the Lenovo K3 Note may not turn any heads (432nits), but you'd be surprised that when it comes to contrast ratio, it scored the second highest contrast ratio we've ever measured on a phone (1793:1). In case you're curious, the highest contrast ratio belongs to the Sony Xperia Z1 Compact (1819:1). The amazing result can be attributed to the deep black levels, which are frankly, class leading for an LCD unit.
Display test
50% brightness
100% brightness
Black, cd/m2
White, cd/m2
Contrast ratio
Black, cd/m2
White, cd/m2
Contrast ratio
Lenovo K3 Note
0.13
230
1742
0.24
432
1793
Meizu m1 note
-
-
-
0.65
562
867
Meizu m2 note
0.16
183
1096
0.42
473
1108
Xiaomi Redmi Note 2
0.17
162
953
0.492
467
953
Xiaomi Redmi Note 2 warm
-
-
undefined
0.496
440
887
Xiaomi Redmi Note 2 cool
-
-
-
0.496
423
853
Sony Xperia Z1 Compact
-
-
-
0.34
626
1819
HTC One E9+
0.14
205
1435
0.29
487
1657
OnePlus One
0.39
317
805
0.75
598
799
OnePlus Two
0.16
180
1139
0.30
399
1334
Samsung Galaxy E7
0.00
221
∞
0.00
517
∞
Samsung Galaxy A7
0.00
175
∞
0.00
349
∞
Asus Zenfone 2 ZE551ML
0.13
107
796
0.44
390
879
HTC Desire 820
0.18
235
1299
0.45
598
1327
Connectivity
The Lenovo K3 Note is not particularly rich in connectivity options, but it has all the basics covered. It's a dual-SIM dual-standby device, and one card gets the complete 2G/3G/4G treatment, while the other is limited to 2G. Both slots take microSIM cards.
There's Wi-Fi b/g/n in the 2.4GHz spectrum only, with hotspot support. Bluetooth comes in version 4.1, where LTE interference issues have been dealt with. There's also GPS with A-GPS and GLONASS support. An FM radio receiver is also on board, though it lacks RDS.
Wired connectivity is handled by the microUSB 2.0 port, and USB OTG is supported so you can attach storage or peripherals.
The standard 3.5mm jack lets you attach headphones of your choice (which you'd need to buy separately anyway, in most cases).
Lenovo K3 Note battery life
The Lenovo K3 Note comes with a 3,000mAh battery, and as we've already established it's removable. The capacity is marginally smaller than what the m2 note (3,100mAh) and Redmi Note 2 (3,060mAh) are packing, but the difference is too small to really matter.
What does matter is test results and the unfortunate reality is that the K3 Note's aren't impressive. Around 6 hours of web browsing is a mediocre result, and an hour more of video playback doesn't help. The 17 hours of 3G calls are an okay result, but with such an ample battery, you'd expect more.
All that adds up to an endurance rating of 53 hours, which is on the short side. At least with the K3 Note you can have a spare battery on hand for instant 100%, if that's any consolation.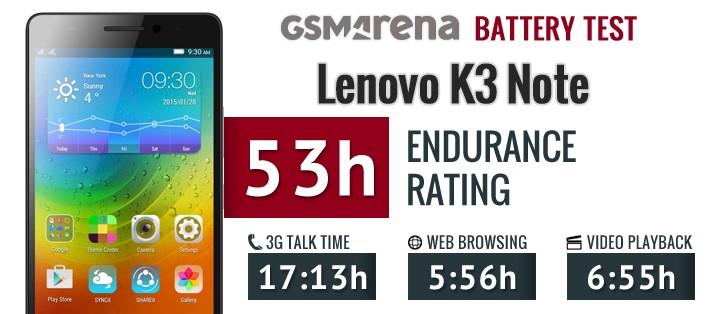 For comparison sake, the Meizu m2 note does 21 hours of calls and 10 full hours on the web, though it does score poorly in the video playback department.
Our proprietary score also includes a standby battery draw test, which is not featured in our test scorecard but is calculated in the total endurance rating.
The battery testing procedure is described in detail in case you're interested in the nitty-gritties. You can also check out our complete battery test table, where you can see how all of the smartphones we've tested will compare under your own typical use.