Telephony
The Huawei P9 Plus handles voice calls with ease and sound quality doesn't disappoint.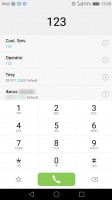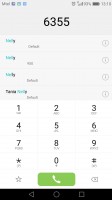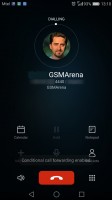 Smart dialing • recent calls • in-call interface
The P9 Plus stock dialer app is a trinity of tabs bundled together - these include the Dialer, Contacts, and Favorites. The phonebook offers all the usual sorting and display options, it supports multiple accounts, and there are lots of fields available for each contact.
The P9 Plus does a neat trick with its earpiece and loudspeaker. When you hold the phone horizontally, both pieces out similar sounds simulating a stereo effect, but in portrait mode the top speaker switches to treble while the bottom one plays bass (essentially a two-way speaker or as Huawei calls it - high quality sound).
If you like, you can turn off the Stereo switch from Settings and rely only on the so-called high quality sound.
Naturally, we tested both modes. Indeed, when using the high-quality sound mode (read default, or regular), the P9 Plus outed a score that's a decibel shy of our Excellent mark. If you use the Stereo mode for the landscape view, you'll lower the overall loudness to just 'Good' but you'll get a very nice stereo effect in return.
We were unable to pass a verdict on which mode is better, but each of those has its pros and cons, and we'll leave it up to you to choose.
| | | | | |
| --- | --- | --- | --- | --- |
| Speakerphone test | Voice, dB | Pink noise/ Music, dB | Ringing phone, dB | Overall score |
| Apple iPhone 6s Plus | 65.8 | 65.1 | 64.6 | Below Average |
| Oppo F1 Plus | 66.3 | 66.2 | 65.9 | Below Average |
| OnePlus 3 | 62.4 | 71.0 | 77.8 | Good |
| Samsung Galaxy S7 edge | 69.5 | 69.3 | 71.1 | Good |
| Huawei P9 Plus (stereo) | 66.9 | 70.0 | 76.9 | Good |
| Huawei P9 | 72.1 | 66.6 | 75.6 | Good |
| Huawei P9 lite | 66.0 | 71.5 | 83.2 | Very Good |
| Huawei P9 Plus (regular) | 71.7 | 73.7 | 81.3 | Very Good |
| Sony Xperia XA Ultra | 88.9 | 79.3 | 82.7 | Excellent |
App package
The P9 Plus ships with WPS office, which can be used for some basic document editing on the go. It can handle text documents, spreadsheets and presentations as well as PDF files. It can also export to PDF.
Phone Manager is Huawei's do-it-all app for keeping control over your phone. It lets you control all sorts of features from call/message privacy and Do Not Disturb settings, to phone optimization and app permissions, to network and battery usage.
The app features a one-touch optimization feature that frees up memory space and gives you settings recommendations for maximum battery performance. It's a hell of a slick feature that few manufacturers offer.
Battery Manager is part of Phone Manager and includes a selection of three power plans with varying degrees of feature limitations. From here you can also control which apps can remain active after you send the phone to sleep.
Huawei has bundled the P9 Plus with its Health app, which tracks steps and calculates calories burnt, but can also supposedly count the number of floors you've climbed. A file manager is also present, and it supports batch actions.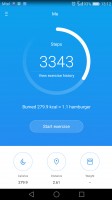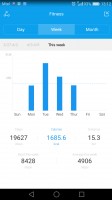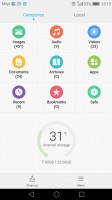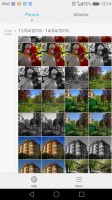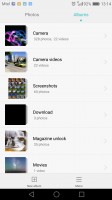 Health app homescreen • week view • file manager • file manager • more tools
Finally, there is a Fun Scale app which can measure weight of small objects. It isn't pre-installed on all units for some reason, though. The app allows you to put small objects at the center of the screen and if they weigh between 100 and 400g, it should out you a close enough estimate of their weight. This app uses the pressure sensitive screen tech, of course, but you shouldn't expect it it be that accurate. It's called 'Fun Scale' for a reason.