A 5.5" 1080p AMOLED display
The Huawei P9 Plus not only brings a bigger 5.5" display to the series, but switches from IPS-NEO to AMOLED technology. The OLED screen must have been thinner allowing Huawei to install a pressure-sensitive layer beneath it while still maintaining the impressively thin profile of the P9.
The bigger screen shares the screen resolution with the original P9 - it's 1080p. This brings down the pixel density a bit to 401ppi.
Quite expectedly, upon a closer inspection, the Samsung-made AMOLED screen turned out to be made of the same fabric as the other Samsung's gems. A Diamond PenTile matrix revealed itself once we peeked under a microscope.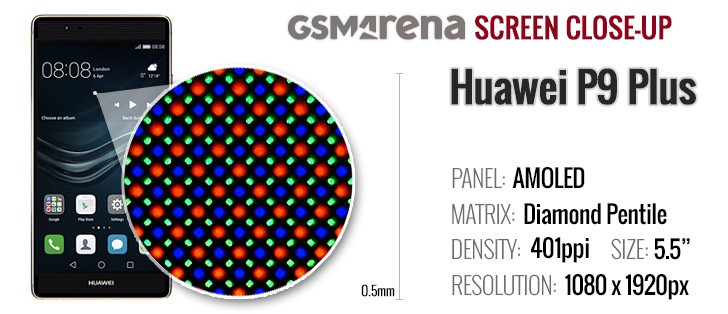 The screen achieved a respectable maximum brightness of 400 nits, which is close to what the current crop of AMOLEDs offer. There is no light bleeding in the blacks, while the contrast is as excellent and infinte as on any other OLED.
One can argue about the 1080p resolution spread across a 5.5" screen estate, but we sized up the Huawei P9 Plus next to the Galaxy S7 edge and the difference is barely visible with a naked eye. Unless you are planning to strap the device onto a VR setup and look at it from really close, you won't really be able to see any difference.
Display test
100% brightness
Black, cd/m2
White, cd/m2
Contrast ratio
Huawei P9 Plus
0.00
400
∞
Huawei P9
0.46
500
1094
Huawei P9 Lite
0.42
497
1192
Apple iPhone 6s Plus
0.43
590
1382
Huawei Mate 8
0.346
471
1361
OnePlus 3
0.00
433
∞
Samsung Galaxy S7 edge
0.00
392
∞
LeEco Le Max 2
0.30
426
1444
Xiaomi Mi 5
0.51
628
1227
Vivo Xplay5 Elite
0.05
358
7160
The P9 Plus aced our sunlight legibility test. It scores substantially higher (30%) than the P9, but also outshines the Meizu Pro 6. While the score is not as great as the Galaxy S7 edge, it's still among the excellent performers out there.
Sunlight contrast ratio
Samsung Galaxy S6 edge+
4.615
Samsung Galaxy S7 edge
4.439
OnePlus 3
4.424
Samsung Galaxy S7
4.376
HTC One A9
4.274
Samsung Galaxy A3
4.241
Samsung Galaxy S6 edge
4.124
Samsung Galaxy Note5
4.09
Huawei Nexus 6P
4.019
Vivo Xplay5 Elite
3.983
OnePlus X
3.983
Oppo R7s
3.964
Huawei P9 Plus
3.956
Samsung Galaxy A7 (2016)
3.918
Samsung Galaxy A5
3.895
Samsung Galaxy J7 outdoor
3.879
Samsung Galaxy J2 outdoor
3.873
Samsung Galaxy A8
3.859
Apple iPhone 6
3.838
Samsung Galaxy A9 (2016)
3.817
Motorola Moto X (2014)
3.816
Samsung Galaxy J7 (2016) outdoor mode
3.802
Samsung Galaxy A5 (2016)
3.789
Apple iPhone 6s
3.783
Meizu Pro 5
3.781
Microsoft Lumia 650
3.772
Samsung Galaxy J7 (2016)
3.756
Oppo F1 Plus
3.709
Vivo X5Pro
3.706
Apple iPhone SE
3.681
Samsung Galaxy A7
3.679
Meizu PRO 6
3.659
BlackBerry Priv
3.645
Apple iPhone 6s Plus
3.53
Samsung Galaxy J3 (2016) outdoor mode
3.523
Samsung Galaxy J3 (2016)
3.523
Acer Jade Primo
3.521
Microsoft Lumia 950
3.512
Oppo R7 Plus
3.499
Samsung Galaxy J7
3.422
Meizu MX5
3.416
Oppo R7
3.32
Xiaomi Mi 5
3.24
Samsung Galaxy J2
3.235
Sony Xperia X Performance
3.234
Motorola Moto X Play
3.222
Huawei P9
3.195
Lenovo Vibe Shot
3.113
Motorola Moto X Force
3.105
LG Nexus 5X
3.092
Huawei Mate S
3.073
Microsoft Lumia 640 XL
3.065
Apple iPhone 6 Plus
3.023
Sony Xperia X
2.989
Samsung Galaxy Note
2.97
Huawei Mate 8
2.949
LG G5
2.905
HTC One S
2.901
Sony Xperia Z5
2.876
Microsoft Lumia 550
2.851
Sony Xperia Z5 compact
2.784
LG V10
2.744
Xiaomi Redmi 3
2.735
Sony Xperia M5
2.69
Huawei P9 Lite
2.679
Vivo V3Max
2.659
Xiaomi Mi 4i
2.641
Sony Xperia XA
2.609
Xiaomi Mi 4c
2.574
LeEco Le Max 2
2.567
Microsoft Lumia 640
2.563
Lenovo Moto G4
2.544
Oppo F1
2.528
Sony Xperia Z5 Premium
2.525
Sony Xperia M4 Aqua
2.503
Motorola Moto G
2.477
Huawei G8
2.471
Sony Xperia Z
2.462
Huawei Honor 7
2.406
Sony Xperia E5
2.386
ZUK Z1 by Lenovo
2.382
Samsung Galaxy J5 (2016)
2.378
HTC 10
2.378
HTC One E9+
2.305
Alcatel One Touch Hero
2.272
Lenovo Vibe K4 Note
2.254
Sony Xperia C5 Ultra
2.253
Xiaomi Redmi Note 3 (MediaTek)
2.249
Sony Xperia C4 Dual
2.235
Motorola Moto G (2014)
2.233
LG Nexus 5
2.228
Huawei P8
2.196
Xiaomi Redmi Note 2
2.166
OnePlus Two
2.165
HTC One X
2.158
LG Aka
2.145
Archos 50 Diamond
2.134
Xiaomi Redmi Note
2.119
Acer Liquid X2
2.084
Huawei P8lite
2.078
Moto G 3rd gen max manual
2.026
Xiaomi Mi Max
1.996
Sony Xperia E4g
1.972
OnePlus One
1.961
Meizu m3 note
1.923
BlackBerry Leap
1.892
Meizu m2 note
1.892
HTC Butterfly
1.873
ZTE Nubia Z9 mini
1.759
Sony Xperia U
1.758
Asus Zenfone Selfie
1.68
Motorola Moto E (2nd Gen)
1.675
ZTE Nubia Z9
1.659
Jolla Jolla
1.605
Motorola Moto E
1.545
Sony Xperia M
1.473
Xiaomi Redmi 2
1.311
Sony Xperia C
1.283
Meizu MX
1.221
Sony Xperia E
1.215
As for colors and accuracy, things went from good to better for the Huawei P9 Plus. On the default mode the screen turned out with good color calibration with an average DeltaE of 5.4. The maximum deviation was at cyan, while the whites turned out a bit bluish. All other colors were fine.
When we turned on the Warm color mode, the average DeltaE dropped down to 3.9, which means you can consider the P9 Plus screen as of excellent color accuracy. This mode also fixed the white - the blue tint was gone.
Finally, if you like the punchy colors like on Samsung's AMOLEDs, don't worry - there is a dedicated Vivid mode. It boosts all base colors, and the red one in particular, so you can enjoy punchy colors when you don't need the color accuracy.
Battery life
The Huawei P9 Plus is powered by an ample 3,400 mAh battery, sealed as expected. The P9 Plus supports the so-called rapid charging with a 9V/2A charger, which fills 38% of the battery in 30 minutes and we can confirm this number.
We ran our battery test and the Huawei P9 Plus scored a 69h rating, which means you can count on the battery to last just few hours below 3 days if you do an hour each of calling, browsing the web and video playback a day. Such usage pattern may be somewhat artificial, but we've established it, so our battery results are comparable across devices.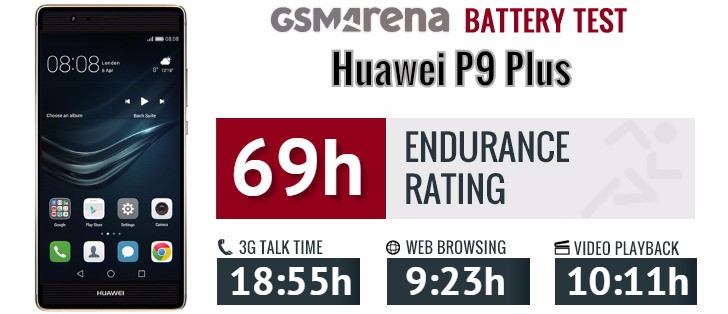 The phone did very well on all three separate tests, but was only average when it comes to standby endurance. Standby battery life was gauged in the Performance mode, which does not put any limits on the hardware. The Standard mode will add a couple of hours to the rating, while the Ultra Power Saving will keep your phone alive for quite some time.
There is also the so-called ROG power-saving, which lowers the native resolution down to 720p and will give you more battery life when playing games.
The battery testing procedure is described in detail in case you're interested in the nitty-gritties. You can also check out our complete battery test table, where you can see how all of the smartphones we've tested will compare under your own typical use.
Connectivity
Regarding connectivity, the Huawei P9 Plus is properly equipped. Huawei is very proud, and rightfully so, of the Kirin 955's built-in radio support, which includes up to four 2G bands, four 3G bands, and eighteen 4G LTE bands.
Our variant (VIE-L09) comes with a single nano-SIM slot, but you can opt for the dual-SM flavor (VIE-L29) with a hybrid secondary nanoSIM/microSD slot. Its second card can only tap into 2G networks while the first gets the full cellular connectivity.
The P9 Plus supports dual-band 2.4/5.0GHz Wi-Fi 802.11 a/b/g/n/ac, with Wi-Fi Direct and hotspot capabilities. Bluetooth is v4.2, where interference issues with LTE networks should be fixed.
There's NFC on board and it is available on both single-SIM and dual-SIM models. In order to get it working on the dual-SIM VIE-L29 device - you have to be using only one SIM card, though. While the NFC option is missing from the dual-SIM Huawei P9, we appreciate that Huawei found a way to keep it on the dual-SIM P9 Plus.
The satellite tranceiver supports GPS, GLONASS, and Beidou, so there isn't a corner in the world where the smartphone won't be able to pinpoint your location.
There is no FM radio though.
A 3.5mm jack provides standard connectivity for wired headphones. There is the new USB Type-C connector for charging and wired connectivity. Mind you, it defaults to charge-only every single time you connect it to a PC, and you have to select manually from the notification shade that you want to do something else.
Finally, the Huawei P9 Plus has an IR blaster on top, which paired with the Huawei's Smart Controller app will turn the phone into a universal remote control for all of your home appliances.