Display
This display is 5.5 inches in diagonal at 1080p resolution, which calculates to 403 ppi. The Honor 6X's display is definitely superior to that of the 5X. The updated panel brings better color accuracy, as well as improved brightness, better viewing angles, darker blacks, and Honor says this panel is about 10% more efficient than those found on previous-generation Honor products.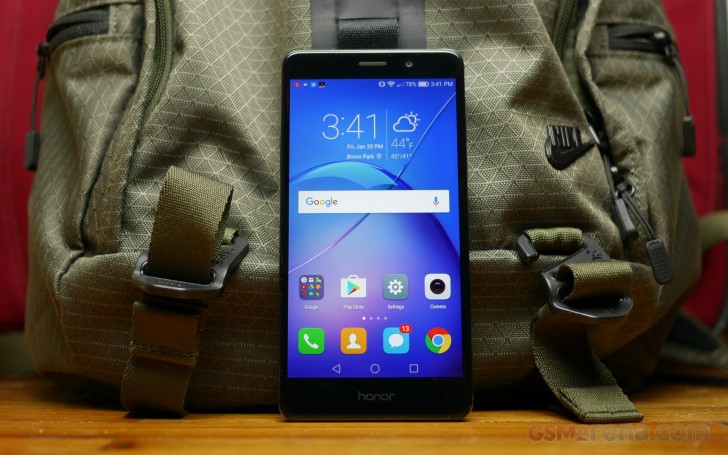 This display is of an LTPS nature which typically runs cooler than its LCD counterparts. The display's colors look great, though, lines are crisp, and text is sharp. When using 'Auto' brightness adjustment, the screen won't get any brighter in direct sunlight, but the screen's driver will adjust contrasts and temperatures so that the screen contents are better visible in sunlight. We've seen that on other phones as well.
The panel on the Honor 6X also goes quite bright for its category, reaching a maximum brightness of 579nits. Color accuracy wasn't too bad either with an average deltaE of 5.6 and a maximum deltaE at 7.9 on the white spectrum. This is the result of whites looking slightly cooler than they are.
We had a second unit, so we decided to test it for color accuracy as well. Average deltaE was better on this unit at 4.5 while the max deltaE was 7.6 @ Orange-yellow.
Otherwise, screen brightness is quite good on this new generation of LTPS panels, easily reaching past 550nits. A screen that reaches a brightness of 500 nits is plenty bright for viewing in direct sunlight.
Display test
100% brightness
Black, cd/m2
White, cd/m2
Contrast ratio
Huawei Honor 6X
0.321
579
1804
Huawei Honor 5X
0.44
473
1073
Alcatel Idol 4S
0.00
373
∞
Alcatel Idol 4S (Max auto)
0:00
684
∞
Lenovo K6 Note
0.383
521
1360
Lenovo Moto M
0.3
425
1417
Motorola Moto G4 Plus
0.33
478
1448
Motorola Moto G4 Plus (max auto)
0.43
587
1365
Samsung Galaxy C5
0.00
424
∞
Samsung Galaxy C5 (Max auto)
0.00
625
∞
Huawei P9 Lite
0.42
497
1192
The display is able to get reasonably dim as well. The dimmest setting yielded a brightness of 5.5nits which, for the most part, ensures the phone won't blind you in the middle of the night.
Viewing angles are pretty good with no shifts in color temperature. There is a noticeable contrast shift when tilting the device forward or backward. All in all, we have no major qualms with the Honor 6X's display.
Connectivity
For the primary SIM, the Honor 6X supports up to Cat6 LTE speeds of up to 300 Mbps download and 50 Mbps upload speeds. Global and US models might differ in available LTE bands:
Global bands: 1, 3, 7, 8, 38
US Bands: 20, 2, 4, 5, 12, 38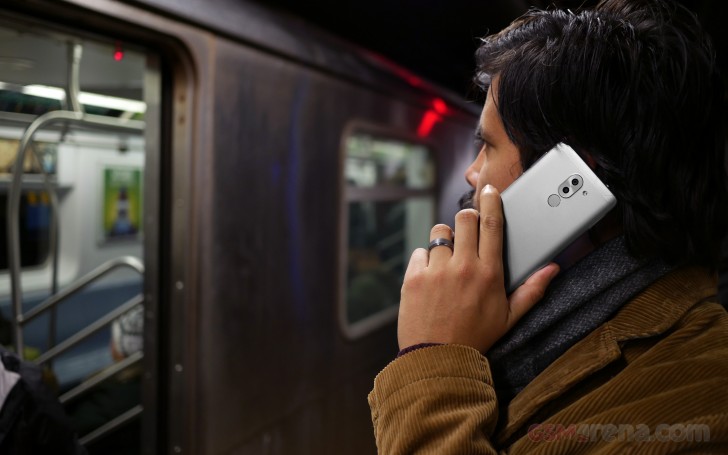 3G bands include bands 1 (2100 MHz), 2 (1900 MHz), and 8 (900MHz). Other connectivity options include: Bluetooth 4.1, Wi-Fi 802.11 b/g/n, 2.4GHz, microUSB v2.0, and GPS/A-GPS/Glonass/BeiDou.
Remember, there's neither 5GHz Wi-Fi nor NFC connectivity options on the Honor 6X. There's also no IR blaster like the Honor 8 has, and it likely won't make its way to this price range, at least not any time soon.
Battery life
Honor managed to get a higher capacity 3,340mAh battery in the 6X while keeping the overall size and dimensions of the phone very similar to the 5X's. The company promises up to 2.2 days of endurance with normal usage and up to 1.5 days of battery power for heavy users. We've put the Honor 6X through our own battery tests and here's what we've found.
The Honor 6X scored 23:06h in the call test, 13:41h in web browsing, and 13:18h of videos. That, combined with the standby score, yielded an overall score of 84h. This score means that if you used the phone for exactly one hour of calls, browsing, and video viewing each day, the phone would last about three and a half days. You can use our battery tool at the link toward the end of this section to tweak the battery scores to tailor them better to your own usage. It's inevitable that your personal usage will be different but we've established this one just so the battery life results we come up with are comparable.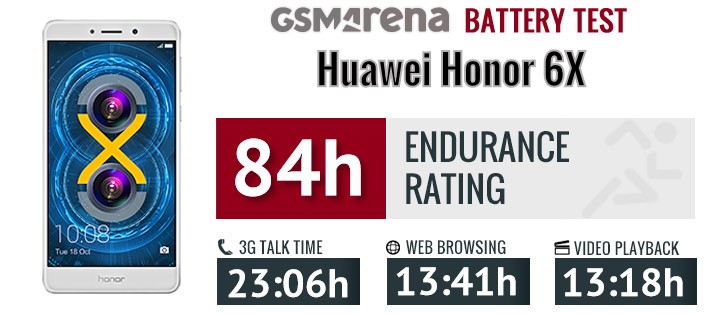 You can definitely squeeze even more battery life with the standard power saving mode that the Honor 6X offers in its UI. We accidentally left this feature switched on for the phone's browser test (the screen brightness was still 200nits for the tests in both cases), and the browser result gave us an unusually high score. The first-tier battery save mode should really truly extend your battery endurance as it lowers the screen brightness a bit, switches the CPU to a more efficient mode, and reduces visual transitions and sync frequency.
EMUI gives a lot of control over which apps are allowed to run in the background, so make sure you stay on top of those unnecessary battery drainers. You can find these in Settings > Advanced > Battery Management.
Even with such a long endurance score, we feel the phone is limited by its lack of a quick-charging capability. The phone is rated to charge at 5V@2A or 10W with the included charger. From a depleted battery, the Honor 6X charged up to 31% in 30 minutes. In an hour, it reached 57%, and it took about 2 and a half hours to restore fully the battery charge.
The battery testing procedure is described in detail in case you're interested in the nitty-gritties. You can also check out our complete battery test table, where you can see how all of the smartphones we've tested will compare under your own typical use.