Android 13 with Magic OS 7.1 on top
The Honor Magic Vs we have here runs an in-house MagicOS 7.1 on top of an Android 13 core. And it's a fully functional Android 13, including full support for the Google apps suite, unlike Huawei's software builds which are limited in one way or another.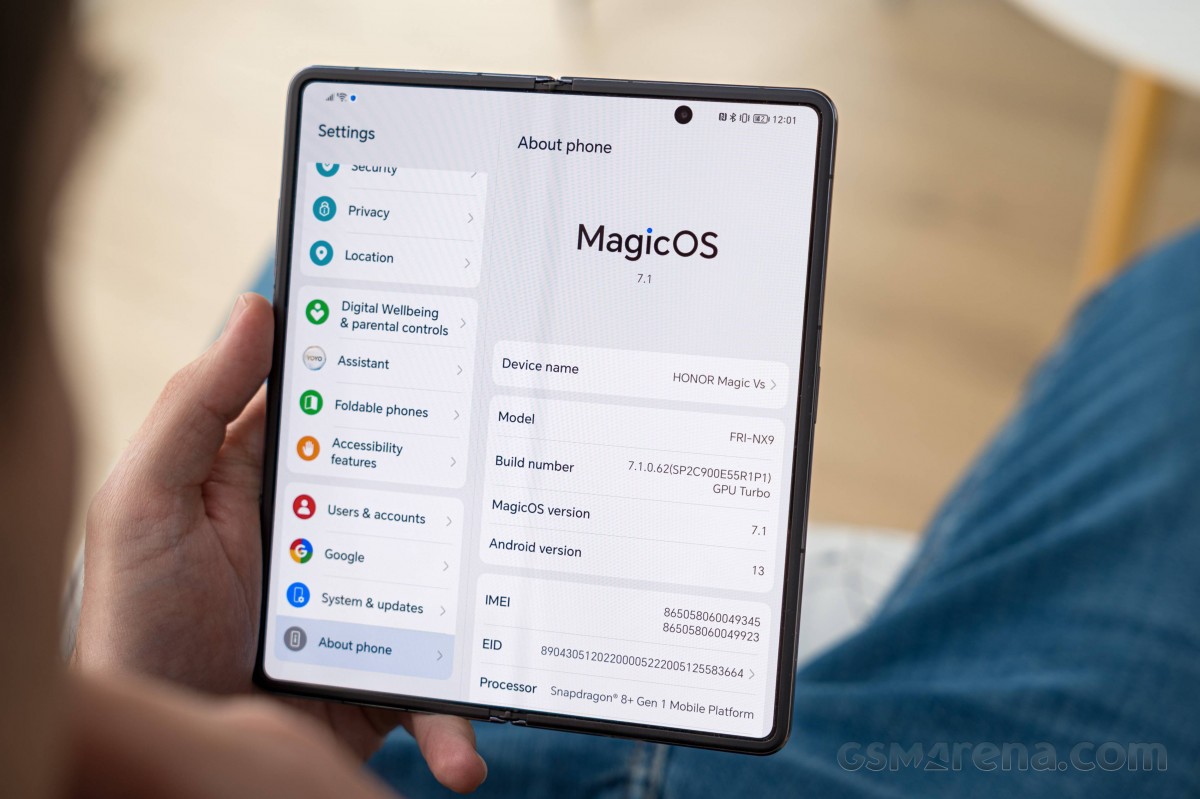 You may note that Honor has renamed its Android overlay from UI to OS with this v7 in an attempt to break away from its Huawei EMUI roots. A lot has been shared over the years between Magic OS (or UI) and EMUI and traces of that common past remain so if you've used a moderately recent Huawei phone you'd be right at home, but differences do exist. Naturally, if and where the two differ, the Magic Vs is in line with Honor's own latest non-bendy models, even if they may still be on previous Magic versions.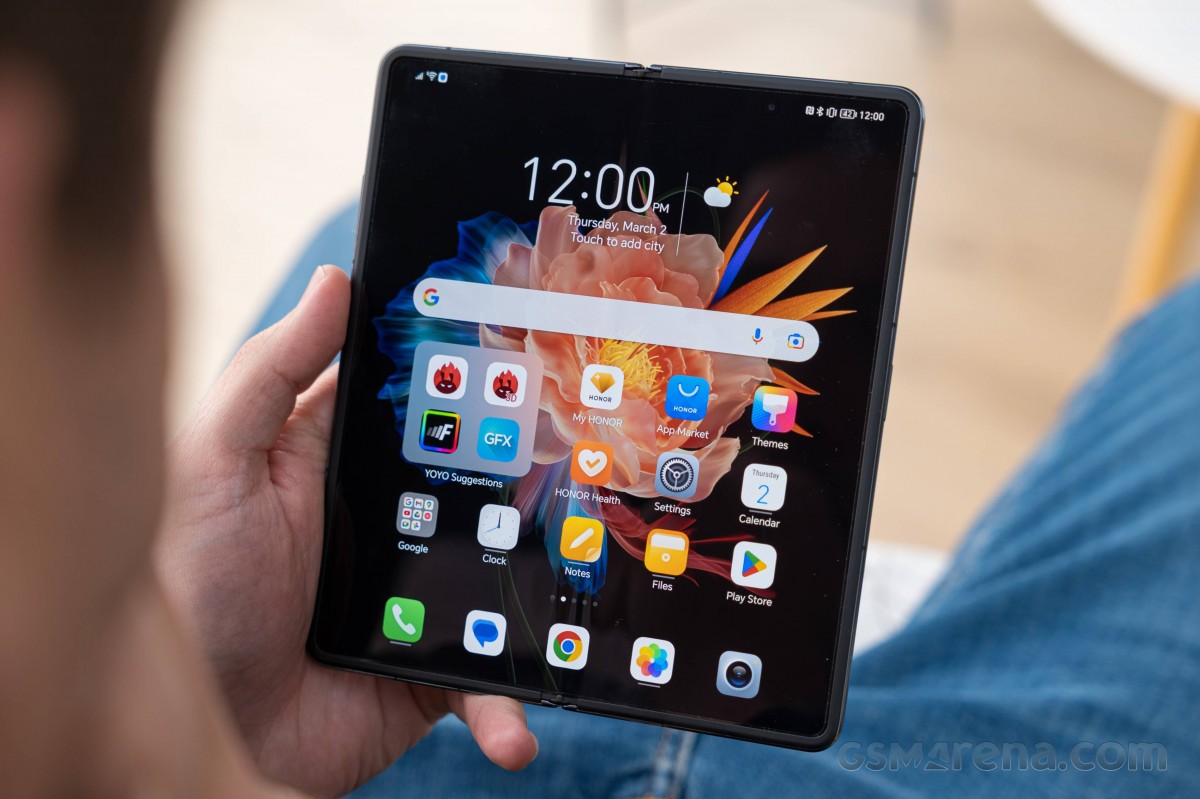 Going from UI 6 to OS 7, we're seeing subtle changes here or there, but the overall look and feel of the Magic overlay remain the same. Iconography is largely unchanged, the task switcher and notification/quick settings are is the same too (and that's one area where the latest EMUI and its Control center differs), the Settings menu doesn't look one bit different either.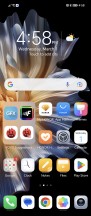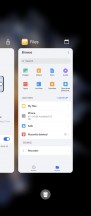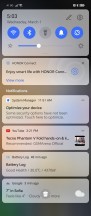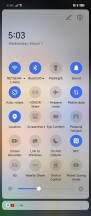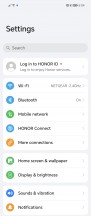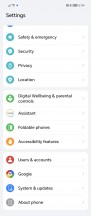 MagicOS 7 basics: Homescreen • Task Switcher • Notifications • Quick settings • Settings menu
Also available here is previously introduced functionality like large folders and the card bar that sits under app icons to indicate that the app supports cards (another name for the in-house widgets).
Speaking of widgets, some neat EMUI features are nowhere to be found on the Magic Vs' Magic OS like the widget stacking or the combined widgets.
A Yoyo suggestions card/widget lets you have the onboard assistant pitch apps that it things you might be inclined to use based on previous experience.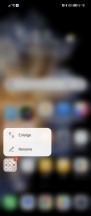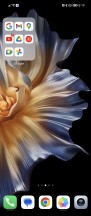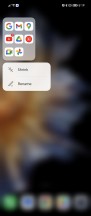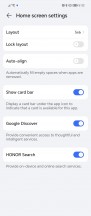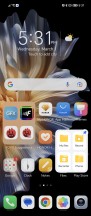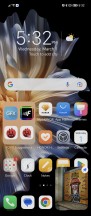 Large folders • Large folders • Large folders • Cards
Naturally, a host of customization options are there for you to explore as well. You've got a wide selection of themes, Always-on display styles, the lot. What's missing at this point is the option to enable an app drawer - all the newly installed apps get dumped on your homescreens.
There's split screen multi-window on the cover display, as well as pop-up window mode for some in-house and third-party apps. You can only have one pop-up app open at a time and subsequent ones end up in a separate task switcher.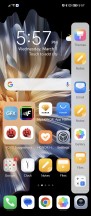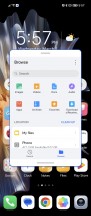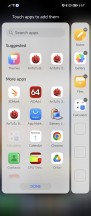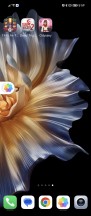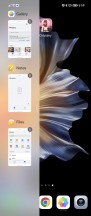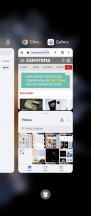 Multi-tasking on the cover screen
You'd like be multi-windowing on the internal display more often than not, we reckon. You get a fairly narrow range of resizing options, but you do get to have a horizontal split as well, though Chrome for example doesn't support it.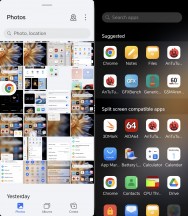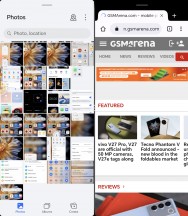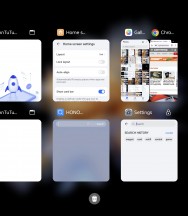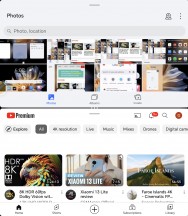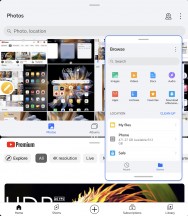 Multi-tasking on the main screen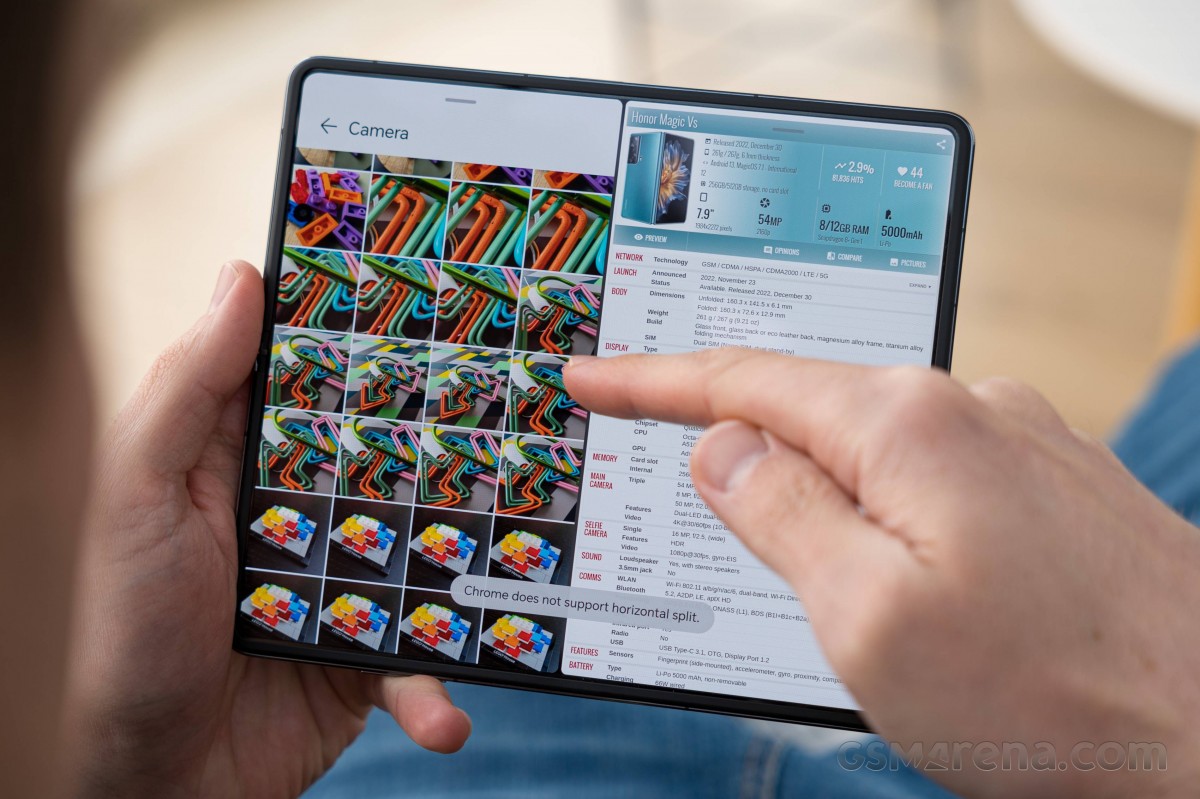 Weirdly enough, there's not a whole lot of foldable-related functionality. Sure, YouTube will switch to that interface where it shows the video in the top half and the comments on the bottom if you half-fold the Magic Vs, but that's about it - there are no clever camera UI tricks for waist level shooting or tripod mode.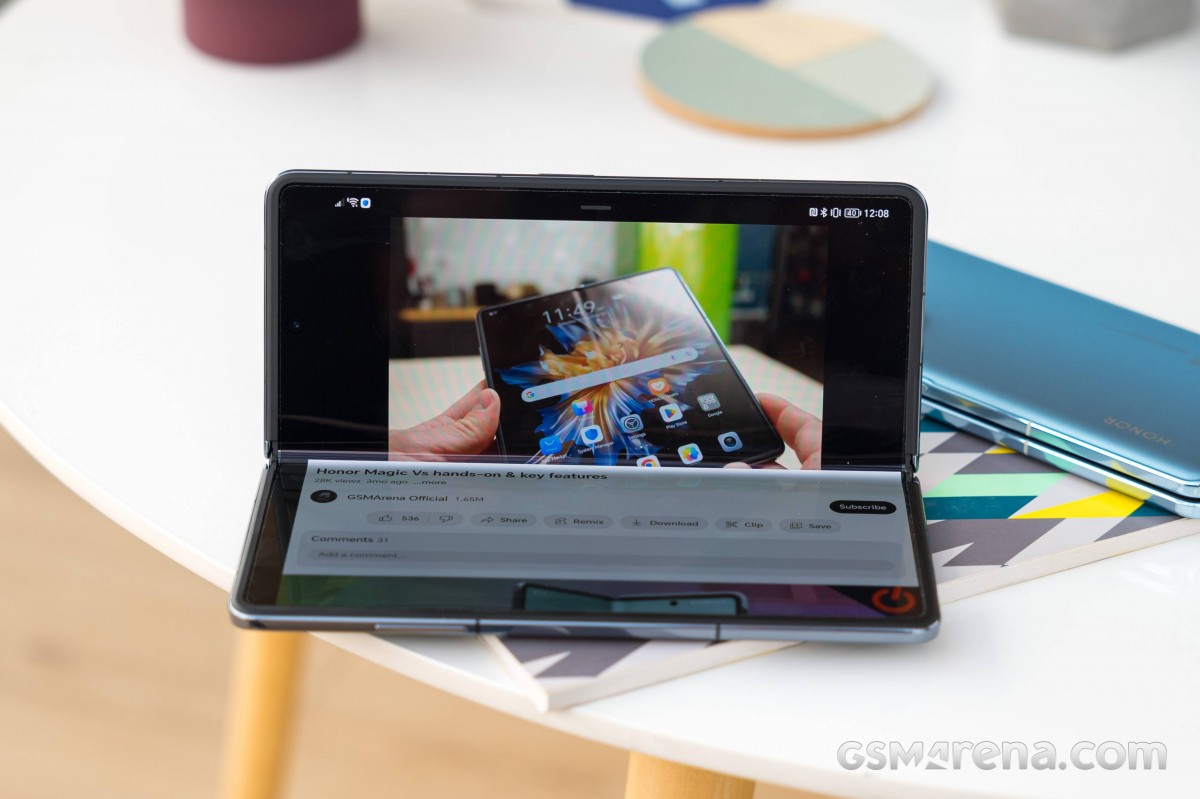 There aren't a ton of settings either. Basically, you can choose whether the Magic will lock itself when you close it, or just move whatever you were doing to the cover display. It will remind you constantly that some apps may not function properly after the handoff and may need restarting, which is at least mildly annoying.
The other available setting is what aspect ratio apps will use - 16:9, 4:3, or the full screen. You can also set this in the initial seconds after you launch an app in the default pillarboxed state when you get a blue icon in the bottom right corner.
An app extender feature that lets you have two instances of the same app is also tucked into the 'Foldable phones' menu, but that's hardly a foldable-related feature.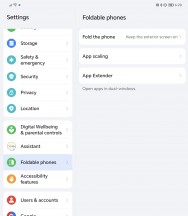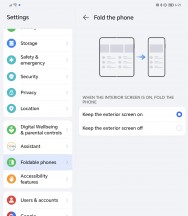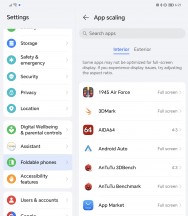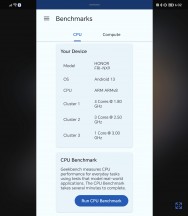 Not a lot of foldable features
Performance and benchmarks
The Magic Vs' specsheet lists the Snapdragon 8+ Gen 1 at its heart. Sure, it's not the current Gen 2, but it's an easily powerful enough platform - it's the flagship chipset for 2022, after all.
Now, there's this peculiar detail in the specs when it comes to CPU clock frequency - Honor lists the numbers as 3.00GHz for the Cortex-X2 super-powerful core, 2.50GHz for the mid-tier cluster of 3x Cortex-A710s and 1.80GHz for the efficiency-oriented 4x Cortex-A510s.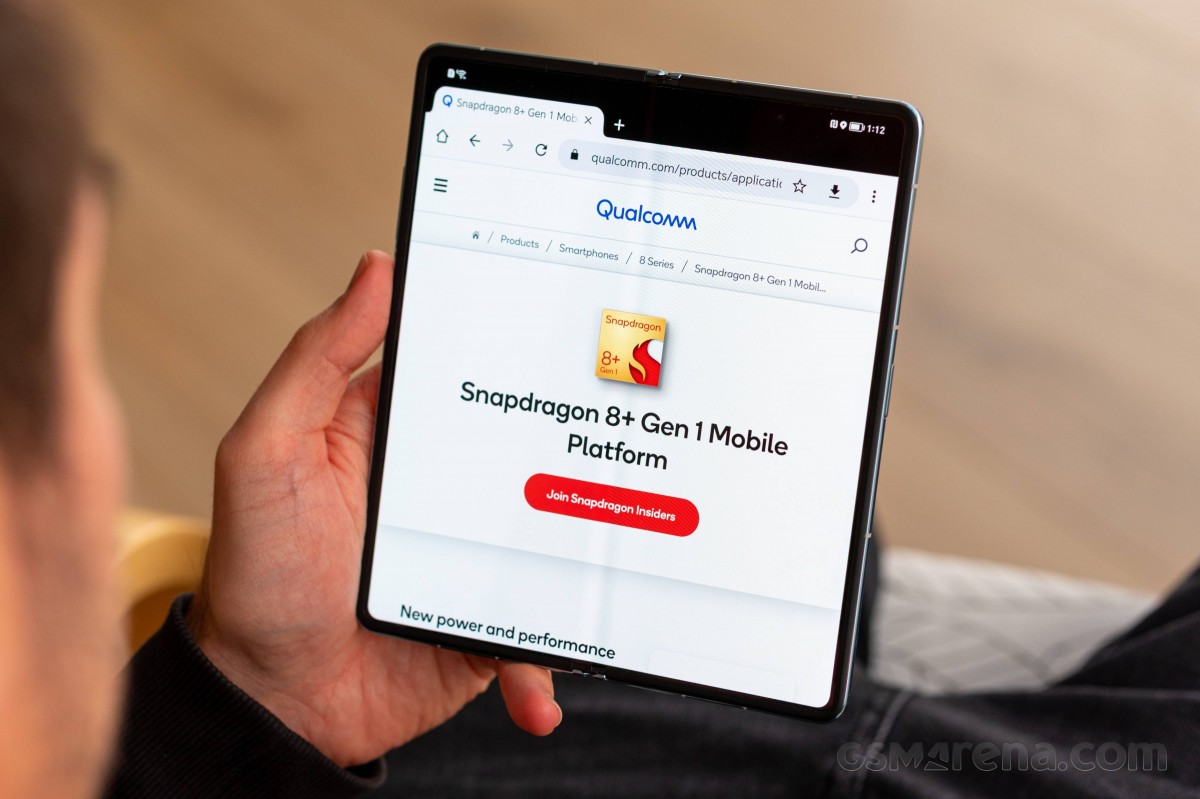 If you're into the habit of remembering pointless numbers and you're following the smartphone industry, you'll note that the frequencies are the same as on the CPU of the Snapdragon 8 Gen 1 (non-plus). And since the clock rates of the X2 and the A710 cores are among the key differences separating the plus from non-plus varieties of the SD 8 Gen 1, just how plus is the one in the Magic Vs?
Anyway, the international version of the Honor foldable comes with 12GB of RAM and 512GB of storage. China also gets lesser 12GB/256GB and 8GB/256GB options.
Things are off to a slow start in the single-core portion of GeekBench 5 where the Vs' Cortex-X2 isn't living up to its full potential. The SD 8 Gen 1-equipped Magic4 Pro posts higher scores as do a bunch of other pluses and non-pluses. Somewhat noteworthy is the Galaxy Z Fold4's 30% advantage in this test.
GeekBench 5 (single-core)
Higher is better
Galaxy S23 Ultra
1537
Xiaomi 13 Pro
1490
Xiaomi Mix Fold 2
1374
Galaxy Z Fold4
1337
Xiaomi 12S Ultra
1324
Huawei Mate 50 Pro
1277
ZTE Axon 40 Ultra
1207
OnePlus 11
1150
Honor Magic4 Pro
1127
Oppo Find N2
1057
Honor Magic Vs
1033
OnePlus 10 Pro
975
Huawei Mate X2
956
Huawei Mate Xs 2 (Unfolded)
884
The Magic does level things off with the Galaxy in the multi-core test, so not all is lost. It's looking a lot more competitive overall here as well - not SD 8 Gen 2 level, but more in line with what you'd expect from the chip inside it.
GeekBench 5 (multi-core)
Higher is better
Xiaomi 13 Pro
5087
Galaxy S23 Ultra
4927
OnePlus 11
4899
Xiaomi Mix Fold 2
4368
Xiaomi 12S Ultra
4300
Galaxy Z Fold4
3981
Honor Magic Vs
3971
Huawei Mate 50 Pro
3839
Oppo Find N2
3670
Honor Magic4 Pro
3512
OnePlus 10 Pro
3447
Huawei Mate X2
3389
ZTE Axon 40 Ultra
3189
Huawei Mate Xs 2 (Unfolded)
3131
But then comes Antutu to put a stop on that momentum, placing the Magic Vs at the bottom of the pack.
AnTuTu 9
Higher is better
Xiaomi 13 Pro
1281666
Galaxy S23 Ultra
1241531
OnePlus 11
1140661
Xiaomi Mix Fold 2
1050139
Xiaomi 12S Ultra
1039412
Honor Magic4 Pro
980755
Huawei Mate 50 Pro
979921
Galaxy Z Fold4
964530
Oppo Find N2
962082
OnePlus 10 Pro
886248
ZTE Axon 40 Ultra
884923
Honor Magic Vs
831175
Huawei Mate Xs 2 (Unfolded)
641608
There are no surprises in offscreen benchmarks, where the Magic Vs posts numbers on par with the other similarly equipped devices in the class. If anything, it leads the SD 8(+) Gen 1, though the differences are minimal.
3DMark Wild Life Vulkan 1.1 (offscreen 1440p)
Higher is better
Galaxy S23 Ultra
12241
Honor Magic Vs
10561
Xiaomi 12S Ultra
10533
Oppo Find N2
10517
Huawei Mate 50 Pro
10468
Galaxy Z Fold4
10382
Xiaomi 13 Pro
10289
Honor Magic4 Pro
10183
OnePlus 10 Pro
9610
ZTE Axon 40 Ultra
8670
Huawei Mate Xs 2 (Unfolded)
5830
Huawei Mate X2
5693
3DMark Wild Life Extreme (offscreen 1440p)
Higher is better
Galaxy S23 Ultra
3790
OnePlus 11
3594
Xiaomi 13 Pro
2939
Oppo Find N2
2823
Honor Magic Vs
2801
Huawei Mate 50 Pro
2753
GFX Aztek ES 3.1 High (offscreen 1440p)
Higher is better
Xiaomi 13 Pro
61
OnePlus 11
61
Galaxy S23 Ultra
59
Honor Magic Vs
46
Oppo Find N2
46
Xiaomi 12S Ultra
46
Galaxy Z Fold4
45
Xiaomi Mix Fold 2
45
Huawei Mate 50 Pro
45
OnePlus 10 Pro
43
Honor Magic4 Pro
40
ZTE Axon 40 Ultra
35
Huawei Mate X2
29
Huawei Mate Xs 2 (Unfolded)
28
GFX Aztek Vulkan High (offscreen 1440p)
Higher is better
Galaxy S23 Ultra
69
OnePlus 11
68
Xiaomi 13 Pro
67
Honor Magic Vs
51
Oppo Find N2
51
Huawei Mate 50 Pro
51
Xiaomi 12S Ultra
51
Galaxy Z Fold4
50
Xiaomi Mix Fold 2
50
OnePlus 10 Pro
48
ZTE Axon 40 Ultra
42
Honor Magic4 Pro
32
Huawei Mate Xs 2 (Unfolded)
31
Huawei Mate X2
31
GFX Car Chase ES 3.1 (offscreen 1080p)
Higher is better
Xiaomi 13 Pro
127
Galaxy S23 Ultra
126
OnePlus 11
126
Oppo Find N2
104
Xiaomi 12S Ultra
104
Honor Magic Vs
103
Galaxy Z Fold4
102
Xiaomi Mix Fold 2
101
Huawei Mate 50 Pro
101
OnePlus 10 Pro
97
ZTE Axon 40 Ultra
80
Huawei Mate Xs 2 (Unfolded)
72
Honor Magic4 Pro
72
Huawei Mate X2
61
GFX Manhattan ES 3.1 (offscreen 1080p)
Higher is better
Xiaomi 13 Pro
222
OnePlus 11
220
Galaxy S23 Ultra
212
Xiaomi 12S Ultra
182
Honor Magic Vs
180
Oppo Find N2
180
Xiaomi Mix Fold 2
178
Huawei Mate 50 Pro
178
OnePlus 10 Pro
175
Galaxy Z Fold4
174
Huawei Mate Xs 2 (Unfolded)
121
Honor Magic4 Pro
117
ZTE Axon 40 Ultra
114
Huawei Mate X2
100
The onscreen tests introduce actual rendering resolution as a variable between devices and the Magic Vs has the highest-res screen of the foldables, so it's once again dropping towards the bottom of the charts.
GFX Aztek ES 3.1 High (onscreen)
Higher is better
Galaxy S23 Ultra
54
Huawei Mate 50 Pro
52
Oppo Find N2
49
Xiaomi 13 Pro
49
OnePlus 11
49
ZTE Axon 40 Ultra
46
Galaxy Z Fold4
43
Xiaomi Mix Fold 2
40
Honor Magic4 Pro
40
Xiaomi 12S Ultra
38
OnePlus 10 Pro
37
Honor Magic Vs
36
Huawei Mate X2
20
Huawei Mate Xs 2 (Unfolded)
19
GFX Aztek Vulkan High (onscreen)
Higher is better
Galaxy S23 Ultra
60
Huawei Mate 50 Pro
55
OnePlus 11
53
Oppo Find N2
52
Xiaomi 13 Pro
52
ZTE Axon 40 Ultra
45
Honor Magic4 Pro
45
Galaxy Z Fold4
42
Xiaomi Mix Fold 2
41
OnePlus 10 Pro
41
Xiaomi 12S Ultra
39
Honor Magic Vs
38
Huawei Mate Xs 2 (Unfolded)
21
Huawei Mate X2
12
GFX Car Chase ES 3.1 (onscreen)
Higher is better
Huawei Mate 50 Pro
68
Galaxy S23 Ultra
67
Xiaomi 13 Pro
64
Galaxy Z Fold4
59
Oppo Find N2
59
Honor Magic4 Pro
59
ZTE Axon 40 Ultra
58
OnePlus 11
57
Xiaomi Mix Fold 2
52
Xiaomi 12S Ultra
51
Honor Magic Vs
50
OnePlus 10 Pro
48
Huawei Mate X2
29
Huawei Mate Xs 2 (Unfolded)
28
GFX Manhattan ES 3.1 (onscreen)
Higher is better
Huawei Mate 50 Pro
113
Galaxy S23 Ultra
112
ZTE Axon 40 Ultra
105
Xiaomi 13 Pro
103
Honor Magic4 Pro
100
Galaxy Z Fold4
93
Xiaomi Mix Fold 2
93
Xiaomi 12S Ultra
91
OnePlus 10 Pro
89
Honor Magic Vs
82
Oppo Find N2
60
OnePlus 11
60
Huawei Mate Xs 2 (Unfolded)
45
Huawei Mate X2
40
Sustained performance is actually pretty great on the Magic Vs. In the hour-long run of the CPU throttling test, the Honor settled at around 85% of peak performance, a level it seemed to be able to maintain indefinitely.
In the Wild Life Stress test it did drop to 55% of initial performance but it did so with a rather unusual curve, where it was only the last loop of the benchmark that was this low. Otherwise it kept things at around 70% of peak performance for about 15 minute. Not a groundbreaking result but solid overall.