Design, build quality, handling
Nothing's changed between November and now in the Magic Vs' hardware, but there are plenty of changes coming from the Magic V, as we reported back then. But to make sure we have something new to say, Honor has sent us a Black review unit this time around - to compare and contrast against the Cyan we already had.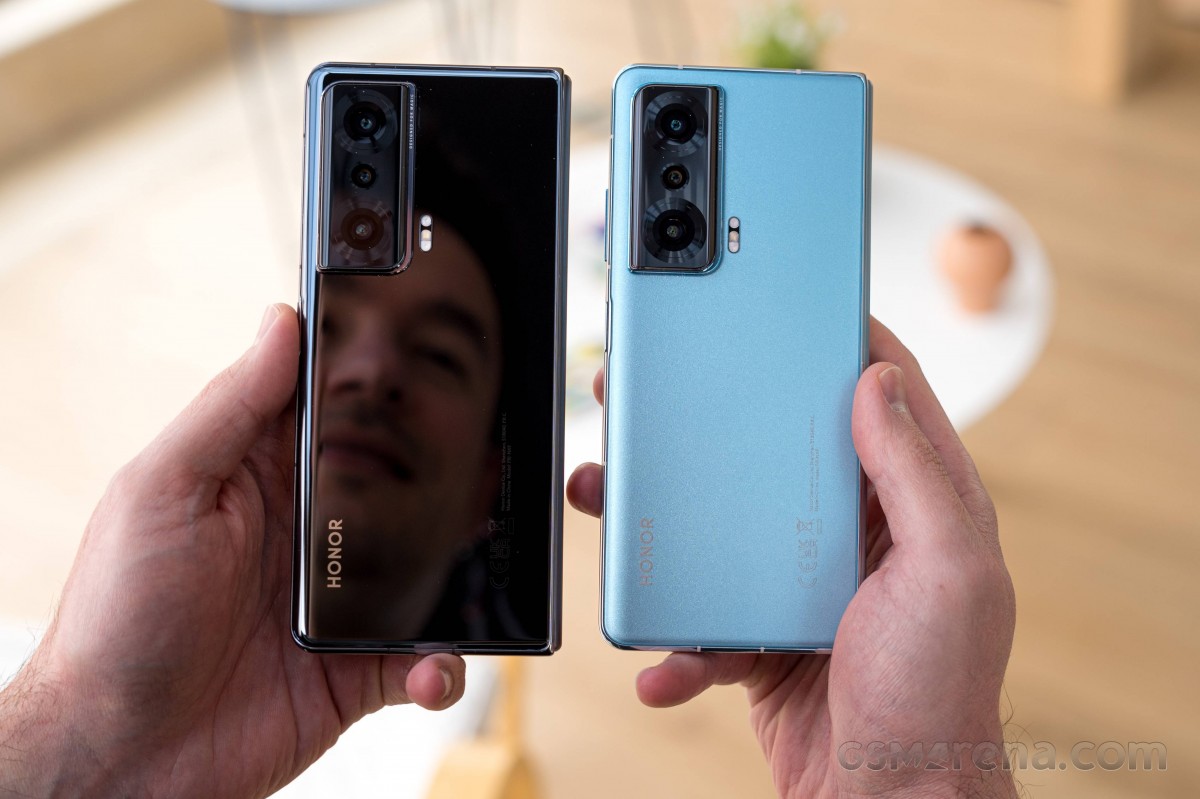 The glossy, mirror-like finish of the glass panel is about as welcoming to fingerprints as you'd expect - it's only pristine when you pull it out of the protective sleeve when taking it out of the box. Well, you could keep a microfiber cloth handy and wipe it periodically, but it's a tall order keeping it clean.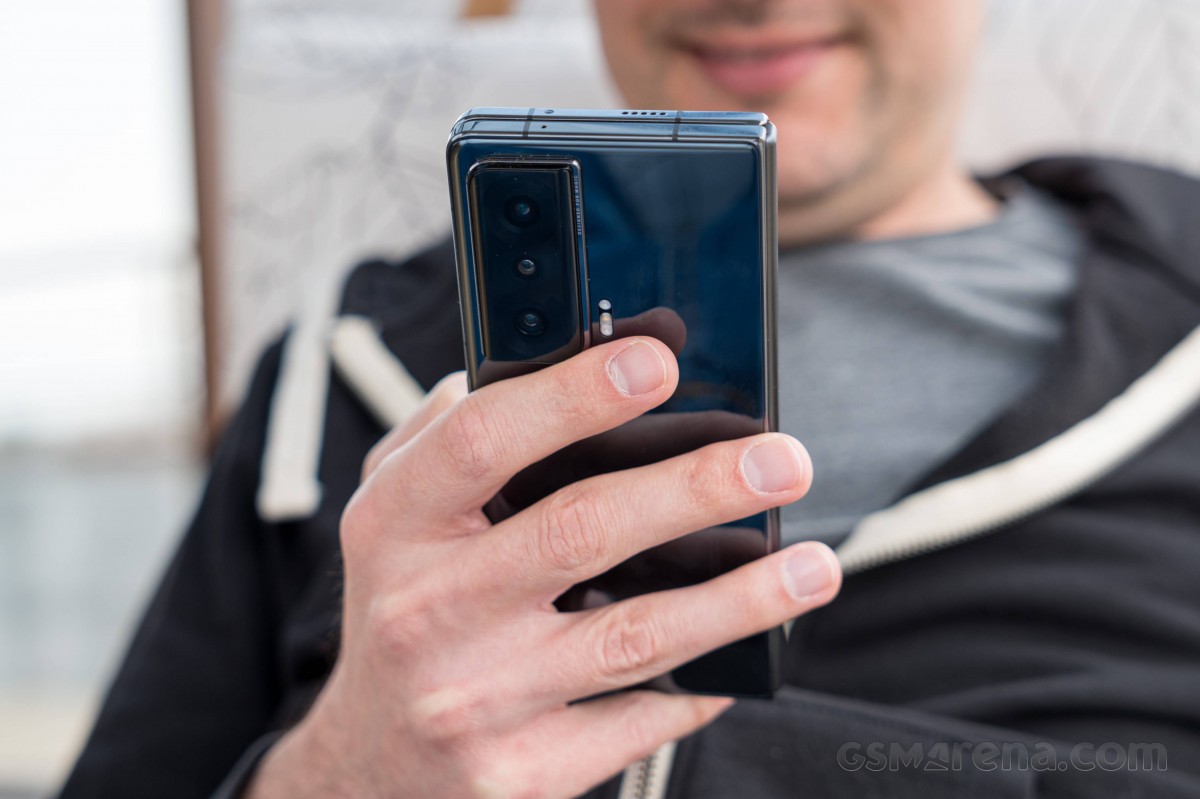 It's worth noting that if you do use it as a mirror (which is a viable use case), through the magic of your eyes' focusing magic you'll be seeing past the smudges and they will only be noticeable if you focus on them. In any case, the... case saves you from all of those woes, while also providing protection. It's got a soft faux leather layer so it's nicely premium feeling, too.
The Cyan colorway, meanwhile, has a shimmery frosted finish, so it's nowhere as prone to smudges, plus it's got a fresher look than a plain black back. Cyan or Black, the rear panel is made of glass.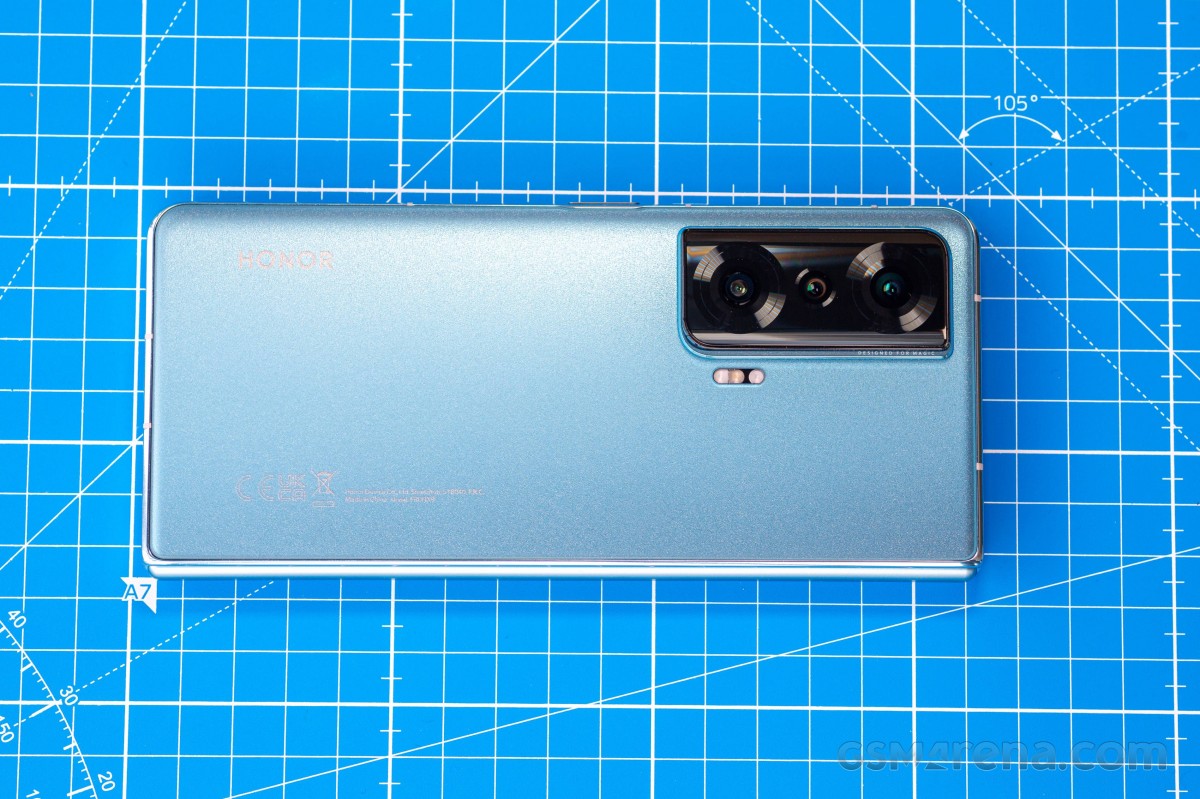 There's a third colorway, Orange, and that's got a faux leather rear panel, making it 6g lighter than the 267g glass-backed versions. The international Magic Vs variant isn't getting it, however - it remains exclusive to China, apparently.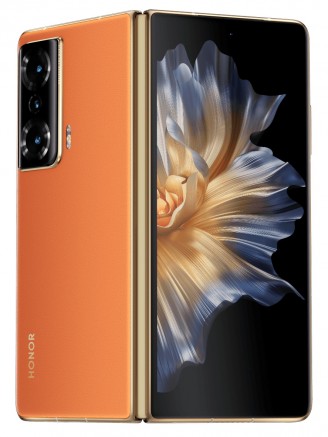 China-exclusive Orange colorway
Mentioning grams brings us to one of the key generational improvements - the entirely reworked hinge mechanism. Doing away with the geared design of the previous generation, the Vs comes with a gearless alternative, and Honor says the number of components has been reduced from 92 to just 4, which can't not involve some semantics and calling 'a component' what is essentially an assembly of several bits and bobs. Looking at the promo videos, there's a whole lot of stuff going on there.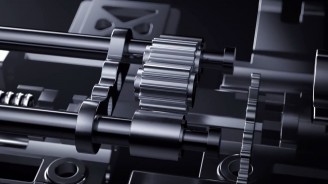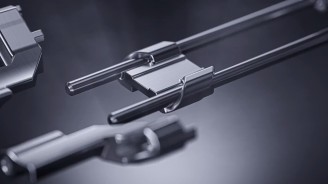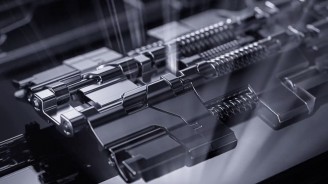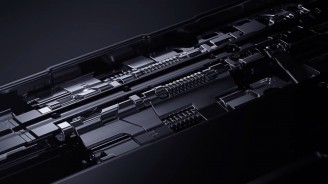 Hinge bits: Old one (with gears) • New one
New materials have been adopted too, also contributing to weight savings. The inner screen's support structure is made of titanium, making it 20% lighter, while the magnesium alloy underside of the outer screen is 34% lighter than the previous aluminum solution. Those are Honor's numbers, and we won't be tearing down units and weighing any of these individually just to check, of course.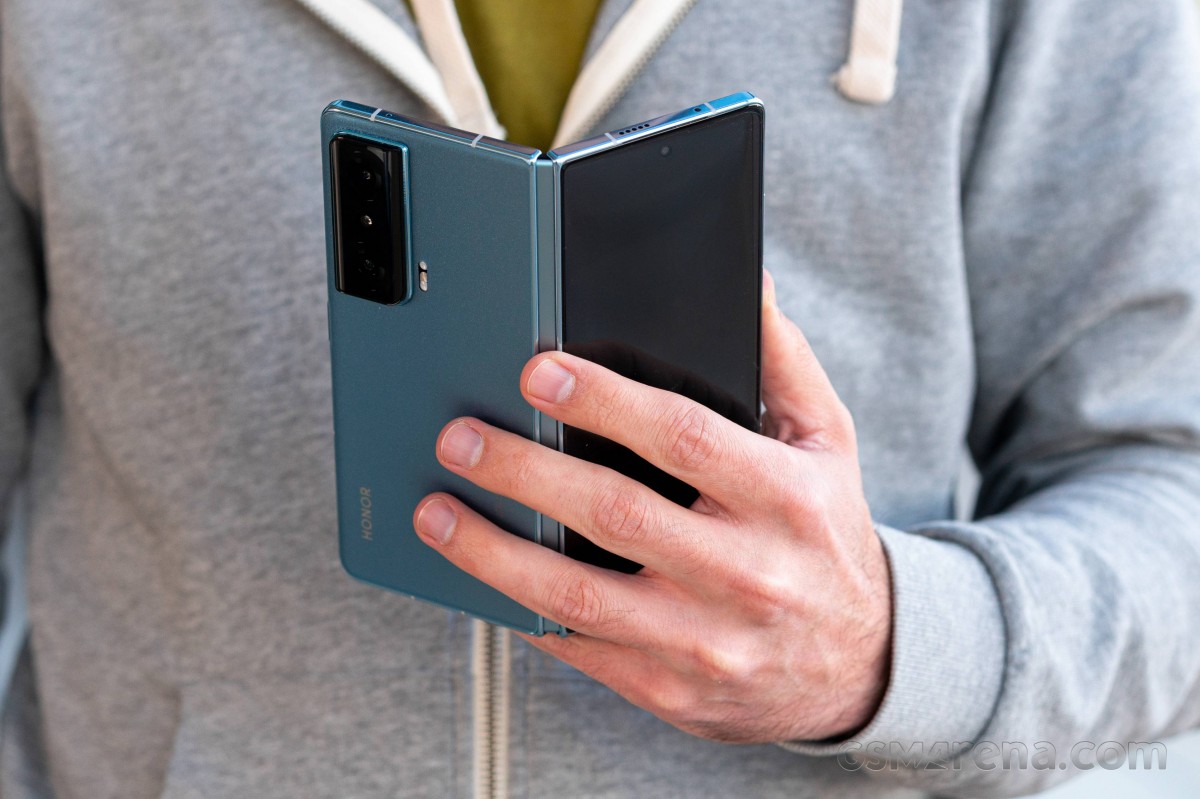 The hinge has been tested and rated for 400,000 actuations which is close to 11 years worth of 100 folds per day. We bet something else will croak before that, be it in the phone or yourself.
We can confirm that on both of our units, the hinge action feels reassuringly sturdy, with no weird noises or flexing in any direction.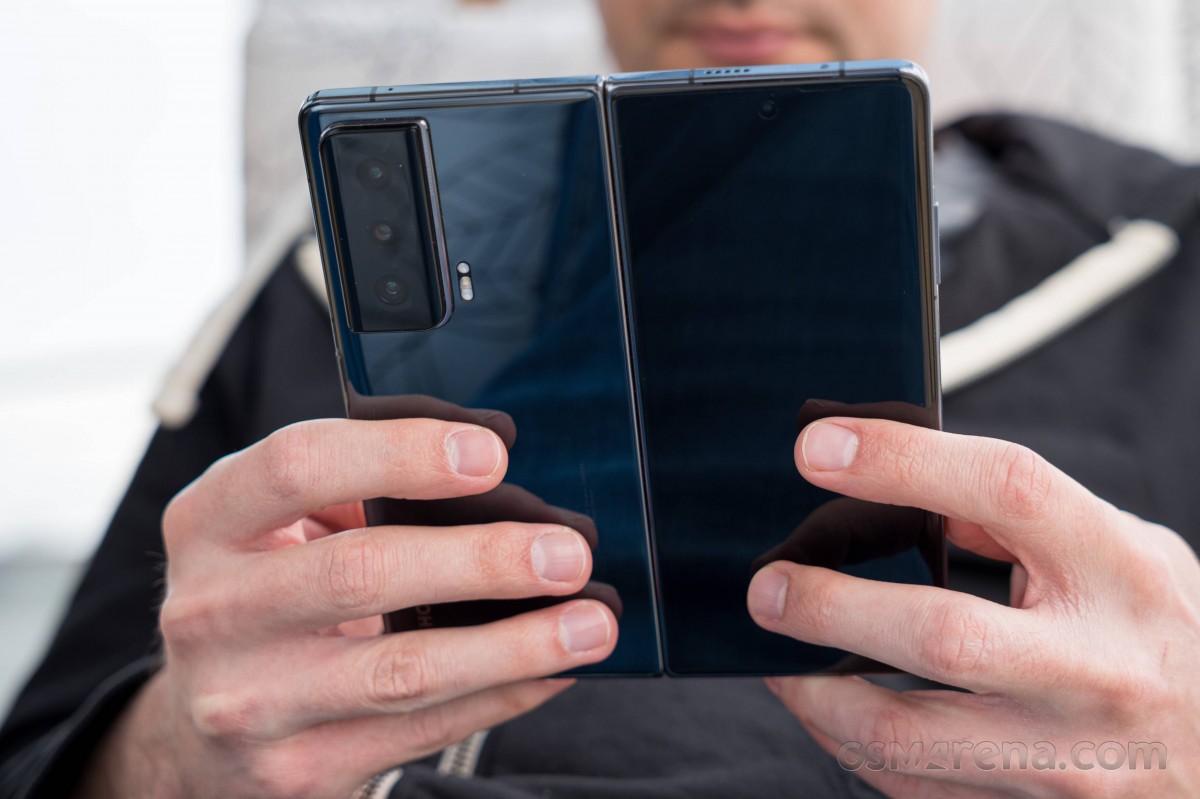 The hinge allows the Magic Vs to remain in intermediate positions, possibly enabling use cases like a 'tripod mode' of sorts where you place the phone on a table and use it for long exposures or group photos with you in them. It's not entirely stable, however, and it will have a tendency to fully reopen if you start from the tablet state and you're at or slightly beyond the 90-degree angle.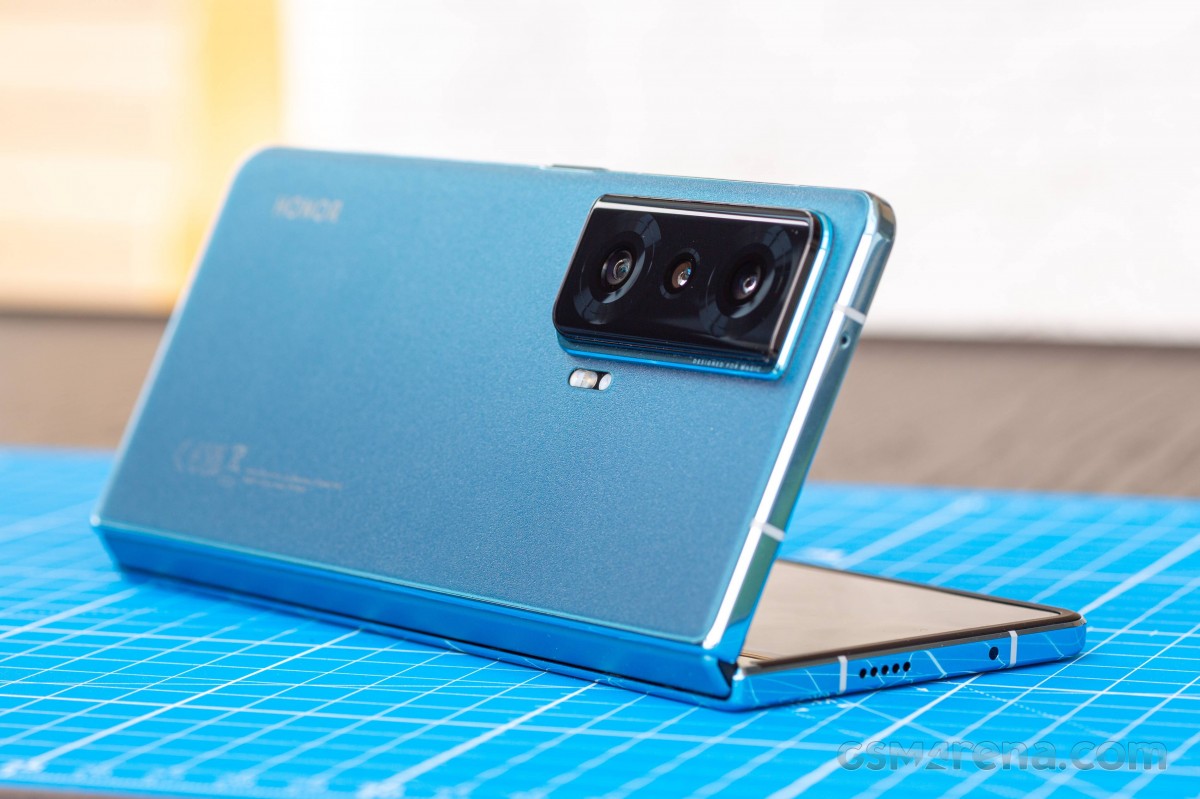 On the opposite end of the hinge's travel, the phone folds flat in on itself, leaving no gap between the two halves. It's a common gripe we've had with several generations of Galaxy foldables and something that always comes up in comparisons, with only the Samsungs having a wedge shape when closed.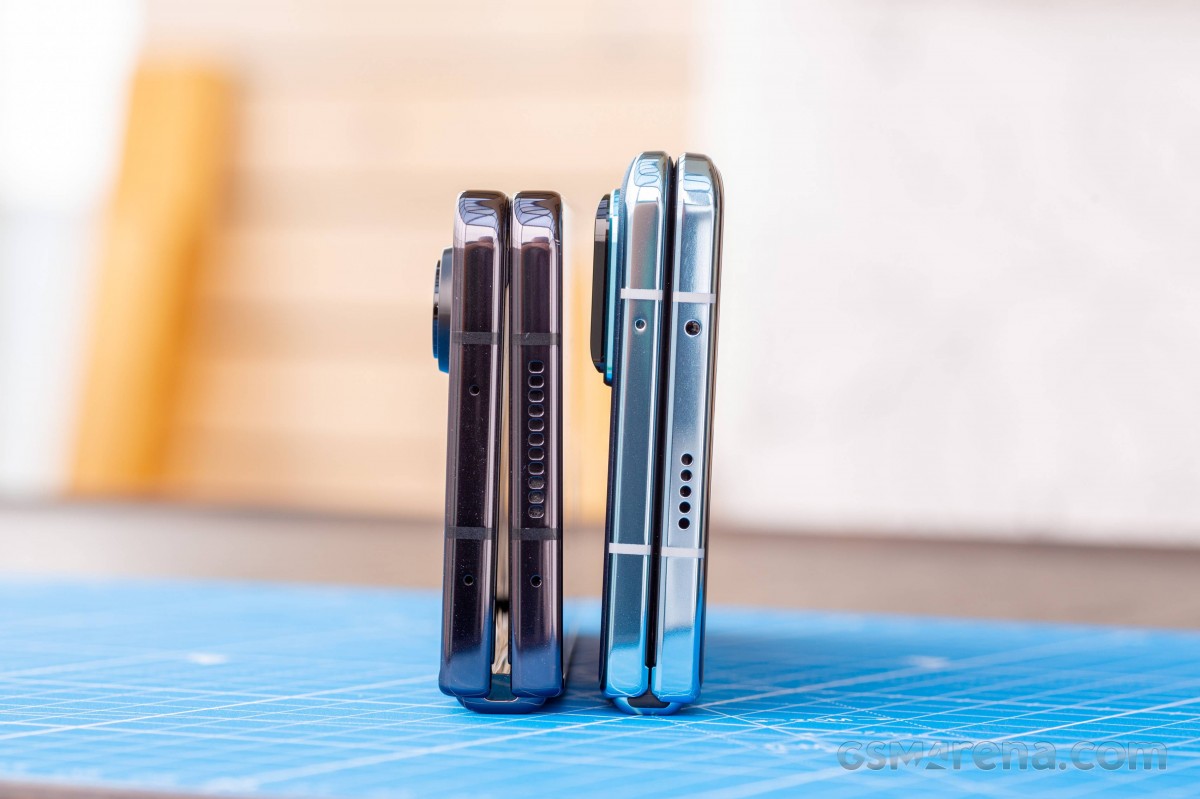 Wedge-shaped Galaxy Z Fold4 (left) next to gapless Magic Vs
The Magic is kept shut in its closed state by magnets, as is common practice. The Magic Vs is one of the less easy-to-open foldables due to the combination of those and the thin flat sides that leave no room for you to insert your fingertips and pry open the two halves. It's not an issue, strictly speaking, just a comparative observation.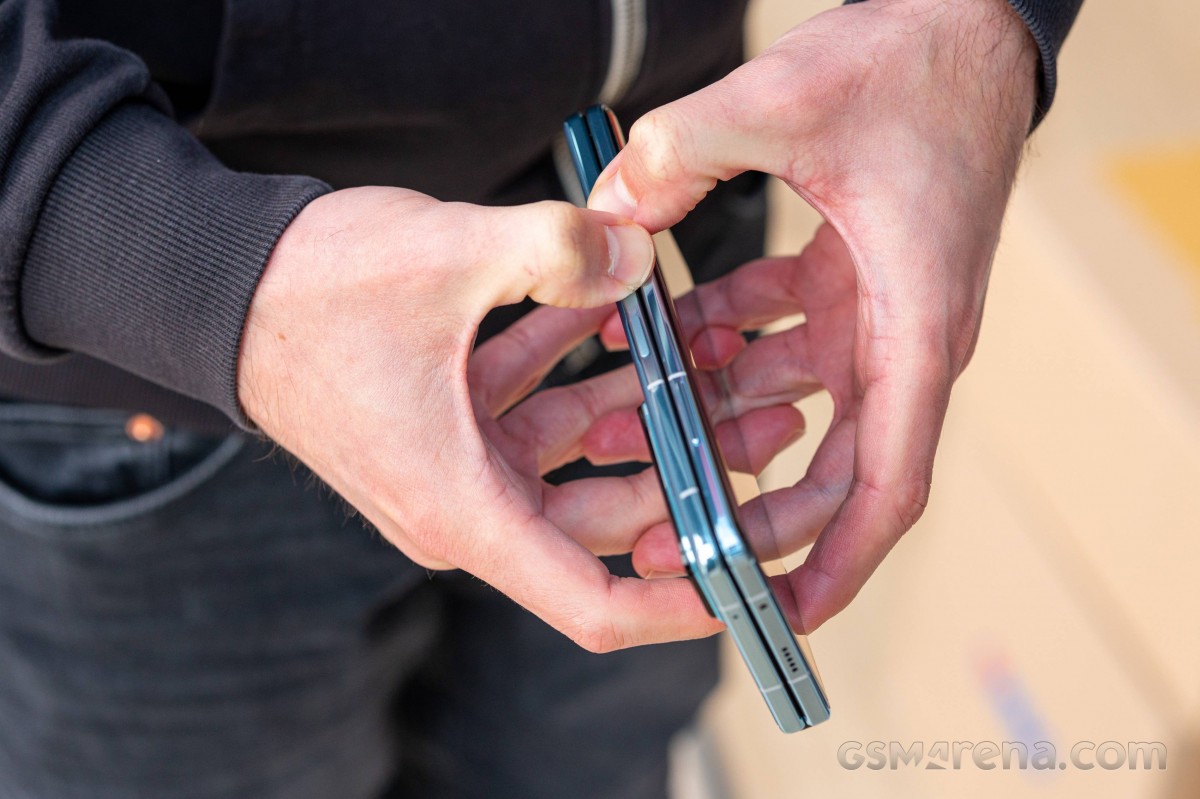 After our recent experience with a couple of Oppo Find N2s (the regular one and the Flip), pretty much every other foldable feels like it has more of a crease along the bend line of the display, and the Magic Vs can't match the Oppos either. For what it's worth, its crease is less perceptible than the Galaxy's, but it's still there for you to see and feel until your brain inevitably learns to ignore it.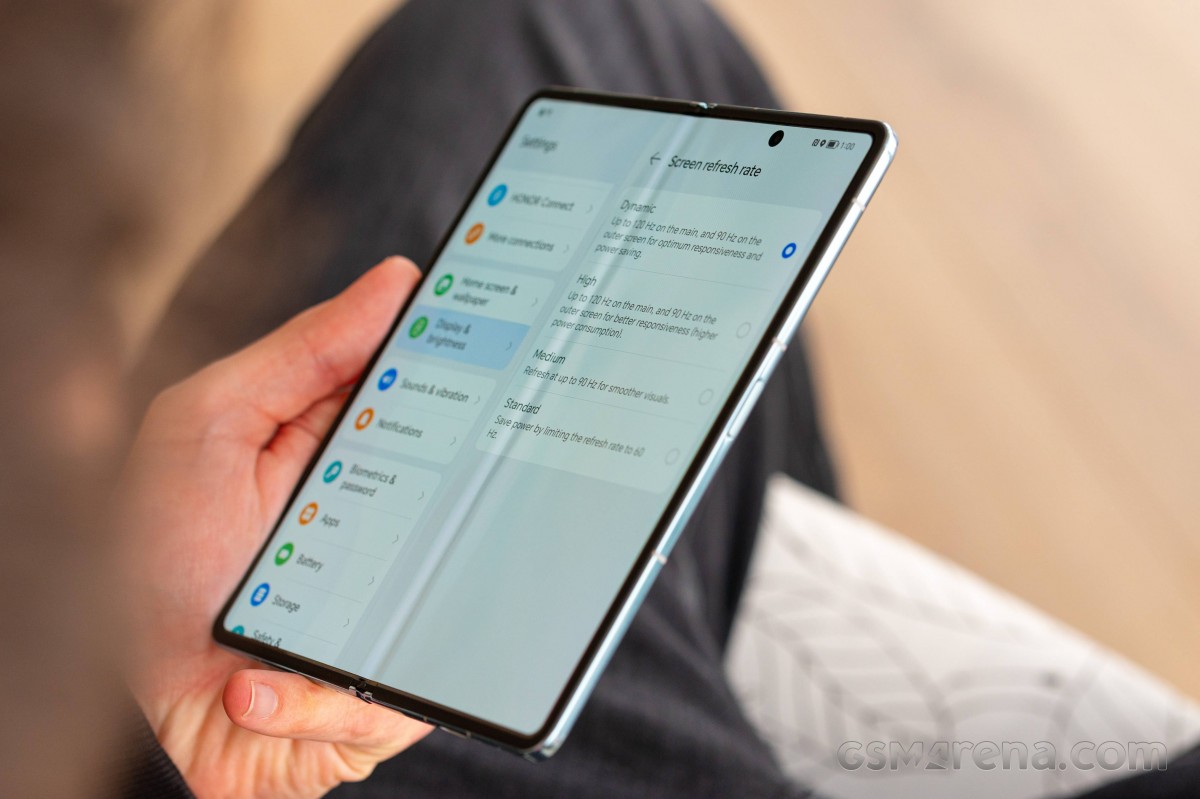 Similarly to the gap talk, there's also the usual IP rating talk - while the Galaxies don't fold entirely flat on themselves, they do offer an IPX8 rating for water resistance. The Magic can't claim such a feat. But it does have a gasket on its SIM card tray, so its innards aren't entirely exposed to the elements, at least not from there.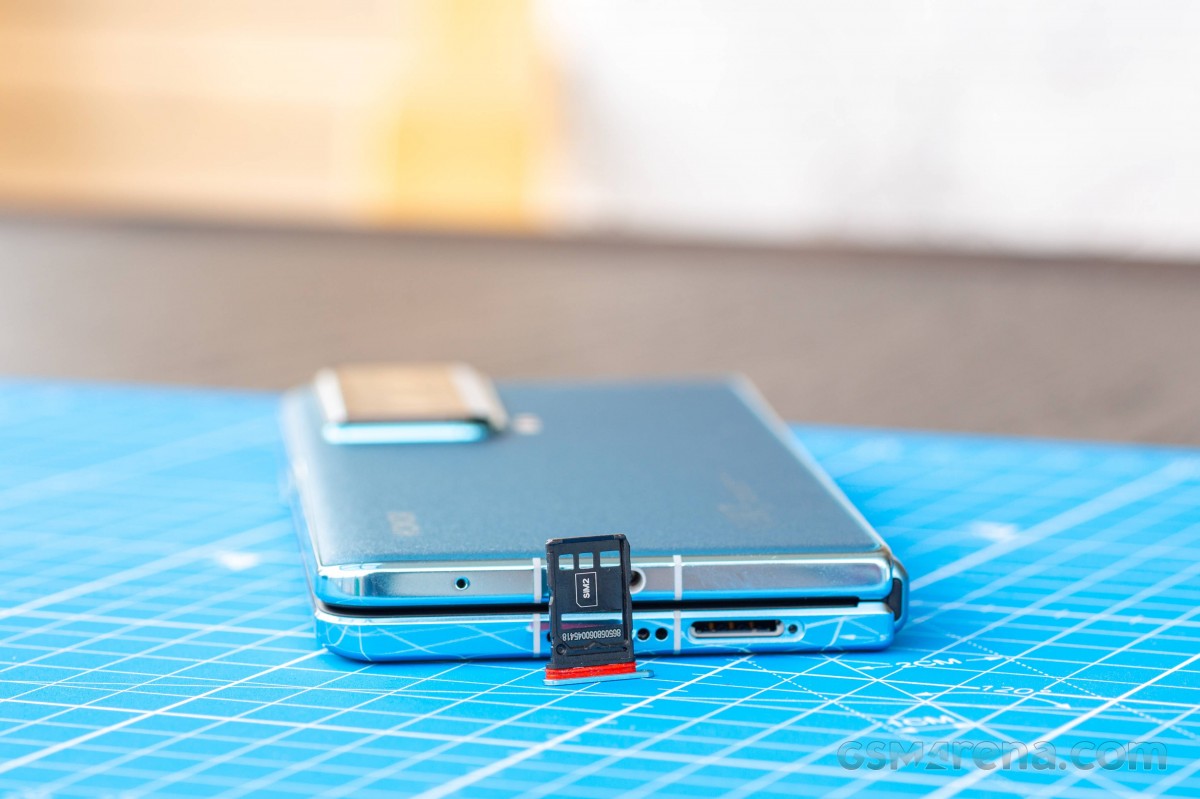 The controls around the Magic's perimeter are placed in somewhat of an unusual way. The fingerprint reader/power button combo is on the bottom/right half of the handset, around the midpoint. That much is what you'd call standard.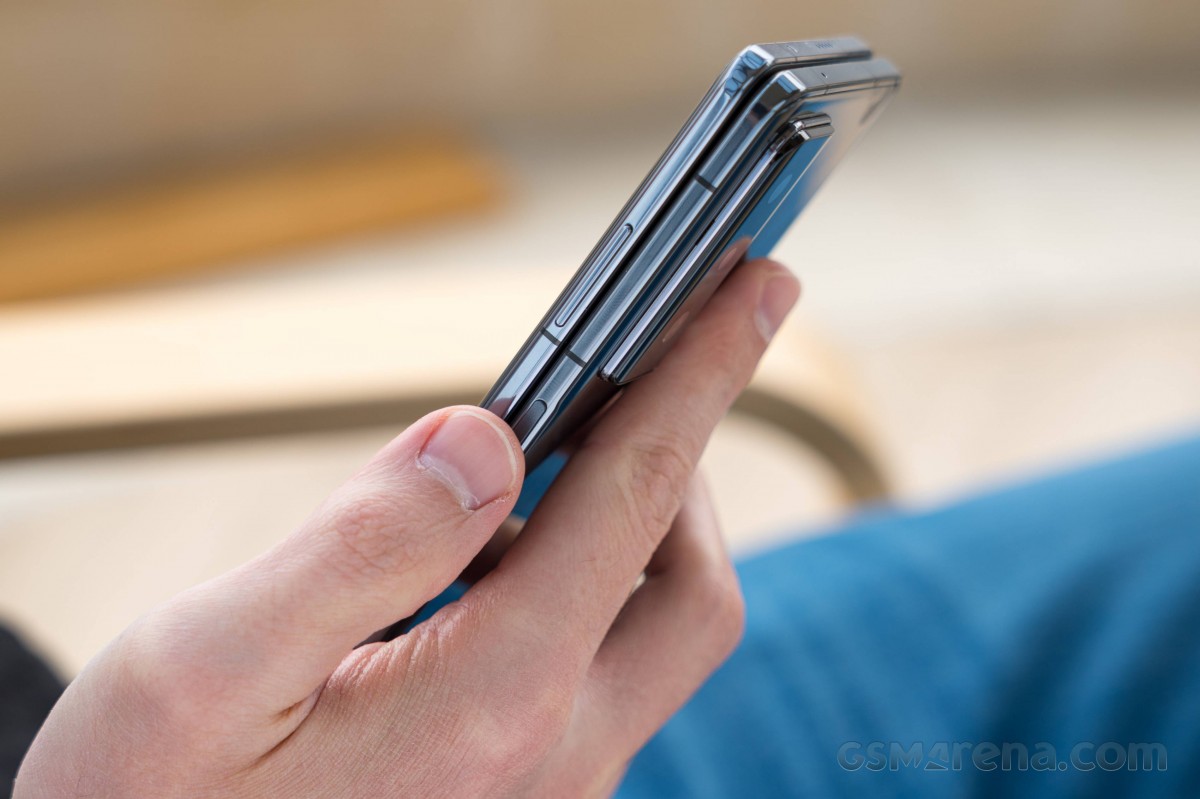 The volume rocker is above it, only it's on the other half - we're sort of used to having both on the same rail, next to each other, and it took some fiddling before we learned where the buttons are when we had to capture screenshots. Obviously, that's a non-issue if you're not changing phones every week, but it's just another observation.
In contrast, both speakers are on the top/left half of the handset. While in portrait orientation with the phone closed that's largely immaterial, in landscape orientation in the unfolded state, they'll either end up blocked if you're holding the now-tablet with the camera on top, or both will play unobstructed if you keep the camera half on the bottom. Perhaps switching will just come naturally if you feel you're blocking the sound.
Another thing you'll find on the top is an IR emitter - it's nice to have that remote control capability for legacy, non-connected devices like TVs and air conditioners. There's also a mic up around here, with less tangible utility, though you'll probably appreciate its cooperation when recording stereo audio in your videos and for noise cancellation in calls.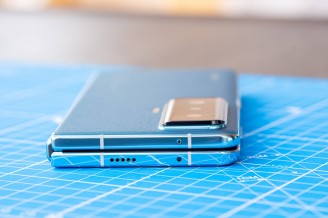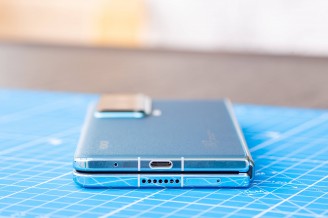 Speaker, IR emitter, and a mic up top • Speaker, USB-C port, card slot, and a mic on the bottom
Your pocket will need to accommodate the Magic Vs in its folded state, and in that case, it measures 160.3x72.6x12.9mm. It's taller and wider than the Galaxy Fold, but thinner, and it looks and feels even thinner than the numbers suggest, thanks to the lack of gap and the parallel surfaces.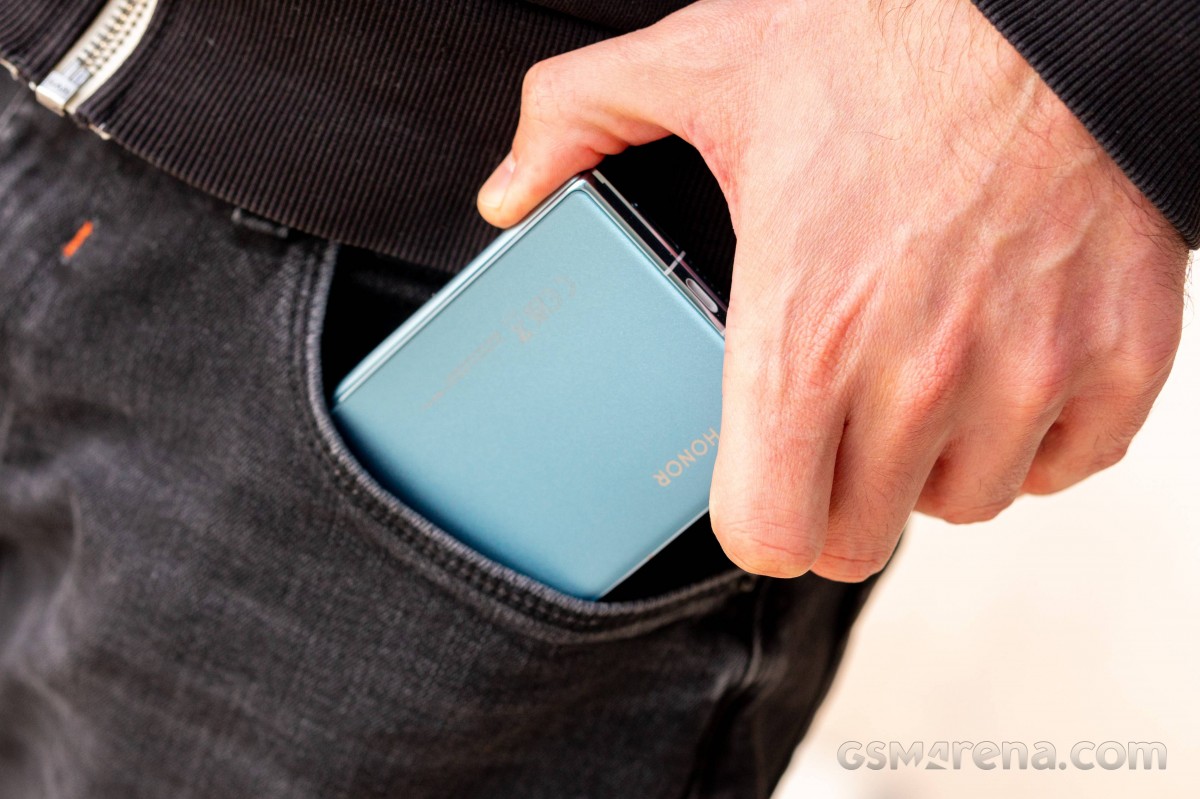 It can be used a lot like a normal phone in its folded state, too, the 21:9 aspect of the cover screen being closer to convention than the 23.1:9 Galaxy. The current Fold4 is admittedly a step in the right direction from the even narrower 25:9 Fold3, but the Honor is still better in this respect than the latest Galaxy. And it's an overall larger display too, at 96cm2 compared to the 84cm2 of the Fold4, further reinforcing its superiority for 'regular smartphone' use cases.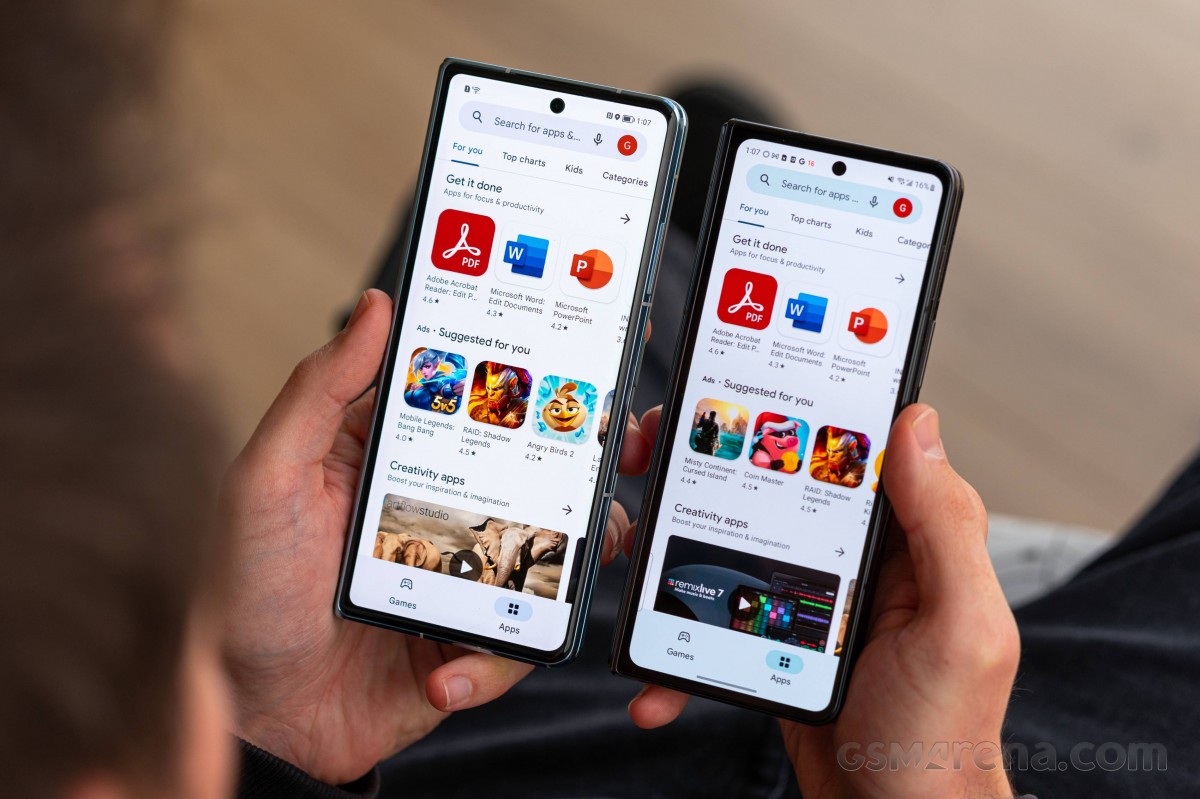 Magic Vs (left) next to Galaxy Z Fold4
For tablet use cases, the Honor also offers a larger viewing area, if not quite by as much. The 7.9-inch display of the Magic Vs comes in at 199.5cm2, compared to the 'tiny' 7.6-inch unit of the Galaxy and its 183.2cm2. To be fair, the difference isn't huge, but what's really welcome is the fact that you're getting more screen estate without having to accept a weight penalty.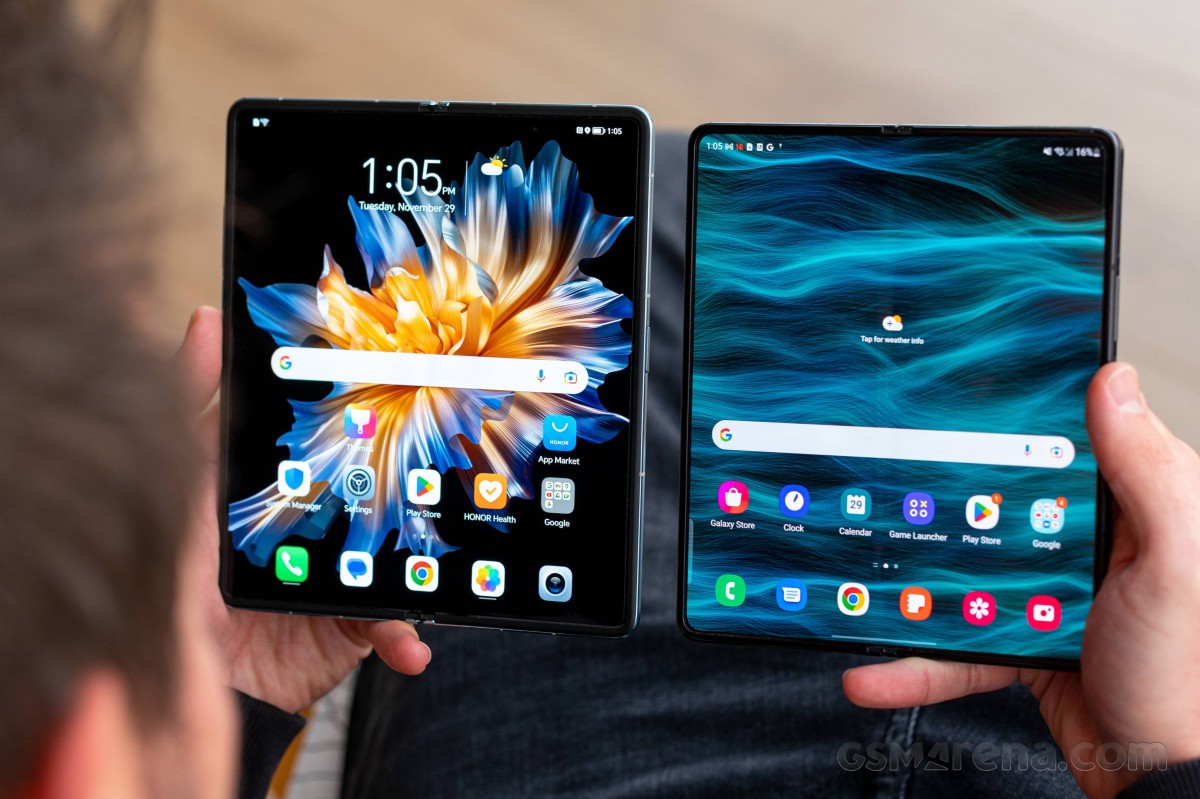 Magic Vs (left) next to Galaxy Z Fold4