Display
The Honor Magic5 Pro features a 6.81-inch LTPO OLED screen with a high resolution, 10-bit color depth, 120Hz dynamic refresh rate, and HDR10+ support. The display appears to be similar to the one on the Honor Magic4 Pro, with the pill-shaped cutout and the curved protective glass included, but it should be much brighter.
The OLED panel has an actual resolution of 1312 x 2848 pixels or 460ppi density. It has a 10-bit color depth, which means it can display over a billion colors.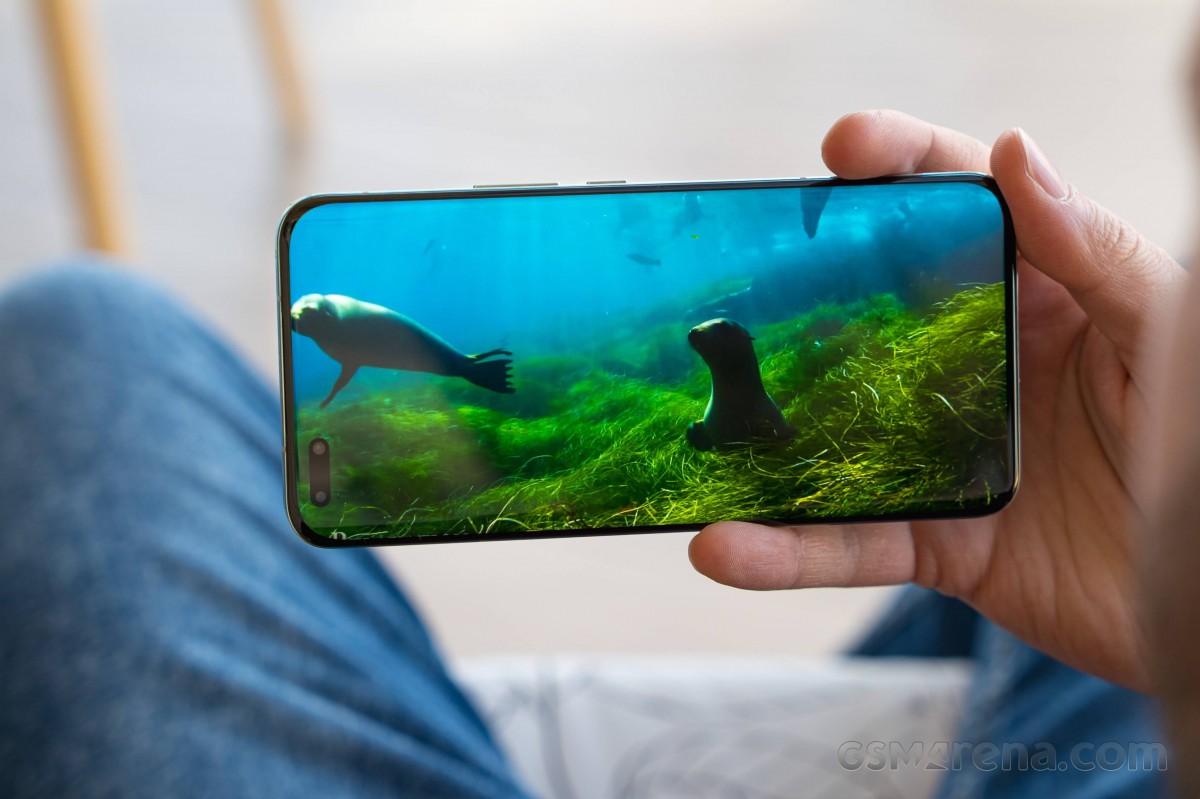 Honor also improved the high-frequency PWM dimming system and boosted it to 2,160Hz (up from 1,920Hz). This should further improve the experience in sub-100nits brightness, and you should experience no ghosting.
The only notable improvement over the Honor Magic4 Pro panel is the brightness - it can reach up to 1,800 nits when displaying HDR content, while the highest global brightness is 1,300 nits. For comparison, the old display peaked at "just" 1,000 nits.
Naturally, we've completed our display test, and the brightness numbers are solid. We measured 761 nits when manually controlling the brightness (up from 550 nits). The maximum global brightness was 1227nits when facing the screen with a bright light source - pretty close to what Honor promises in the PR materials and up from 957nits on the previous model.
The minimum brightness at point white was just 1.9nits.
Display test
100% brightness
Black,cd/m2
White,cd/m2
Contrast ratio
Honor Magic5 Pro
0
761
∞
Honor Magic5 Pro (Max Auto)
0
1227
∞
Honor Magic4 Pro
0
550
∞
Honor Magic4 Pro (Max Auto)
0
957
∞
Huawei Mate 50 Pro
0
568
∞
Huawei Mate 50 Pro (Max Auto)
0
946
∞
Xiaomi 13 Pro
0
527
∞
Xiaomi 13 Pro (Max Auto)
0
1253
∞
vivo X90 Pro
0
517
∞
vivo X90 Pro (Max Auto)
0
934
∞
Samsung Galaxy S23 Ultra
0
517
∞
Samsung Galaxy S23 Ultra (Extra Brightness)
0
831
∞
Samsung Galaxy S23 Ultra (Max Auto)
0
1274
∞
Apple iPhone 14 Pro Max
0
828
∞
Apple iPhone 14 Pro Max (Max Auto)
0
1760
∞
OnePlus 11
0
487
∞
OnePlus 11 (Max Auto)
0
767
∞
The Display offers various options for resolution, refresh rate, colors, plus a couple of visual enhancements.
Resolution and color accuracy
You can choose between four resolution options - Smart (default, changes the resolution automatically), High (2848 x 1312), Standard (2492 x 1148), and Low (2136 x 984, battery saving).
The display supports DCI-P3 color space and sRGB. You select between Normal and Vivid color presentation, while the phone automatically switches between the color spaces depending on the content. Furthermore, you can adjust the color temperature.
Normal is the default setting, and the display offers an outstanding accuracy to sRGB with an average deltaE of 1.8. Vivid, on the other hand, targets a wider color gamut, and while it's still great in color accuracy, the whites and grays have a slight blue tinge.
Refresh rate
The LTPO display should allow for a highly dynamic refresh rate control going from 1Hz up to 120Hz, depending on the content. There are four settings for the refresh rate - Dynamic (smart switch), High (up to 120Hz), Medium (up to 90Hz), and Standard (60Hz).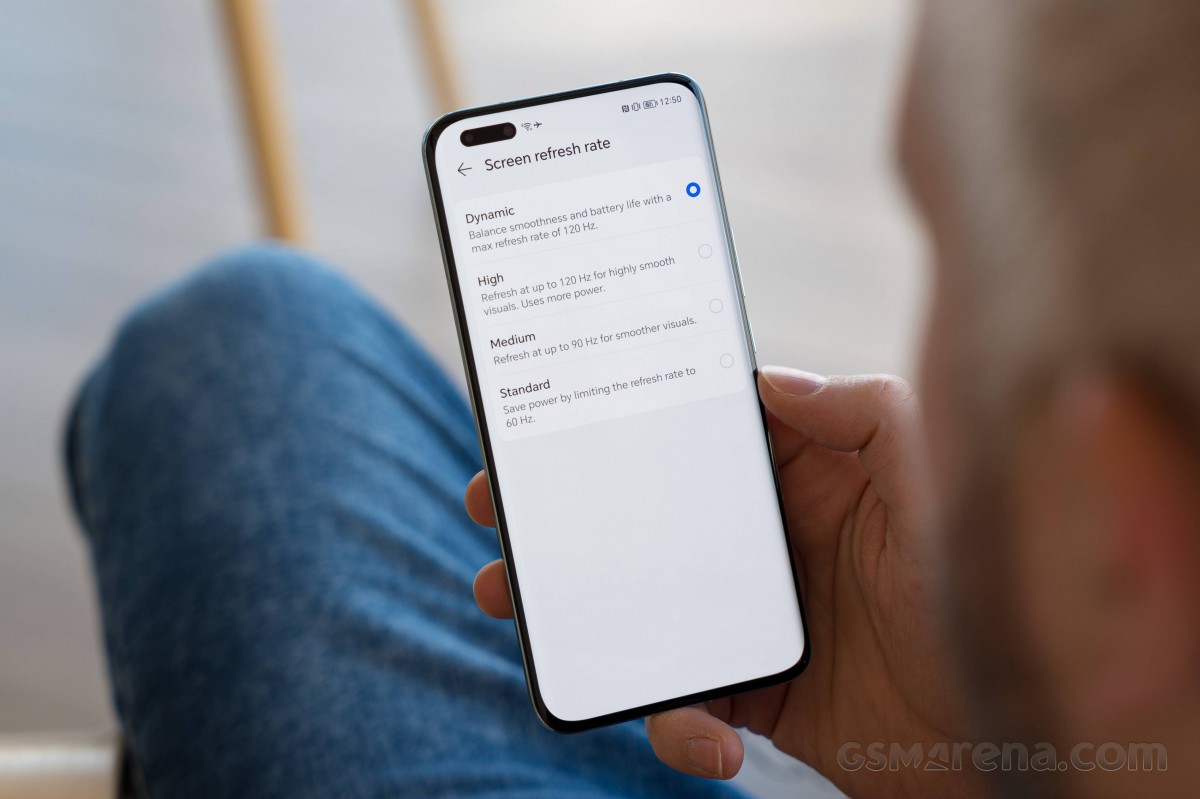 There is no integrated refresh rate indicator inside the Developer Options of MagicUI. The only thing we could run is a custom frame rate indicator, which is not as reliable. We can confirm the 60Hz, 90Hz and 120Hz limits set by the refresh rate modes and that the Dynamic one often uses 90Hz for UI and 60Hz for UI/menus across many apps. All modes are dynamic and drop down to the lowest possible refresh rate when displaying a static picture.
Note that the refresh rate depends on the brightness level, and in low brightness, the screen will use the maximum refresh available. That is probably due to the 2,160Hz PWM dimming, which kicks in when the brightness drops below 100 nits or so.
HDR and streaming
The screen has official HDR10+ certification, and the software suite comes with Widevine L1 DRM support. This means the phone is fully equipped to stream high-res HDR content. While most of the apps do offer HDR streaming, it seems Netflix is yet to certify the phone and is limited to 1080p SDR stream.
Other display enhancements
Other notable features include a Frame Rate Booster and Video enhancer - you can enable/disable these for each compatible application (Netflix, YouTube).
The Frame Rate Booster is self-explanatory - it increases the frame rate of videos by inserting a black frame between each one resulting in 60fps videos. It's usually called MEMC (Motion Estimation, Motion Compensation), and it's found on most modern TVs. It's not a feature we like using, as the artificial black frames create a smearing effect in fast-paced scenes, but it may be useful in making specific types of video content appear smoother.
The Video enhancer renders non-HDR videos into HDR ones by increasing the color and contrast, but as you might expect, the results aren't amazing. Nothing beats the real thing.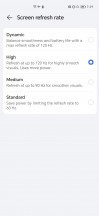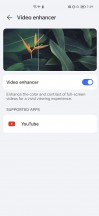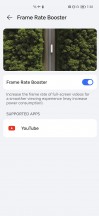 Refresh rate • Frame Rate Booster • Video enhancer
Battery life
The Honor Magic5 Pro is powered by a large battery with 5,100mAh capacity - up from 4,600mAh on the Magic4 Pro. The phone employs the latest flagship Snapdragon chipset - 8 Gen 2 - a more powerful and more efficient hardware than the 8 Gen 1 inside the Honor Magic4 Pro. Hopefully, these improvements will allow for longer battery life on the new Magic5 Pro.
Update - May 16: We have received the retail unit of the Honor Magic5 Pro and we have repeated our battery life test. And the times are even better with minor improvements in call time, web browsing and even standby consumption. That's why the total endurance rating grew from 109h up to 115h.
The Honor Magic5 Pro scored an excellent toral endurance rating of 115 hours on our battery life test. It did an outstanding job across all three test scenarios - calls, web browsing, and video, showing notable improvements over its predecessor.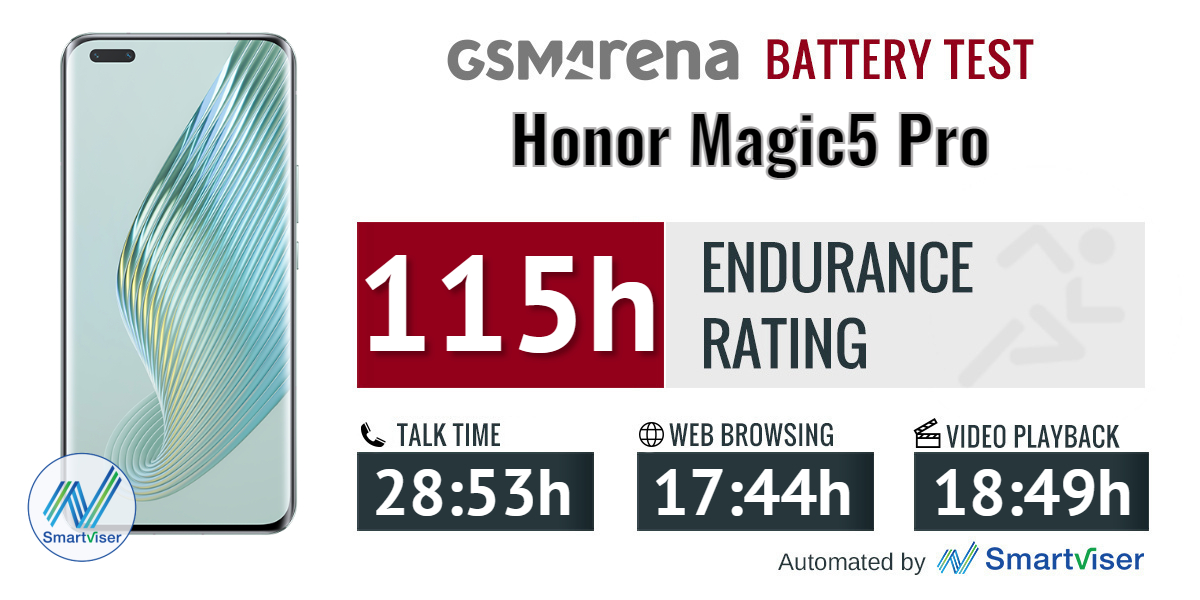 Our battery tests were automated thanks to SmartViser, using its viSerDevice app. The endurance rating denotes how long the battery charge will last you if you use the device for an hour of telephony, web browsing, and video playback daily. More details can be found here.
It also demonstrated an improved standby performance (about 40%) over the Honor Magic4 Pro, which further upped its total endurance rating.
Video test carried out in 60Hz refresh rate mode. Web browsing test is done at the display's highest refresh rate whenever possible. Refer to the respective reviews for specifics. To adjust the endurance rating formula to match your own usage patterns, check out our all-time battery test results chart, where you can also find all phones we've tested.
Charging speed
The Honor Magic5 Pro supports 66W fast wired charging and 50W fast wireless charging. Furthermore, the phone supports both reverse wired and reversed wireless charging (needs to be enabled from settings).
The phone ships with the 66W power brick and a suitable 6A-rated USB-A-to-C cable.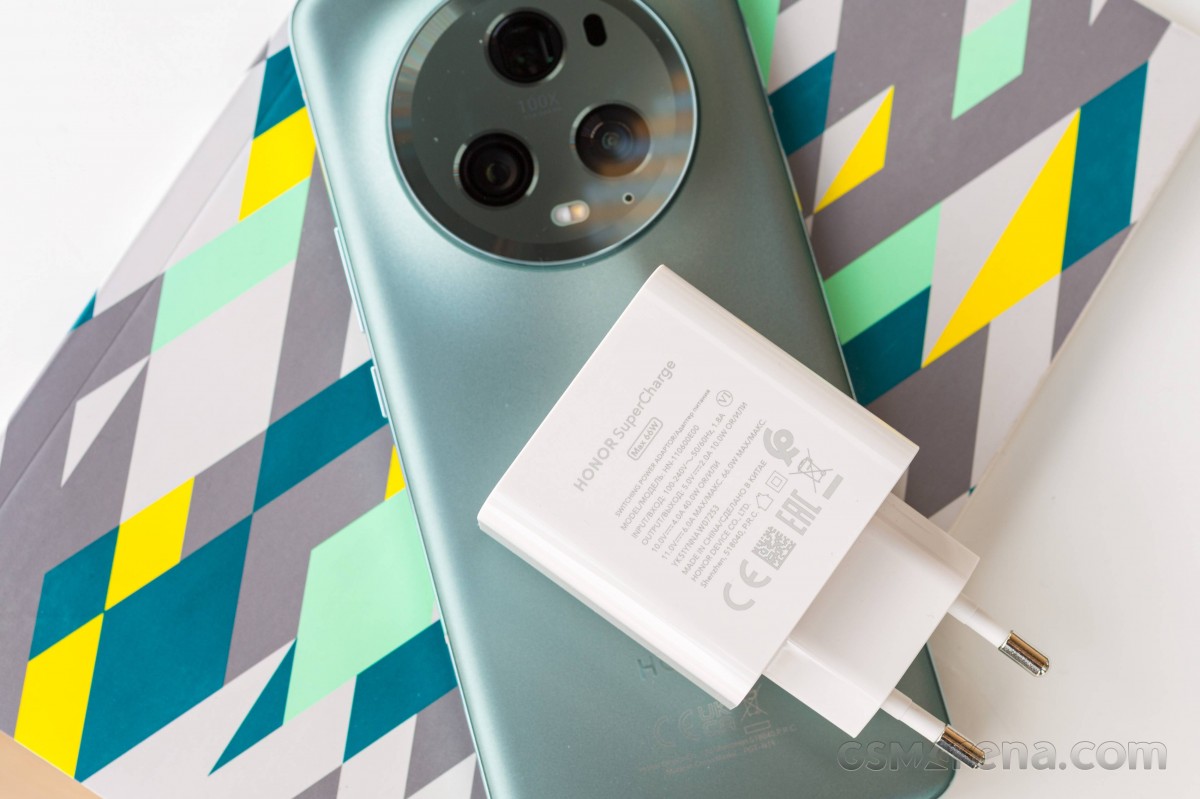 The said charger will give you 17% of charge in just 5 minutes, which is pretty great. We captured 45% charge on the 15-minute mark. Add another 15 minutes, and you will be looking at a 75% battery charge.
15min/30min charging test (from 0%)
Higher is better
Sort by
Name
15 min time
30 min time
Xiaomi 13 Pro

100%

81%

vivo X90 Pro

100%

79%

OnePlus 11

100%

77%

Xiaomi 13 Pro (Boost OFF)

100%

66%

Xiaomi 13

83%

48%

Huawei Mate 50 Pro

79%

45%

Honor Magic5 Pro

75%

45%

Samsung Galaxy S23 Ultra

68%

40%

Apple iPhone 14 Pro Max

48%

27%
* Tap/hover over the device names for more info
% charge in 15 minutes % charge in 30 minutes
A full charge took 48 minutes, which is great.
Time to full charge (from 0%)
Lower is better
| | |
| --- | --- |
| Xiaomi 13 Pro | 0:22h |
| OnePlus 11 | 0:22h |
| vivo X90 Pro | 0:24h |
| Xiaomi 13 Pro (Boost OFF) | 0:27h |
| Honor Magic4 Pro | 0:30h |
| Huawei Mate 50 Pro | 0:41h |
| Xiaomi 13 | 0:42h |
| Honor Magic5 Pro | 0:48h |
| Samsung Galaxy S23 Ultra | 0:59h |
| Apple iPhone 14 Pro Max | 1:52h |
* Tap/hover over the device names for more info
The 50W wireless charger is sold separately, naturally, so if you'd like to fast charge wirelessly, you will need to do some shopping first.
Speaker quality and loudness
The Honor Magic5 Pro offers two standalone speakers placed on its top and bottom. The top one has two outlets - one front-facing and one top-firing.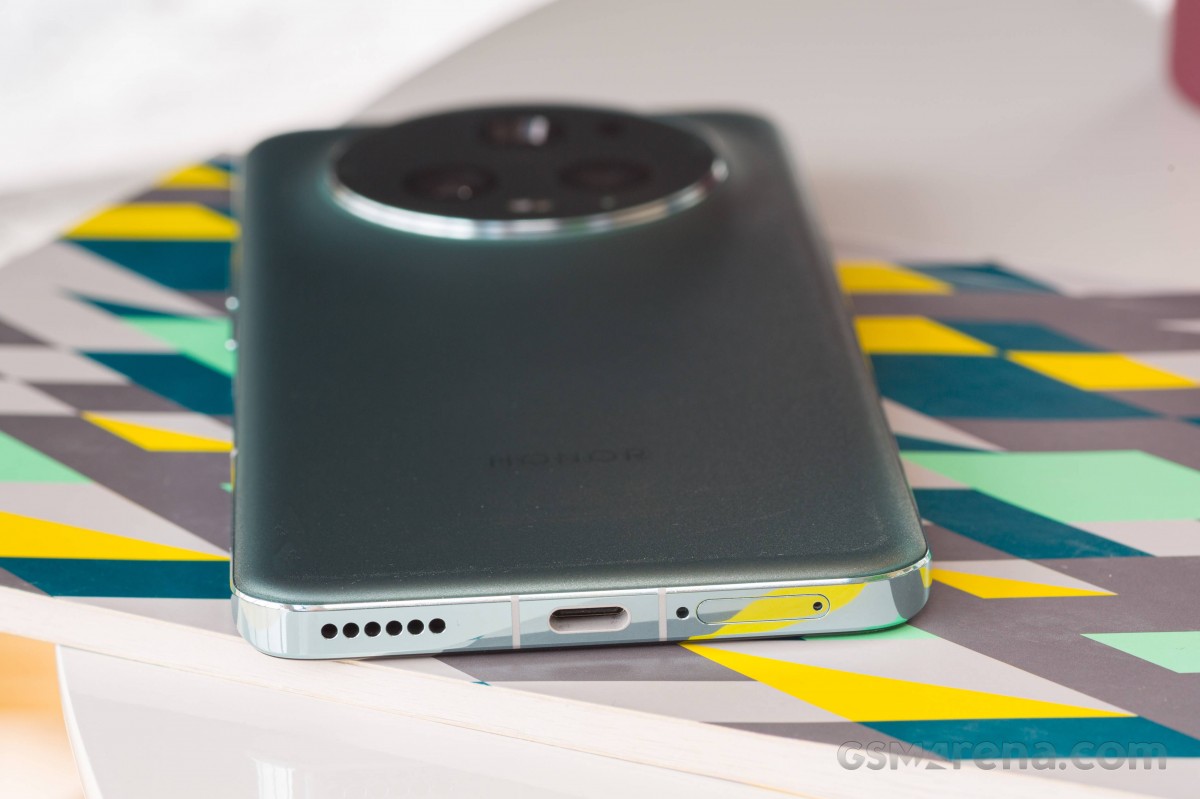 The speakers are of different kinds - the top one is focused on mid-tones and vocals, while the bottom one is richer with better bass and high frequencies. The balance is pretty good, though, provided you don't block either of them.
The speakers scored a Very Good mark on our loudness test, and we'd also rate their audio quality as very good, too, with great vocals, enough bass and well-presented high frequencies.
Use the Playback controls to listen to the phone sample recordings (best use headphones). We measure the average loudness of the speakers in LUFS. A lower absolute value means a louder sound. A look at the frequency response chart will tell you how far off the ideal "0db" flat line is the reproduction of the bass, treble, and mid frequencies. You can add more phones to compare how they differ. The scores and ratings are not comparable with our older loudspeaker test. Learn more about how we test here.
Honor also offers a feature called AI Privacy Call, which works on volume levels 2-8 and should play sound through the earpiece only and not from the top. We tried it, and it's not particularly successful in doing so.