Android 13 with Magic OS 7.1 on top
The Honor Magic5 Pro runs an in-house MagicOS 7.1 on top of an Android 13 core. And it's a fully functional Android 13, including full support for the Google apps suite, unlike Huawei's software builds, which are limited in one way or another.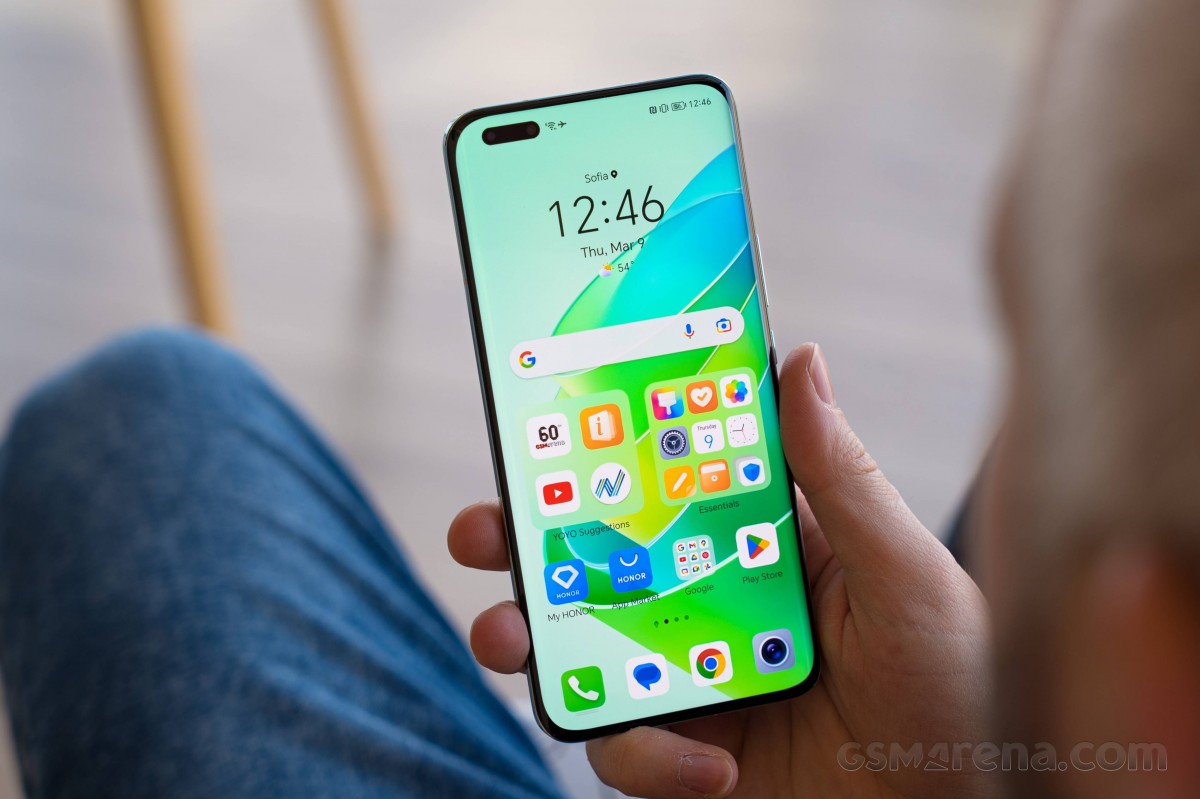 You may note that Honor has renamed its Android overlay from UI to OS with this v7 in an attempt to break away from its Huawei EMUI roots. A lot has been shared over the years between Magic OS (or UI), and EMUI and traces of that common past remain, so if you've used a moderately recent Huawei phone, you'd be right at home, but differences do exist. Naturally, if and where the two differ, the Magic Vs is in line with Honor's own latest non-bendy models, even if they may still be on previous Magic versions.
Going from UI 6 to OS 7, we see subtle changes here or there, but the overall look and feel of the Magic overlay remain the same. Iconography is largely unchanged, the task switcher and notification/quick settings are the same, too (and that's one area where the latest EMUI and its Control center differs), and the Settings menu doesn't look one bit different either.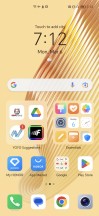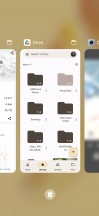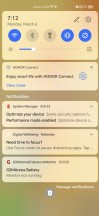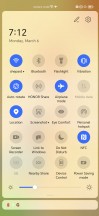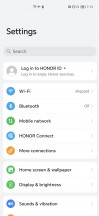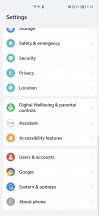 Homescreen • Task Switcher • Notifications • Quick settings • Settings menu
Also available here is previously introduced functionality like large folders and the card bar that sits under app icons to indicate that the app supports cards (another name for the in-house widgets).
Speaking of widgets, some neat EMUI features are nowhere to be found on the Magic Vs' Magic OS like the widget stacking or the combined widgets.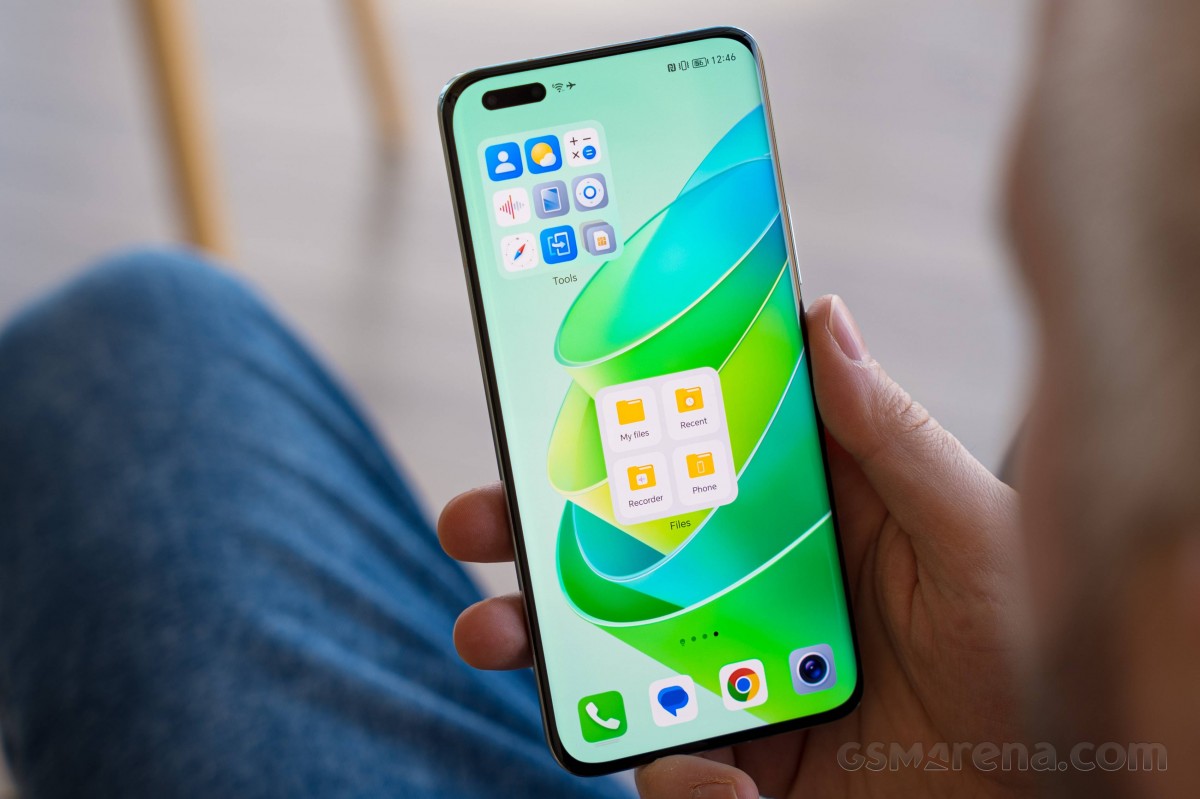 A Yoyo suggestions card/widget lets you have the onboard assistant pitch apps that it thinks you might be inclined to use based on previous experience.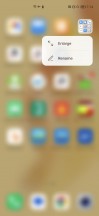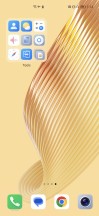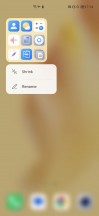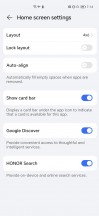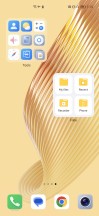 Large folders • Large folders • Large folders • Cards
Naturally, a host of customization options are there for you to explore as well. You've got a wide selection of themes, Always-on display styles, the lot. You can also enable an app drawer if you like.
A Themes app with a variety of themes, fonts, wallpapers, icon packs is also available.
There's a split-screen multi-window on the cover display and pop-up window mode for some in-house and third-party apps. You can only open one pop-up app at a time and subsequent ones in a separate task switcher.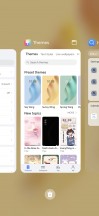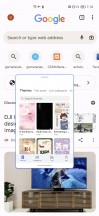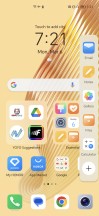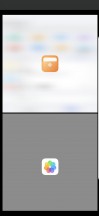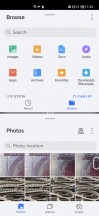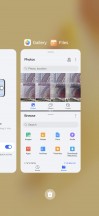 Multi-tasking on the cover screen
Honor provides a bunch of proprietary apps, too. There is Gallery, Honor Health, Notes, Files, System Manager, Weather.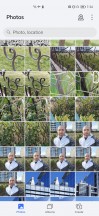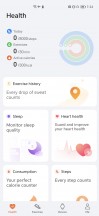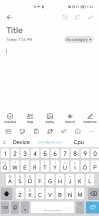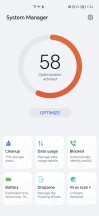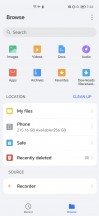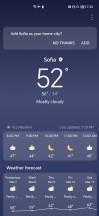 Gallery • Health • Notes • System Manager • Files • Weather
Smart Remote for the IR blaster also comes pre-installed.
Overall, we are happy with the Magic UI, and we think most people who liked Huawei's EMUI or don't mind custom overlays will appreciate its rich customization options.
Performance and benchmarks
The Honor Magic5 Pro employs the latest Snapdragon 8 Gen 2 chipset, coupled with LPDDR5X RAM and the most current UFS4.0 storage chips.
The SD8G2 has an octa-core processor with one prime core, four performance ones (2+2), and three efficient cores a.k.a. 1+2+2+3 configuration. This means the CPU contains 1x3.2GHz Cortex-X3 + 2x2.8 GHz Cortex-A715 & 2x2.8GHz Cortex-A710 & 3x2.0GHz Cortex-A510 CPU cores.
The Snapdragon 8 Gen 2 chipset packs the Adreno 740 GPU capable of Ray Tracing. Whether and how that gets used in actual mobile games remains to be seen in the future.
The Macig5 Pro supports Wi-Fi 7, Bluetooth 5.2, NFC, and dual-SIM 5G.
Our unit has 8GB RAM + 256GB storage, while the maximum available for the global markets should be 12GB RAM + 512GB storage. There is also a limited 16GB RAM model in existence.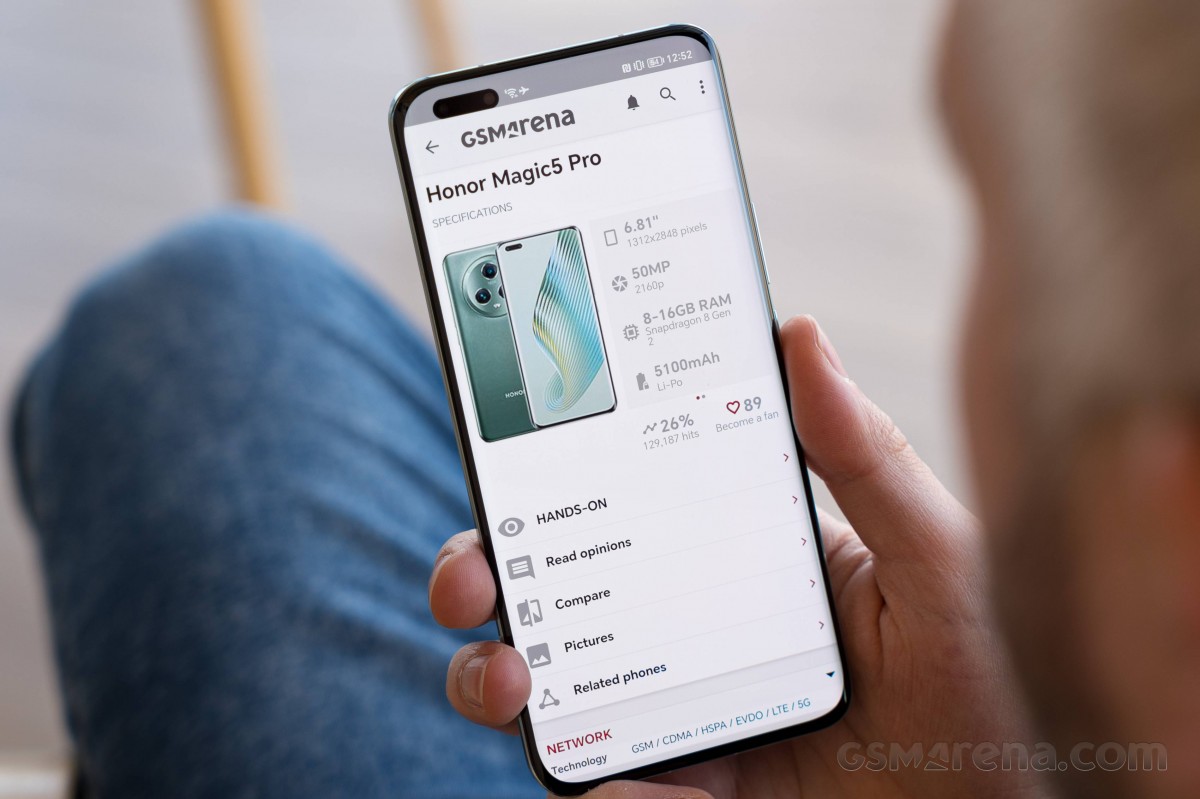 And now, it's time to run some tests.
Update - May 16: We have received the retail Honor Magic5 Pro unit and we've managed to run all popular benchmarks. And the scores are in!
Honor, just like Huawei, offers a special battery mode called Performance mode, which, once enabled, increases the temperature threshold for the CPU. It doesn't affect the GPU or other hardware. And while it does give a CPU boost in the scores, we didn't feel any real-life difference.
As you can imagine, the Honor Magic5 Pro scores the same as other flagship smartphones with the same chipset, and we cannot ask for more.
GeekBench 5 (multi-core)
Higher is better
Xiaomi 13 Ultra
5049
Galaxy S23 Ultra
4927
OnePlus 11
4899
Oppo Find X6 Pro
4759
Sony Xperia 1 V
4652
Honor Magic5 Pro (perf. mode)
4644
Honor Magic5 Pro
4376
vivo X90 Pro
4273
Huawei P60 Pro
4260
Huawei P60 Pro (perf. mode)
4096
GeekBench 5 (single-core)
Higher is better
Galaxy S23 Ultra
1537
Xiaomi 13 Ultra
1477
Honor Magic5 Pro (perf. mode)
1465
Sony Xperia 1 V
1459
vivo X90 Pro
1387
Huawei P60 Pro
1322
Huawei P60 Pro (perf. mode)
1313
Oppo Find X6 Pro
1166
OnePlus 11
1150
Honor Magic5 Pro
1049
GeekBench 6 (multi-core)
Higher is better
Xiaomi 13 Ultra
5556
Oppo Find X6 Pro
5082
Galaxy S23 Ultra
5077
OnePlus 11
5043
Honor Magic5 Pro (perf. mode)
4992
Sony Xperia 1 V
4916
Honor Magic5 Pro
4726
Huawei P60 Pro (perf. mode)
4422
Huawei P60 Pro
4123
GeekBench 6 (single-core)
Higher is better
Xiaomi 13 Ultra
2000
Sony Xperia 1 V
1956
Honor Magic5 Pro (perf. mode)
1928
Galaxy S23 Ultra
1913
Huawei P60 Pro (perf. mode)
1758
Honor Magic5 Pro
1707
Oppo Find X6 Pro
1532
OnePlus 11
1527
Huawei P60 Pro
1259
The GPU scores are among the best in the class, too. And high frame rate gaming is certainly possible on the Magic5 Pro.
GFX Aztek Vulkan High (onscreen)
Higher is better
Sony Xperia 1 V
71
vivo X90 Pro
68
Honor Magic5 Pro
63
Galaxy S23 Ultra
60
Oppo Find X6 Pro
56
Xiaomi 13 Ultra
55
OnePlus 11
53
Huawei P60 Pro
51
GFX Car Chase ES 3.1 (onscreen)
Higher is better
Sony Xperia 1 V
96
Honor Magic5 Pro
77
vivo X90 Pro
74
Galaxy S23 Ultra
67
Huawei P60 Pro
65
Xiaomi 13 Ultra
63
Oppo Find X6 Pro
60
OnePlus 11
57
GFX Manhattan ES 3.0 (offscreen 1080p)
Higher is better
Xiaomi 13 Ultra
329
OnePlus 11
327
Oppo Find X6 Pro
324
Honor Magic5 Pro
311
Galaxy S23 Ultra
311
Sony Xperia 1 V
309
vivo X90 Pro
287
Huawei P60 Pro
263
3DMark Wild Life Vulkan 1.1 (offscreen 1440p)
Higher is better
Honor Magic5 Pro
13735
Oppo Find X6 Pro
13360
vivo X90 Pro
13265
Xiaomi 13 Ultra
13106
Galaxy S23 Ultra
12241
Huawei P60 Pro
10578
Sony Xperia 1 V
6316
Finally, the Honor Magic5 Pro scores decent numbers on the compound AnTuTu test. The Performance mode gave it a boost in the CPU performance and hence in the total score as well.
AnTuTu 9
Higher is better
Oppo Find X6 Pro
1294797
Xiaomi 13 Ultra
1268538
Galaxy S23 Ultra
1241531
vivo X90 Pro
1228735
Honor Magic5 Pro (perf. mode)
1204320
OnePlus 11
1140661
Sony Xperia 1 V
1127931
Honor Magic5 Pro
1077913
Huawei P60 Pro
1030473
Having the latest chipset is not always enough, as it needs to be properly cooled, too. That's why we also ran the usual stress tests - CPU Throttle and 3D Mark GPU stress test.
First, if you've forgotten, EMUI and now MagicUI has these Balanced and Performance battery modes. The performance mode allows the CPU and GPU to reach higher temperatures before throttling. Those are still safe for both the smartphone and your hands, though the phone could be considered unpleasant to hold when using the Performance mode.
We ran the stress tests with both modes. The CPU Stress test returned a 55% stability score when using the default battery mode. You can see from the chart the CPU dropped down to 55% about 10 minutes after launch and remained at 50% for the rest of the test. Here, the phone was warm, but nothing unusual.
When using the performance mode, the thermal management has some leeway, and while the test returned 51% stability, you can see the CPU actually offered us 90% of its peak performance for the most part excluding the nine 50% drops that happened for about 30-60 seconds. After 60 minutes on this stress test, the Magic5 Pro was warmer, of course, but not hot.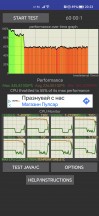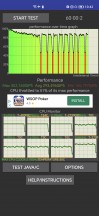 CPU stress • CPU stress in performance mode
The GPU stress test was rather disappointing. We got 45% stability when using the Balanced mode and 35% when using the Performance option. The phone on both occasions was warm, but not hot.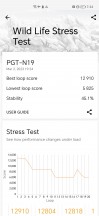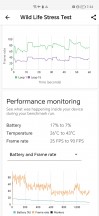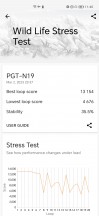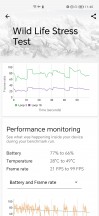 GPU test • GPU test • GPU test with performance mode
Overall, we'd rate the Honor Magic5 Pro performance as excellent, while its stability is rather average - something that often happens with thin and feature-rich flagships. High Frame Rate gaming is possible if the game supports it, and the good news is that rarely can a game use the full set of resources available, so you will get an A-grade graphic experience in pretty much every modern game.