Magic UI 6.1 on top of Android 12
The new Honor comes with an upgraded Magic UI 6.1 version of the company's software, which is based on Android 12. Aesthetically speaking, the software is no different from the previous versions and if you've ever used Huawei's EMUI or Honor's previous iterations of the software, you will feel right at home. Also, the software isn't any different from the Magic4 Pro's, except for a couple of missing premium features, of course. But the basics are there.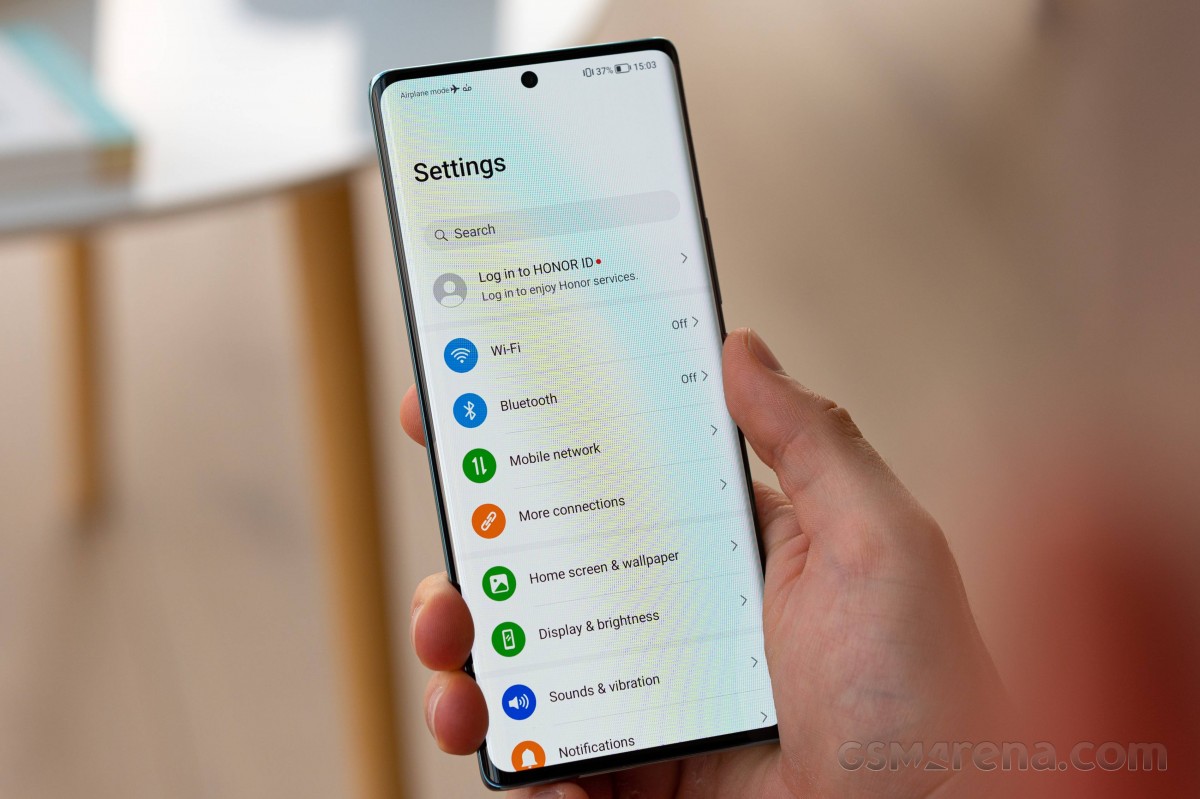 And that includes the Android 12-intrinsic features as well. You have the Privacy Dashboard, granular app permissions, a green dot indicator if an app is currently using the camera, microphone, GPS, etc. However, we didn't find notification history, which should have been around since Android 11.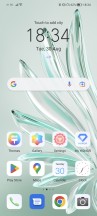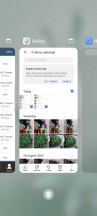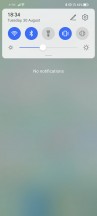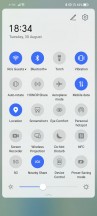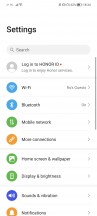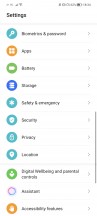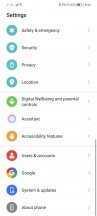 Home screen, recent apps, notification shade, general settings
The OS provides quite a bit of customization options. You've got a wide selection of themes, Always-on display styles, lock screens, icons and it even lets you choose between a simple Home screen style or аpp drawer-based one.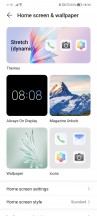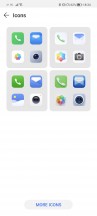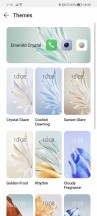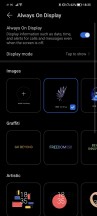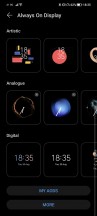 Customizations and always-on display
Honor takes security seriously, judging by the privacy features it offers on top of Android's standard security layer. You can lock away pretty much everything you'd like - apps, folders, files, images and videos, passwords, etc. All of those can be accessed with a fingerprint. Facial recognition is limited to accessing locked apps, autofill of usernames and passwords, the Safe functionality can only be accessed using your fingerprint. That's understandable given that facial data using just the selfie camera isn't as secure and reliable as the fingerprint reader.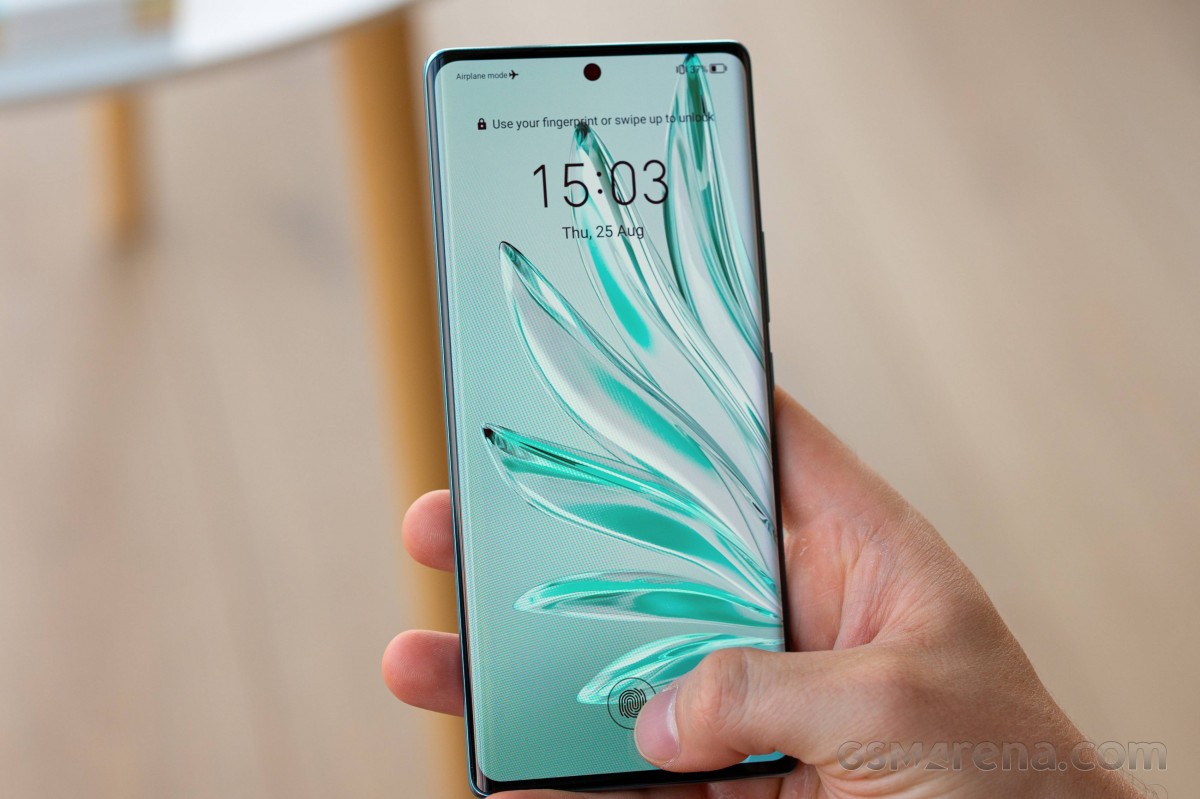 And as far as the fingerprint scanner is concerned, it's fast and reliable. We didn't have any issues with it, even under bright sunlight, which often interferes with optical fingerprint readers.
Honor hasn't neglected the advanced multitasking features. Swipe from the left or right edge of the display and hold to open up an app of your choice in a small, interactive window, which can be moved around, minimized or maximized. Opening more apps at once is possible, but they are moved to a separate side panel for quick access during multitasking. You can pin a lot of apps, too.
Some under-the-hood features are provided as an extra layer on top of the already existing Android 12 optimizations. There are systems in place (which Honor calls OS Turbo X), which regularly take care of storage defragmentation and make sure the phone stays as fast as it was in the beginning.
The OS would also suspend apps in the background to free resources but still allow you to continue where you've left off when you return to the app as if it was never closed.
Unfortunately, we found the OS to be really aggressive in closing some apps in the background, thankfully messaging apps are usually spared. Still, Honor needs to do some tuning so it doesn't put off European uses. Sure, you can easily whitelist the apps you don't want to be killed by the OS, but it's an advanced feature that not every user will be up to.
Anyway, one of Magic UI's standout features is Honor Share. It can only be used with an eligible Honor MagicBook laptop and it allows you to share your phone's screen, sync some apps or even share files seamlessly. The keyboard and mouse can be used for both devices at once, the mirrored screen of the phone is optimized to work with the computer's input methods.
All in all, we liked the new Magic UI 6.0. It offers а sensible amount of customization options and it's smooth and snappy, we liked the overall experience.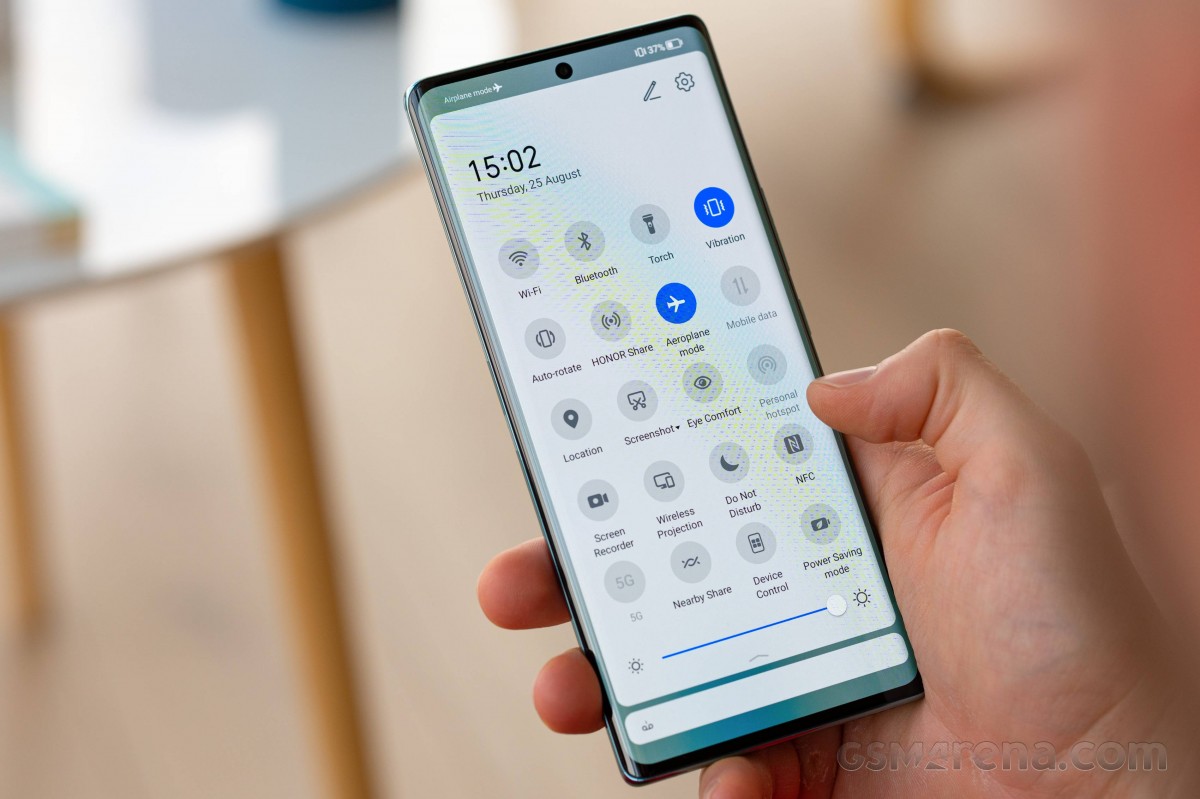 There's still some work to be done, though. For example, you can't change the swipe-down gesture from the home screen to show the notification shade, and you are stuck with global search. The context menu is limited to just "Uninstall" when you tap and hold on an app icon. There is no way to quickly kill the app or clear the cache. There's no easy access to the said menus through the recent apps menu either.
And finally, we would really appreciate an auto brightness button or toggle in the notification shade as well as sensitivity adjustment for the navigation gestures. The aggressive curvature of the display feels like you are swiping from the edge of the display but instead of a back gesture, we found ourselves swiping left or right without initiating the back gesture itself. It's not a big deal as you can get used to it rather easily.
Synthetic performance
Honor 70 runs on an upgraded version of the Snapdragon 778G, called Snapdragon 778G+. The Plus variant has slightly higher clock speed on its main Cortex-A78 core, now ticking at 2.5 GHz but the rest of the core clusters remain unchanged - 3x Cortex-A78 @2.2 GHz and 4x Cortex-A55 @1.9 GHz. The GPU is also the Adreno 642L with no change in clock speed. And, of course, both SoCs are based on TSMC's 6nm N6 manufacturing process.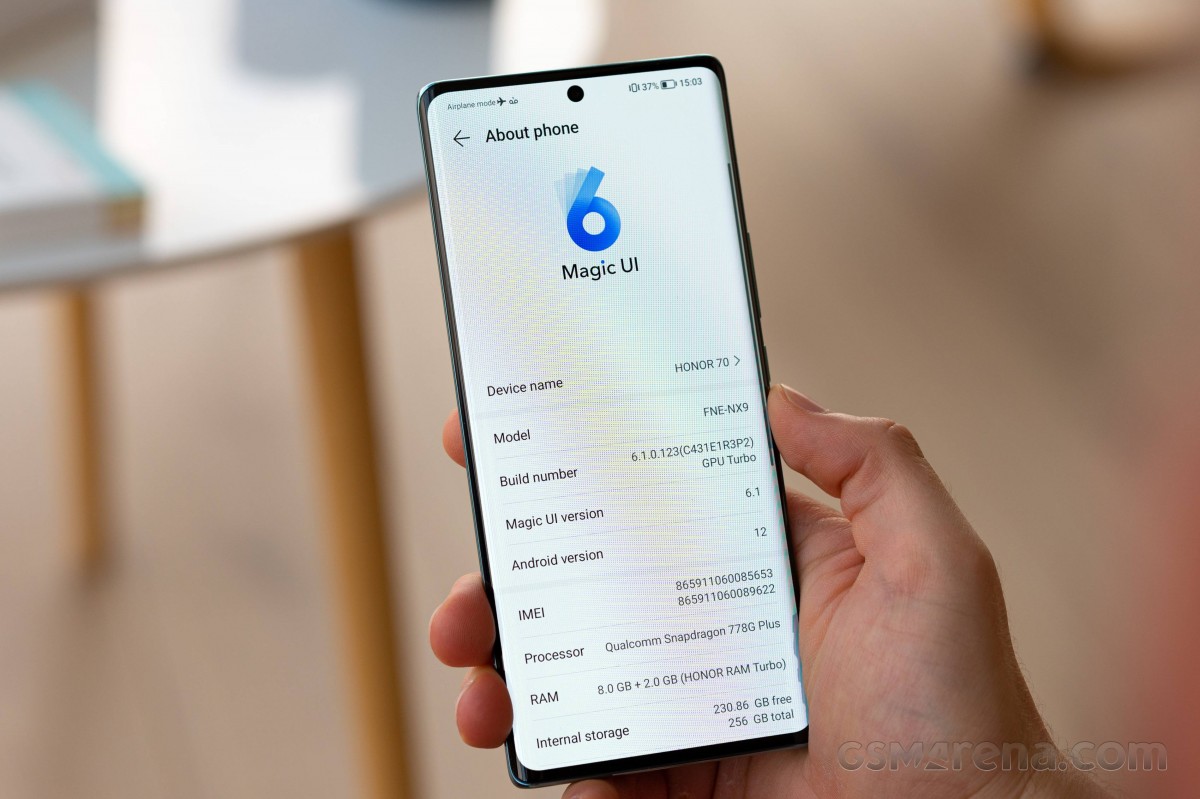 Memory-wise, the device ships with 8GB/128GB configuration as a standard but can be found in 8GB/256GB, 12GB/256GB and 12GB/512GB flavors. Now, without further ado, let's see what the benchmarks show.
GeekBench 5 (single-core)
Higher is better
Poco F4 GT
1244
Realme GT2
1131
Samsung Galaxy S21 FE 5G
1096
Realme GT Neo3
968
Nothing Phone (1)
820
Honor 70
819
Honor 50
787
Xiaomi 12 Lite
785
GeekBench 5 (multi-core)
Higher is better
Realme GT Neo3
4079
Poco F4 GT
3637
Realme GT2
3487
Samsung Galaxy S21 FE 5G
3049
Nothing Phone (1)
3024
Honor 50
2971
Xiaomi 12 Lite
2943
Honor 70
2925
AnTuTu 9
Higher is better
Poco F4 GT
952124
Realme GT Neo3
819348
Realme GT2
810512
Samsung Galaxy S21 FE 5G
719696
Nothing Phone (1)
592789
Honor 70
559300
Xiaomi 12 Lite
528905
Honor 50
470348
GFX Aztek Vulkan High (onscreen)
Higher is better
Realme GT Neo3
43
Realme GT2
38
Samsung Galaxy S21 FE 5G
38
Nothing Phone (1)
23
Honor 70
20
Honor 50
20
Xiaomi 12 Lite
19
GFX Aztek Vulkan High (offscreen 1440p)
Higher is better
Realme GT2
30
Realme GT Neo3
28
Samsung Galaxy S21 FE 5G
25
Nothing Phone (1)
16
Honor 70
15
Xiaomi 12 Lite
15
Honor 50
14
GFX Car Chase ES 3.1 (onscreen)
Higher is better
Realme GT2
56
Samsung Galaxy S21 FE 5G
56
Realme GT Neo3
53
Nothing Phone (1)
33
Honor 70
29
Xiaomi 12 Lite
29
Honor 50
27
GFX Car Chase ES 3.1 (offscreen 1080p)
Higher is better
Realme GT2
68
Realme GT Neo3
60
Samsung Galaxy S21 FE 5G
57
Nothing Phone (1)
37
Honor 70
35
Honor 50
33
Xiaomi 12 Lite
33
3DMark SSE Vulkan 1.0 (offscreen 1440p)
Higher is better
Xiaomi 12 Lite
4610
Honor 70
4469
Nothing Phone (1)
4336
Honor 50
4071
The results from the benchmarks show adequate utilization of the Snapdragon 778G+. It has slightly better single-core performance compared to the non-Plus variant of the chipset due to the main core's higher clock speed. In the rest of the tests, the difference between the two chips is mostly statistical deviation. However, when put against similarly priced phones, the Honor 70 is no match when it comes to raw performance. There are quite a few options with Snapdragon 888, Snapdragon 8 Gen 1 or even Dimensity 8100.
Sustained performance
The Honor 70 doesn't boast any fancy cooling solutions but the Snapdragon 778G+ isn't a very demanding chipset to begin with. There is, however, a software solution that's supposed to optimize gaming and provide smooth performance. It's one of the many Turbo X features aimed at improving the overall gaming experience.
This test, though, isn't a gaming one as it simulates 100% CPU load for an hour. So it's not a good representation of the Turbo X optimizations.
In the first half of the test, the CPU maintained pretty much the maximum of its theoretical performance. But after 20 minutes or so, sudden and short drops to about 20% of CPU's clock speeds started happening.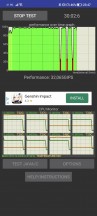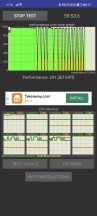 CPU throttle test: 30 min • 60 min
And until the end of the test, the CPU throttled a bit too much and quite often. This is definitely not ideal since sudden drops in performance mean potential frame rate drops during gaming. A better scenario would have been to maintain more conservative, but stable clock speeds at around 80 or even 70%.