Familiar 120Hz OLED display
The Honor 70's panel has grown by 0.1" and now measures 6.67" compared to the 6.57-inch OLED panel used for the Honor 50. However, specs seem to be identical - 1080 x 2400px resolution, 120Hz refresh rate, 10-bit color depth and curved side edges. Of course, HDR10+ is at hand, and it worked on Netflix and YouTube.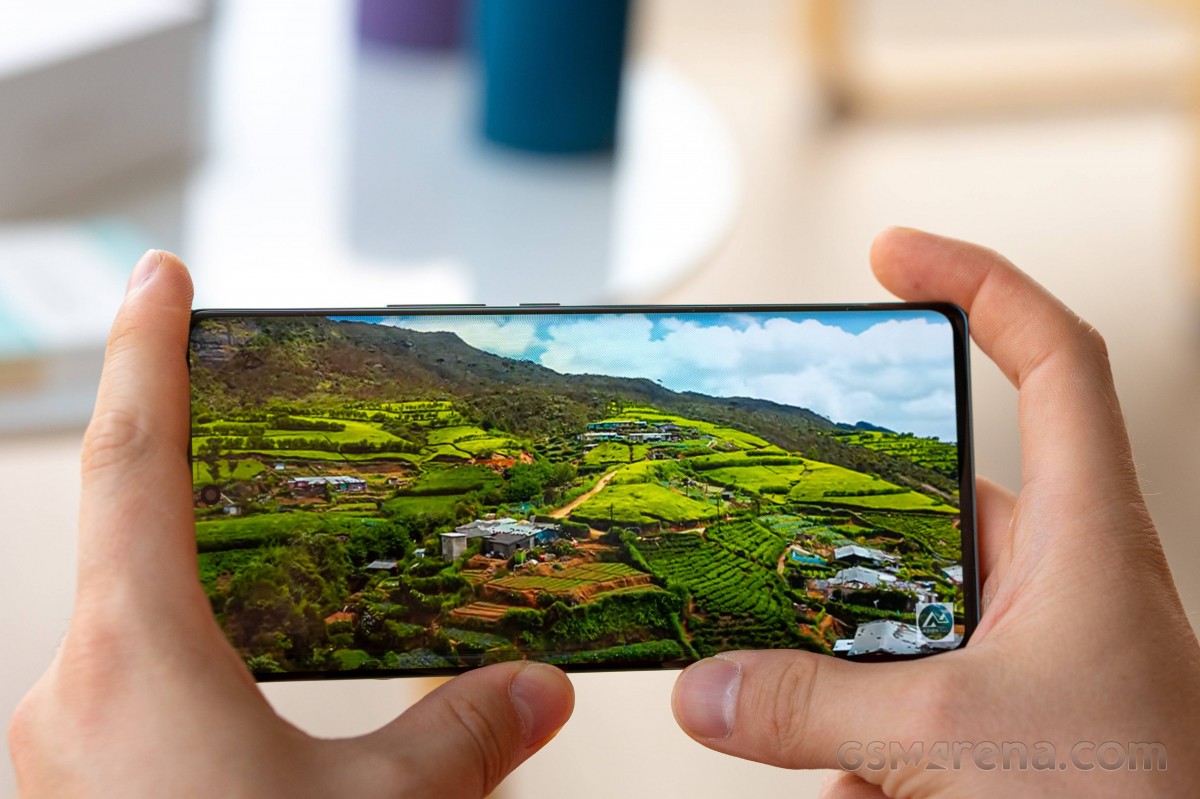 Other neat functionalities include 1920Hz PWM in dim environments. The extra fast pulse-width modulation is used to adjust screen brightness so it that it doesn't bother people who may be sensitive to low-frequency PWM.
Of course, we did the usual set of tests, and there seems to be a modest improvement in brightness compared to the Honor 50. It's rather negligible, though, as the predecessor was bright enough anyway. In manual mode, the panel reached 509 nits, while in auto mode, the display peaked at 790 nits. That's enough for comfortable outdoor use, even on a bright, sunny day. We found it to be sufficient even for multimedia consumption outdoors.
Display test
100% brightness
Black,cd/m2
White,cd/m2
Contrast ratio
Honor 70
0
509
∞
Honor 70 (Max Auto)
0
790
∞
Honor 50
0
525
∞
Honor 50 (Max Auto)
0
748
∞
Honor Magic4 Pro
0
550
∞
Honor Magic4 Pro (Max Auto)
0
957
∞
Poco F4 GT
0
468
∞
Poco F4 GT (Max Auto)
0
761
∞
Realme GT2
0
517
∞
Realme GT2 (Max Auto)
0
846
∞
Realme GT Neo3
0
466
∞
Realme GT Neo3 (Max Auto)
0
796
∞
Samsung Galaxy S21 FE 5G
0
792
∞
Samsung Galaxy S21 FE 5G (before second slide)
0
385
∞
Xiaomi 12 Lite
0
507
∞
Xiaomi 12 Lite (Max Auto)
0
824
∞
Color accuracy in the standard Vivid mode isn't great but it's not terrible either. The whites and grays are the main issue as they appear too blue-ish. Going for the Normal mode ensures excellent color accuracy with average dE2000 of just 1.3 and the maximum dE2000 is even more impressive at 2.1. The whites and grays look way more natural, and gone is the blue-ish tinge.
HRR control
To our surprise, the HRR control has gotten worse since Honor 50. There's practically no difference between Dynamic and High refresh rate modes. Both seem to force 120Hz at all times, even when you are not interacting with the display. However, when it comes to Netflix, YouTube and Chrome, the refresh rate is strictly set to 60Hz when in Dynamic mode. While this is preferable in the first two apps, it's not ideal to be locked at 60Hz when using Chrome. That's why we suggest using the High refresh rate mode that would ensure smooth operations in all apps. Or at least, in most.
Most games are also locked at 60Hz, so don't hope for high refresh rate gaming.
Battery life
The Honor 70 carries a considerably bigger 4,800 mAh battery compared to the Honor 50's 4,300 mAh unit, but battery endurance hasn't changed, at least according to our overall score. Both phones scored a rather unimpressive 100h overall endurance score. Digging a little deeper, though, reveals that the battery life is more of a mixed bag.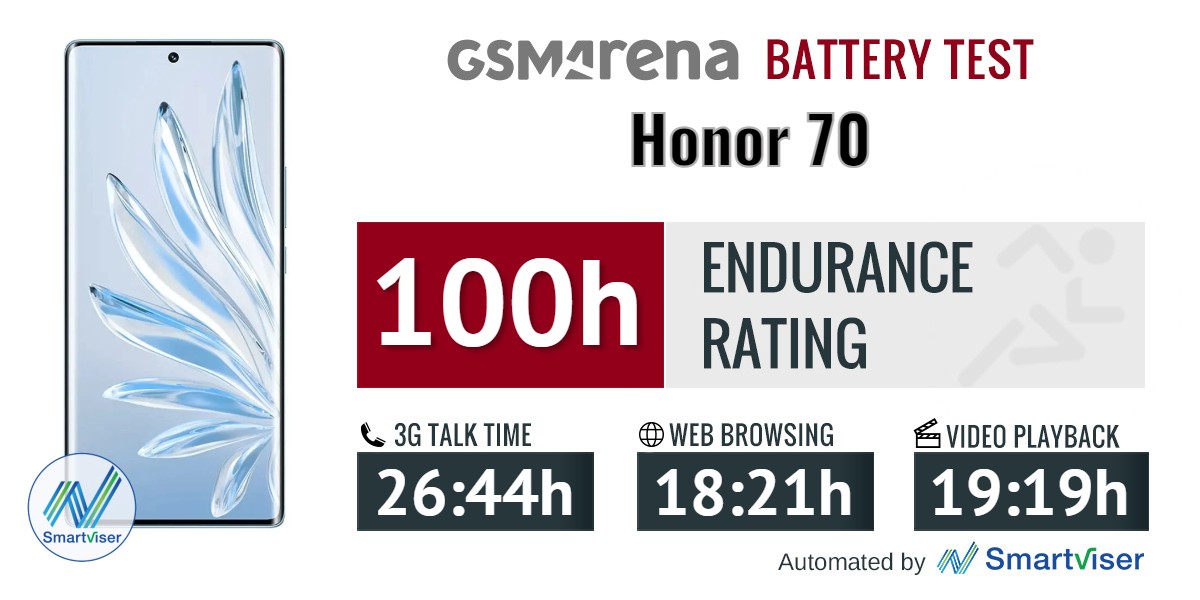 Our battery tests were automated thanks to SmartViser, using its viSerDevice app. The endurance rating denotes how long the battery charge will last you if you use the device for an hour of telephony, web browsing, and video playback daily. More details can be found here.
Once again, the standby runtime is poor, but the screen-on scores have improved quite a bit, especially the web browsing one. They are definitely a win in our books and arguably the most important components in our battery tests. So if it wasn't for the 3G talk time and the standby, the Honor 70 would have gotten a killer battery endurance score, easily punching above its class.
Video test carried out in 60Hz refresh rate mode. Web browsing test done at the display's highest refresh rate whenever possible. Refer to the respective reviews for specifics. To adjust the endurance rating formula to match your own usage patterns check out our all-time battery test results chart where you can also find all phones we've tested.
Charging speed
The Honor 70 features a bigger 4,800 mAh battery, compared to the Honor 50, and with the same 66W charging speed. To our surprise, the Honor 70 is noticeably faster in the 30-minute charging test but posts quite similar to the Honor 50's score in the full charging scenario. And although it's not as fast as most of its competitors, we still think the charging speed is more than adequate. You can still get more than 70% from flat.
30min charging test (from 0%)
Higher is better
Poco F4 GT
100%
Realme GT Neo3 150W
100%
Honor Magic4 Pro
100%
Realme GT2
97%
Honor Magic4 Pro (100W wireless)
78%
Honor 70
71%
Honor 50
61%
Samsung Galaxy S21 FE 5G
51%
Time to full charge (from 0%)
Lower is better
Realme GT Neo3 150W
0:16h
Poco F4 GT
0:17h
Honor Magic4 Pro
0:30h
Realme GT2
0:40h
Honor Magic4 Pro (100W wireless)
0:40h
Honor 70
0:50h
Honor 50
0:54h
Samsung Galaxy S21 FE 5G
1:15h
Speaker
The Honor 70 is once again missing a key feature that most, if not all, competitors have - stereo speakers. The handset relies only on a single, bottom-firing loudspeaker that's not very loud either. We got just -29.4 LUFS, which is enough for an "Average" score.
Quality-wise, the speaker isn't impressive. The sound is kind of dull, with not very pronounced bass, and the highs start to ring at higher volumes. It's just far from being competitive.
Use the Playback controls to listen to the phone sample recordings (best use headphones). We measure the average loudness of the speakers in LUFS. A lower absolute value means a louder sound. A look at the frequency response chart will tell you how far off the ideal "0db" flat line is the reproduction of the bass, treble, and mid frequencies. You can add more phones to compare how they differ. The scores and ratings are not comparable with our older loudspeaker test. Learn more about how we test here.