6.44-inch, 90Hz, HDR10+ AMOLED display
In yet another case of "quite similar, yet pretty different", the vanilla V23 borrows most of the display specifications of its bigger sibling. Vivo still went for an AMOLED panel. One is slightly smaller at 6.44 inches in diagonal than the 6.56 inches on the V23 Pro. The resolution is technically the same at FullHD+, though the two phones have a slightly different aspect, with the V23 rocking a taller 20:9 aspect and hence a few extra vertical pixels and a native resolution of 1080 x 2400 pixels. Not a major change compared to the 1080 x 2376 pixels on the V23 Pro. Though, the smaller display-diagonal does technically result in a slightly higher pixel density as well, at around 409 ppi. In person, both phones look perfectly sharp and pretty-much identical, though.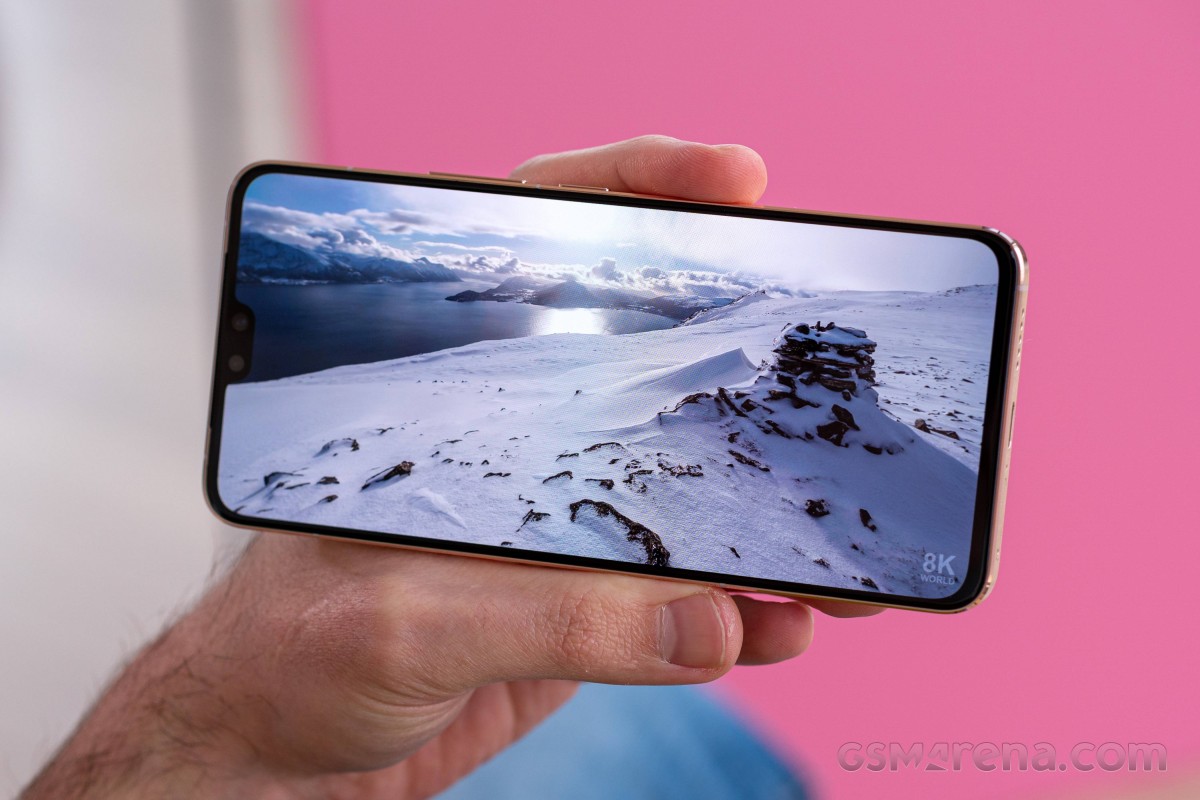 The overall shape of the two panels is arguably their biggest difference. Whether or not you prefer the flat look and feel of the regular V23 or the aggressively curved edges of the V23 Pro is a matter of personal choice, though. Other than that, the two panels look oddly identical due to their very similar notch designs. Yet again, it's odd how similar yet different vivo managed to make the V23 and the V23 Pro.
The two panels do still differ a bit in terms of performance. Not drastically so, but still enough to conclude that the V23 has a slightly lesser display. The V23 managed a maximum of 435 nits of maximum brightness on the slider - pretty close to the V23 Pro. Unfortunately, the V23's max auto brightness falls noticeably behind the V23 Pro at a max of 629 nits. That is still quite usable outdoors, but not really in direct sunlight. On a slightly more positive note, the V23 has slightly dimmer whites at minimum brightness.
Display test
100% brightness
Black,cd/m2
White,cd/m2
Contrast ratio
vivo X70 Pro+ (Max Auto)
0
1022
∞
vivo X70 Pro (Max Auto)
0
993
∞
Google Pixel 6 (Max Auto)
0
846
∞
Xiaomi Mi 11 Lite 5G (Max Auto)
0
846
∞
Samsung Galaxy A32 (Max Auto)
0
814
∞
Samsung Galaxy A52s 5G (Max Auto)
0
800
∞
vivo V23 Pro (Max Auto)
0
798
∞
Xiaomi Mi 11T (Max Auto)
0
798
∞
Samsung Galaxy A52 5G (Max Auto)
0
787
∞
Honor 50 (Max Auto)
0
748
∞
Xiaomi Redmi Note 10 Pro (Max Auto)
0
725
∞
Poco F3 (Max Auto)
0
716
∞
Xiaomi Redmi Note 10 (Max Auto)
0
682
∞
Realme GT Neo2 (Max Auto)
0
659
∞
Realme 8 (Max Auto)
0
657
∞
Realme GT Master (Max Auto)
0
634
∞
OnePlus Nord 2 5G (Max Auto)
0
633
∞
vivo V23 5g (Max Auto)
0
629
∞
Poco M3 Pro 5G (Max Auto)
0.366
536
1464:1
Poco X3 Pro (Max Auto)
0.4
534
1335:1
Honor 50
0
525
∞
Xiaomi Mi 11 Lite 5G
0
514
∞
Poco F3
0
511
∞
Poco M4 Pro 5G (Max Auto)
0.33
510
1545:1
Xiaomi Mi 11T
0
498
∞
Realme GT Neo2
0
498
∞
Samsung Galaxy A32 5G (Max Auto)
0.338
497
1470:1
Google Pixel 6
0
477
∞
Xiaomi Redmi 10 (Max Auto)
0.4
477
1193:1
Xiaomi Redmi Note 10
0
475
∞
vivo V23 Pro
0
463
∞
vivo X70 Pro+
0
458
∞
Realme 8
0
458
∞
Poco X3 Pro
0.327
458
1401:1
vivo X70 Pro
0
457
∞
Xiaomi Redmi Note 10 Pro
0
457
∞
OnePlus Nord 2 5G
0
438
∞
Realme GT Master
0
437
∞
vivo V23 5g
0
435
∞
Samsung Galaxy A32 5G
0.286
426
1490:1
Poco M3 Pro 5G
0.28
413
1475:1
Poco M4 Pro 5G
0.264
410
1553:1
Xiaomi Redmi 10
0
396
1494:1
Samsung Galaxy A32
0
393
∞
Samsung Galaxy A52s 5G
0
383
∞
Samsung Galaxy A52 5G
0
378
∞
The same general comparative observation is also true for color accuracy. Like the V23 Pro, the vanilla V23 is decent in this department but not amazing and just slightly worse than the Pro. You get a choice between a total of three color modes - standard, bright and professional. Both standard and bright target the DPI-P3 color space. Neither manages to hit deltaE value anywhere near what we would consider color-accurate. Bright mode boosts the primary channels to convey the feeling of a brighter display since that's one way the human eye works. Professional mode targets sRGB instead and is a bit better in terms of accuracy, but still not quite color-accurate. Generally speaking, all of the color modes tend to lean on the colder side with a slight blue tint. You can correct for that by sliding the included color temperature slider a bit, but don't expect any major improvement in color accuracy.
The V23 is well-equipped when it comes to HDR support. You get HDR10, HDR10+, and HLG, with just Dolby Vision missing from the list. Of course, the actual quality of the HDR playback is a whole different story, considering the maximum brightness the panel is capable of. While not ideal, we still found HDR to look notably better than SDR in our testing. We are happy to report that the V23 has the highest possible Widevine L1 DRM certification, which means that services like Netflix can offer HD and higher streaming resolution. In this particular case, 1080p, since that is enough to saturate the native resolution of the display.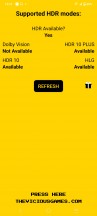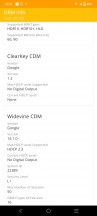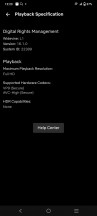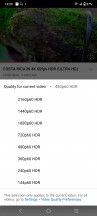 HDR support • Widevine • Netflix playback support • HDR on YouTube
As of writing this review, the Netflix app refused to serve HDR content, which is probably a whitelisting issue. YouTube was perfectly happy to give us HDR, though. The V23 Pro was exactly in the same boat.
High refresh rate handling
Refresh rate and its handling is yet another similarity between the vanilla vivo V23 and the V23 Pro. The panel can refresh at up to 90Hz, which should be considered "basic" or "entry level" high refresh rate on the current smartphone scene. In terms of handling, you get a few options, including fixed 60Hz and 90Hz modes and "Smart switch". Unfortunately, the latter doesn't work well at all.
Scrolling through the vivo UI and its menus actually work just fine. The phone goes up to 90Hz when you interact with it and then back down to 60Hz after a few seconds of inactivity. That's pretty good when it comes to battery saving.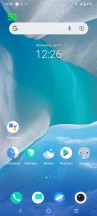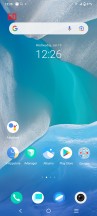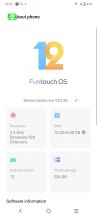 Automatic refresh rate switching works great in the UI and in menus
Unfortunately, the auto-refresh rate falls apart once you start launching apps. There just seems to be no rhyme or reason for the switching. Both Chrome and the default vivo browser chose to work at 60Hz and never went up to 90Hz on their own. That was the case for most other apps we tried.
Very few apps we tried actually managed to start at 90Hz in automatic refresh rate mode. Once again, without any obvious logic behind which apps.
We also tried a few games which we know, for a fact, can run above 60fps and make use of a higher refresh rate. Unfortunately, most titles didn't manage to trigger 90Hz mode. A fact that was only made sadder by vivo's otherwise stellar automatic game recognition when it comes to triggering its gaming optimizations. Dead Trigger 2 was the sole exception we encountered, which automatically ran at 90Hz. Interestingly, this was not the case on the V23 Pro during its review. Perhaps vivo is actually working on its refresh rate switching logic, and we can hope for some desperately-needed improvements?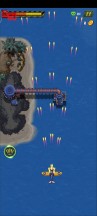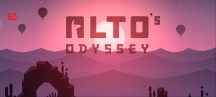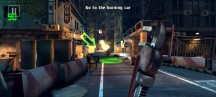 Most games refuse to automatically run in 90Hz mode
At least there is a silver lining in vivo's decision to specifically add a strict 60Hz mode and a strict 90Hz one. For gaming purposes, you can just go in and flip over to 90Hz. Most of the games we tried did, in fact, feel smoother while running at a fixed 90Hz, which suggests that they were making proper use of the mode and getting frame rates above 60fps.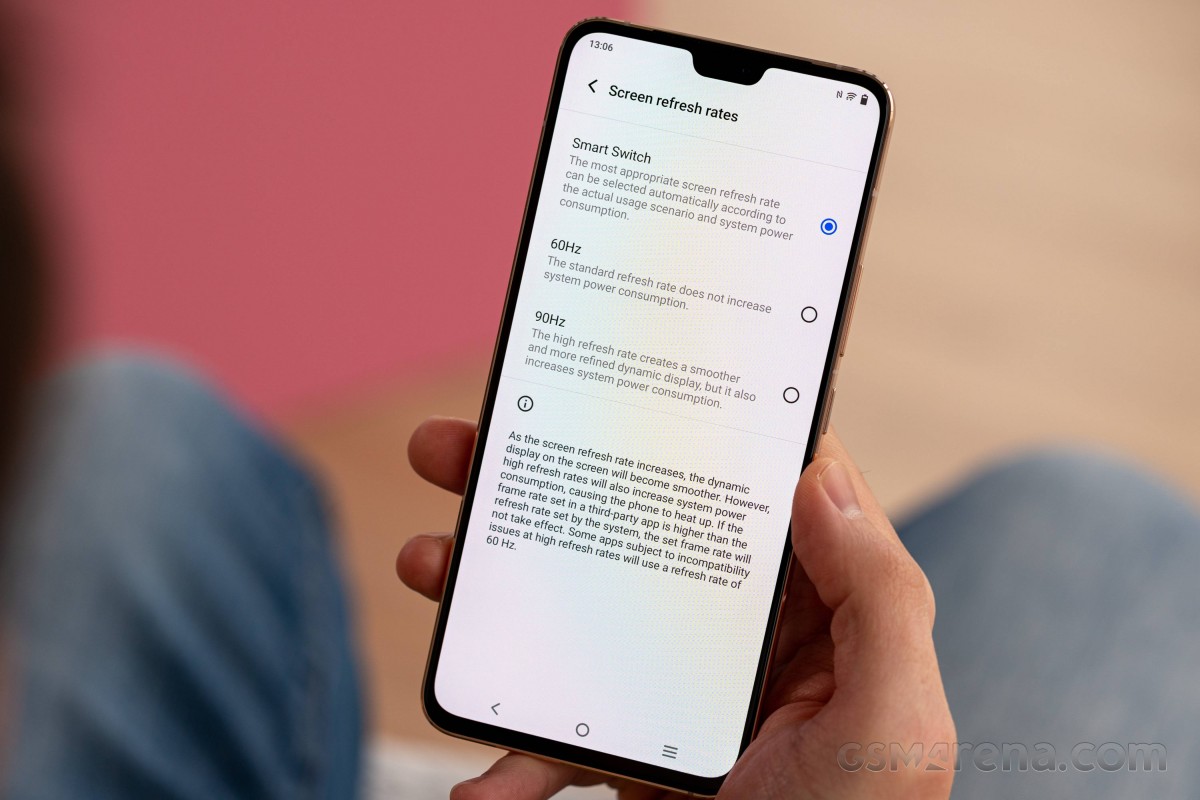 Here's hoping vivo's automatic refresh rate switching mode eventually gets fixed.
Battery life
The vivo V23 has a 4,200 mAh battery. Far from the biggest around, but still very respectable for its thickness of 7.39mm on the Stardust Black or 7.55mm on the Sunshine Gold and weight of 179 grams on the Stardust Black and 181 grams on the Sunshine Gold.
Better still, the V23 managed to make surprisingly good use out of that capacity scoring a very respectable 103 hours of total endurance rating.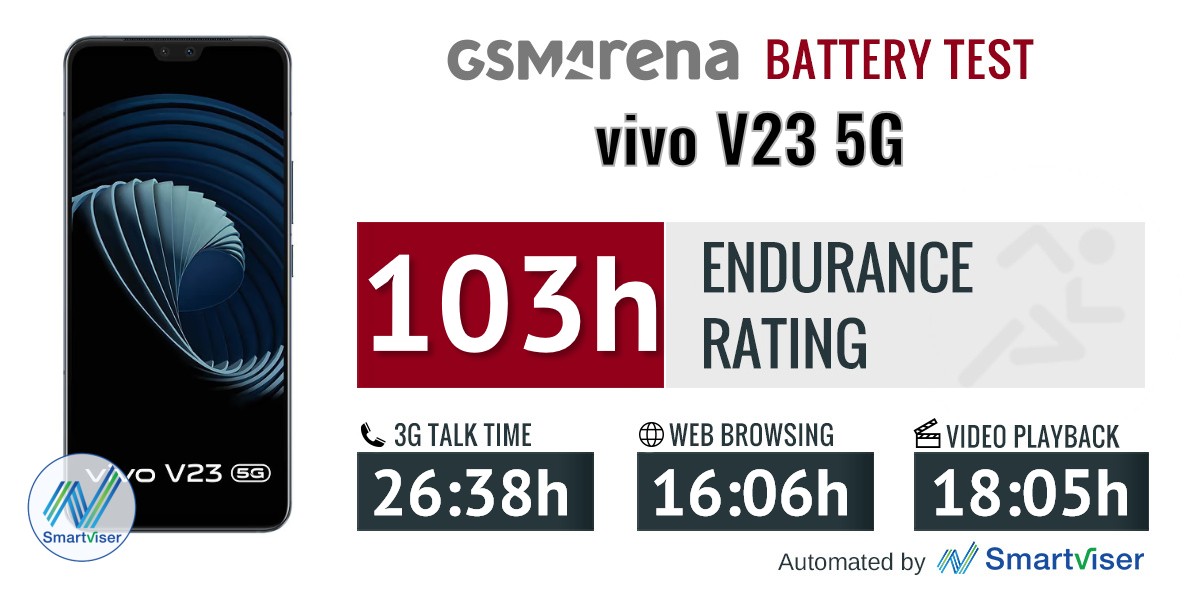 This is actually the first time we are testing a MediaTek Dimensity 920 phone at the office, and its efficiency does not appear to disappoint. We figured about as much, seeing how it is manufactured on the same 6nm process as the Dimensity 1100 and 1200, which we know do well in the battery department. We believe the cellular modem is the same or quite similar inside all three chipsets as well, so are the CPU cores, for the most part. Though in a different configuration and with slightly different clocks.
In any case, the vivo V23 and its Dimensity 920 managed solid numbers all-around in both on-screen and off-screen tests.
Our battery tests were automated thanks to SmartViser, using its viSerDevice app. The endurance rating denotes how long the battery charge will last you if you use the device for an hour of telephony, web browsing, and video playback daily. More details can be found here.
Video test carried out in 60Hz refresh rate mode. Web browsing test done at the display's highest refresh rate whenever possible. Refer to the respective reviews for specifics. To adjust the endurance rating formula to match your own usage patterns check out our all-time battery test results chart where you can also find all phones we've tested.
Charging speed
It was great to see vivo's excellent 44W FlashCharge on the higher-end V23 Pro, and it's even better to see it trickle down to the vanilla V23 as well. This is the exact same tech found on the flagship X70 as well.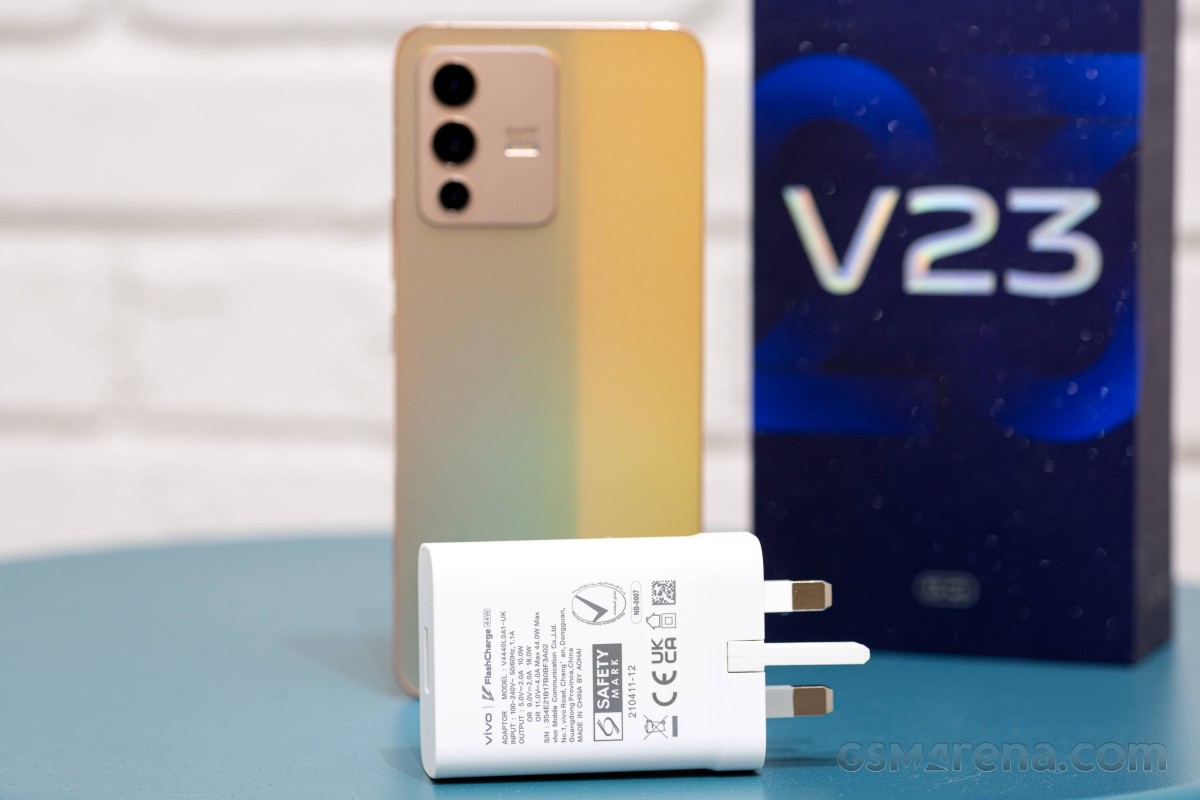 Seeing how the V23 has a slightly smaller battery than the V23 Pro logic would dictate that it should charge faster. Unfortunately, that's not really how battery charging works, and it is actually typical to see slower overall charging rates with the decrease of total battery capacity. You just have to extend lower wattage charging and trickle charging periods more to preserve the health of a smaller battery, and you might have to battle harder against heat. This appears to be the case on the V23 since it does charge a bit slower than its V23 Pro sibling. Perhaps it is just not making full use of the 44W of available current.
Thirty minutes on the charger get the vanilla V23 from 0 to 60% charge (as opposed to 65% on the V23 Pro), and a full charge takes just over an hour (the V23 Pro needs just under an hour). The difference in charging speed between the V23 and Pro is minor, and both phones manage really respectable numbers.
30min charging test (from 0%)
Higher is better
Xiaomi 11T Pro
100%
Realme GT Master
100%
Oppo Reno6 5G
100%
OnePlus Nord 2
98%
Realme GT Neo2
97%
Oppo Reno6 Pro 5G (Snapdragon)
91%
Realme 8 Pro
88%
Xiaomi 11T
86%
vivo X60 Pro+
84%
vivo X70 Pro+
80%
vivo X60 Pro
68%
Poco F3
67%
vivo V23 Pro
65%
Xiaomi Redmi Note 10
65%
vivo X70 Pro
64%
vivo V23 5g
60%
Realme 8
56%
Poco M4 Pro 5G
54%
Samsung Galaxy A72
54%
Samsung Galaxy A52s 5G
53%
Xiaomi Redmi Note 10 Pro
50%
Poco X3 Pro
50%
Google Pixel 6 (65W)
48%
Google Pixel 6 (18W)
41%
Samsung Galaxy A52 5G
34%
Realme 8i
30%
Poco M3
25%
Samsung Galaxy A22 5G
23%
Samsung Galaxy A22
23%
Time to full charge (from 0%)
Lower is better
Xiaomi 11T Pro
0:21h
Oppo Reno6 5G
0:29h
Realme GT Master
0:30h
OnePlus Nord 2
0:31h
Realme GT Neo2
0:32h
Realme 8 Pro
0:38h
Oppo Reno6 Pro 5G (Snapdragon)
0:39h
Xiaomi 11T
0:41h
vivo X60 Pro+
0:42h
vivo X70 Pro+
0:48h
Poco F3
0:56h
vivo V23 Pro
0:57h
vivo X60 Pro
0:58h
vivo X70 Pro
1:00h
vivo V23 5g
1:03h
Poco M4 Pro 5G
1:07h
Poco X3 Pro
1:08h
Realme 8
1:09h
Xiaomi Redmi Note 10
1:13h
Samsung Galaxy A72
1:15h
Xiaomi Redmi Note 10 Pro
1:21h
Samsung Galaxy A52s 5G
1:28h
Samsung Galaxy A52 5G
1:39h
Google Pixel 6 (65W)
1:50h
Google Pixel 6 (18W)
1:53h
Samsung Galaxy A22
2:20h
Realme 8i
2:21h
Samsung Galaxy A22 5G
2:29h
Poco M3
2:30h
Speaker test
Unfortunately, the V23 only has a single bottom-firing speaker, just like its bigger brother. No stereo setup, not even a hybrid one with the earpiece. That's a bit of a letdown seeing how you can get some pretty good stereo speaker setup in other phones for this price.
The speaker here is decent but not overly impressive. It managed an Average loudness score in our testing with a pretty clean frequency response curve. At least that's a plus. The V23 and V23 Pro actually perform so similarly in the audio department that we had to double-check if we didn't have the sample files mixed up. We guess consistency counts for something. We didn't find any loudspeaker equalizers to play around with.
Use the Playback controls to listen to the phone sample recordings (best use headphones). We measure the average loudness of the speakers in LUFS. A lower absolute value means a louder sound. A look at the frequency response chart will tell you how far off the ideal "0db" flat line is the reproduction of the bass, treble, and mid frequencies. You can add more phones to compare how they differ. The scores and ratings are not comparable with our older loudspeaker test. Learn more about how we test here.