Crowd selfie
Sony Xperia C5 Ultra review: Crowd selfie
Chrome is the only browser on board
The Sony Xperia C5 Ultra comes with Google Chrome only, which has seamless transition between all your devices through your Google account as well as the Data Saver feature, which compresses pages in an attempt to cut down on cellular transfer charges.
Other apps
The Calendar app handles your planning needs. Entering a new event is quick and easy, and you can also set an alarm to act as a reminder. The Calendar also pulls info on upcoming events from your Facebook account and can also display the national holidays for a long list of countries and your contacts' birthdays too.
The Alarm & clock app supports multiple alarms, each with its own sound and repeat pattern. You can also set whether the side buttons would snooze the alarm, dismiss it or do nothing. There's also a desk clock option and a world clock (which shows the weather forecast for each city, not just the time). There's a nice calculator app with a side drawer for advanced functions in portrait, which are always visible in landscape.
The Sony Xperia C5 Ultra comes with the OfficeSuite 8 document editor, which handles viewing, creating and editing of Word, Excel and PowerPoint documents. It can also view PDFs. The interface is clutter-free but there are still plenty of features (font formatting, formulas, you name it).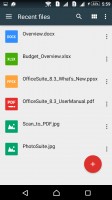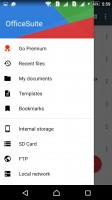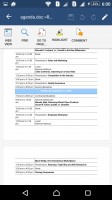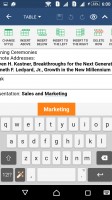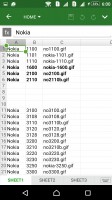 OfficeSuite 8 can handle document editing on the go
The File Commander app is a capable file manager that features batch operations, ZIP file support and cloud storage (Google Drive, Dropbox, Box, SugarSync, OneDrive).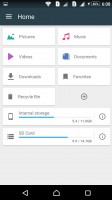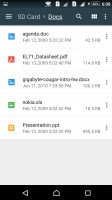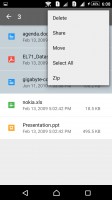 File Commander handles all the popular cloud storage services
The Power Saver helps you extend your battery life by toggling things like Wi-Fi, GPS, Bluetooth screen brightness, auto sync and background data on and off automatically when the battery charge falls below a certain user-defined threshold. You can also turn off the Wi-Fi if there is no saved Wi-Fi network in range or turn off mobile data when the screen is off, and more.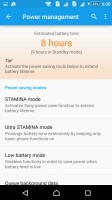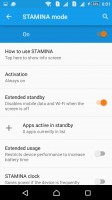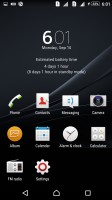 Stamina modes provide extensive options for power management
Sony's Smart Connect app comes pre-installed. It allows you to set your device to do a variety of things - like launch an app or set an alarm - whenever you connect an accessory like a headset or a charger. You can also set events to occur during a time interval (e.g. mute alarms at night).
There's a Backup & Restore feature on the Xperia C5, but it's limited to contacts, conversations, calendar entries, call log and bookmarks. The app can't backup multimedia content or documents, so you'll need to look elsewhere for archiving your photos, for example.
The Socialife app comes pre-installed too. It is a service similar to Samsung's My Magazine and HTC One's Blinkfeed. The interface is clean and simple yet beautiful, and there are lots of preloaded feeds. You can add your own RSS links too.
Sketch is pretty simple to use - you can select the color of the note/sketch and just start typing or doodling. You can customize a wide variety of drawing modes, backgrounds, and stencils.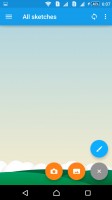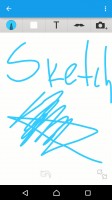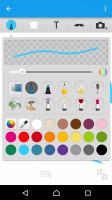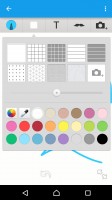 Feel free to doodle with Sketch
What's New app has very beautiful UI and will show you the hottest apps and multimedia today, but it isn't limited to the Play Store only. It'll display content from Sony's PlayStation store too.
One nifty feature Sony has had in its Android overlay is the capability to record a video of what's happening on the screen, not just your regular standard-issue screenshot. It comes in handy if you want to capture a gameplay video, for example, or walk someone through completing a task within the phone's interface.
You can launch Record screen from the menu, which pops up when you press and hold the power button. You get controls for the video quality and orientation, and you can also enable a resizable windowed live feed from your front camera, for a more personal interaction.