Display
The Galaxy S8 Active uses the same display as the Galaxy S8 proper: A 5.8" Super AMOLED display with a QHD+ (1440 x 2960 px) resolution with the same 18.5:9 aspect ratio of Samsung's Infinity display. Despite using the same display, the S8 Active's display can't really be called "Infinity".
The S8 Active is a ruggedized version of the S8. In order to do that, Samsung had to add some more meat around the display to lower its chances of getting damaged. By contrast, the Galaxy S8 is more prone to damage of the display since the phone's body has a more drastic screen-to-body ratio (~83.6%) while the Galaxy S8 Active's is about 75% screen. Oh yeah, and the S8 Active is 'Shatter Resistant'.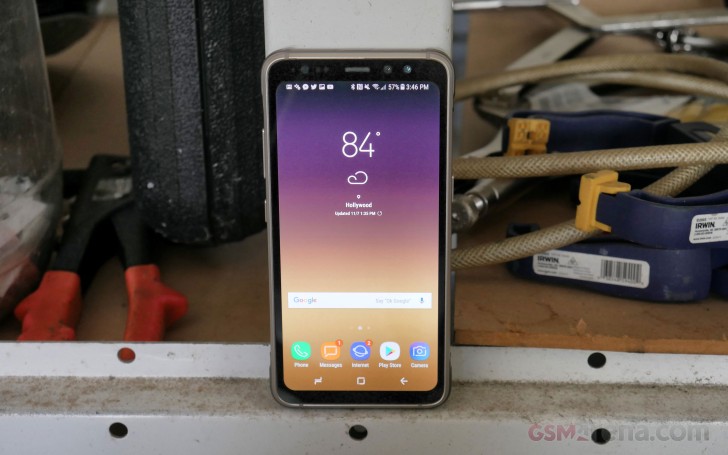 Physical differences aside, the S8 Active's display is just as vivid and bright as the S8's, which lines up with AT&T's claim that "you won't have to compromise one pixel of entertainment."
In our color tests the Galaxy S8 Active's Adaptive display mode (the default one) got a DeltaE of 5.7 with a max DeltaE of 11.6 at the red point. Reds are hard to reproduce accurately by a camera or display, so it is typically the least accurate color on many smartphones.
The S8 Active offers four colors modes with extensive customizability to tune the screen to your preference or perfect accuracy: Adaptive (default), AMOLED Photo, AMOLED Cinema, and Basic.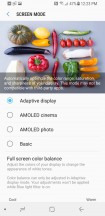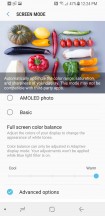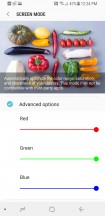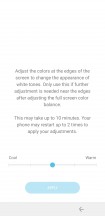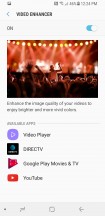 Tweaking color profile and Video Enhancer
The most accurate color mode out of the box is the Basic profile. With this one, the S8 Active scored an average DeltaE of 2.5 and a max DeltaE of 5 at yellow. Despite the Adaptive mode showing a much higher DeltaE for reds, the same color is very accurate in the Basic profile.
As for as brightness and sunlight legibility, the S8 Active is just as capable as the S8. When exposed to higher ambient light, the UI's contrast is reduced to make it easier to see the display. This will only work in the default Adaptive profile.
Display test
100% brightness
Black, cd/m2
White, cd/m2
Contrast ratio
Apple iPhone X
0
679
∞
Samsung Galaxy Note8 (Max Auto)
0
647
∞
Samsung Galaxy S8 Active (Max Auto)
0
633
∞
Huawei Mate 10 Pro (max auto vivid)
0
623
∞
Samsung Galaxy S7 active max auto
0
602
∞
Motorola Moto Z2 Force (Max Auto)
0
559
∞
Google Pixel 2 XL
0
496
∞
Huawei Mate 10 Pro (vivid)
0
440
∞
Google Pixel 2
0
428
∞
Samsung Galaxy S7 active
0
424
∞
Huawei Mate 10 Pro (normal)
0
422
∞
Samsung Galaxy Note8
0
412
∞
Samsung Galaxy S8 Active
0
391
∞
Motorola Moto Z2 Force
0
376
∞
The S8 Active got just 15 nits brighter than the S8 at 633 nits with its brightness boost, which is only available with Auto brightness toggled on. Turn off Auto brightness, and the display tops off at 391 nits.
The Galaxy S8 Active has excellent viewing angles and bright, vivid colors that are pleasing to the eye or accurate colors where you need them. Samsung makes some of the best AMOLED displays in the world and the Galaxy S8 Active is no exception, even with the added shatter resistance.
The Galaxy S8 Active is the first Samsung Active model with an HDR capable display. You can expect to see the same wide-color gamut and image quality out of this phone that you'd expect to see from the standard model.
Connectivity
The S8 Active has Qualcomm's latest CPU, which brings along its X16 LTE modem, bringing (theoretical) Cat.16 Gigabit speeds. Seeing as there is no carrier in the US that commercially offers Gigabit download speeds yet, you'd be looking at speeds more like between 100 and 300 Mbps down.
AT&T has deployed Gigabit LTE to a small number of metropolitan markets in the US but calls it "5G Evolution" and uses 4x4 MIMO and 256 QAM for carrier aggregation. It isn't true 5G technology, but that's a conversation for another day. As for the T-Mobile version, it will support the carrier's new 600 MHz band for longer reach and stronger signal indoors, which also uses 4X4 MIMO and 256 QAM.
The S8 Active supports Wi-Fi a/b/g/n/ac, Bluetooth 5.1, NFC and MST for Samsung Pay. Bluetooth 5.1 allows you to connect two devices audio devices simultaneously and offers faster 2Mbps transfer speeds (double that of Bluetooth 4.x), though Samsung warns dual Bluetooth audio may not be in perfect sync.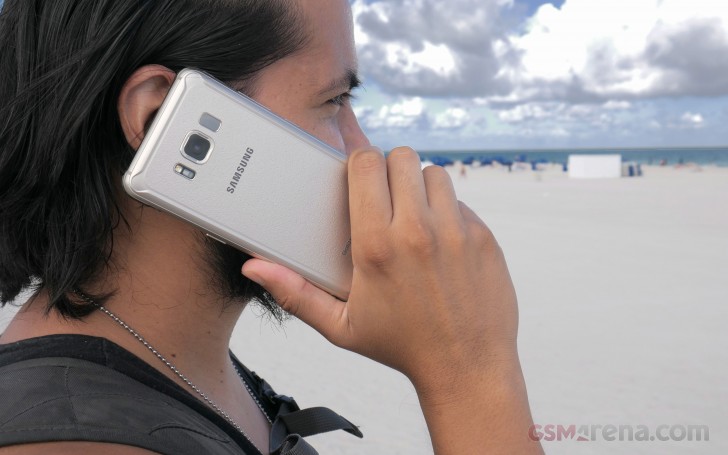 For navigation and positioning, you get GPS, GLONASS, BDS, and Galileo.
The Galaxy S8 Active uses a USB-C 3.1 (10Gbps speeds) compliant port with a plethora of connectivity options: video output via DisplayPort 1.3 (rated for 4K at 60fps or 5K @ 30fps). The S8 Active is also compatible with the DeX station, which actually only outputs at a maximum of 4K@30Hz and that is only if you use it to mirror your device screen. The actual desktop UI gets rendered in 1080p@60Hz.
The Galaxy S8 Active comes with two adapters in the box: a microUSB to USB-C adapter for adapting one of your older cables to USB-C, and an OTG USB adapter, which lets you connect a supported device that uses a full USB-A port. You can also use this adapter to connect an iPhone and transfer content over, via Samsung's Smart Switch app.
The 3.5mm headphone jack is here to stay (for now), but AT&T decided to leave the AKG earbuds out of its AT&T-branded packaging. We wonder if the T-Mobile version will include some kind of headphone, but knowing T-Mobile, a free headphone promotion sounds like it would do.
Battery Life
One department where Samsung's Active smartphone has always been strong is in battery life. The S8 Active packs a large 4,000 mAh battery. That comes out to an extra 14% capacity over the Galaxy S8+ with the smaller 5.8-inch display. The result is a very long lasting smartphone. Not quite the highest-scoring smartphone in our battery test, but definitely in the top 10.
The Samsung Galaxy S8 Active's numbers were impressive. Unfortunately, we don't have endurance numbers for the Snapdragon version of the Galaxy S8 to compare to this guy directly, but the 33% larger 4,000 mAh battery can give you a pretty good idea since it has the same internals and same sized display.
The Galaxy S8 Active will last you more than four-and-a-half days if used for 1 hour each of calls, video, and web browsing per day. Talk time gathered an impressive 34:19h while web browsing almost hit the 14h mark. Video playback is great as well at 18:05h which yielded an overall score of 111h.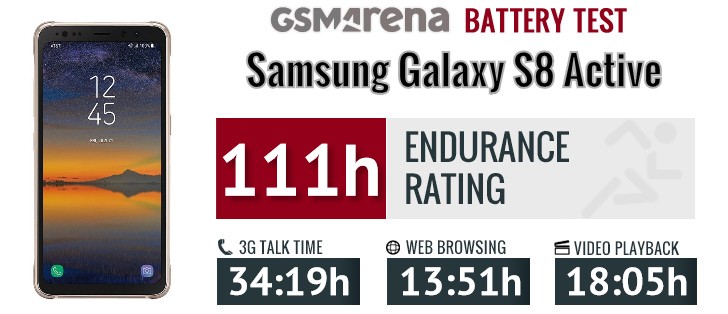 The Galaxy S8 Active supports Samsung's Adaptive Fast Charge and in 30 minutes brings the battery from 0% to 34% - so pretty much unchanged from the Galaxy S7 Active's 37% charge-up in half an hour. We wonder when Samsung will push for a faster Quick Charging standard. Then again, faster charging means a more easily degraded battery.
We don't understand why some companies don't use bigger batteries in their smartphones more often, particularly in flagship phones. While the Galaxy Active is an exception, Samsung is keen to put a smaller (3,300 mAh) battery in its phone with the largest display (Note8) while the S8+ gets an even larger 3,500 mAh battery. To be fair, the S-Pen takes precious space away from the inside of the Note8, so maybe that's justified.
The Galaxy S8 Active scored excellently in our endurance test and anyone who purchases it will be more than satisfied with the battery life. The only place that Samsung can improve is in coming up with a faster fast-charging standard, as Adaptive Fast Charge is comparable to Qualcomm Quick Charge 2.0 and is starting to lag behind its competitors. Then again, Apple only recently introduced faster charging with the iPhone 8 and iPhone X.
Samsung is comfortable with the current charging rates given that it doesn't compete as strongly against Chinese phone makers, some of which have competing fast-charge standards like Oppo's VOOC, Huawei's Super Charge, or OnePlus' Dash Charge.
Our endurance rating indicates how long a single battery charge will last you if you use the Samsung Galaxy S8 Active for an hour each of telephony, web browsing and video playback daily. We've established this usage pattern so our battery results are comparable across devices in the most common day-to-day tasks. The battery testing procedure is described in detail in case you're interested in the nitty-gritties. You can also check out our complete battery test table, where you can see how all of the smartphones we've tested will compare under your own typical use.