Essence distilled
Samsung Galaxy S8 review: Essence distilled
Introduction
When 5 inches is the de-facto standard for a compact Android handset, yet you want to prove that more is always better, what do you do? Well, it depends on the definition of more. You can do something crazy, stupid or impossible. Samsung? They decided to be sensible. Design a phone, build a screen, put the screen where it always goes. Business as usual.
It's pretty much the same phone as the Galaxy S7. Size-wise, that is. Only with a 5.8" display where there used to be a 5.1" screen.
5.8=5.1. How is this possible? Well, maybe the new Galaxy S is from the same book as this.
Now, back to present time. The LG G6 has been around for some time, and we also asked you to look beyond the diagonal in our Galaxy S8+ review earlier this week. Displays are getting taller and breaking out of the 16:9 box they were trapped in for a few years now. But while LG opted for a square times-two 18:9 ratio, Samsung went with 18.5:9, because why not.
Both of this season's premium Galaxies are in this bizarre 2.06:1 aspect, but the regular S8 is petite. It's a millimeter wider than an iPhone 7 with a screen surface of some 40% more than the small-sized Apple (that's real estate, not diagonal, so it isn't apples to oranges). Put the S8 next to an S7 and the new one is actually narrower, and visibly so. So from the get go we'd say that the S8 has the most screen you can get in a phone this size, and even a few sizes up.
The flat S-series design is no more. This year's phones both feature the signature Samsung curved screens. Ever so subtle and nothing like the Note Edge that started it all. Evolution.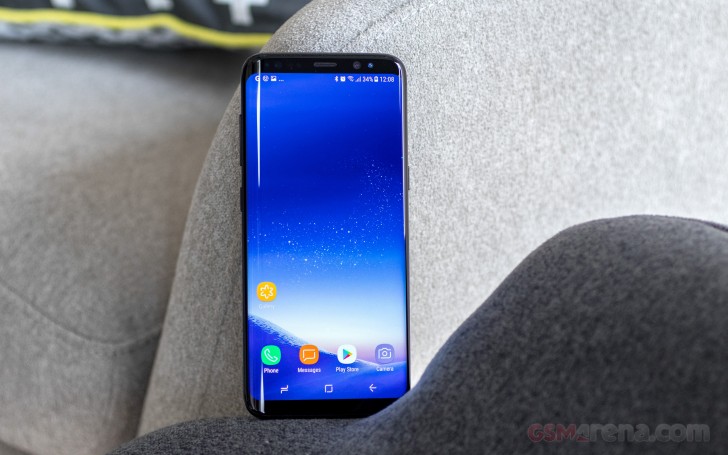 This very much finite Infinity display is what makes the headlines, but it's not without a consequence. The Home button is history - in its place an onscreen navigation bar, the fingerprint sensor relocated, the pressing sensation emulated (sort of) by haptic flutter.
The screen aside, there's the habitual bump in processing power, courtesy of a brand new 10nm chip - be it Samsung's own Exynos, or Qualcomm's Snapdragon (still manufactured by Samsung). RAM has stood still at 4GB (though certain regions may get a 6GB version), and an 8MP autofocus front-facing camera replaces the 5MP fixed-focus shooters that were around for far too long on the company's flagships.
Samsung Galaxy S8 key features
Body: Polished aluminum frame, Gorilla Glass 5 front and rear; IP68 certified for water and dust resistance. Arctic Silver, Orchid Grey, Black Sky, Maple Gold, and Coral Blue color schemes.
Display: 5.8" Super AMOLED, 2,960x1440px resolution, 18.5:9 (2.06:1) aspect ratio, 570ppi; HDR 10 compliant (no Dolby Vision).
Rear camera:12MP, f/1.7 aperture, dual pixel phase detection autofocus, OIS; multi-shot image stacking; 2160p/30fps video recording.
Front camera: 8MP, f/1.7 aperture, autofocus; 1440p/30fps video recording.
OS/Software: Android 7.0 Nougat; Bixby virtual assistant.
Chipsets: Qualcomm Snapdragon 835: octa-core CPU (4xKryo 280 + 4xCortex-A53), Adreno 540 GPU. Exynos 8895: octa-core CPU (4x2nd-gen Mongoose + 4xCortex-A53), Mali-G71 GPU.
Memory: 4GB of RAM (a 6GB option likely in some markets, later down the line); 64GB of storage; microSD slot up to 256GB, UFS cards support.
Battery: 3,000mAh Li-Ion (sealed); Adaptive Fast Charging (same as S7); QuickCharge 2.0 support; WPC&PMA wireless charging.
Connectivity: Single-SIM, Dual-SIM available in certain markets; LTE-A, 4-Band carrier aggregation, Cat.16/13 (1Gbps/150Mbps); USB Type-C (v3.1); Wi-Fi a/b/g/n/ac; GPS, Beidou, Galileo; NFC; Bluetooth 5.0.
Misc: Fingerprint reader; iris recognition/face recognition; single speaker on the bottom; 3.5mm jack; bundled AKG headphones.
Main shortcomings
No stereo speakers
Fingerprint scanner in an inconvenient location (though admittedly easier to reach than on the S8+)
The bulk of the photo and video content doesn't make the most of the available screen area due to the unusual screen aspect ratio
The S8's blessing is also its curse - there isn't exactly an abundance of 18.5:9 content for you to gobble. But with Google backing up the push for wide/tall displays, and Apple rumored to ride the same train come fall, it's really a matter of time - and not a long time either.
Seriously though, with all its multimedia aspirations, the S8 really has no excuses for not packing a pair of stereo speakers. Even if it's the makeshift solution of an earpiece doubling as an amp.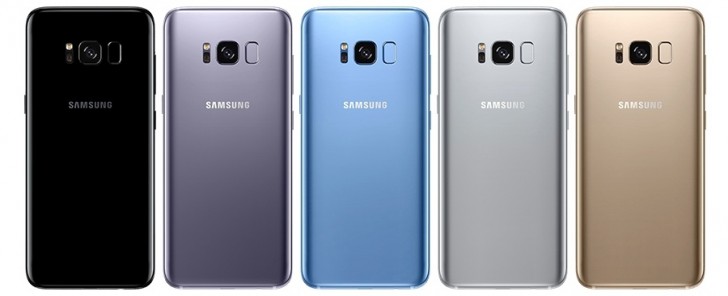 If you haven't guessed by now, we're not impressed with where the fingerprint reader is, and - senior editor note - that's the politically correct revision of what the reviewer actually said. In all fairness though, on the tiny S8 it's not such an exercise to reach, though the camera lens will inevitably get familiar with the ridges in your skin. Cue in those under-display readers already.
That's the future (near as it may be), but we're living in the now and around here the Galaxy S8 is what it is - a beautiful phone. Join us on the next page for the unboxing and hardware checkup.
?
please I want to update my software but my phone said it doesn't support it
B
How many people are you allowed in a group text? My phone says I'm allowed up to 10 people. Is there a way in settings to increase that number ?
O
Been using the S8 since its debut and still enjoying it