6.2-inch Dynamic AMOLED 2X display
Samsung's current display technology branding hardly rolls off the tongue. Still, that's about the only bad thing we can say about Dynamic AMOLED 2X as a whole and the incredibly crisp 6.2-inch unit found in the Galaxy S20. With a native resolution of 1440 x 3200 pixels, just like its bigger siblings and the smallest diagonal, it is technically the sharpest of the bunch, at around 563 ppi. Not that a few integer points of difference can really make any difference at this resolution and size, but we still like pointing this out.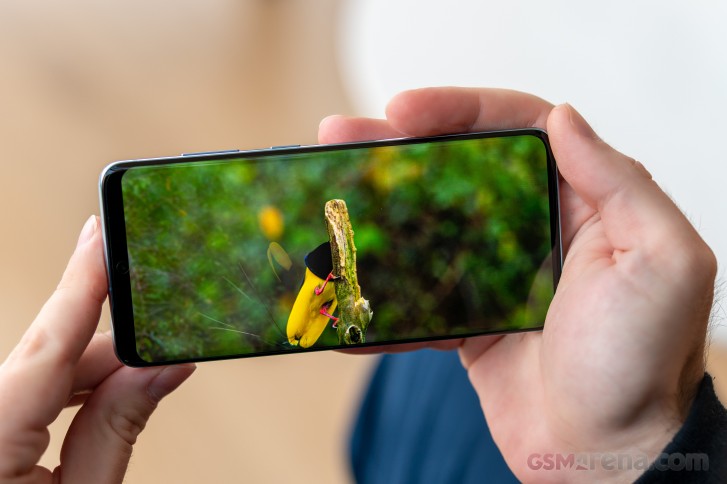 The spotlight feature of this new generation of OLED panels is, of course, the 120Hz refresh rate. A feature that Samsung could have easily gotten away with skipping on the vanilla S20. But we are so glad this isn't the case. If you haven't experienced anything beyond 60Hz on a display yet, then 120Hz will feel like a major shift it perceived speed and performance. Honestly, it's hard to go back.
As the Settings menu would be quick to tell you, a higher refresh rate does put a bigger strain on the battery. You can read more about that in the battery section of the review. That's probably the reasoning behind Samsung's rather infamous decision of disabling 120Hz at the full 1440 x 3200-pixel resolution of the phone. There are rumors that the limitation will be lifted with an update at some point, but that won't make using the mode any less straining on the hardware. Plus, honestly, the FullHD+ mode, which is Samsung's default setting, looks perfectly sharp enough. But we digress.
Display test
100% brightness
Black,cd/m2
White,cd/m2
Contrast ratio
Samsung Galaxy S20 Ultra 5G (Max Auto)
0
894
∞
Samsung Galaxy S10 (Max Auto)
0
820
∞
Samsung Galaxy S20 (Max Auto)
0
814
∞
Apple iPhone 11 Pro
0
805
∞
Samsung Galaxy Note10 (Max Auto)
0
789
∞
OnePlus 7T (Max Auto)
0
743
∞
Samsung Galaxy S9 (Max Auto)
0
658
∞
Huawei P30 Pro (Max Auto)
0
605
∞
Xiaomi Mi Note 10 (Max Auto)
0
597
∞
Realme X50 Pro sRGB
0
592
∞
Huawei P30 Pro
0
571
∞
OnePlus 7T
0
525
∞
Realme X50 Pro DCI-P3
0
519
∞
Xiaomi Mi Note 10
0
427
∞
Google Pixel 4
0
423
∞
Samsung Galaxy S20 Ultra 5G
0
398
∞
Samsung Galaxy S20
0
397
∞
Samsung Galaxy S10
0
396
∞
Samsung Galaxy S9
0
370
∞
Samsung Galaxy Note10
0
366
∞
As far as performance on the Dynamic AMOLED 2X goes, Samsung has managed, yet again, to push another small, incremental, generational increase in numbers. The S20 didn't quite reach the impressive 894 nits of its S20 Ultra, and it maxed out at 814 nits. This figure was achieved in the default Vivid color mode, with automatic brightness enabled and in very bright ambient light.
Our test pattern is standardized at 75% screen area utilization. With a smaller white pattern, the S20 display can probably reach more than 1000 nits.
Disabling auto brightness and going with 100% on Vivid instead, only nets around 397 nits. Just in case you were wondering, setting the color mode to Natural, lowers the maximum brightness slightly (30 nits or so).
Speaking of color modes, the Natural moe is what you definitely want if you are after the most accurate DCI-P3 pallet. At a 100% brightness, in this mode, the S20 managed an average deltaE of 2 and a maximum of just 3.3. That is considered color-accurate. In Vivid mode, which is what most users will likely favor, due to the familiar and desirable OLED "pop," the S20 managed an average deltaE of 4.9 and a maximum of 11.2. The latter attributed to an over-saturated red channel. Again, it might be wrong from a color-grading perspective, but it just appeals to most of us better. The S20 does also offer manual white point adjustment, but you probably can't do any better than the Natural profile even if you tried.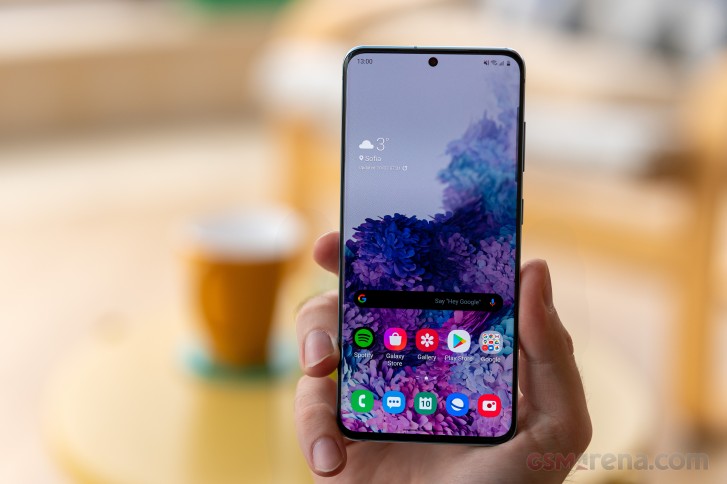 All that brightness, technically infinite contrast and color-prowess are put to good use with HDR10+ support. This hardly comes as a surprise on a top-dog flagship from Samsung. HDR support here is as real as they come. Also, there are no concerns regarding content availability, Widevine levels, and the like. Netflix, Amazon Prime Video, YouTube - they all work great with the S20 detecting the HDR stream and adjusting accordingly.
Speaking of the general multimedia experience, the only thing we found slightly distracting at times, jumping from one service to another, was the different way some of the apps handled expanding and cropping the content to the entire display. Notably, Netflix insists on treating the area where the selfie cut out is as a taskbar and not expanding over it. YouTube does the opposite. This can be tweaked if it bothers you. As for which one is better, it all comes down to personal preference, but you have to work around the cut-out both figuratively and literally one way or another.
Samsung Galaxy S20 battery life
The Samsung Galaxy S20 packs a pretty beefy 4,000 mAh battery compared to past Samsung flagships. A rather impressive boost, if we make a direct comparison to the Galaxy S9, with its 3,000 mAh, and the S10, at 3,400 mAh.
We went into the battery test with a sort of mixed feelings and expectations, though, mainly because the Exynos chipset uses a less-efficient external Exynos Modem 5123 even for our LTE-only review unit.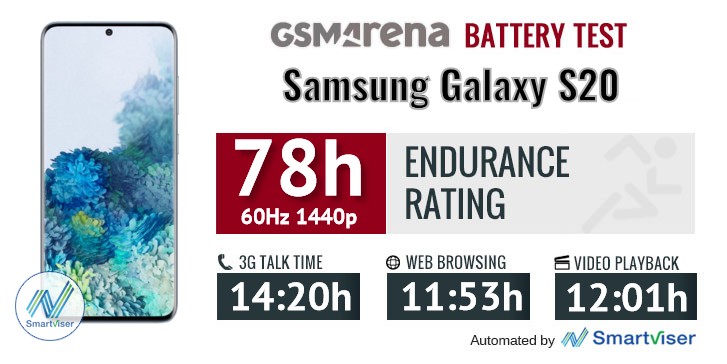 The actual numbers we got out of the Galaxy S20 are a mixed bag. With a combined endurance score of 78 hours, the S20 falls in line with its S10 and S9 predecessors. That, however, isn't really the bar to strive towards. And that's especially considering the increased battery capacity.
While standby numbers aren't extremely bad, call endurance is the thing really dragging the S20 battery life down. As for Wi-Fi web browsing and offline video watching - things really aren't that bad, with solid numbers across the board. This particular S20 scorecard can be viewed as a good thing, especially if, like many modern users, your particular usage pattern does not include that many calls. In fact, this seems like the perfect opportunity to remind you of a much-ignored tool on out site, which you can use to tune-in your usage and get more accurate, personal battery numbers for devices we review.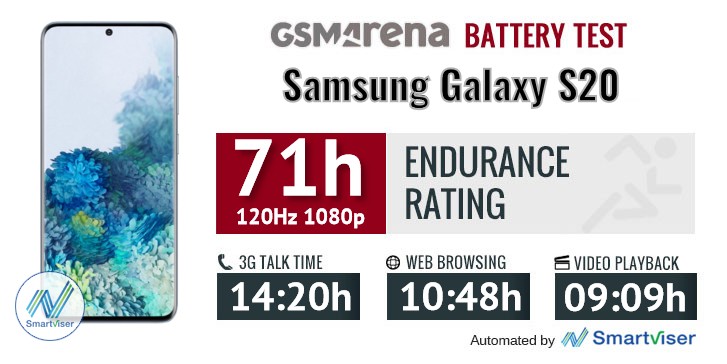 Our battery tests were automated thanks to SmartViser, using its viSer App. The endurance rating above denotes how long a single battery charge will last you if you use the Samsung Galaxy S20 for an hour each of telephony, web browsing, and video playback daily. We've established this usage pattern so that our battery results are comparable across devices in the most common day-to-day tasks. The battery testing procedure is described in detail in case you're interested in the nitty-gritty. You can check out our complete battery test table, where you can see how all of the smartphones we've tested will compare under your own typical use.
Bumping the refresh rate up to the new 120Hz setting takes its toll on the battery even more. Frankly, we expected even worse degradation. What this means in practice is that you should be able to comfortably go through a lengthy high refresh rate gaming session on a single charge, or, alternatively, a day of regular use (fingers-crossed).
The S20 does do its best to redeem the imperfect battery endurance situation with an array of charging options, as well as improved speeds. Just like its two bigger siblings, it ships with a 25W, Type-C, Power Delivery charger, right in the box. Like we already mentioned in the unboxing section, this fairly versatile charger does differ from most mass-market options with the support of PPS, so you should probably hold on to it for the best results. You can read more about that here.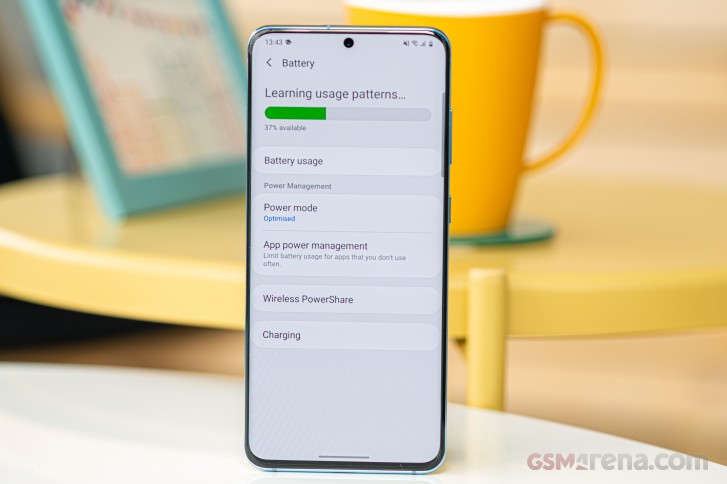 For actual charging speeds, we tested the S20 from a fully-depleted off state, for the best possible charging scenario. In just 10 minutes, it managed to pump 23% of juice inside the 4,000 mAh pack. The half-hour mark had 55% in the tank, with a full top-off taking just around or a couple of minutes over an hour. Pretty neat.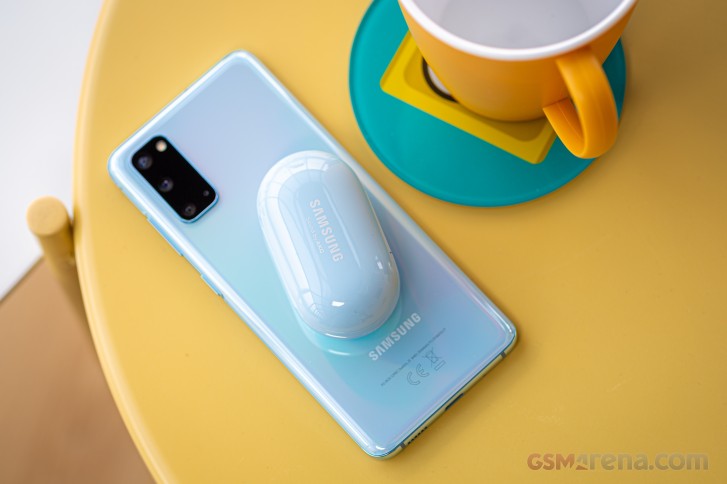 In case you don't have your S20 charger with you for some reason, it is also great to know that Samsung's old Adaptive Fast Charging adaptors still work with the S20 at their full capacity. That is to say, right around 12W. The S20 still says it is charging fast with one of these attached, but ideally, you would still be better off with a higher wattage Power Delivery source. Even one without PPS.
The final option for charging the phone is Qi/PMA wireless charging at up to 15W. And the S20 is even kind enough to act as a power bank for reverse charging - wirelessly, for accessories like the Galaxy Buds and wired for anything else, at up to 9W of output.
Speaker test
Just like its two bigger siblings, the vanilla Galaxy S20 has a stereo speaker setup. It is what you call a hybrid one, with the earpiece doubling as one of the channels. Even so, the overall loundess it is impressive both in terms of loudness and its frequency response curve.
Thanks to our new test and the accompanying widget, you can hear and judge for yourself. The vanilla S20 managed to score just a tab below the S20 Ultra in terms of loudness, but still within the "Very Good" grade. Makes sense, even just considering the bigger body of the Ultra. It's an upgrade over the Galaxy Note10 as well and manages to be a bit louder than the iPhone 11 Pro.
In terms of frequency response, the S20 expectedly comes quite close to the S20 Ultra. Since we already mentioned Apple's flagship, it is worth noting that its sound reproduction is noticeably different, with better bass reproduction probably standing out as a prominent point.
Use the Playback controls to listen to the phone sample recordings (best use headphones). We measure the average loudness of the speakers in LUFS. A lower absolute value means a louder sound. A look at the frequency response chart will tell you how far off the ideal "0db" flat line is the reproduction of the bass, treble, and mid frequencies. You can add more phones to compare how they differ. The scores and ratings are not comparable with our older loudspeaker test. Learn more about how we test here.