Samsung's new Galaxy Note10+ is exciting for more than a few reasons as our in-depth review shows, one of which being its 45W fast charging capabilities. Yet it ships with a 25W charger in the box so if you want to unlock its full potential you'll have to buy another one.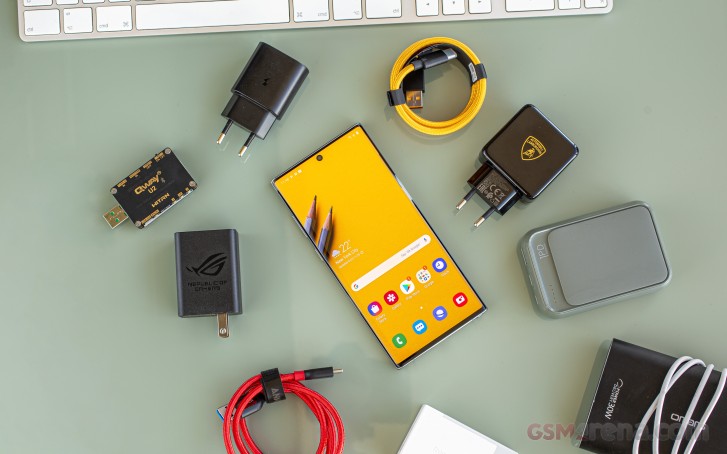 If you are just here for the short version it goes like this:
Due to a combination of high current requirements and the use of optional PPS technology the Galaxy Note10+ likely won't reach its advertised 45W charge rate with anything other than the official Samsung 45W charger.
Now there might be exceptions, but they are so few and far between and they tend to cost more than the Samsung charger. Try hard as we could we didn't find a single charger from a third party manufacturer that will actually do 45W with the Note10+, even if it's rated for more than that.
Now if you want to know more on the inner-workings of the USB Type-C and USB Power Delivery standards and how these come into play on the Galaxy Note10+ read on. And who knows that might let you grab a compatible charger once those are available.
USB Type-C and PD, the basics
USB Type-C seems simple enough - one single symmetric cable meant to handle data, power up to a whopping 100W, video, SATA and whatnot. Yet that's deceitful - we now have a growing number of hosts, clients, power sources and batteries and they don't always work with each other the way you'd expect them to.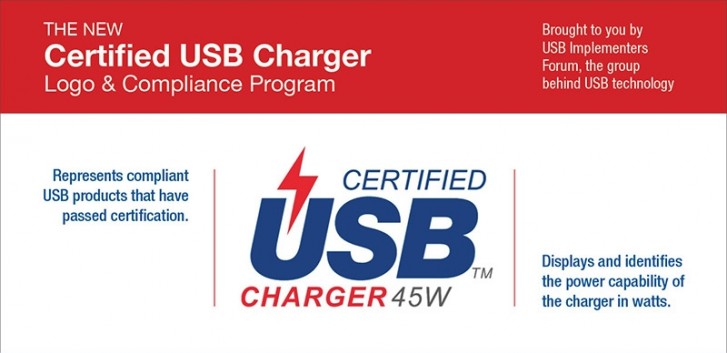 Without going into too much detail, it is enough to note that traditional USB communication tops out its power at 7.5W. The simplest form of power transfer enabled by the Type-C standard can go up to 15W. All of this done at a constant voltage of 5V. The latter is crucial for interoperability and especially backwards compatibility. Exceeding it without proper protocol can cause very real damage and even ignite certain less current-protected and tolerant devices.
Enter Power Delivery - the standard Google has been pushing Android manufacturers to implement it for some time now. While proprietary standards such as VOOC and Warp Charge do have their advantages the extra compatibility of a universal charging standard might be worth the trade off.
USB Power Delivery is currently on version PD3.0. This is what the Galaxy Note10+ uses and it brings support for Programmable Power Supply (PPS) support, which is the reason why you can't just grab a beefy Macbook PD charger, or something similar and have it pump out 9V@5A for that coveted 45W charging rate for the Note10+.
Power Data Objects (PDO)
The basic form of a charger and host negotiating charging speed is PDO. It involves objects get tossed back and forth between the two parties until one of a few profiles get selected. Besides the typical 5V, USB PD adds support for 9V, 15V and 20V.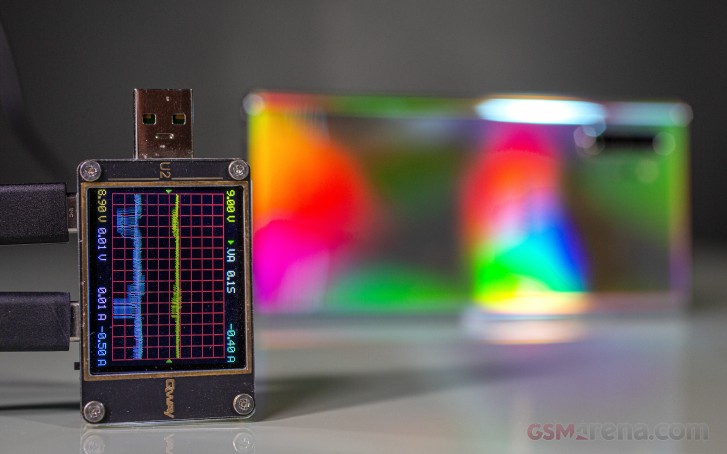 However, a client can also try to request a non-standard voltage - in the case of Galaxy Note10+ that's 10V. The charger generally has no obligation to provide said voltage so it will normally provide the nearest lower voltage it can. So, when the Note10+ requests 10V at 4.5A from a charger that is incapable of providing that, it would start giving out 9V@3A. That is a rather standard 27W PD charging rate, but far from the desired 45W. Still, nothing is going to explode in the process and the Note10+ will be charging.
The majority of 45W+ chargers would only be able to provide 45W of power if the client requests 15V@3A - that kind of high voltage will generate a lot of heat when converted back to the 3.8V that a smartphone battery uses, so that's why it's not the way Samsung chose.
Programmable Power Supply (PPS)
This is where PPS steps in. It is one of the new additions to the PD3.0 standard and it allows for dynamic re-negotiation of non-standard voltages and currents between the charger and the client. It is a bit similar in principal to how Qualcomm's Quick Charge works, if you are familiar with that.
What happens is that the Note10+ asks the power supply for 10V, just like before. But instead of turning down the request and cautiously falling back to 9V, a PPS-enabled charger is fine and starts pumping out the 10V Samsung needs.
So, to sum up, the Note10+ needs a PD3.0 charger, with PPS support, rated at at least 45W. However, that's still not the entire story. 3A is sort of a standard and most current chargers have each of their voltage outputs top out at 3A. However, the PD standard does allow up to 5A. In order for that to happen, the charger mush be designed accordingly to be safe at such currents and certified as such.
Meaning that even the third party bricks we managed to find with definitive info on PD3.0 and PPS support still lacked the ability to go beyond 3A at 10V.
We're not saying that no PD3.0, PPS chargers with 4.5A@10V output capacity exist out there. But even if they do, there is a huge shortage on dependable info and for the time being the official Samsung 45W charger is the safe way to go.
At the end of the day, that's not even a bad price for a charger of this capacity. Plus, Samsung will also throw in a compatible cable in the box. Compatible cable? Glad you asked!
Not all Type-C to Type-C cables are born equal
For the sake of completeness we are going to cover a few more bits of this increasingly confusing PD charging puzzle, since cables do actually matter. If you really insist on hunting for a third-party 45W charger option for the Galaxy Note10+ you are going to need a cable for it as well.
So, starting on the most basic level, those 3A and 5A current caps we mentioned earlier apply to the Type-C cables as well. You don't really want to use an insufficient wire gauge on the inside of the cable to push all that power. It's an outright fire hazard.

The USB Type-C standard actually took this aspect into account by implementing a few fail-safes, like overvoltage protection (OVP), overcurrent protection (OCP), and over-temperature protection (OTP). These, however, need to be verified and guaranteed in some way, since it would be fairly easy for shady manufacturers to cut corners otherwise.
eMarker is one part of the solution. Ever wondered why Type-C to Type-C cables cost so much, especially good ones? Well, these little integrated circuits are part of the reason. Depending on the implementation these can sit at one or both ends of a Type-C cable. What they do is provide information about the cable's specifications—including its maximum supported current (3A or 5A) and voltage. All USB 3.1-compliant cables need to have these and even some USB 2.0 ones opt to include eMarkers.
But what is there to stop manufacturers from spoofing said chips? No security measure is perfect. You have to look no further than Apple's lightning cables for a similar in nature, cracked IC-based security.
In a bid to protect users and manufacturers the USB-IF created C-AUTH. Without going into too much detail, it is cryptographic protection scheme that uses public key infrastructure (PKI) and whitelists to verify the authenticity of any eMaker chip. Each manufacturer of cables and often times PD chargers has to apply and obtain XID keys for its products.
But how does that relate to charging speeds? Well, unless a chain of devices trying to transfer power via Type-C and PD is fully verified and authenticated from end to end via C-AUTH, you can only get a maximum of 5V@500mAh of current. So, picking the right cable is just as important.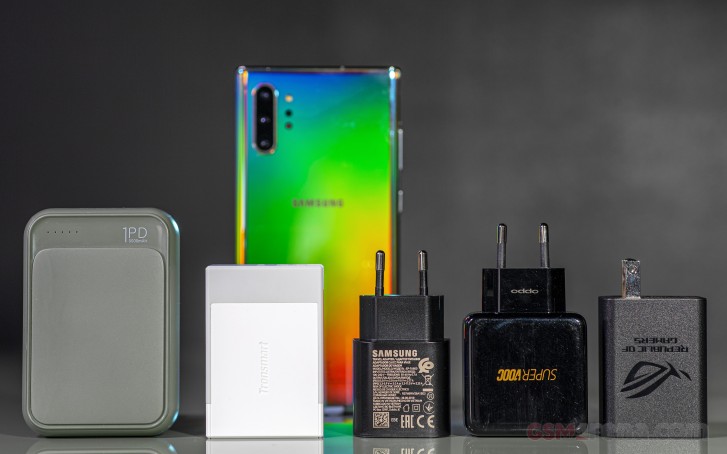 And that should about cover the PD basics as far as the Samsung Galaxy Note10+ and its 45W are concerned. Congratulations and a big "thank you" if you managed to stick through this article to the very end.
Unfortunately, we have no ultimate tip or reward to offer you in return for your perseverance. Just this little bit of extra knowledge to hopefully help you understand the huge mess that USB Type-C and Power Delivery currently find themselves in. Here's hoping things get easier and clearer for users in the future.
?
What is pps and how do you know if it supports it?
J
You can check Prolink PTC36501, it has 2 USB C port and 1 USB A. It supports Super Fast Charging 2.0 on each USB C Port.
?
excellent article :) thank you!
ADVERTISEMENT