6.7-inch 120Hz AMOLED leaves little to be desired
The Galaxy M52 5G is equipped with a 6.7-inch Super AMOLED Plus display, the same size as on the M51 and slightly larger than the 6.5-inch panels on the A52 bunch. It's got a 1080x2400px resolution in a 20:9 aspect for a pixel density of 393ppi.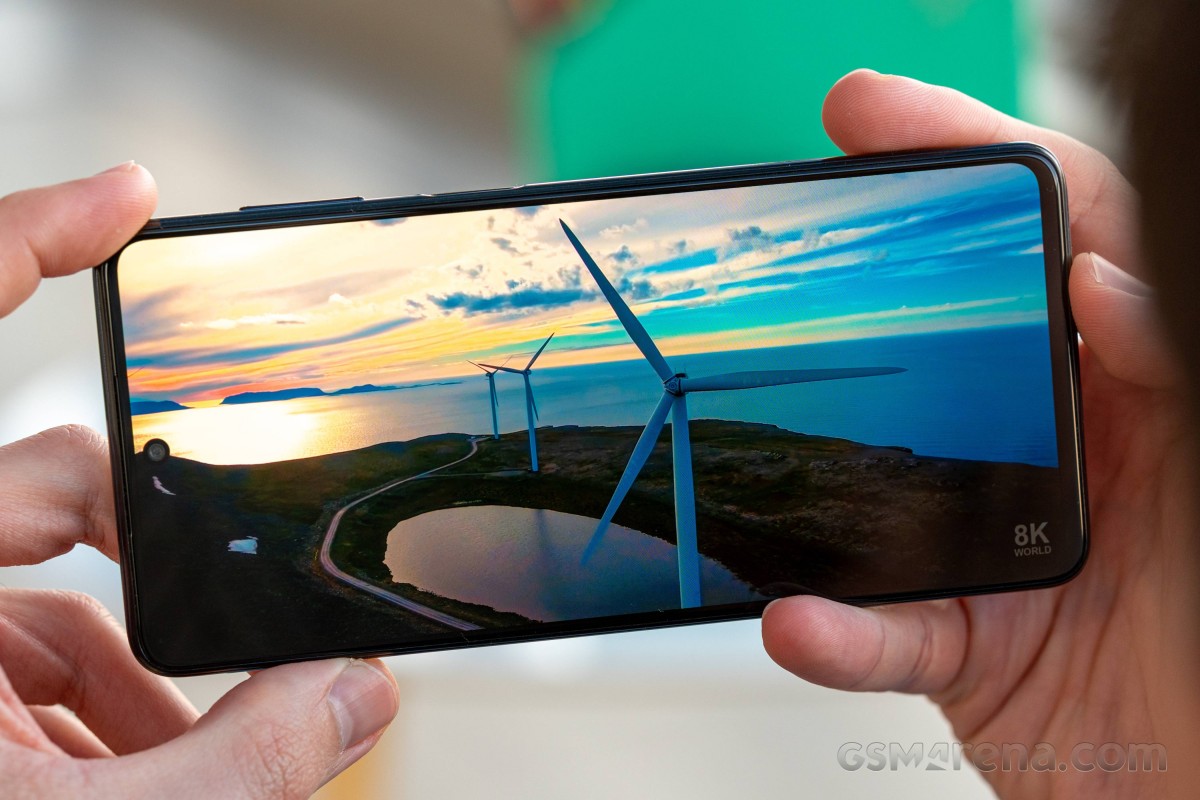 As somewhat of a milestone, the M52 5G is the first M-series phone to come with a 120Hz refresh rate. It's not exactly a cheap phone, and as M models go, the M52 is the most advanced one, but it's still nice to see the 120Hz refresh rate in what is Samsung's lower tier in the lineup.
It's not suffering from any shortage of brightness either and is able to go as high as 777nits in bright ambient conditions. It's a 100-nit increase over the M51's result and roughly comparable to the numbers we got out of the A52 trio. The brightness you can get yourself with the slider is a rather standard 402nits.
Display test
100% brightness
Black,cd/m2
White,cd/m2
Contrast ratio
Samsung Galaxy М52 5G
0
402
∞
Samsung Galaxy М52 5G (Max Auto)
0
777
∞
Samsung Galaxy A52 5G
0
378
∞
Samsung Galaxy A52 5G (Max Auto)
0
787
∞
Samsung Galaxy A52s 5G
0
383
∞
Samsung Galaxy A52s 5G (Max Auto)
0
800
∞
Samsung Galaxy M51
0
373
∞
Samsung Galaxy M51 (Max Auto)
0
677
∞
Xiaomi Mi 11 Lite 5G
0
514
∞
Xiaomi Mi 11 Lite 5G (Max Auto)
0
846
∞
Realme GT Master
0
437
∞
Realme GT Master (Max Auto)
0
634
∞
Motorola Edge 20
0
466
∞
Motorola Edge 20 (Max Auto)
0
650
∞
Huawei nova 9
0
433
∞
Huawei nova 9 (Max Auto)
0
608
∞
OnePlus Nord 2 5G
0
438
∞
OnePlus Nord 2 5G (Max Auto)
0
633
∞
Realme GT 5G
0
443
∞
Realme GT 5G (Max Auto)
0
650
∞
Xiaomi Mi 11T
0
498
∞
Xiaomi Mi 11T (Max Auto)
0
798
∞
There are no surprises in terms of color handling. There are two modes - Vivid and Natural, the first one being the default. In Vivid mode, you get a five-position temperature slider as well as RGB sliders behind an 'Advanced settings' button. This Vivid mode supports a wide color gamut and is fairly accurate for displaying DCI-P3 content (average dE2000 of 2.9), though it does exhibit a faint blue tint as is all too typical. Bump the temp slider one notch to warm, and things get slightly better on average, with the white point now nearly perfect.
Natural mode, meanwhile, is very accurate for displaying sRGB content, as we've come to expect from Samsungs across the price spectrum. We measured an excellent average dE2000 of 1.5 with nearly spot-on whites.
Samsung makes no claims for HDR capability on the Galaxy M52 5G, and we didn't get HDR streams from Netflix or Amazon Prime Video, though the Widevine L1 certification does mean you can get FullHD resolution. YouTube does serve HDR videos on the M52, so there's that.
You get the usual Motion smoothness menu item in display settings for enabling the 120Hz refresh rate. There are two options - Standard and High, and we got it set to Standard out of the box, which delivers 60Hz across the board, as expected.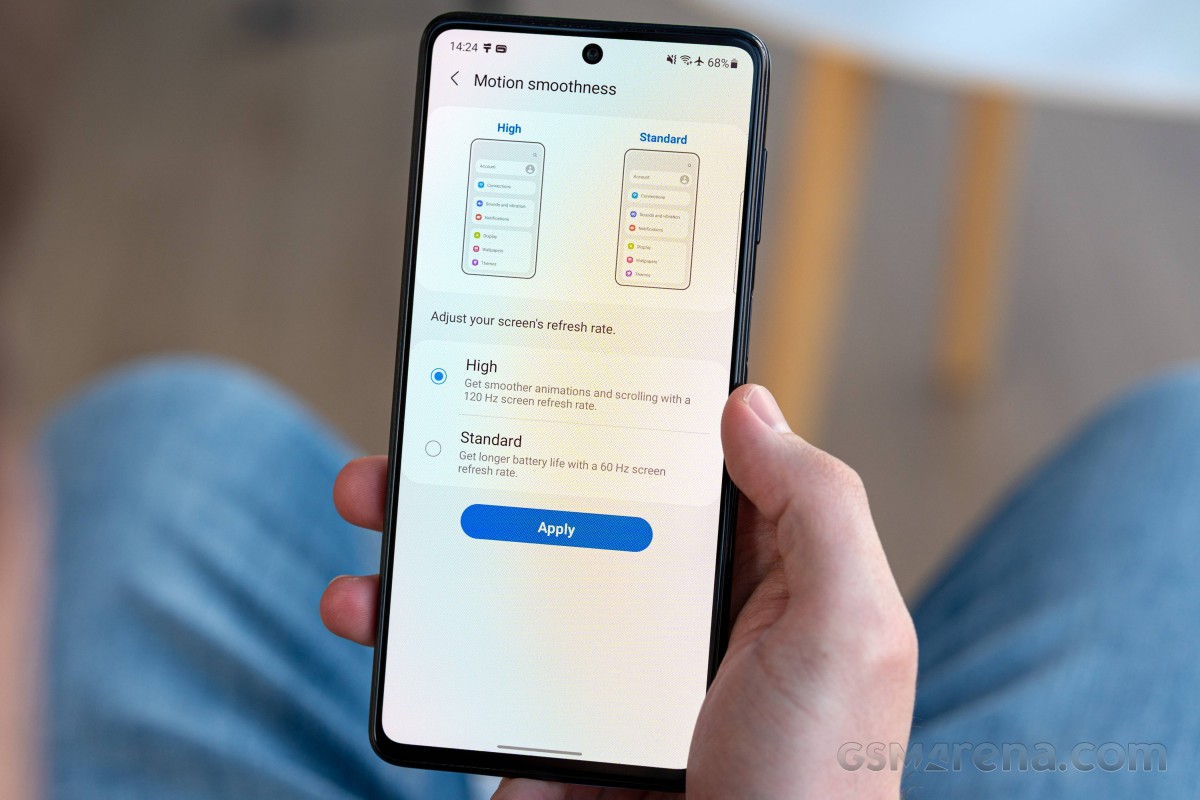 The High setting, conversely, pretty much locks things at 120Hz - there's no adaptive activity-based switching of any sort. That means that even for video playback, you'd be getting the full 120Hz (in the Gallery, YouTube, Netflix, Google Photos - everywhere, basically), which is hardly ideal in terms of battery life. The usual exceptions apply as well - camera viewfinder and Google Maps do force a switch to 60Hz.
Samsung Galaxy M52 5G battery life
The Galaxy M52 has a 5,000mAh battery inside - you can call it an upgrade over the 4,500mAh of the A52s, but it's still nowhere near the 7,000mAh of the previous generation. It's pretty efficient at turning those mAhs into battery life, though, so we'll allow it.
We clocked 14:34h in web browsing over Wi-Fi with the screen running firmly at 120Hz, which increased to 16:18h if we switched to 60Hz. In video playback, meanwhile, the M52 5G was good for 21 hours. Voice call longevity was similarly solid, with the phone lasting over 34h.
The overall Endurance rating of the M52 5G then works out to 123h - short of the 156h result of the M51, but an improvement over the 113h of the A52s 5G.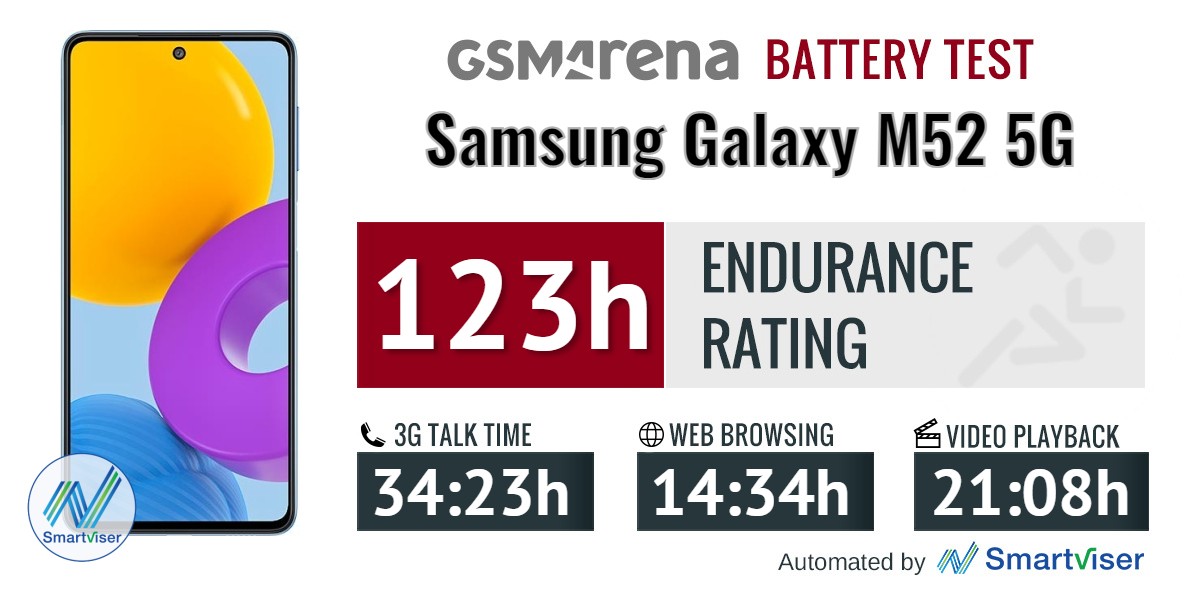 Our battery tests were automated thanks to SmartViser, using its viSerDevice app. The endurance rating denotes how long the battery charge will last you if you use the device for an hour of telephony, web browsing, and video playback daily. More details can be found here.
Video test carried out in 60Hz refresh rate mode. Web browsing test done at the display's highest refresh rate whenever possible. Refer to the respective reviews for specifics. To adjust the endurance rating formula to match your own usage - check out our all-time battery test results chart.
Charging speed
The Galaxy M52 5G ships with a 15W charger that will do the job, but won't do it too quickly. We clocked a 0 to 100% time of 1:48h with the battery indicator showing 30% in as many minutes.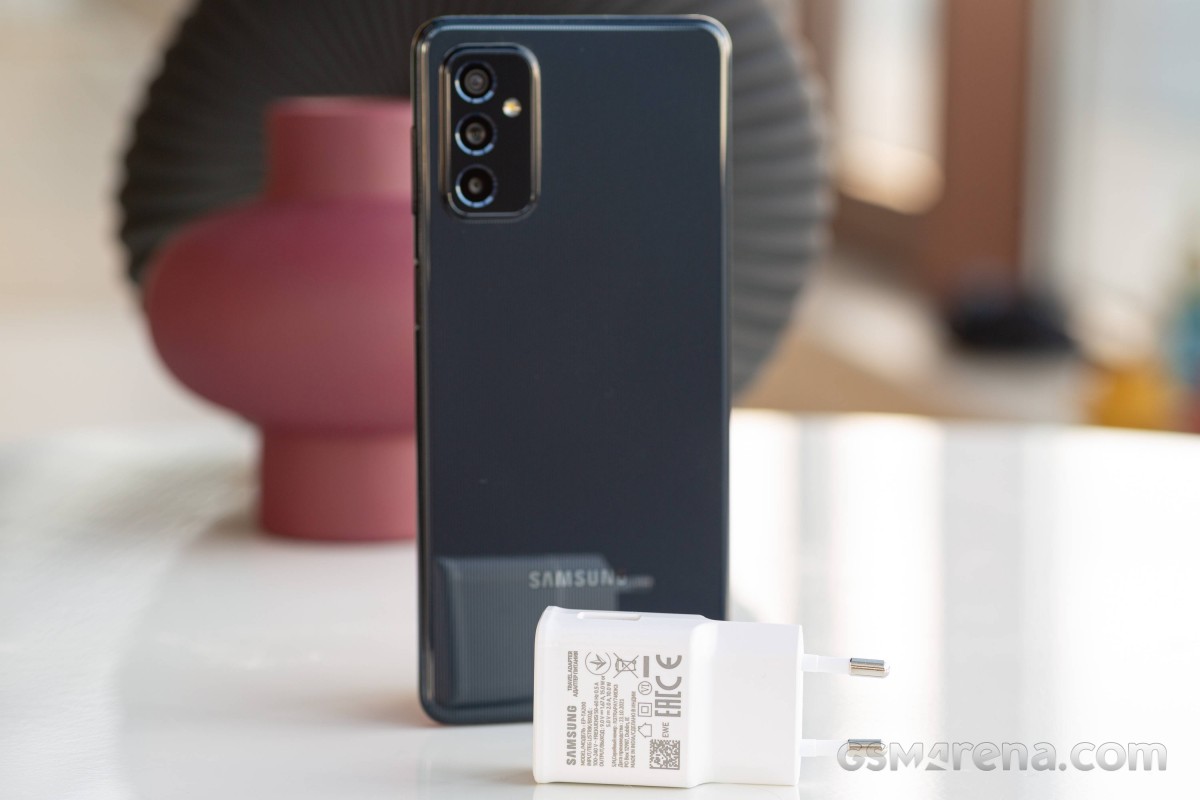 The good news is that, like higher-end Samsung phones, the M52 itself supports up to 25W charging (on paper; in practice, we measured a little over 22W). If you get a higher-end 25W Samsung charger, then you can get to a full charge in 1:19h or 50% in half an hour. That should also be possible with third-party adapters that adhere to the USB PowerDelivery standard with PPS and can output 25W or more.
Even so, the M52's charging speed is hardly spectacular, and there are competitors that can charge more than twice as fast. It's a Samsung, after all, and they don't break records in this area.
30min charging test (from 0%)
Higher is better
Realme GT Master
100%
OnePlus Nord 2
98%
Realme GT 5G (65W)
87%
Motorola Edge 20
68%
Huawei nova 9
61%
Xiaomi Mi 11 Lite 5G
58%
Samsung Galaxy A52s 5G
53%
Samsung Galaxy M52 5G (25W)
50%
Samsung Galaxy M51
35%
Samsung Galaxy M52 5G (15W)
30%
Time to full charge (from 0%)
Lower is better
Realme GT Master
0:30h
OnePlus Nord 2
0:31h
Realme GT 5G (65W)
0:39h
Huawei nova 9
0:54h
Motorola Edge 20
1:01h
Xiaomi Mi 11 Lite 5G
1:04h
Samsung Galaxy M52 5G (25W)
1:19h
Samsung Galaxy A52s 5G
1:28h
Samsung Galaxy M51
1:47h
Samsung Galaxy M52 5G (15W)
1:48h
Speaker test
The Galaxy M52 5G has a single speaker, a bottom-firing one. It's not using its earpiece for an extra channel like the A52s, and some competitors do.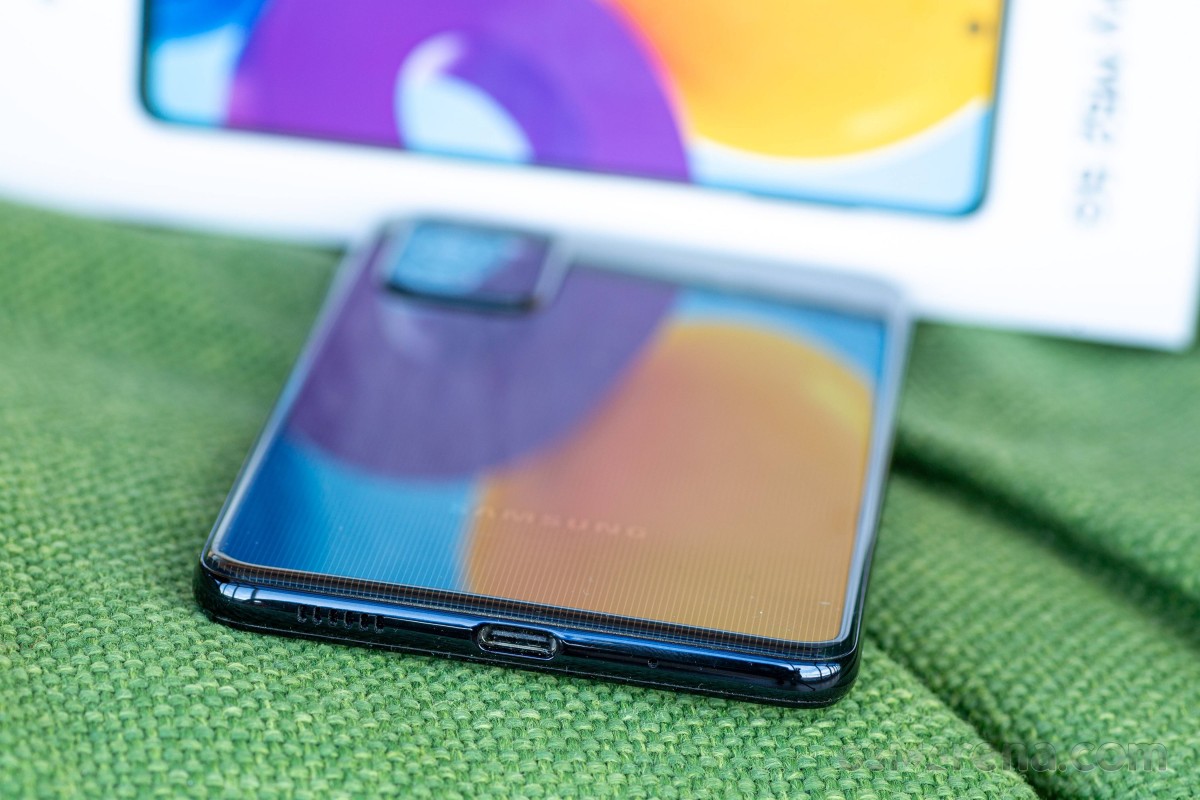 The one speaker it does have is not very loud either, only making it to the 'Average' category for loudness in our test. When it comes to quality, we'd say the M52 5G is an improvement over the M51 with cleaner vocals and treble, though similarly lacking in low-end thump.
Use the Playback controls to listen to the phone sample recordings (best use headphones). We measure the average loudness of the speakers in LUFS. A lower absolute value means a louder sound. A look at the frequency response chart will tell you how far off the ideal "0db" flat line is the reproduction of the bass, treble, and mid frequencies. You can add more phones to compare how they differ. The scores and ratings are not comparable with our older loudspeaker test. Learn more about how we test here.