Wrapping it up
A midranger with a pro vibe, the Galaxy J7 Pro is easy to recommend, though it does come with caveats. Its chipset proves underpowered if you're serious about 3D gaming on your phone, the battery takes too long to charge, and the camera tends to underexpose.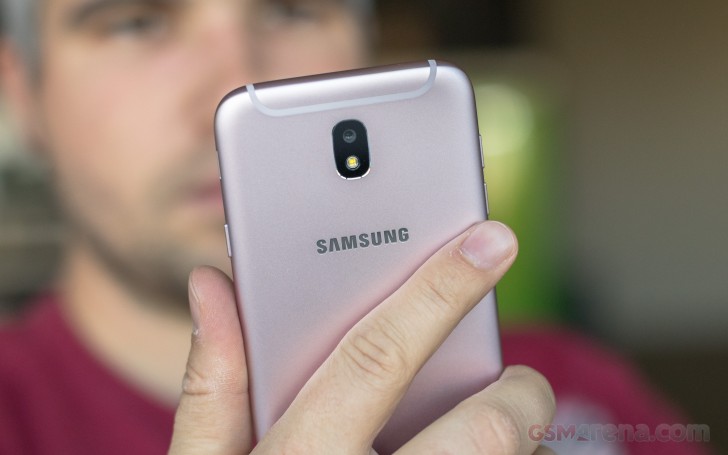 But that's pretty much all the bad stuff we can think of, and there are solid counter-arguments to all three counts. That same chipset is one of the most frugal around; battery life is awesome and darker than ideal as they may be, the phone's photos are still quite nice for the segment.
Then there's the build quality, which until a while ago you could only find on a flagship device. The antenna lines might be an eye-sore to some, but we're strangely okay with them, and the aluminum unibody is a pleasure to use and look at.
So is the display. Super AMOLED on a budget doesn't have to mean low brightness and colors out of whack - the Pro's display can be bright and accurate too. Though we'd understand if you choose the colorful Adaptive mode instead, with colors out of whack.
Samsung Galaxy J7 Pro key test findings
Build quality and materials are flagship-grade. The antenna strips may not be everyone's cup of tea.
The high-quality Super AMOLED display has very good maximum brightness and infinite contrast and can put out punchy or spot-on colors depending on your preference. Sunlight legibility is great.
Battery life is superb - the phone's endurance rating is 107h, and it posted excellent numbers in all our tests.
The phone runs the same feature-rich Samsung Experience software as found on the Galaxy S8.
The Exynos 7870's processor is powerful enough to handle daily tasks. The GPU, on the other hand, puts out really modest fps numbers, and is not ideally suited for gaming. Oddly, the Game Launcher now lacks the option to change the game resolution, which would have improved the performance.
Very good audio output through both amplifier and headphones. The loudspeaker is surprisingly loud and earned itself another "Very Good" mark in our tests.
Image quality from the main camera is good, although not spectacular in any way. Detail is plenty and noise is kept pretty low, but the dynamic range is rather poor, colors are a little toned down for our taste.
1080p video quality is very good, so is the audio that accompanies it.
The 13MP selfie camera is a solid performer, albeit one that's focused much too close, thus leading to a blurry shot at arm's length. The front-facing flash works well and could provide some added value to the right user.
Noteworthy alternatives
The Xiaomi Mi A1 is the first alternative to look at when considering the Galaxy J7 Pro. It's got a dual camera that can do 2x zoom, portraits, and 4K video, and it's got more RAM and twice the storage of the Galaxy. On top of that, it's on the fast track for software updates, being an Android One device. The Galaxy has the better display and the longer battery life going for it, plus a higher-res selfie camera with a flash.
The Sony Xperia XA1 Plus can be had for a bit more than the Galaxy J7 Pro. It packs a more potent chipset, yet doesn't sacrifice battery life not one bit, and comes with fast charging capabilities and a future-proof USB-C port. It's also in Sony's plans for a Nougat update, which might take a while for the J7 Pro if it gets it at all. While the Xperia's display is pretty good, we'd still prefer the one on the Galaxy, and if it's selfie-taking you're after, we're leaning towards the J7 Pro as well.
The Moto X4 is also in the Pro's price ballpark, and it comes with quite a few goodies. Snapdragon 630 chip (complete with 4K video), dual rear camera, 16MP selfie shooter (with a flash too), IP68 rating - it's a pretty alluring package. The Galaxy still wins in the display department, in our book, and it's probably leading regarding battery life, but we haven't had the chance to test the X4 just yet.
The LG Q6+ (the fully tricked out Q6 with 64GB of storage and 4GB of RAM) retails for about as much as the J7 Pro. Its display may not be AMOLED, but it's in a trendy 2:1 aspect - though its 5.5 inches make it slightly smaller than the Galaxy's 5.5-inch 16:9 unit. Inferior chipset and cameras make the Q6+ a bit of tough sell against the Galaxy, though.
Verdict
This might not be a Pro device through and through - it's more like an advanced amateur - but the Galaxy J7 Pro should be on your shortlist if you're looking for a reasonably priced midranger that delivers where it matters the most. It's a bit of a letdown in graphics performance but makes up for it with a superb display, outstanding battery life and reasonably good camera. Seems like another winner in the J7 lineage then.