High refresh rate, low brightness
The Realme X3 SuperZoom is fitted with a 6.6-inch FullHD display - nothing overly fancy. Particularly unimpressive for its price is the fact that it's an LCD - OLEDs can be found in similar size and resolution on phones half the price. Ah, but this LCD supports a 120Hz refresh rate, so there's that going for it.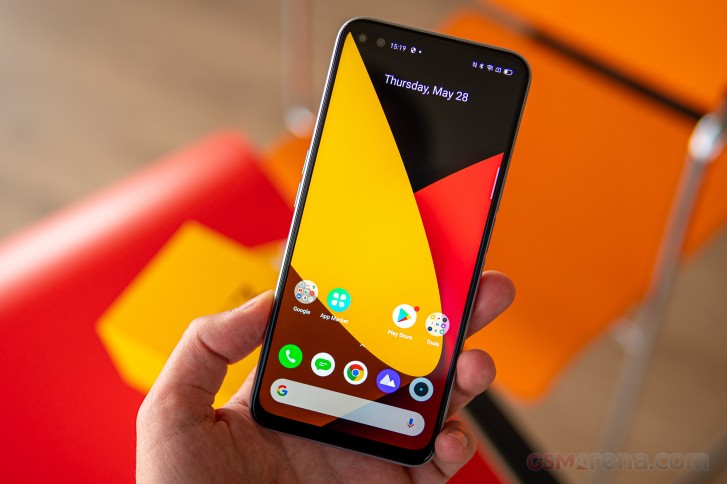 With a 20:9 aspect ratio and a resolution of 1080x2400px, the math works out to a perfectly acceptable pixel density of 399ppi.
What's barely acceptable is the maximum brightness that we got out of the X3 SuperZoom. We measured 437nits, and there was no boost with the auto brightness engaged. It's a low number for an LCD and closer to what an OLED panel is capable of, but modern OLEDs are much less reflective than LCDs so they don't need to run as bright as LCDs to remain legible. Not a very good showing here from the Realme.
This being an LCD in a world now dominated by OLEDs, the X3 SuperZoom's display also exhibited some illumination to its blacks. That resulted in a contrast ratio of 1300-ish to 1 and it's good - for an LCD. It's just that OLEDs have zero light coming out of their blacks and what is a practically infinite contrast ratio.
Display test
100% brightness
Black,cd/m2
White,cd/m2
Contrast ratio
Realme X3 SuperZoom
0.332
437
1316:1
Realme 6 Pro
0.318
421
1324:1
Realme X2 Pro
0
500
∞
Realme X2 Pro (Max Auto)
0
708
∞
Realme X50 Pro 5G
0
525
∞
Realme X50 Pro 5G (Max Auto)
0
635
∞
Poco F2 Pro
0
516
∞
Poco F2 Pro (Max Auto)
0
854
∞
Xiaomi Mi 10 5G
0
522
∞
Xiaomi Mi 10 5G (Max Auto)
0
854
∞
Motorola Edge
0
416
∞
Motorola Edge (Max Auto)
0
595
∞
OnePlus 7T
0
525
∞
OnePlus 7T (Max Auto)
0
743
∞
Samsung Galaxy Note10 Lite
0
410
∞
Samsung Galaxy Note10 Lite (Max Auto)
0
622
∞
Samsung Galaxy S10 Lite
0
400
∞
Samsung Galaxy S10 Lite (Max Auto)
0
705
∞
Color reproduction on the SuperZoom is handled in the same way as other recent Realmes. That means a switch between Vivid and Gentle modes with an additional Cool-to-Warm slider.
Out of the box, the Vivid mode with the slider set to Default produces unremarkable color accuracy when examining color swatches for DCI-P3 reproduction - an average deltaE of 6.9 with a 14 maximum and whites way off towards purple (deltaE 13).
Moving the slider all the way to the warmest setting resulted in a modest improvement in whites (deltaE 9) and overall accuracy (average deltaE 5.4).
Gentle mode is a different story - it's super accurate for sRGB content with an average deltaE of 1.3.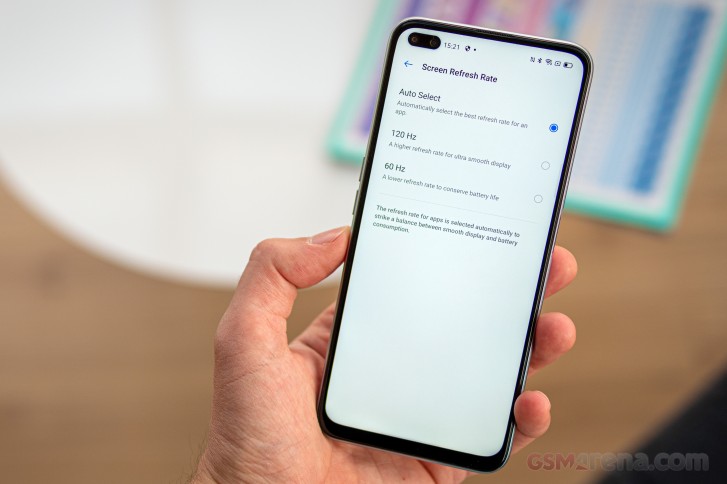 The Realme X3 SuperZoom display supports a 120Hz refresh rate. You can choose between that, the mainstream 60Hz, and an Auto setting. Its behavior is slightly more complicated than that, however.
In both 120Hz and Auto, you'll be getting the 120Hz refresh rate when browsing the Settings menu so you can enjoy the smooth scrolling. For the rest of the UI, it'll go down to 90Hz even if you've opted for the forced 120Hz setting.
If you set it to 120Hz, YouTube will be rendered in 120Hz (for both the app UI and full-screen video viewing), while in Auto state it'll be capped at 90Hz.
Meanwhile, the default video player is capped at 60Hz in all modes, which is sensible. Different browsers behave differently too - with Firefox and Opera limited to 90Hz and Chrome being able to do 120Hz when the phone is set to 120Hz. All of them run at 90Hz when in Auto.
We tried a bunch of games, and none of them ran above 60Hz in any display mode.
Realme X3 SuperZoom battery life
The Realme X3 SuperZoom is powered by a 4,200mAh battery, same capacity as the one in the Realme X50 Pro, but oddly some 100mAh less than the Realme 6 Pro with which the SuperZoom shares the same size and weight.
In light of the display refresh rate behavior we detailed above, some clarification is due about how we conducted the battery life test. Since the built-in video player always defaults to 60fps (and that's all it needs, admittedly), that's the only way we tested for video playback.
As for web browsing, we ran two tests - one in 60Hz, and one in 90Hz as that's what major browsers fall back to when in Auto mode (and in forced 120Hz mode, save for Chrome). We're assuming the refresh rate doesn't affect screen-off tests like call times and standby, and if that's not the case for some reason, it would be a weird world we're living in.
Anyway, in our testing the Realme X3 SuperZoon was good for just under 16 hours of looping videos offline - pretty nice. The high refresh rate (once again, effectively 90Hz) web browsing would kill the battery in 14 hours, while at the 60Hz setting, that number went up to 16:12. Voice call longevity was an excellent 33 hours too. The overall Endurance rating is then 103 hours (calculated for the HRR scenario).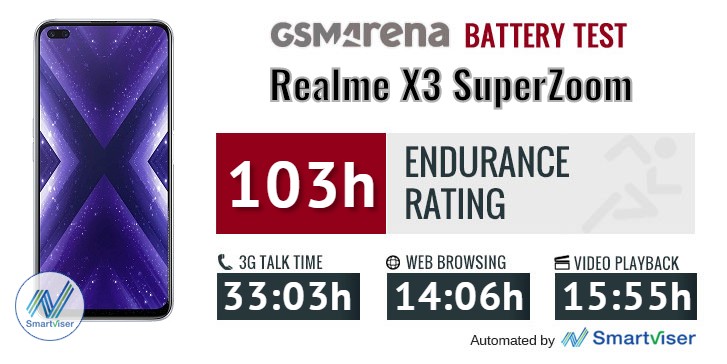 Our battery tests were automated thanks to SmartViser, using its viSer App. The endurance rating above denotes how long a single battery charge will last you if you use the Realme X3 SuperZoom for an hour each of telephony, web browsing, and video playback daily. We've established this usage pattern so that our battery results are comparable across devices in the most common day-to-day tasks. The battery testing procedure is described in detail in case you're interested in the nitty-gritty. You can check out our complete battery test table, where you can see how all of the smartphones we've tested will compare under your own typical use.
The bundled Dart adapter charges the X3 SuperZoom from flat to full in 58 minutes in our testing - 3 minutes slower than Realme's advertised number, but we won't hold it against it. At the 30-minute mark, the battery indicator read 62%. Other Realmes can do faster charging, but this is easily fast enough.
Speaker test
The Realme X3 SuperZoom has a single bottom-firing speaker, which is a lesser setup than both the cheaper X2 Pro from last year and the more expensive current X50 Pro. It's closer in this respect to the X2 and the 6 Pro.
It even posted an identical result for loudness to the one of the X2 with the 6 Pro being a little quieter overall, but in the same ballpark. The SuperZoom did make it to the Good category for loudness, while the 6 Pro fell in the Average bowl. The X50 Pro was notably louder and earned a Very good rating.
Sound quality on this phone is nothing spectacular, but still pretty decent. The SuperZoom has a bit more thump in the lows than the 6 Pro, though not as lively highs. The X50 Pro is vastly superior than both though.
Use the Playback controls to listen to the phone sample recordings (best use headphones). We measure the average loudness of the speakers in LUFS. A lower absolute value means a louder sound. A look at the frequency response chart will tell you how far off the ideal "0db" flat line is the reproduction of the bass, treble, and mid frequencies. You can add more phones to compare how they differ. The scores and ratings are not comparable with our older loudspeaker test. Learn more about how we test here.
Audio output quality
We've recently discontinued our audio output quality test.
The reason for that is that most phones that were arriving for testing were already excellent in this regard and whatever difference there was between them, it was marginal and probably indistinguishable to anything but our lab equipment.