Realme UI 2.0 on top of Android 11 base
The Realme GT 5G boots Android 11 with Realme UI 2.0. The latest version of the launcher offers richer customization options, more AOD themes, a couple of extra Dark Mode styles, refined floating and mini windows, and enhanced security.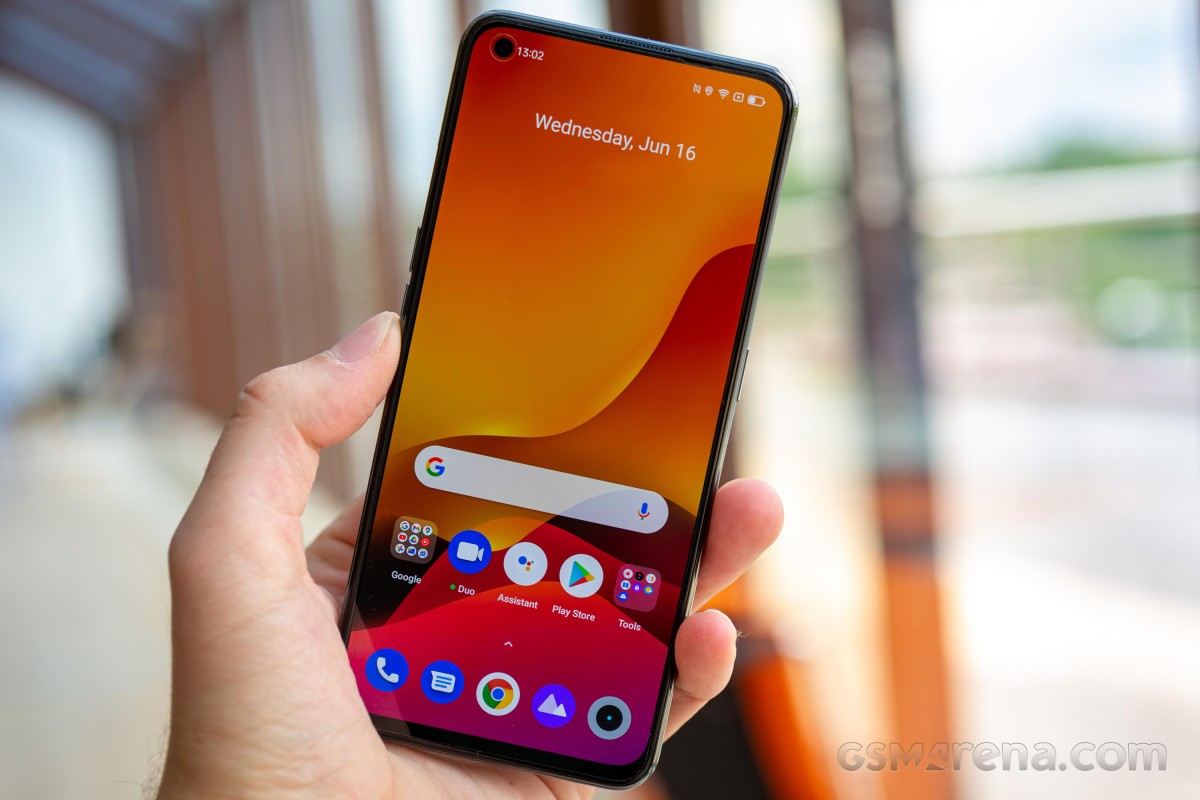 The phone supports fingerprint unlock, and the optical sensor works very well - it's fast and with high accuracy. You can also add a face for an even speedier unlock - though this is not as secure.
The launcher has no-nonsense homescreens, a simplistic and clean notification/toggles area, and an easy-to-use task switcher. An App drawer is available, too, and it is as clutter-free as one could hope for. You can opt out of the app drawer if that's your thing.
Always-on screen is available, and it can show the usual content - clock, date, notifications icons, battery. The Realme UI 2.0 also brings many new AOD themes - we had a really hard time picking one.
Edge Lighting is available, too, and it's quite useful as there is no notification LED light on the Realme GT, but not everyone is keen on using the AOD screen as it impacts the battery life.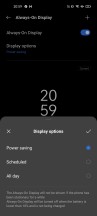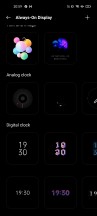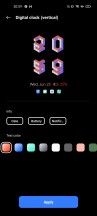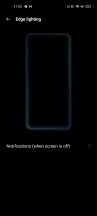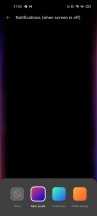 AOD • AOD • AOD • Edge Lighting • Edge Lighting
Realme UI supports different icon packs, so if you are not happy with the default one, you can opt for material style, pebbles, or you can even fully customize them by your liking. Thanks to Realme UI 2.0, you can also change the system colors, the fingerprint scanner animation, the notification drawer icons, even the system font. And there is a whole Theme Store if that's not enough for you.
Dark Mode is available, too, and it's been enhanced with Realme UI 2.0 with support for three different dark styles - black, dark gray or light gray. It can be manual or scheduled. You can also opt to force it on third-party apps, though this doesn't always end well.
There are many powerful tools within the settings menu if you want full control over your Android OS. Or you can leave everything as is and enjoy a hassle-free Android experience optimized by Realme's AI algorithms and machine learning.
You can also minimize an app to a mini-windows or a floating window from within the Task Manager. If an app is compatible, you can do either of these or use the familiar Split Screen.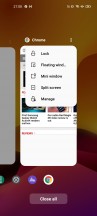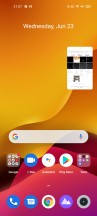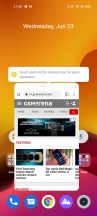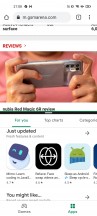 Task Manager • Mini app • Floating window • Split screen
Similar to the Galaxies, the Realme UI offers a Smart Sidebar on the edge of the screen - you can customize the actions and app shortcuts that appear there.
The multimedia apps such as Gallery, Music, and Videos - are provided by Realme. There is also a redesigned File Manager and even a Phone Manager app. This completes the non-Google app list.
A Game Center app is also available for better game management and notification behavior. You can also opt for smart resolution switch and performance/balanced/energy saving modes.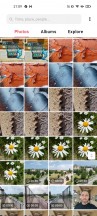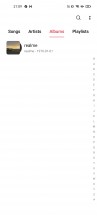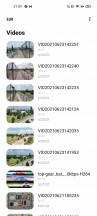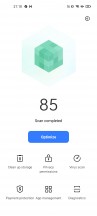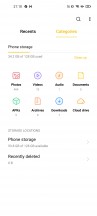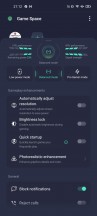 Gallery • Music • Videos • Phone Manager • File Manager • Game Center
We are fond of the Realme UI, and we like the new direction. The interface is snappy, clutter-free and easy to use. Yet, it retains plenty of powerful tools should you choose to dig deeper and use them.
Performance and benchmarks
The Realme GT 5G is the maker's first smartphone running on the new Snapdragon 888 5G chip. The SoC is based on the 5nm manufacturing process.
The flagship SoC has an octa-core processor with a familiar core configuration 1+3+4 - 1x2.84 GHz Kryo 680 Prime (Cortex-X1 derivative) & 3x2.42 GHz Kryo 680 Gold (Cortex-A78 derivative) & 4x1.8 GHz Kryo 680 Silver (Cortex-A55 derivative).
The Adreno 660 is part of the SD888 and is currently one of the best in the smartphone segment.
Realme GT is available with either 8GB or 12GB of LPDDR5. The storage options are 128GB and 256GB, and the storage is of the UFS 3.1 kind.
The SD888 chip supports the latest connectivity standards - dual 5G, Wi-Fi 6, Bluetooth 5.2, dual-band GPS.
Realme used a new multi-layer cooling system for the Realme GT in an attempt to make "the coolest Snapdragon 888". It is comprised of a copper vapor chamber surrounded by stainless steel. Then come multiple layers of graphite covering the entire chip area.
Let's run some tests now, shall we?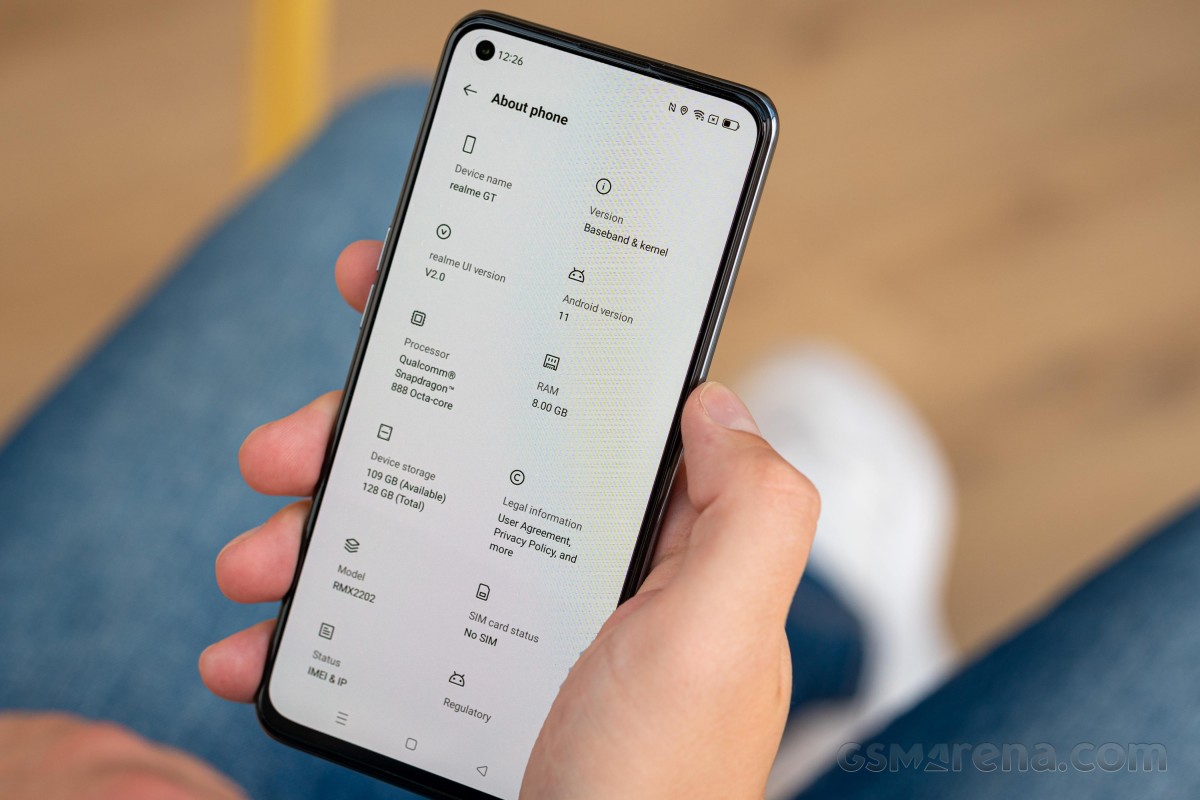 The Snapdragon 888 processor is the current best, and the benchmark tests confirm this. The Realme X7 Max 5G, also known as GT Neo, runs on Dimensity 1200 and its CPU performance is in line with the mid-rangers.
GeekBench 5 (multi-core)
Higher is better
OnePlus 9 Pro
3636
OnePlus 9
3629
Realme GT 5G
3555
Xiaomi Mi 11
3489
ZTE nubia Red Magic 6R
3486
Realme X50 Pro
3175
OnePlus 9R
3117
Realme X7 Pro
2997
Xiaomi Mi 11 Lite 5G
2909
Realme X7 Max 5G
2614
Poco X3 Pro
2574
Xiaomi Redmi Note 10 Pro
1780
Realme 8 Pro
1678
Samsung Galaxy A72
1627
GeekBench 5 (single-core)
Higher is better
Realme GT 5G
1139
OnePlus 9
1129
ZTE nubia Red Magic 6R
1128
OnePlus 9 Pro
1126
Xiaomi Mi 11
1085
OnePlus 9R
969
Realme X7 Max 5G
967
Realme X50 Pro
911
Xiaomi Mi 11 Lite 5G
803
Realme X7 Pro
756
Poco X3 Pro
735
Xiaomi Redmi Note 10 Pro
569
Realme 8 Pro
566
Samsung Galaxy A72
537
The Adreno 660 is also one of the most powerful GPUs on the market and will handle whatever game nicely. The GT Neo's / X7 Max 5G is also showing some real flagship potential with its 9-core Mali-G77 GPU, which is on par with the Snapdragon 865's.
GFX Manhattan ES 3.1 (offscreen 1080p)
Higher is better
OnePlus 9 Pro
119
OnePlus 9
119
Realme GT 5G
112
Xiaomi Mi 11
111
ZTE nubia Red Magic 6R
111
OnePlus 9R
93
Realme X50 Pro
86
Realme X7 Max 5G
86
Realme X7 Pro
80
Poco X3 Pro
75
Xiaomi Mi 11 Lite 5G
65
Samsung Galaxy A72
29
Realme 8 Pro
28
GFX Car Chase ES 3.1 (offscreen 1080p)
Higher is better
OnePlus 9 Pro
70
OnePlus 9
70
ZTE nubia Red Magic 6R
69
Xiaomi Mi 11
67
Realme GT 5G
65
OnePlus 9R
57
Realme X50 Pro
51
Realme X7 Max 5G
50
Realme X7 Pro
46
Poco X3 Pro
45
Xiaomi Mi 11 Lite 5G
40
Xiaomi Redmi Note 10 Pro
19
Realme 8 Pro
18
Samsung Galaxy A72
17
3DMark Wild Life Vulkan 1.1 (offscreen 1440p)
Higher is better
Realme GT 5G
5872
OnePlus 9 Pro
5701
Xiaomi Mi 11
5673
ZTE nubia Red Magic 6R
5667
OnePlus 9
5667
Realme X7 Max 5G
4216
OnePlus 9R
4154
Realme X7 Pro
3938
Poco X3 Pro
3401
Xiaomi Mi 11 Lite 5G
3136
Realme 8 Pro
1051
Samsung Galaxy A72
1031
Unfortunately, no game or GPU benchmark could utilize the screen's high refresh rate. We've seen a similar thing on previous HRR-capable Realme phones, and it seems even the GT won't be the one to allow HRR gaming.
A spoiler alert of sorts - the Realme GT Neo/X7 Pro Max allows using higher refresh rates in GPU tests and hopefully in games and seems to be the one to break the mold of this restrictive pattern.
GFX Manhattan ES 3.1 (onscreen)
Higher is better
ZTE nubia Red Magic 6R
101
Realme X7 Max 5G
79
Poco X3 Pro
67
Realme GT 5G
60
Realme X50 Pro
60
Realme X7 Pro
60
OnePlus 9
60
OnePlus 9R
60
Xiaomi Mi 11
57
Xiaomi Mi 11 Lite 5G
57
OnePlus 9 Pro
57
Realme 8 Pro
31
Samsung Galaxy A72
26
GFX Car Chase ES 3.1 (onscreen)
Higher is better
ZTE nubia Red Magic 6R
59
OnePlus 9
58
Realme GT 5G
55
OnePlus 9R
49
Realme X50 Pro
45
Realme X7 Max 5G
44
Realme X7 Pro
40
Poco X3 Pro
38
OnePlus 9 Pro
36
Xiaomi Mi 11 Lite 5G
35
Xiaomi Mi 11
33
Xiaomi Redmi Note 10 Pro
16
Realme 8 Pro
16
Samsung Galaxy A72
15
Finally, AnTuTu says the Realme GT 5G is one of the fastest phones on the market right now.
AnTuTu 8
Higher is better
OnePlus 9
715196
ZTE nubia Red Magic 6R
708156
Realme GT 5G
703986
OnePlus 9 Pro
691055
Xiaomi Mi 11
668722
OnePlus 9R
617766
Realme X7 Max 5G
605819
Realme X50 Pro
592447
Realme X7 Pro
510317
Xiaomi Mi 11 Lite 5G
465534
Poco X3 Pro
453223
Xiaomi Redmi Note 10 Pro
295442
Realme 8 Pro
286666
Samsung Galaxy A72
279342
AnTuTu 9
Higher is better
ZTE nubia Red Magic 6R
823354
Realme GT 5G
810433
Realme X7 Max 5G
680671
OnePlus 9R
676913
Xiaomi Mi 11 Lite 5G
522490
Samsung Galaxy A72
333668
Well, the Snapdragon 888 5G chip makes the Realme GT look like an over-equipped device, especially when the maker doesn't allow HRR gaming. But having such power under the hood means a lot for the future, and the phone can surely last a long time. We experienced hiccup-free performance across the board. Hopefully, Realme will allow HRR gaming with an upcoming firmware update.
Stability and sustained performance are also important. The phone has new stainless steel (+VC copper) cooling system, providing better conductivity and heat dissipations. Well, we can confirm the phone doesn't get as hot as many other SD888-powered phones. Warm - yes, hot - no. But that's because it throttles. The Realme GT scored a 55% stability score on the 3D Mark Wild Life Stress Test - an uninspiring number. It also exhibited a huge drop of battery life for these 20 loops (each 1m long) - about 35%.
The nubia Red Magic 6R also relies on a passive cooling solution, but it seems it does much better. The RM6R achieved 89% stability score on the 3D Mark Stress Test, and the battery dropped 19%. While the SoC was kept relatively cool, the phone's frame got incredibly hot, and we guess that's the tradeoff for not throttling.
We've also decided to run the CPU Throttling test for an hour. The stainless steel cooling system allowed the CPU to keep just 47% of its maximum performance. For comparison, the passive cooling system of the Red Magic 6R managed to keep 83% of its CPU performance.
So, while Realme tried to make the coolest running SD888 - it came at the price of throttling. Both the Realme GT and the nubia Red Magic 6R use the same chip but different passive cooling solutions, and the Red Magic's much better even if the phone heats a lot under peak load around the frame. Maybe if Realme used a metal frame instead of plastic, things would have looked different. But it is what it is.
We want to end this chapter on a positive note, though. Few games, if any, will use 100% of the SD888 and games like Asphalt, Dead Trigger 2, Ace Force and Call of Duty ran fine for hours, and we did not notice any obvious throttling.