Display
The 6.43-inch Samsung-made AMOLED is one of the Realme GT's key features. It's the usual 20:9 panel with rounded corners and extended 1080p resolution (2,400 x 1,080 px, 409ppi). It goes the extra mile with premium features like HDR10+ support, 120Hz refresh rate, and 360Hz touch sampling.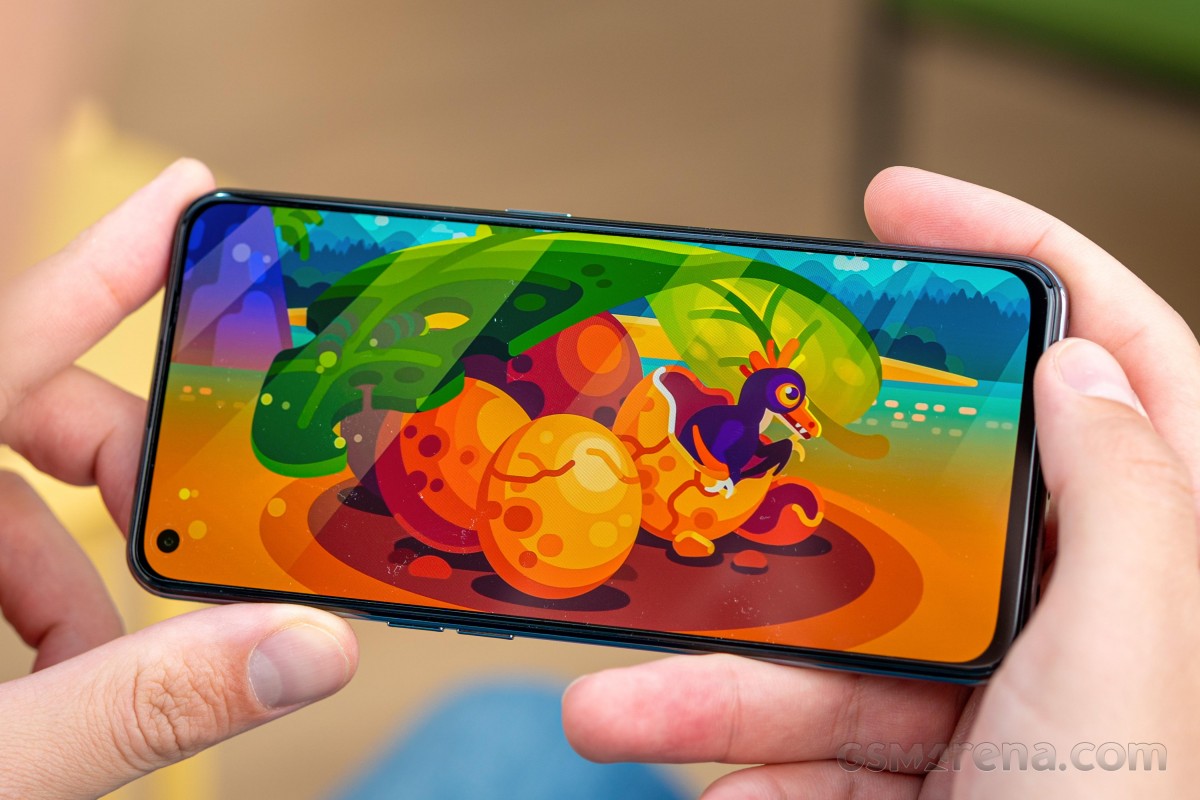 Let's talk about these features now. For starters, the screen indeed supports HDR10 and HDR10+ and is recognized as such by all hardware reading apps. YouTube streams HDR, but Netflix and Prime Video cannot, though they can do Full HD streaming thanks to Widevine L1 DRM.
Realme offers O1 Ultra Vision Engine, which has two options - SDR to HDR video color enhancer and Video image sharpener. Only one of these can be on, but honestly, we didn't notice much (if any) difference.
The Realme GT display supports up to 120Hz refresh rate. You can choose between 60Hz, 120Hz, and Auto Select refresh from display settings. In our testing, the Auto Select and 120Hz do the same thing - they run all compatible apps (games excluded) in 120Hz and revert to 60Hz for static images and video playback/streaming. HRR gaming is a no-go on the Realme GT, just as it wasn't possible on previous HRR-capable Realme phones.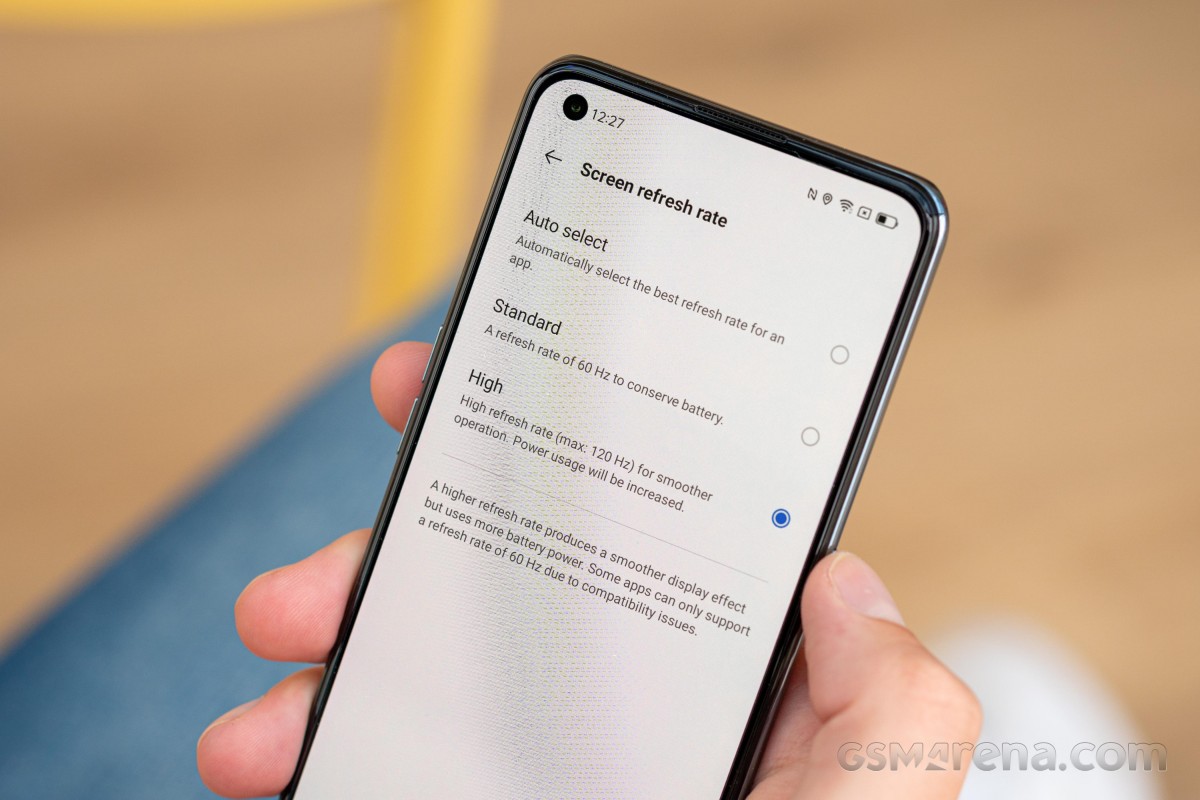 Finally, there is 360Hz touch sampling rate, and the screen feels incredibly responsive. This matters for gamers mostly, but it's still a value-adding feature that improves the sense of speed whatever you are doing.
Moving on to our brightness measurements. The display maxes out at 443 nits when brightness is adjusted manually. But when we used the Auto setting and faced the screen with bright light, it will go as high as 650 nits.
The minimum brightness at point white we were able to measure on the Realme GT screen is 2.0 nits - meaning it's an excellent one.
Display test
100% brightness
Black,cd/m2
White,cd/m2
Contrast ratio
Realme GT 5G
0
443
∞
Realme GT 5G (Max Auto)
0
650
∞
Realme X50 Pro 5G
0
525
∞
Realme X50 Pro 5G (Max Auto)
0
635
∞
OnePlus 9 Pro
0
525
∞
OnePlus 9 Pro (Max Auto)
0.038
871
22921:1
OnePlus 9
0
450
∞
OnePlus 9 (Max Auto)
0
821
∞
Xiaomi Mi 11
0
498
∞
Xiaomi Mi 11 (Max Auto)
0
926
∞
Xiaomi Mi 11 Lite 5G
0
514
∞
Xiaomi Mi 11 Lite 5G (Max Auto)
0
846
∞
Samsung Galaxy A52
0
386
∞
Samsung Galaxy A52 (Max Auto)
0
794
∞
Poco F3
0
511
∞
Poco F3 (Max Auto)
0
716
∞
Poco X3 Pro
0.327
458
1401:1
Poco X3 Pro (Max Auto)
0.4
534
1335:1
Realme 8 Pro
0
454
∞
Realme 8 Pro (Max Auto)
0
627
∞
Realme 7 Pro
0
459
∞
Realme 7 Pro (Max Auto)
0
585
∞
Xiaomi Redmi Note 10 Pro
0
457
∞
Xiaomi Redmi Note 10 Pro (Max Auto)
0
725
∞
The screen is tuned to comply with the DCI-P3 (Vivid mode) or sRGB (Natural mode) color spaces. The accuracy is great - the Vivid profile is not too saturated, but the white and gray hues are a bit bluish. You can fix that by using the Warmest setting of the Color Temperature bar.
The Natural profile does yield a perfect color accuracy to sRGB (deltaE of 1.8).
Battery life
The Realme GT 5G is powered by a 4,500 mAh battery. It has a similar battery and screen size as the Realme 8 Pro, but offers a more powerful Snapdragon 888 chipset and 120Hz refresh rate support.
The Realme GT scored a 98h endurance rating on our battery life test. It can last a full day in 3G calls; you can browse for nearly 14 hours or watch videos for more than 16 hours. The standby performance turned out one of the best we've seen from an SD888 smartphone.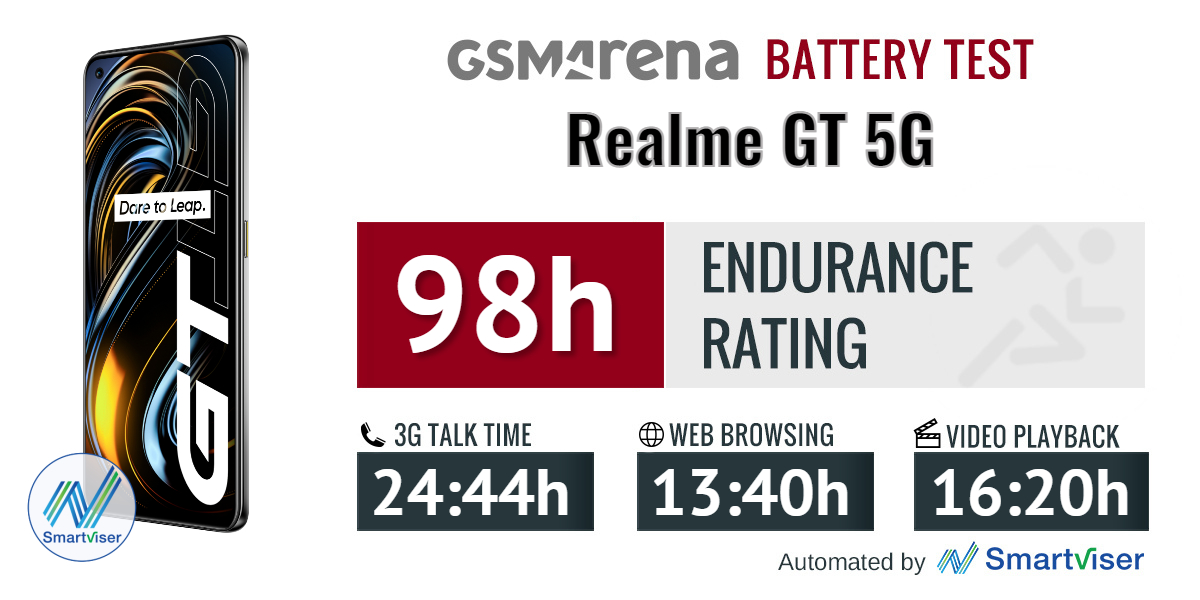 Our battery tests were automated thanks to SmartViser, using its viSerDevice app. The endurance rating denotes how long the battery charge will last you if you use the device for an hour of telephony, web browsing, and video playback daily. More details can be found here.
Video test carried out in 60Hz refresh rate mode. Web browsing test done at the display's highest refresh rate whenever possible. Refer to the respective reviews for specifics. To adjust the endurance rating formula to match your own usage patterns check out our all-time battery test results chart where you can also find all phones we've tested.
Charging speed
Realme GT 5G supports 65W SuperDart Charge, and that 65W power adapter is part of the phone's retail bundle. Realme is advertising the 65W SuperDart charge to replenish 100% of a flat battery in 35 minutes.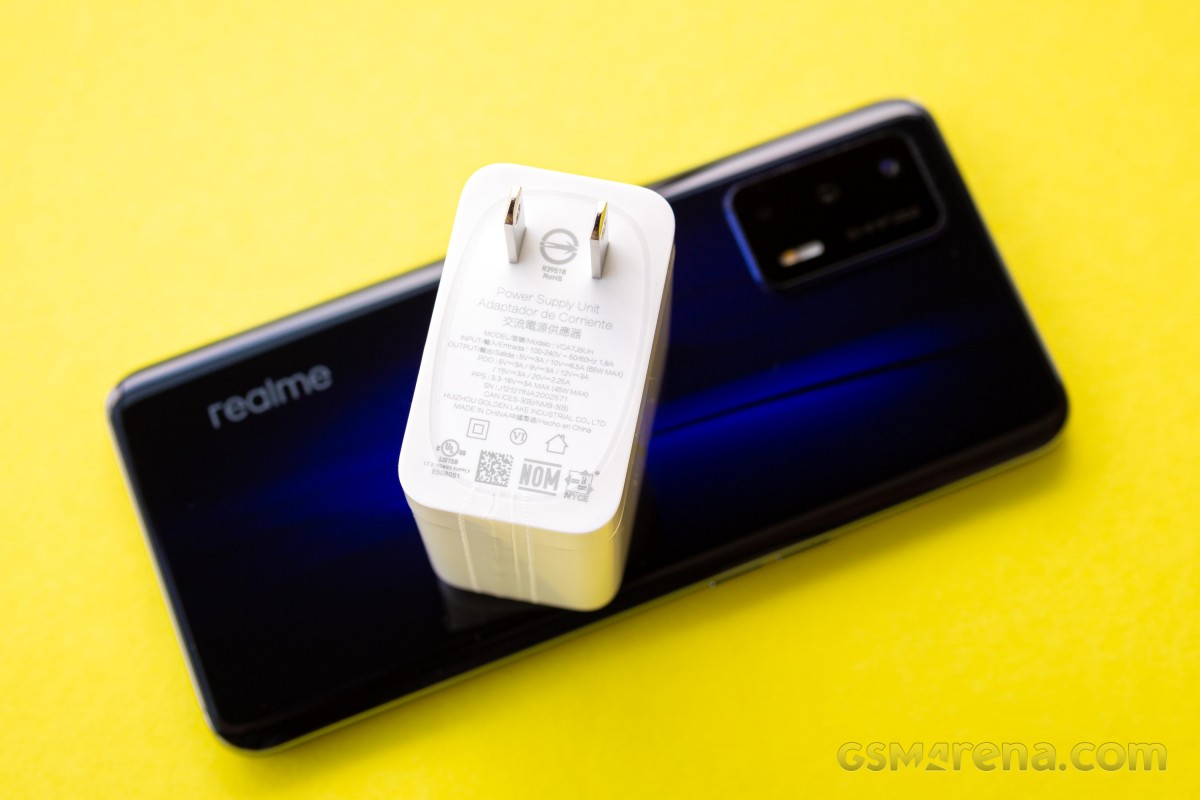 There is no wireless charging or reverse charging support on the Realme GT.
We also received the super-thin 50W SuperDart Mini charger, which is sold separately, and we've included it in our tests as well.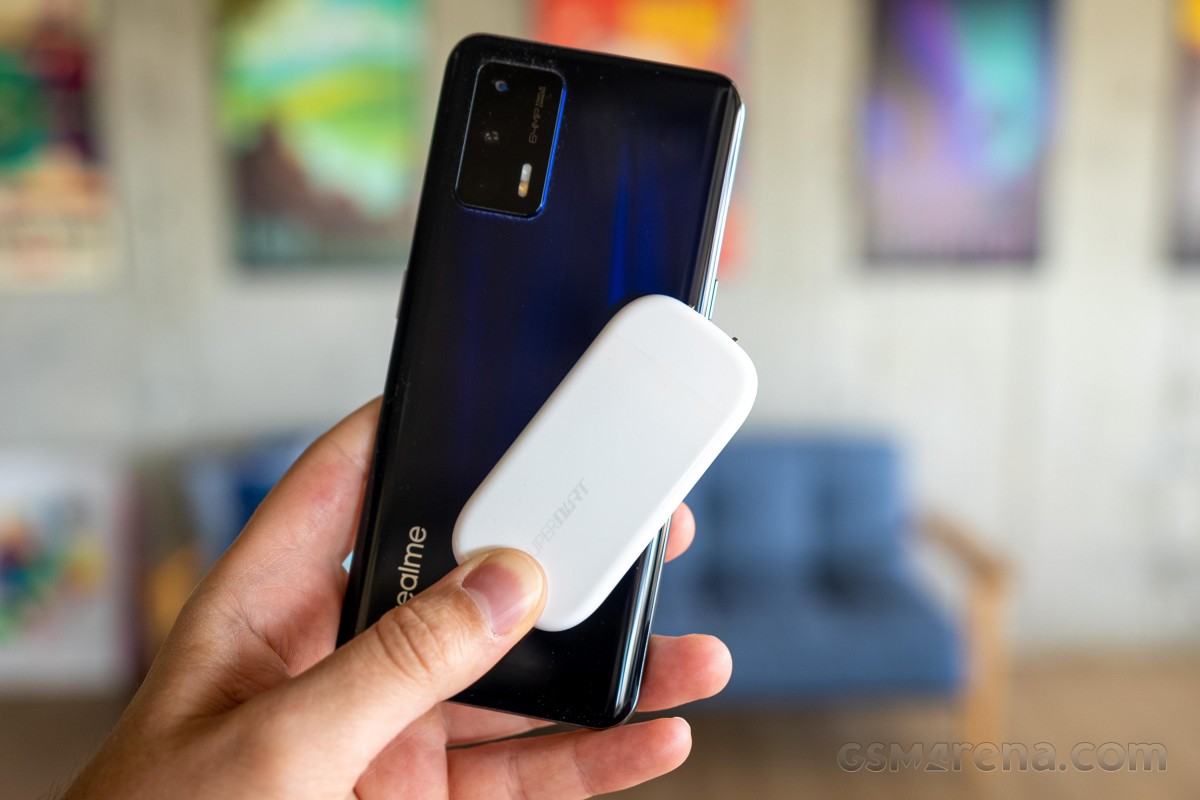 So, in our testing, the 65W power adapter recharged 87% in 30 minutes - that's incredibly fast. If you use the 50W mini charger, then it would take you up to 68%.
30min charging test (from 0%)
Higher is better
OnePlus 9 Pro
99%
Realme X50 Pro 5G
95%
Realme 7 Pro
94%
Xiaomi Mi 11 Ultra
89%
Realme 8 Pro
88%
Realme GT 5G (65W)
87%
Xiaomi Mi 11
83%
Realme GT 5G (50W mini)
68%
OnePlus Nord CE 5G
67%
Poco F3
67%
Realme 8
56%
Samsung Galaxy S21+ 5G
54%
You reach the 100% mark in just 39 minutes. And you get to Charged after additional 2 minutes of charging.
When we used the 50W Mini charger, we achieved 100% in 57 minutes, and it took another 2 minutes for Charged to appear on the screen.
Time to full charge (from 0%)
Lower is better
OnePlus 9 Pro
0:32h
Xiaomi Mi 11 Ultra
0:37h
Realme 7 Pro
0:37h
Realme 8 Pro
0:38h
Realme X50 Pro 5G
0:38h
Realme GT 5G (65W)
0:39h
Xiaomi Mi 11
0:50h
Poco F3
0:56h
Realme GT 5G (50W mini)
0:57h
OnePlus Nord CE 5G
1:03h
Realme 8
1:09h
Samsung Galaxy S21+ 5G
1:12h
Looking at the 50W times, they are more in line with what we may expect to get from 30W chargers instead of 50W. Maybe the charger is too thin to support 50W for a long period of time, but that's just a guess though.
Speakers
The Realme GT has two speakers - one dedicated at the bottom, and the other one is the earpiece. They support Dolby Atmos and Hi-Res audio.
The bottom speaker is probably larger as it offers a bit more bass than the top one, and we could argue it's louder, too. But when working together, they are tuned rather well, and the overall loudness seems balanced enough.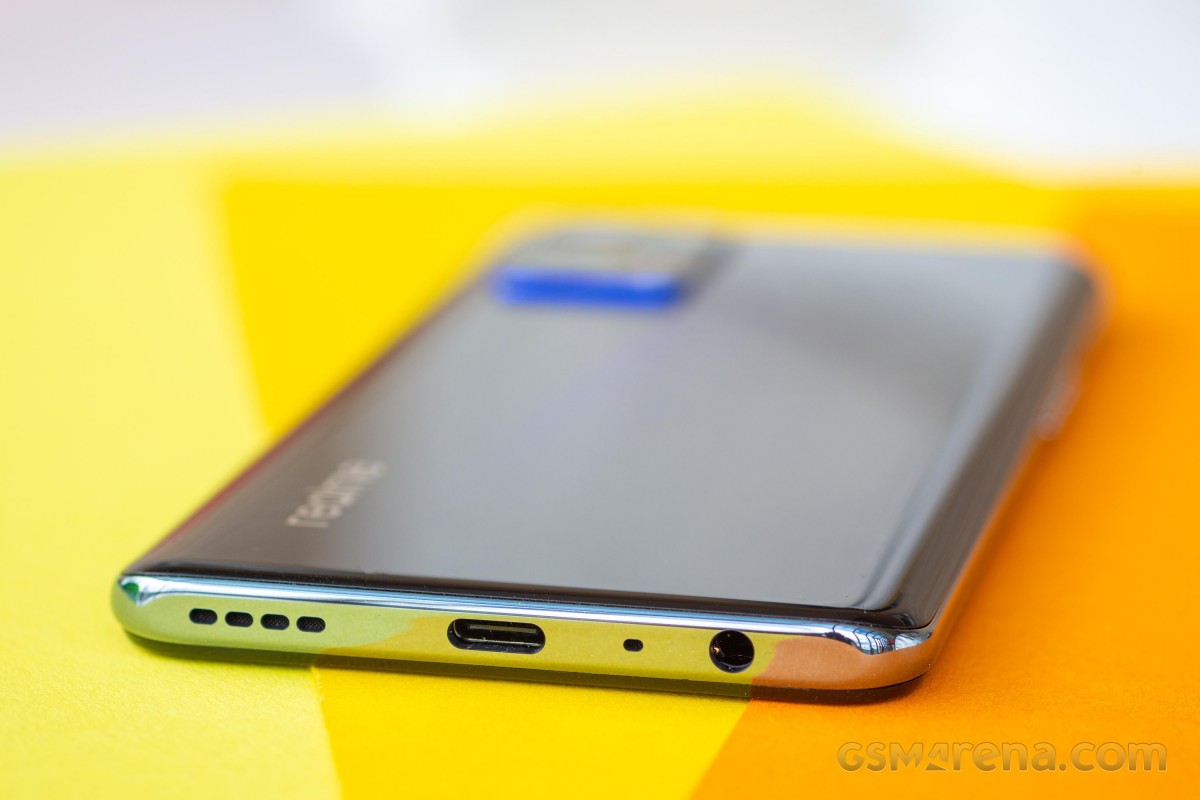 In our new speaker test, the Realme GT 5G scored a Very Good mark as far as loudness is concerned though it sounds a lot quieter. That's because of the quality - it's okay, but far from the best. The audio isn't tuned great - the mid-tones are a bit lacking, the bass isn't as punchy as on other models, though the high notes seem well presented.
Use the Playback controls to listen to the phone sample recordings (best use headphones). We measure the average loudness of the speakers in LUFS. A lower absolute value means a louder sound. A look at the frequency response chart will tell you how far off the ideal "0db" flat line is the reproduction of the bass, treble, and mid frequencies. You can add more phones to compare how they differ. The scores and ratings are not comparable with our older loudspeaker test. Learn more about how we test here.