Display
The Poco M5s packs a 6.43-inch OLED screen of extended 1080p resolution. It has a small perforation, and there is Gorilla Glass 3 protection.
The OLED panel has 2,400 x 1,080 pixels or 409ppi. Poco promises 450 nits of typical, 700 nits of maximum, and up to 1,100 nits of peak brightness. And while the screen is not advertised as HDR10, it is, in fact, recognized as such.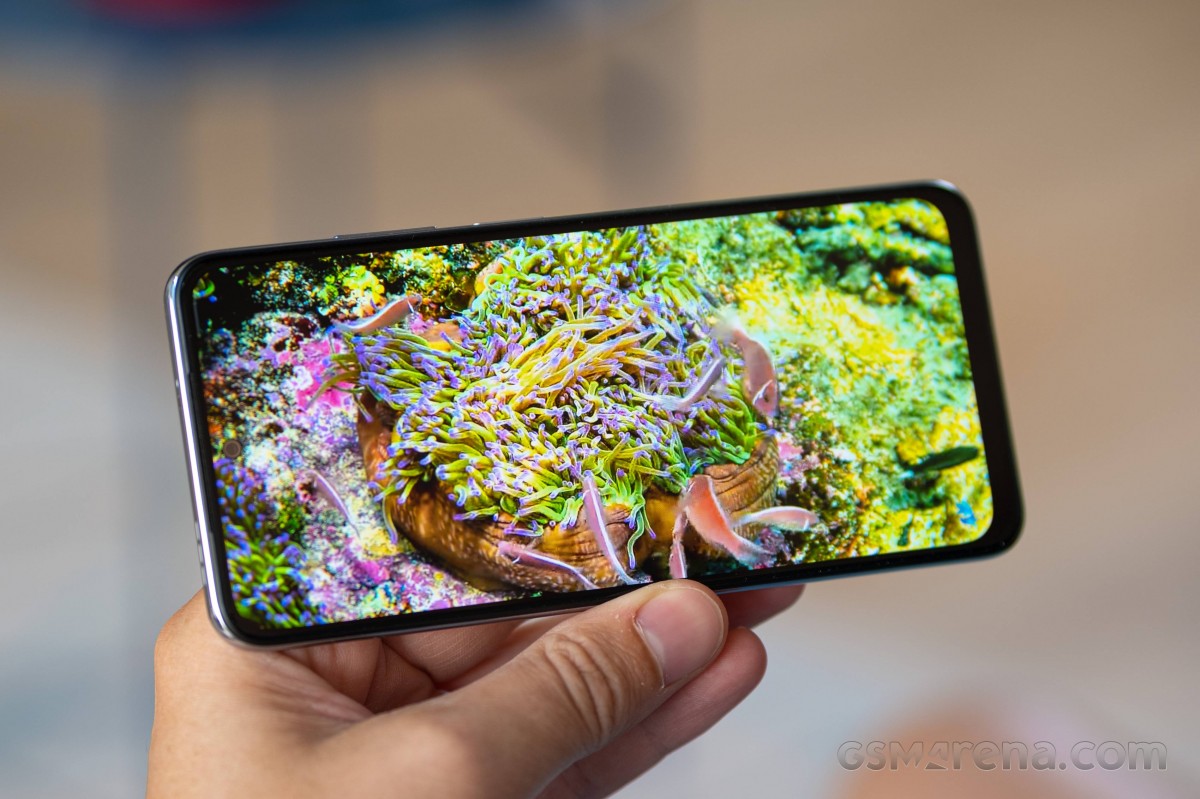 It could be a bit disappointing that the screen refresh rate is locked at 60Hz, while the cheaper Poco M5 offers 90Hz for its IPS LCD screen. We don't really know the reasons behind this decision, but here is hoping the OLED will turn out as a worthy one.
So, we've completed our display measurements, and the brightness is plenty good. We've captured 473nits of maximum brightness when manually adjusting the brightness. But this number rose to 756nits with the Auto brightness option and the Sunlight boost. These numbers are even higher than what Poco has promised.
The minimum brightness at point white is 3.0nits - a great one for such an affordable device.
Display test
100% brightness
Black,cd/m2
White,cd/m2
Contrast ratio
Poco M5s
0
473
∞
Poco M5s (Max Auto)
0
756
∞
Poco M4 Pro 5G
0.264
410
1553:1
Poco M4 Pro 5G (Max Auto)
0.33
510
1545:1
Poco M4 Pro
0
462
∞
Poco M4 Pro (Max Auto)
0
737
∞
Poco M3
0.252
395
1567:1
Poco M3 (Max Auto)
0.277
439
1585:1
Poco M3 Pro 5G
0.28
413
1475:1
Poco M3 Pro 5G (Max Auto)
0.366
536
1464:1
Realme 9 Pro
0.288
461
1601:1
Realme 9 Pro (Max Auto)
0.385
567
1473:1
Realme 9
0
455
∞
Realme 9 (Max Auto)
0
647
∞
Samsung Galaxy A33 5G
0
407
∞
Samsung Galaxy A33 5G (Max Auto)
0
728
∞
Realme 8 Pro
0
454
∞
Realme 8 Pro (Max Auto)
0
627
∞
Xiaomi Redmi Note 11
0
465
∞
Xiaomi Redmi Note 11 (Max Auto)
0
736
∞
Color accuracy
The Poco M5s display supports DCI-P3 wide color space. The screen settings offer three different color models - Vivid (default, DCI-P3), Saturated (DCI-P3 with saturation boost), and Standard (sRGB). You can tweak the color temperature for each mode.
The default Vivid option is tuned to reproduce DCI-P3 faithfully. We found the screen to be fairly accurate, excluding the slightly bluish-white and gray colors and sometimes not-so-accurate red hues. You can get rid of the blue tinge by opting for a Warm color temperature.
The Standard mode, on the other hand, has a very good accuracy to sRGB.
HDR and streaming
The Poco M5s supports Widevine L1 DRM, and it can stream 1080p content from all popular video services. YouTube is the only app to offer HDR10 streaming, though.
Battery life
The Poco M5s is powered by a large 5,000mAh battery, just like many other Redmi and Poco phones. And just like other Xiaomi-made midranges with large batteries, this one aced our battery test.
The Poco M5s scored an excellent endurance rating of 132h. It did great on all our tests – calls, web, video playback.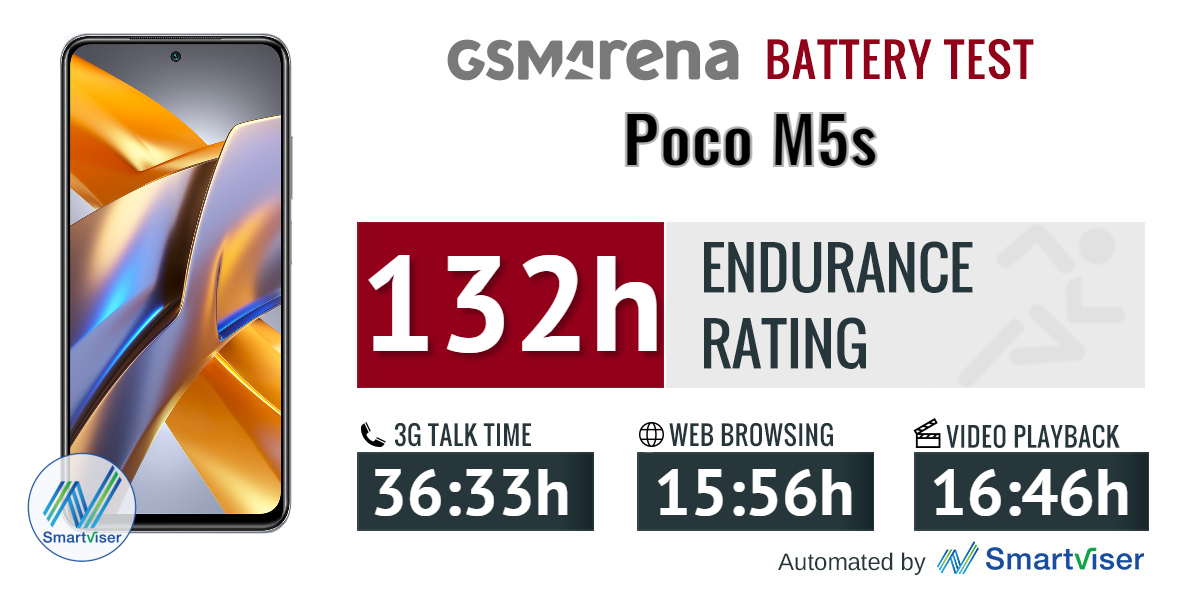 The Poco M5s also offers frugal standby consumption (1% drop every 6 hours), which considerably improves the total endurance rating.
Our battery tests were automated thanks to SmartViser, using its viSerDevice app. The endurance rating denotes how long the battery charge will last you if you use the device for an hour of telephony, web browsing, and video playback daily. More details can be found here.
Video test carried out in 60Hz refresh rate mode. Web browsing test is done at the display's highest refresh rate whenever possible. Refer to the respective reviews for specifics. To adjust the endurance rating formula to match your own usage patterns, check out our all-time battery test results chart where you can also find all phones we've tested.
Charging speed
The Poco M5s supports 33W fast charging, and the phone arrives bundled with the 33W Mi power adapter. Poco advertises the phone getting from 0% to 64% in 30 minutes with the said charger, which is faster than any other Xiaomi-made phone has offered so far with a similar battery and charging speed.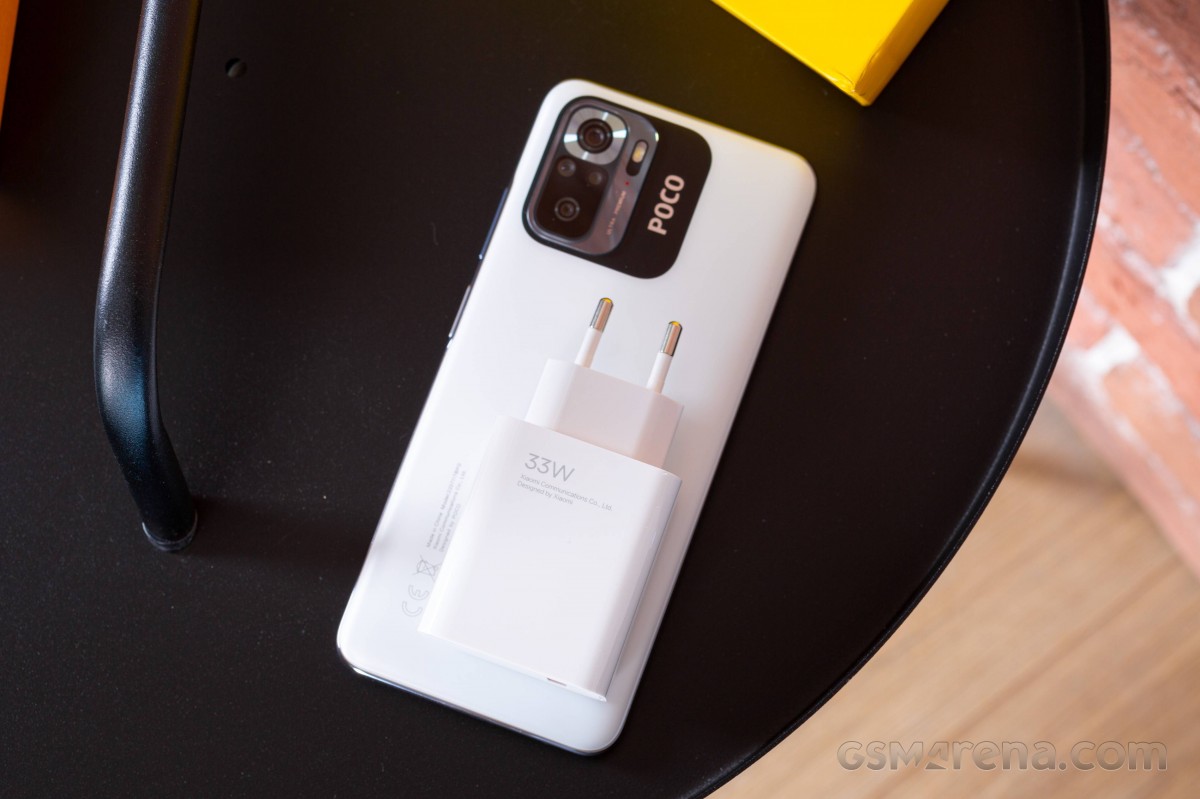 We weren't able to achieve Poco's numbers no matter how we tried. Our M5s reached 53% in half an hour, which is in line with other 5,000mAh Xiaomi phones with 33W chargers. It took a total of 36mins for the M5s to reach the Poco's promised 64%. It's still a great result, mind you.
30min charging test (from 0%)
Higher is better
Realme 9 Pro+
77%
Xiaomi Redmi Note 10
65%
Xiaomi Redmi Note 11S
59%
Poco M4 Pro 5G
54%
Poco M5s
53%
Realme 9 Pro
52%
Xiaomi Redmi Note 11
51%
Poco M4 Pro
51%
Samsung Galaxy A33 5G
50%
Realme 9
50%
Samsung Galaxy A33 5G
50%
Poco M3 Pro 5G
33%
Xiaomi Redmi Note 10 5G
33%
A full charge takes 84 minutes, a great charging speed for this budget phone.
Time to full charge (from 0%)
Lower is better
Realme 9 Pro+
0:49h
Xiaomi Redmi Note 11S
1:02h
Poco M4 Pro 5G
1:07h
Poco M4 Pro
1:10h
Xiaomi Redmi Note 10
1:13h
Realme 9 Pro
1:14h
Samsung Galaxy A33 5G
1:15h
Samsung Galaxy A33 5G
1:15h
Realme 9
1:16h
Xiaomi Redmi Note 11
1:18h
Poco M5s
1:24h
Poco M3 Pro 5G
2:00h
Xiaomi Redmi Note 10 5G
2:00h
Speakers
The Poco M5s features two speakers placed on its top and bottom sides. The top speaker has two outlets - one front-facing and one top-firing. It is much weaker than the bottom one, though the overall balance is satisfying.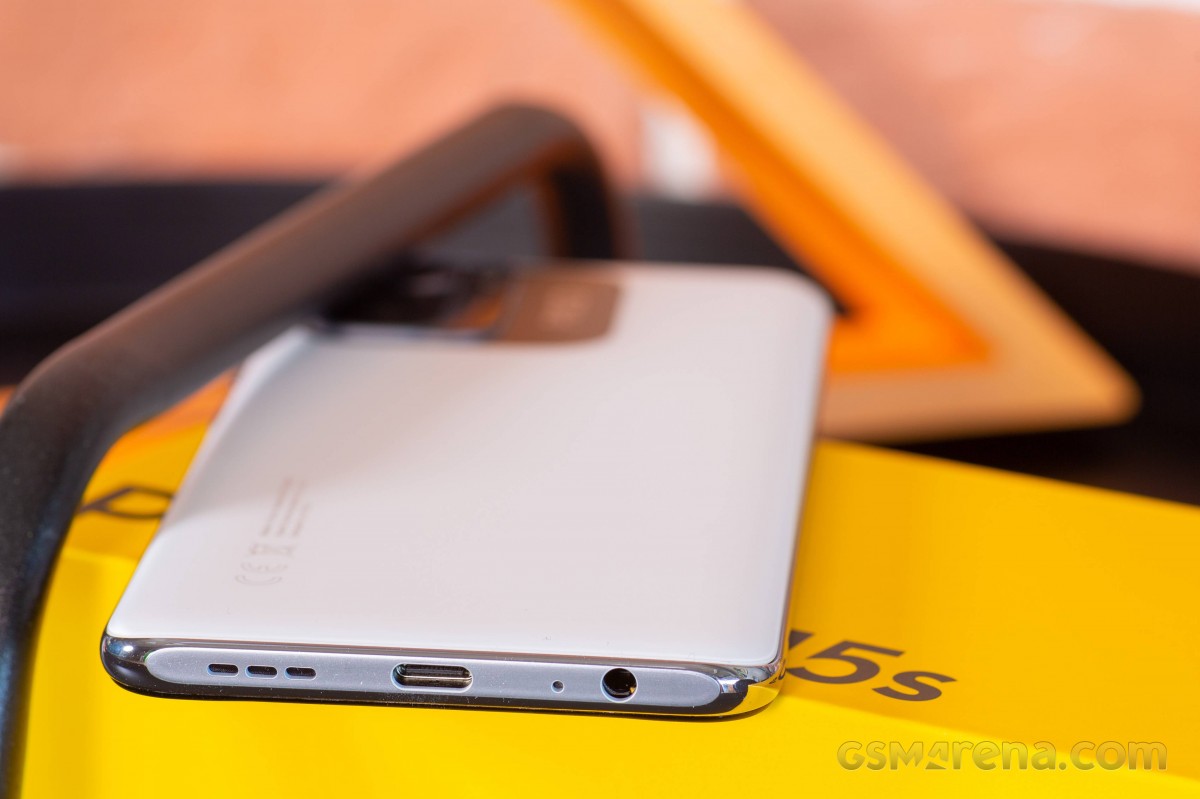 The Poco M5s scored a Very Good mark on our loudness test, much like the whole Redmi Note 11 bunch.
The speakers' sound quality is okay - vocals are okay, and the high notes are well presented. Bass, on the other hand, is non-existent and music seems a bit shallow when playing through the speakers.
Use the Playback controls to listen to the phone sample recordings (best use headphones). We measure the average loudness of the speakers in LUFS. A lower absolute value means a louder sound. A look at the frequency response chart will tell you how far off the ideal "0db" flat line is the reproduction of the bass, treble, and mid frequencies. You can add more phones to compare how they differ. The scores and ratings are not comparable with our older loudspeaker test. Learn more about how we test here.