Telephony
The phone app is simple but functional. The dialer supports smart dial or you can go into the Contacts tab for a more extensive search. You can block numbers from calling you, a handy way to screen unwanted calls. You need to head to the Settings menu for more options.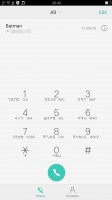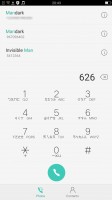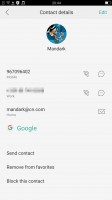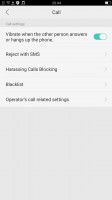 The dialer app • Smart dial • Contact details • Call blocking
The Oppo R9s is a dual-SIM phone with VoLTE support. This new technology offers superior audio quality but needs to be supported by your carrier.
Loudspeaker
The Oppo R9s scored a Good mark with its single loudspeaker, but it really depends on what you're playing. It's fairly quiet in the vocal range, but it performs great for music and particularly for loud ringtones.
| | | | | |
| --- | --- | --- | --- | --- |
| Speakerphone test | Voice, dB | Pink noise/ Music, dB | Ringing phone, dB | Overall score |
| Apple iPhone 6s Plus | 65.8 | 65.1 | 64.6 | Below Average |
| Samsung Galaxy C7 | 67.3 | 67.8 | 72.8 | Average |
| Oppo R9s | 64.3 | 71.5 | 76.1 | Good |
| Asus Zenfone 3 ZE552KL (ring) | 65.5 | 70.5 | 76.6 | Good |
| Huawei nova plus | 68.3 | 68.0 | 76.9 | Good |
| Huawei P9 Plus (regular) | 71.7 | 73.7 | 81.3 | Very Good |
| Google Pixel XL | 73.4 | 72.1 | 84.1 | Excellent |
Messaging and text input
The phone comes with a simple Messaging app for SMS and MMS messaging. In supports threaded customization and that's about it - no themes, nothing other than the phone number-based blocking that the dialer app uses.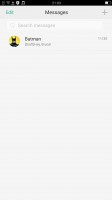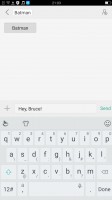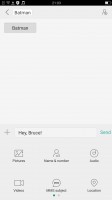 The Messaging app • Writing to Batman • Attaching multimedia
You can attach multimedia for MMS messages - photos, videos, location, calendar events and so on. Google's Hangouts is pre-installed, if you want something more advanced (like instant messaging).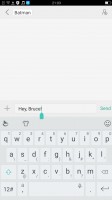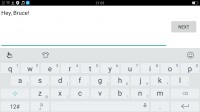 TouchPal keyboard in portrait and landscape
The default keyboard is "TouchPal for Oppo," which does support themes (there are even two styles of emoji). You can also customize its size (both vertically and horizontally) and change the size of the suggested words. The number row is easy to enable too. Emoji prediction is available if you need help selecting the miniature picture that best describes your thoughts.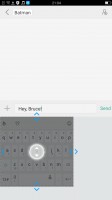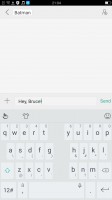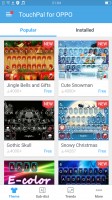 Resizing the keyboard in both directions • Split keyboard • Themes
App package
The Oppo R9s has the complete Google package, but it brings its own alternatives to many of them. We already saw several - the Theme Store, Phone and Messages, time to meet the others.
Security Center, powered by Avast, offers Virus scans, Permission management as well as memory cleanup. You can just hit the Quick scan button to see if the app thinks your phone needs a tune-up.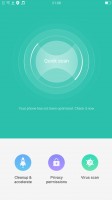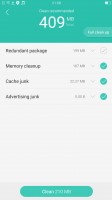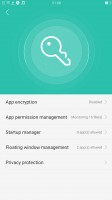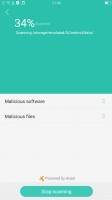 The Security Center • Cleaning up the storage • Encrypting apps • Scanning for viruses
The Calendar looks ripped straight from iOS. It defaults to a nice split-screen interface that shows the days of the month on top and the agenda for the selected day on bottom and is generally fast and functional.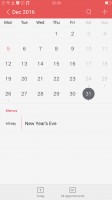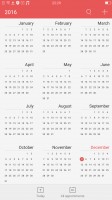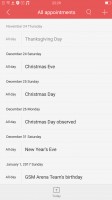 The Calendar app is a carbon copy of the iOS calendar
The Weather app seems similarly borrowed from Apple. It pulls data from AccuWeather and manages to fit plenty of information on a single screen. You shouldn't be surprised that the Calculator is as iPhone as can be too.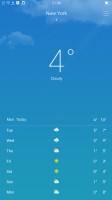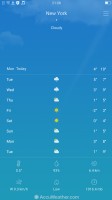 The Weather app is powered by AccuWeather
Instead of iWorks, Oppo pre-installed the free version of WPS Office. It can create Word, Excel, and PowerPoint files and it offers a nice selection of templates to give you a flying start. Note that some templates are paid, and you'll occasionally see banners for the premium version of the app.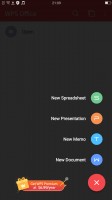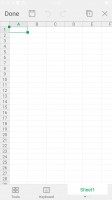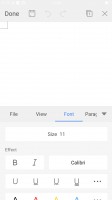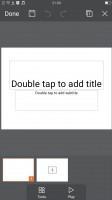 Free WPS Office reminds you there's a paid version • Spreadsheet • Document • Presentation
One thing the iPhone does not have is a file manager. The one on the Oppo R9s organizes files into categories and natively supports ZIPs. The File safe option allows you to lock certain files with a fingerprint/pattern for safe keeping.
There's an option to move files without a cable - the phone creates a Wi-Fi hotspot, and you connect to it over FTP. That's a techy solution that can be cool, but it may turn some people off - cloud storage integration would have been simpler.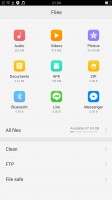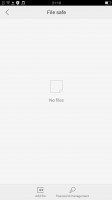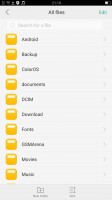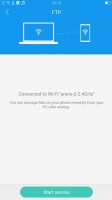 File manager • Encrypting files • All files • Sharing files over FTP
The Backup and Restore app has an extra feature that's not found in its name - it can clone phones, simplifying the transfer from your old device. For backups, it will make a copy of System data, Applications, and Personal data.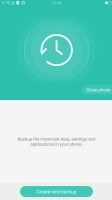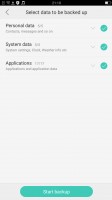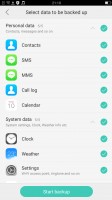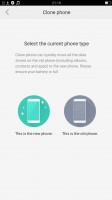 The Backup and Restore app can also move your data to a new phone