Display
We were pleasantly surprised to find out that the Oppo R9s features an AMOLED display. We've seen many 5.5" 1,080 x 1,920px displays (that works out to 401ppi pixel density), but mostly LCDs. We have a preference for AMOLED over LCD - usually, it means better contrast and sunlight legibility, vivid colors too. The display is guarded by scratch-resistant Gorilla Glass 5.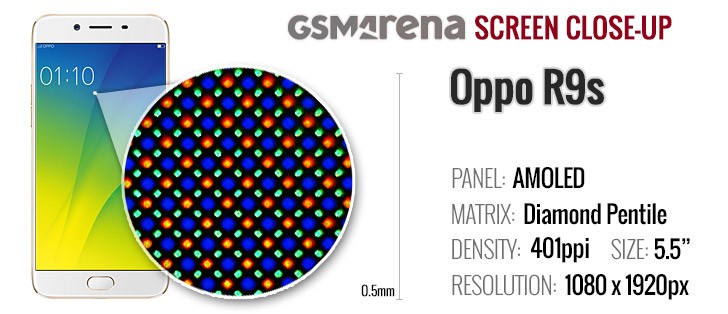 The screen is reasonably bright, we clocked it at 410 nits. We rarely put the screen to maximum brightness, so that's plenty in practice. The black levels weren't a perfect zero, we detected the faintest glow (0.032), but contrast is still amazing (around 13,000:1). This is faint enough that you won't see the glowing black characteristic of LCD displays (especially ones on a phone in this price range).
Display test
100% brightness
Black, cd/m2
White, cd/m2
Contrast ratio
Oppo R9s
0.032
411
12844
Asus Zenfone 3 ZE552KL
0.45
607
1349
Huawei nova plus
0.31
397
1281
Samsung Galaxy C7
0.00
422
∞
Samsung Galaxy C7 (Max auto)
0.00
625
∞
Apple iPhone 7 Plus
0.41
573
1398
Apple iPhone 7 Plus (max auto)
0.50
681
1362
The R9s display is slightly more reflective than the best AMOLEDs out there, and as a result, its sunlight legibility isn't as good. It's still comparable to the LG V20 and superior to the HTC 10, which makes it a very good display.
Sunlight contrast ratio
Samsung Galaxy S6 edge+
4.615
Samsung Galaxy S7 edge
4.439
OnePlus 3
4.424
Samsung Galaxy S7
4.376
HTC One A9
4.274
Samsung Galaxy Note7
4.247
Samsung Galaxy A3
4.241
Google Pixel XL
4.164
ZTE Axon 7
4.154
Samsung Galaxy S6 edge
4.124
Samsung Galaxy Note5
4.09
Huawei Nexus 6P
4.019
OnePlus X
3.983
Vivo Xplay5 Elite
3.983
Apple iPhone 7
3.964
Oppo R7s
3.964
Huawei P9 Plus
3.956
Samsung Galaxy A7 (2016)
3.918
Samsung Galaxy C5
3.911
Samsung Galaxy C7
3.896
Samsung Galaxy A5
3.895
Samsung Galaxy J7 outdoor
3.879
Samsung Galaxy J2 outdoor
3.873
Samsung Galaxy A8
3.859
Microsoft Lumia 950XL
3.837
Samsung Galaxy A9 (2016)
3.817
Motorola Moto X (2014)
3.816
Samsung Galaxy J7 (2016) outdoor mode
3.802
LG V20 Max auto
3.798
Xiaomi Redmi Pro
3.798
Sony Xperia XZ
3.795
Samsung Galaxy A5 (2016)
3.789
Apple iPhone 6s
3.783
Meizu Pro 5
3.781
Microsoft Lumia 650
3.772
Samsung Galaxy J7 (2016)
3.756
Oppo F1 Plus
3.709
Vivo X5Pro
3.706
Sony Xperia X Compact
3.694
Apple iPhone SE
3.681
Samsung Galaxy A7
3.679
Meizu PRO 6
3.659
BlackBerry Priv
3.645
Apple iPhone 7 Plus
3.588
Apple iPhone 6s Plus
3.53
Samsung Galaxy J3 (2016)
3.523
Samsung Galaxy J3 (2016) outdoor mode
3.523
Acer Jade Primo
3.521
Microsoft Lumia 950
3.512
Oppo R7 Plus
3.499
nubia Z11
3.466
Samsung Galaxy J7
3.422
Meizu MX5
3.416
LG V20
3.402
Oppo R9s
3.352
Oppo R7
3.32
Xiaomi Mi 5s
3.276
Samsung Galaxy J2
3.235
Sony Xperia X Performance
3.234
Motorola Moto X Play
3.222
Huawei P9
3.195
Lenovo Vibe Shot
3.113
Motorola Moto X Force
3.105
LG Nexus 5X
3.092
Huawei Mate S
3.073
Microsoft Lumia 640 XL
3.065
Sony Xperia X
2.989
Huawei Mate 8
2.949
Xiaomi Redmi 3S
2.913
Sony Xperia XA Ultra
2.906
LG G5
2.905
HTC One S
2.901
Xiaomi Mi 5s Plus
2.884
Sony Xperia Z5
2.876
Microsoft Lumia 550
2.851
Xiaomi Redmi 3 Pro
2.803
Sony Xperia Z5 compact
2.784
Meizu MX6
2.751
LG V10
2.744
Xiaomi Redmi 3
2.735
Sony Xperia M5
2.69
Huawei P9 Lite
2.679
Vivo V3Max
2.659
Xiaomi Mi Mix
2.658
Xiaomi Mi 4i
2.641
Sony Xperia XA
2.609
Motorola Moto G4 Plus (max auto)
2.582
Motorola Moto G4 Plus
2.582
Xiaomi Mi 4c
2.574
LeEco Le Max 2
2.567
Asus Zenfone 3 ZE552KL
2.563
Microsoft Lumia 640
2.563
Lenovo Moto G4
2.544
Oppo F1
2.528
Sony Xperia Z5 Premium
2.525
Huawei Honor 7 Lite / Honor 5c
2.506
Sony Xperia M4 Aqua
2.503
Oppo F1s
2.481
Motorola Moto G
2.477
Lenovo Vibe K5 Plus
2.473
Huawei G8
2.471
Huawei nova
2.467
Sony Xperia Z
2.462
Lenovo Vibe K5
2.459
Huawei Honor 7
2.406
Sony Xperia E5
2.386
ZUK Z1 by Lenovo
2.382
Samsung Galaxy J5 (2016)
2.378
HTC 10
2.378
Huawei nova plus
2.329
HTC One E9+
2.305
Alcatel One Touch Hero
2.272
Apple iPhone 4S
2.269
Lenovo Vibe K4 Note
2.254
Sony Xperia C5 Ultra
2.253
Xiaomi Redmi Note 3 (MediaTek)
2.249
Sony Xperia C4 Dual
2.235
Xiaomi Mi Note
2.234
Motorola Moto G (2014)
2.233
LG Nexus 5
2.228
Huawei P8
2.196
Huawei Honor 6
2.169
Xiaomi Redmi Note 2
2.166
OnePlus Two
2.165
HTC One X
2.158
LG Aka
2.145
Xiaomi Redmi Note 4
2.145
Archos 50 Diamond
2.134
Xiaomi Redmi Note
2.119
Acer Liquid X2
2.084
Huawei P8lite
2.078
Moto G 3rd gen max manual
2.026
Xiaomi Mi Max
1.996
Sony Xperia E4g
1.972
OnePlus One
1.961
Meizu m3 note
1.923
BlackBerry Leap
1.892
Meizu m2 note
1.892
ZTE Nubia Z9 mini
1.759
Sony Xperia U
1.758
Asus Zenfone Selfie
1.68
Motorola Moto E (2nd Gen)
1.675
ZTE Nubia Z9
1.659
Jolla Jolla
1.605
Motorola Moto E
1.545
Sony Xperia M
1.473
Xiaomi Redmi 2
1.311
HTC Desire C
1.3
Sony Xperia C
1.283
Meizu MX
1.221
Sony Xperia E
1.215
We noticed a slight contrast shift as we viewed the Oppo at different angles. Colors are barely affected, and the effect is barely noticeable.
Color accuracy is not perfect. Oppo provides no adjustable color modes for the screen and the default setup produced an average deltaE of 6.4 and a maximum of 10.2. We checked for an sRGB option in the Developer options but we didn't find one. We value sRGB because most photos on the Internet are intended for that color gamut. However, we have a noted interest in photography, the moment you slap on an image filter on your photo you can stop worrying about color gamuts.
These readings are not perfect, but are comparable to the ZTE Axon 7 (5.5" AMOLED, QHD), Xiaomi Redmi Pro (5.5" AMOLED, 1080p), Samsung Galaxy C7 (5.7" AMOLED, 1080p) and others.
Connectivity
The Oppo R9s is a dual-SIM phone that uses a Qualcomm chipset, which means excellent support for the variety of mobile wireless connectivity. This includes the several LTE flavors, GSM and CDMA. VoLTE is supported as well for improved audio quality.
Local connectivity is also well covered with Wi-Fi ac and Bluetooth 4.1 support, but note that there's no NFC.
The microUSB 2.0 port on the phone offers On-The-Go functionality for connecting accessories, something often overlooked these days.
Battery life
The Oppo R9s is powered by a 3,010mAh battery (Li-Po) sealed inside its metal body. The phone supports the fast VOOC charging standard and is bundled with the right charger for it - 5V @ 4A = 20W. In our tests, it reached 64% charge (from 0%) in half an hour.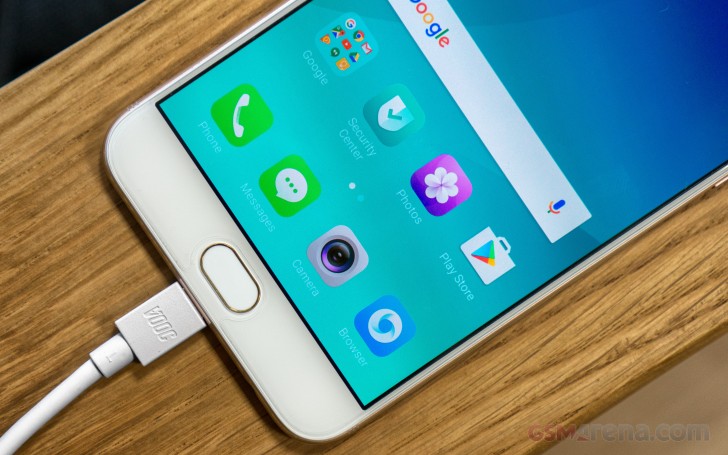 ColorOS 3.0 features a few power saving techniques that are enabled by default, so you may notice the phone often takes up the initiative of killing background apps for you. If that causes issues, you can exempt specific apps from this behavior. We found it too aggressive to our taste and had to disable it for a few apps (a minor note: we wish we had a way to do this from the app switcher, instead of having to go into the settings).
Update: We completed the battery tests and found the endurance is as good as expected - the 3,010mAh battery is stretched to 74 hours, matching the Asus Zenfone 3 and Huawei nova plus (its direct competitors). The talk time is over 25 hours, an excellent result. The web browser lasted 10 hours, matching the Zenfone 3 ZE552KL and beating the likes of the Pixel XL and Huawei P9 Plus (two phones with 5.5" AMOLED screens, QHD and 1080p respectively).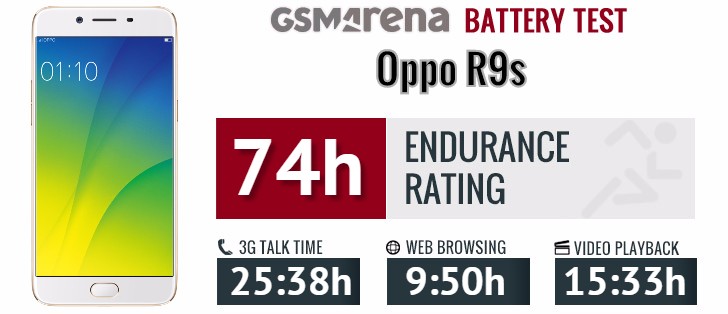 The video playback score is even more impressive - we got close to 16 hours of continuous video, which is a fantastic result. Very few phones top the R9s in this department - you could marathon a whole season of your favorite 45-minute TV show!