Display
The Oppo F3 really does come off as perfectly manageable compared to its bigger 6-inch sibling. Despite the ongoing trend of growing display sizes, 5.5 inches still hits the sweet spot for many people.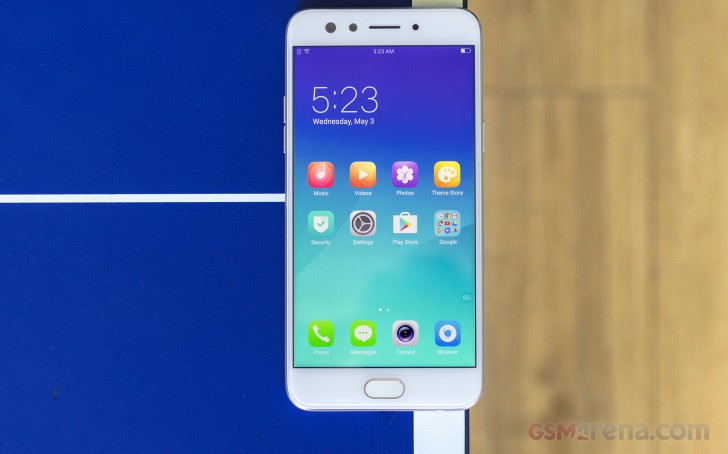 With a resolution of 1080 x 1920 pixels, the screen has a pixel density of about 401ppi, which is great and most of all, pleasingly sharp to the naked eye.
The brightness, on the other hand, is pretty average, even a tad dim for an LCD, maxing out at 449 nits.
Display test
100% brightness
Black, cd/m2
White, cd/m2
Contrast ratio
Oppo F3 Plus
0.343
509
1485
Oppo F3
0.364
449
1234
Oppo R9s
0.032
411
12844
vivo V5 Plus
0.348
475
1365
vivo V5
0.466
476
1021
Samsung Galaxy J7 (2016)
0.00
353
∞
Samsung Galaxy J7 (2016) outdoor mode
0.00
484
∞
Xiaomi Redmi Note 4 (X20)
0.38
439
1158
Xiaomi Redmi Note 4 (S625)
0.322
484
1503
Huawei Honor 6X
0.321
579
1804
Nokia 6 (Chinese version)
0.377
522
1385
Lenovo P2
0
346
∞
Lenovo P2 max auto
0
510
∞
Lenovo K6 Note
0.383
521
1360
Xiaomi Redmi Pro
0.00
408
∞
ZTE Axon 7
0.00
352
∞
Meizu MX6
0.34
457
1344
Meizu M5 Note
0.614
463
754
Sunlight legibility is also disappointing, even by LCD standards. Still, it might serve as some consolation that competitor Vivo's V5 pair is even worse in this department. Granted, it's hardly a meaningful victory, since number comparisons won't help you see the screen any better on a sunny day.
Sunlight contrast ratio
Samsung Galaxy S8
4.768
Samsung Galaxy S8+
4.658
Samsung Galaxy S6 edge+
4.615
Samsung Galaxy S7 edge
4.439
OnePlus 3
4.424
Samsung Galaxy S7
4.376
HTC One A9
4.274
Samsung Galaxy Note7
4.247
Samsung Galaxy A3
4.241
OnePlus 3T
4.232
Google Pixel XL
4.164
ZTE Axon 7
4.154
Samsung Galaxy S6 edge
4.124
Samsung Galaxy A7 (2017)
4.124
Samsung Galaxy Note5
4.09
Huawei Nexus 6P
4.019
OnePlus X
3.983
Vivo Xplay5 Elite
3.983
Oppo R7s
3.964
Apple iPhone 7
3.964
Huawei P9 Plus
3.956
Meizu Pro 6 Plus
3.935
Lenovo Moto Z
3.931
Samsung Galaxy A7 (2016)
3.918
Samsung Galaxy C5
3.911
Samsung Galaxy C7
3.896
Samsung Galaxy A5
3.895
Samsung Galaxy J7 outdoor
3.879
Samsung Galaxy J2 outdoor
3.873
Samsung Galaxy A8
3.859
Sony Xperia XZs
3.818
Samsung Galaxy A9 (2016)
3.817
Motorola Moto X (2014)
3.816
Samsung Galaxy A5 (2017)
3.804
Samsung Galaxy J7 (2016) outdoor mode
3.802
Xiaomi Redmi Pro
3.798
LG V20 Max auto
3.798
Sony Xperia XZ
3.795
Samsung Galaxy A5 (2016)
3.789
Apple iPhone 6s
3.783
Meizu Pro 5
3.781
Microsoft Lumia 650
3.772
Samsung Galaxy J7 (2016)
3.756
Oppo F1 Plus
3.709
Vivo X5Pro
3.706
Samsung Galaxy A3 (2017)
3.688
Apple iPhone SE
3.681
Huawei Mate 9
3.68
Samsung Galaxy A7
3.679
Meizu PRO 6
3.659
BlackBerry Priv
3.645
Apple iPhone 7 Plus
3.588
Apple iPhone 6s Plus
3.53
Motorola Moto Z Play
3.526
Samsung Galaxy J3 (2016)
3.523
Samsung Galaxy J3 (2016) outdoor mode
3.523
Acer Jade Primo
3.521
Microsoft Lumia 950
3.512
Oppo R7 Plus
3.499
nubia Z11
3.466
Huawei P10 Plus
3.456
HTC U Ultra
3.453
Samsung Galaxy J7
3.422
Meizu MX5
3.416
LG V20
3.402
Huawei P10
3.379
Oppo R9s
3.352
Honor 8 Pro
3.341
Oppo R7
3.32
Lenovo P2
3.316
Xiaomi Mi 5s
3.276
Nokia 6 (Chinese version)
3.244
Samsung Galaxy J2
3.235
Sony Xperia X Performance
3.234
Xiaomi Mi Note 2
3.228
Motorola Moto X Play
3.222
Oppo F3 Plus
3.218
Huawei Mate 9 Pro
3.206
Huawei P9
3.195
Lenovo Vibe Shot
3.113
Motorola Moto X Force
3.105
LG Nexus 5X
3.092
Huawei Mate S
3.073
Microsoft Lumia 640 XL
3.065
Sony Xperia XA1
3.012
Sony Xperia X
2.989
Huawei Mate 8
2.949
Xiaomi Redmi 3S
2.913
Sony Xperia XA Ultra
2.906
LG G5
2.905
HTC One S
2.901
Xiaomi Redmi 3s Prime
2.893
Xiaomi Mi 5s Plus
2.884
Sony Xperia Z5
2.876
Microsoft Lumia 550
2.851
Lenovo Moto M
2.813
Xiaomi Redmi 3 Pro
2.803
Sony Xperia Z5 compact
2.784
Meizu MX6
2.751
LG V10
2.744
Xiaomi Redmi 3
2.735
Xiaomi Redmi Note 4 (S625)
2.714
Meizu M5
2.71
Sony Xperia M5
2.69
Huawei P9 Lite
2.679
Xiaomi Redmi 4 Prime
2.679
Vivo V3Max
2.659
Xiaomi Mi Mix
2.658
Xiaomi Mi 4i
2.641
Sony Xperia XA
2.609
Motorola Moto G4 Plus
2.582
Motorola Moto G4 Plus (max auto)
2.582
Meizu M5s
2.58
Xiaomi Mi 4c
2.574
LeEco Le Max 2
2.567
Microsoft Lumia 640
2.563
Asus Zenfone 3 ZE552KL
2.563
Lenovo Moto G4
2.544
Lenovo K6 Note
2.544
Oppo F1
2.528
Sony Xperia Z5 Premium
2.525
Huawei Honor 7 Lite / Honor 5c
2.506
Sony Xperia M4 Aqua
2.503
Oppo F1s
2.481
Motorola Moto G
2.477
Lenovo Vibe K5 Plus
2.473
Huawei G8
2.471
Huawei nova
2.467
Sony Xperia Z
2.462
Lenovo Vibe K5
2.459
Meizu m3 max
2.447
HTC 10 evo
2.407
Huawei Honor 7
2.406
Sony Xperia E5
2.386
ZUK Z1 by Lenovo
2.382
HTC 10
2.378
Samsung Galaxy J5 (2016)
2.378
Oppo F3
2.376
vivo V5 Plus
2.371
Meizu m1 note
2.362
Huawei nova plus
2.329
HTC One E9+
2.305
Alcatel One Touch Hero
2.272
Lenovo Vibe K4 Note
2.254
Sony Xperia C5 Ultra
2.253
Xiaomi Redmi Note 3 (MediaTek)
2.249
Sony Xperia C4 Dual
2.235
Xiaomi Mi Note
2.234
Motorola Moto G (2014)
2.233
Huawei P8
2.196
Meizu M5 Note
2.189
Huawei Honor 6
2.169
Xiaomi Redmi Note 2
2.166
OnePlus Two
2.165
HTC One X
2.158
LG Aka
2.145
Xiaomi Redmi Note 4 (X20)
2.145
Archos 50 Diamond
2.134
Xiaomi Redmi Note
2.119
Xiaomi Mi 4S
2.095
Acer Liquid X2
2.084
Huawei P8lite
2.078
vivo V5
2.059
Moto G 3rd gen max manual
2.026
Xiaomi Mi 3
2.001
Xiaomi Mi Max
1.996
Sony Xperia E4g
1.972
OnePlus One
1.961
Meizu m3 note
1.923
BlackBerry Leap
1.892
Meizu m2 note
1.892
ZTE Nubia Z9 mini
1.759
Sony Xperia U
1.758
Asus Zenfone Selfie
1.68
Motorola Moto E (2nd Gen)
1.675
ZTE Nubia Z9
1.659
Jolla Jolla
1.605
Motorola Moto E
1.545
Sony Xperia M
1.473
Sony Xperia L
1.351
HTC Desire C
1.3
Meizu MX
1.221
Sony Xperia E
1.215
Color accuracy is not really Oppo F3's forte. In all fairness, the bigger F3 Plus suffers from similar issues as well. The display has sort of a purplish, bluish tint to it. Blues, purples and cyans are way off, with a deltaE of around 11 to 13 measured against the sRGB color space. Overall, we measured an average deltaE of 8.3 and a maximum deviation of 14.2 - even worse than on the F3 Plus. Sadly, if you don't like the default screen calibration, you can't really do anything about it, as Oppo doesn't have a screen adjustment setting.
Battery life
Equipped with a 3,200mAh non-removable battery, the Oppo F3 doesn't exactly stand out in the longevity department, but still does alright for itself. It's a clear bump down from the 4,000mAh in the bigger F3 Plus. Then again, the screen size difference between the pair is significant as well.
On a more positive note, the F3 has managed to pack more juice than the Oppo R9s and its 3,010mAh unit. It's a rather short-lived victory, since the R9s is noticeably thinner, at 6.6mm, and its 14nm Snapdragon 625 and AMOLED panel make it a lot more power-efficient.
The MediaTek MT6750T used in the F3, on the other hand, is made on a 28nm fabrication process. It also has to drive a more power-hungry LCD panel.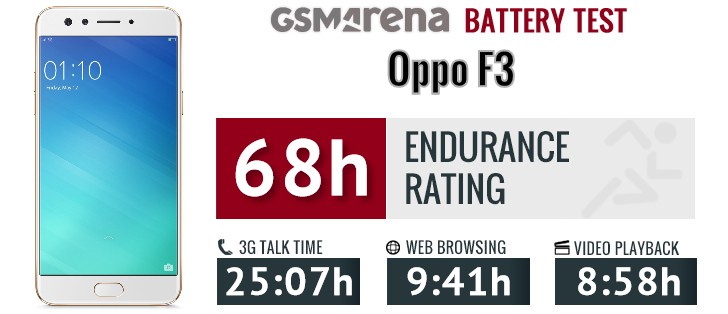 Surprisingly, all of these potential shortcomings didn't prevent the phone from posting a decent endurance rating of 68 hours in our standardized battery test. In comparison, the F3 Plus got 79 hours' worth of an endurance rating out of its 4,000mAh battery.
The regular F3 holds its ground well in our 3G call test, as well as in web browsing. Video playback seems to be the weak link in this package. This might have something to do with the video app itself, which we will come back to later in the software chapter.
Still, we can't really complain. The Oppo R9s only managed a few hours more on its 3,010mAh pack, despite the help of the efficient Snapdragon 625 and AMOLED panel combination. The same goes for the Vivo V5 Plus, a prime competitor to the Oppo F3, which also uses the Qualcomm chip and a 3,160mAh battery. In a more "apples to apples" comparison against the basic Vivo V5 and its MT6750, 720p, 5.5-inch LCD and 3,000mAh battery, the Oppo F3 really dwarfs the vivo's 60 hour endurance rating.
On another positive note, the F3 seems to run pretty cool even under stress. Charging is an almost heat-free process as well. Speaking of which, it might as well be that way, since the phone is only capable of drawing a mere 2A/5V current from the charger. This is exactly half of what Oppo's excellent VOOC parallel charging solution delivers on devices like the F3 Plus and R9s. It's a real shame that the feature is entirely absent from the regular F3.
The battery testing procedure is described in detail in case you're interested in the nitty-gritties. You can also check out our complete battery test table, where you can see how all of the smartphones we've tested will compare under your own typical use.
Connectivity
The Mediatek MT6750T is a bit underpowered compared to modern midrange processors, and it doesn't really strain itself too much to please in the connectivity department either. Unlike the F3 Plus and its Cat.9 LTE modem, the regular F3 has to make do with Cat.4 speeds of 150 Mbps of download and 50Mbps of upload.
Still, you do at least get LTE on both SIM slots simultaneously.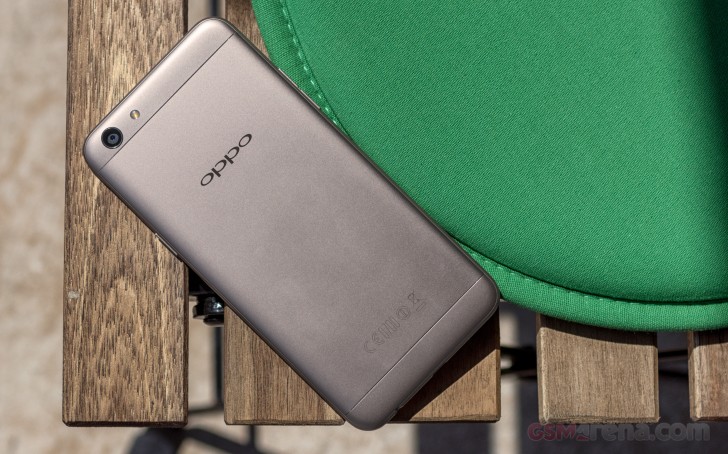 In terms of local connectivity, there is a Wi-Fi a/b/g/n module. No dual-band or ac support. You do get Bluetooth v4.1 and a GPS receiver, with support for A-GPS. NFC is one notable omission. Also, you are only stuck with the slower USB 2.0 transfer. OTG is supported, although you have to explicitly enable it in the settings.
You also get a good old 3.5mm audio jack on the bottom of the Oppo F3.