Software and features
On top of the usual ColorOS 7.2 features, there are a couple of new ones that debut with the F17 Pro pushing the phone's experience closer to the upper-mid-range class. These new features are not only for show off but have some practical implications as well.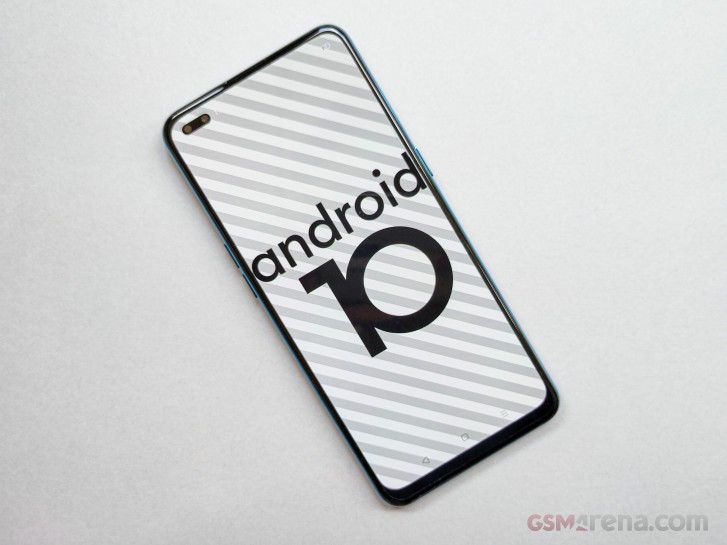 For example, there's an AI algorithm that tracks your sleeping and charging habits so it can take care of your battery. If you are a man of habit and like to charge your phone during the night, the software will take notice, cut off the charging at around 80%, and top-off the battery right before you wake up. The goal is to keep the battery in a healthier range while still giving you the full charge you want to start the day.
There's also a Super Saving Power Mode to take care of things in the other end of the spectrum. Oppo says that with even 5% remaining, the phone will be able to last 15 hours of standby or 70 minutes of phone calls, or 52 minutes in Google Maps, or 35 minutes in WhatsApp.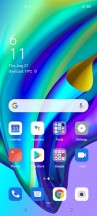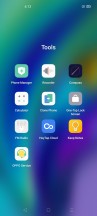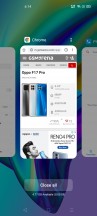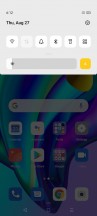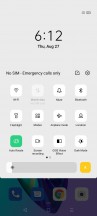 Home screen, recent apps and notification shade
New on the list are the so-called AirGestures. For now, you can answer calls without having to touch the phone when it's lying flat on the table. It's useful when your hands are dirty or wet. The handset uses both of its front-facing cameras and the gesture works from about 20-50cm distance.
Our initial impressions are that the implementation isn't perfect and it takes some time getting used to the gestures. And something tells us that the AirGesutres will expand in functionality with future updates or phones.
And although not new or ground-breaking feature, there's an Always-on display as well. We feel it's worth mentioning since it's a budget phone, and that's a rare feature to come across in these parts, except maybe Samsung's A-series. Sadly, there is no Edge Lighting like on the Reno4 Pro.
If AOD is not you thing, you can always go for a just a lock screen, with the option to enable a magazine, auto background switching service. There are plenty of general convenience options in ColorOS. Gesture functionality is quite in-depth.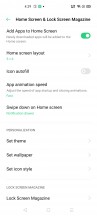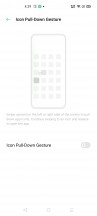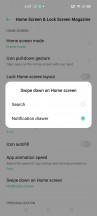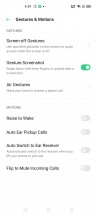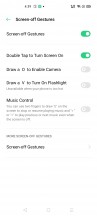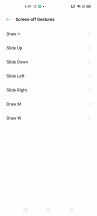 Lock screen, home screen options and various gestures
Navigation is really customizable and goes way beyond simply choosing between on-screen button controls and swipes.
There are a whole bunch of extra "Convenience tools" beyond that, as well. These include an Assistive Ball, Quick Return Bubble and Smart Sidebar. Each with its own unique set of behavioral tweaks, so you can really make the experience your own.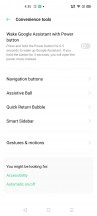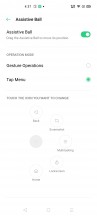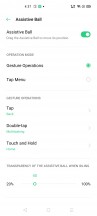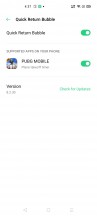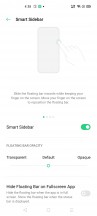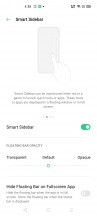 Convenience tools • Assistive Ball • Assistive Ball • Quick Return Bubble • Smart Sidebar • Smart Sidebar
Even choosing you preferred home screen and app drawer logic has an extra third option. Beyond Standard (no app drawer) and Drawer mode, there is a Simple mode, with bigger and fewer icons.
You can also choose you prefer icon style. Again, with a few options to choose from.
Oppo included a few interesting custom options in the Display settings menu as well. Not only do you get a regular Eye Comfort mode, that cuts out blue light, but there is also a low-brightness flicker-free toggle.
OSIE vision effect is also interesting. Its description and exact mode of operation are a bit vague, but apparently the name stands for Object & Semantic Images & Eye-tracking. It makes use of AI to enhance the viewing experience in supported apps. Some of the big-name supported apps include Amazon Prime Video, TikTok and MX Player. The effect in person, seem to be an increase in overall color saturation and slight boost in contrast. We are not quite sure where the AI and eye-tracking come in, though.
Audio settings are pretty straight-forward, but do include a Real Sound Technology optimization feature, as well as a peculiar In-ear monitoring option.
Game Space has you covered pretty well, in terms of performance optimization, through things like automatic resolution adjustment, as well as experience enhancement, by disabling notifications, calls and other distractions
We managed to get a few gaming sessions in with the Oppo F17 Pro for this article and our overall impressions are positive. While hardly a powerhouse, the Helio P60, with its PowerVR GM9446 GPU and paired with 8GB of RAM managed to provide good visuals and surprisingly smooth gaming experience.
Surprising since we did experience a few hiccups here and there while using the phone for general tasks. Nothing too severe, though. The Oppo F17 Pro has plenty of power for average users and things like social media, browsing the web, and watching video.
Conclusion
As with almost all mid-range Oppo phones, the F17 Pro's case is almost the same. The company was able to pack a slew of cool software and hardware features for about INR 22,990 (around USD $300) and bundled them with an excellent Super AMOLED panel. However, the Helio P95 chipset comes off as a bit of a letdown and we feel that the handset will have a hard time competing with other brands offering more powerful hardware, even though most of them miss on the crisp AMOLED experience.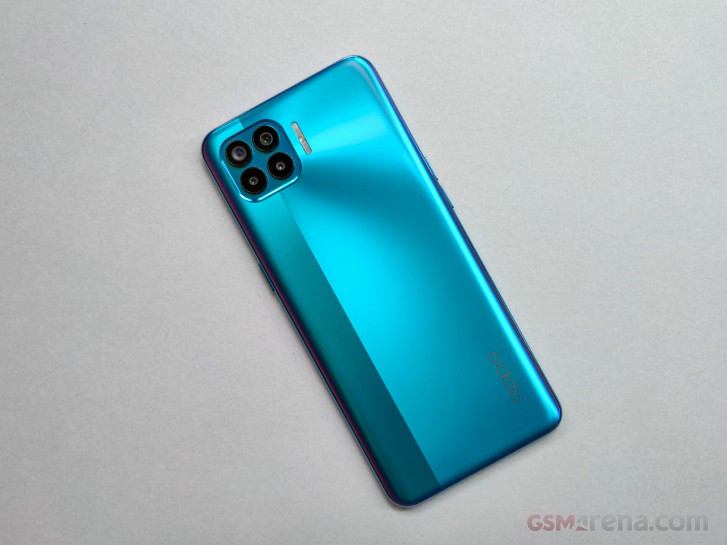 And with that price, the F17 Pro comes dangerously close to Samsung's well-established M and A-series. Still, further assessment is needed before we make any conclusion.