Display
The Nokia Lumia 930 packs a 5-inch ClearBlack AMOLED display of 1080p resolution. The resulting pixel density of 441ppi is the highest ever for a Nokia Lumia device.


The Nokia Lumia 930's AMOLED display
One thing that is immediately noticeable is a purplish hue apparent on the display. Fortunately, it is a problem that Microsoft is aware of, and can easily be corrected by going into the display options and using the 'adjust color' option in the display settings.
Once this is fixed, you'll find that colors are very accurate, and viewing angles are also good.
Here's a microscopic image of the AMOLED screen's RGB matrix - we've shot it next to the 768 x 1280px AMOLED display of the Nokia Lumia 1020 for comparison's sake.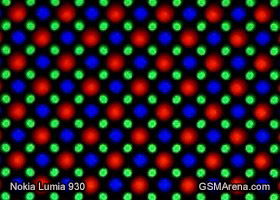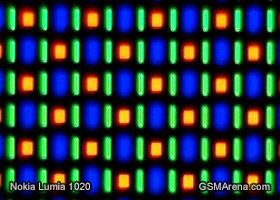 Obviously, AMOLED displays have inherently infinite contrast ratios, but we were able to measure the white brightness levels at 50% and 100% luminance. We found to be the panel only slightly dimmer as the one found on the Nokia Lumia 1020, but notably less bright than the Samsung Galaxy S5, for example.
Display test
50% brightness
100% brightness
Black, cd/m2
White, cd/m2
Contrast ratio
Black, cd/m2
White, cd/m2
Contrast ratio
Nokia Lumia 930
0
149
∞
0
347
∞
Nokia Lumia 1020
0
172
∞
0
398
∞
Nokia Lumia 1520
0.22
263
1174
0.43
522
1207
Oppo Find 7
0.22
248
1135
0.40
448
1123
LG G3
0.14
109
763
0.72
570
789
Sony Xperia Z2
-
-
-
0.41
488
1195
Samsung Galaxy S5
0
274
∞
0
529
∞
Samsung Galaxy S4
0
201
∞
0
404
∞
HTC One (M8)
0.20
245
1219
0.46
577
1256
Apple iPhone 5
0.13
200
1490
0.48
640
1320
The smartphone very well in our sunlight legibility test, beating much more expensive offerings in the process and coming in 4th in our overall Sunlight legibility chart.
Sunlight contrast ratio
Nokia 808 PureView
4.698
Samsung Galaxy Note 3
3.997
Nokia Lumia 930
3.567
Samsung Galaxy S5
3.549
Samsung I9300 Galaxy S III
3.419
Nokia Lumia 925
3.402
Samsung I9505 Galaxy S4
3.352
Samsung Omnia W
3.301
Samsung Galaxy S
3.155
Samsung Galaxy S4 mini
3.127
Samsung Galaxy S4 zoom
3.118
Nokia N9
3.069
Samsung Galaxy Note
2.970
Sony Xperia Z1
2.950
HTC One S
2.901
BlackBerry Q10
2.856
Samsung Galaxy S II
2.832
Samsung Galaxy S II Plus
2.801
BlackBerry Z30
2.790
Huawei Ascend P1
2.655
Sony Xperia ZR
2.672
Nokia Lumia 900
2.562
HTC One Max
2.537
Nokia Lumia 720
2.512
HTC One
2.504
Sony Xperia Z
2.462
Samsung Galaxy S III mini
2.422
HTC One (M8)
2.371
Motorola RAZR i
2.366
Samsung Galaxy Note II
2.307
Oppo Find 7a
2.279
Apple iPhone 4S
2.269
HTC Desire 600 dual sim
2.262
LG Nexus 5
2.228
HTC One X
2.158
Nokia N8
2.144
Oppo Find 5
2.088
BlackBerry Z10
2.051
Apple iPhone 4
2.016
HTC One mini
2.003
LG G2
1.976
OnePlus One
1.961
Sony Ericsson Xperia ray
1.955
Sony Xperia Z2
1.944
Samsung Galaxy Camera
1.938
LG G Pro 2
1.922
HTC Butterfly
1.873
Huawei Ascend P6
1.865
LG G3
1.820
Sony Xperia V
1.792
Sony Xperia U
1.758
Meizu MX3
1.754
Sony Xperia T2 Ultra
1.740
Oppo Find 7
1.691
LG Optimus 4X HD
1.691
HTC One V
1.685
BlackBerry Q5
1.682
LG Optimus Vu
1.680
LG Optimus GJ
1.666
HTC Desire V
1.646
Samsung Galaxy Ace 3
1.622
Sony Xperia Z Ultra
1.578
Samsung Galaxy Core
1.563
LG Optimus G Pro
1.552
LG Optimus 3D
1.542
Samsung Galaxy Core LTE
1.542
Nokia Asha 302
1.537
Sony Xperia M
1.473
Nokia Lumia 610
1.432
Samsung Galaxy Grand Neo
1.393
Gigabyte GSmart G1355
1.361
Samsung Galaxy Grand
1.321
HTC Desire C
1.300
Nokia Asha 501
1.270
LG Optimus L7
1.269
LG Optimus L9
1.227
Meizu MX
1.221
Sony Xperia E dual
1.203
Samsung Galaxy Pocket
1.180
Sony Xperia tipo
1.166
Samsung Galaxy mini 2
1.114
Battery life
The Nokia Lumia 930 is powered by a non-removable 2,420mAh battery. Official numbers provided by Nokia list the device as being capable of over 15 hours of 3G talk time and 18 days worth of standby. Naturally, we conducted our own battery test and the results are in.
The Lumia 930's AMOLED display brought disappointing numbers, especially when it came to watching videos and browsing the web. With sub 6 hour times for each, it means that you'll have to have an A/C adapter within arms' reach if you plan on doing a lot of either activity - hardly a practical solution.
The poor screen-on numbers were compensated somewhat by the excellent figures you get when the screen isn't on. The just under 17 hours of 3G talk time we got was better than the manufacturer supplied numbers, and the standby times were also great, especially considering Nokia has disabled the Glance screen feature in the Lumia 930.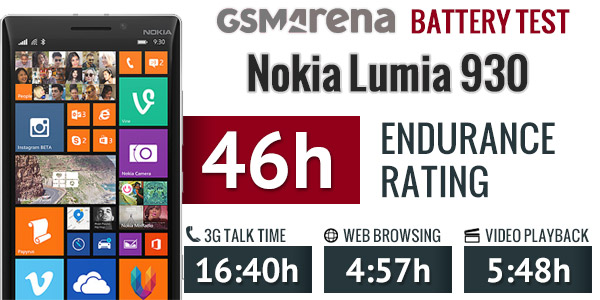 Overall, the endurance rating came out to 46 hours, which means that you'll be able to last just under two full days if you do an hour's worth of video playback, calling over a 3G network and web browsing per day.
Our proprietary score also includes a standby battery draw test, which is not featured in our battery test scorecard but is calculated in the total endurance rating.
Our battery testing procedure is described in detail in case you want to learn more about it.
Connectivity
The Nokia Lumia 930 comes with support for quad band GSM, 3G, and LTE networks. Unlike its Lumia Icon twin which came optimized for US networks, the Lumia 930 works on international bands.
Local connectivity includes dual-band Wi-Fi a/b/g/n/ac (that's both 2.4GHz and 5Ghz), and DLNA. There is also stereo Bluetooth 4.0 and GPS with A-GPS and GLONASS.
NFC connectivity lets you share content with other NFC-enabled devices, or you can use NFC and the Wallet app to pay for purchases at participating retailers. You can download a NFC management app from the Windows Store if you'd like to manage NFC tags as well.
There's also the ability to cast onto a TV, monitor or projector via the dedicated menu in the settings. The internet sharing feature also lets you share content using a specific broadcast name and password.