6.5-inch IPS LCD with 120Hz refresh rate
The Moto G62 features a 6.5-inch 1080 x 2400px IPS LCD panel supporting 120Hz refresh rate. That should give it an edge in smoothness compared to Moto G52's 90Hz OLED panel, but raises concerns about an image quality disadvantage. The panel doesn't have any HDR certifications and we don't expect it to.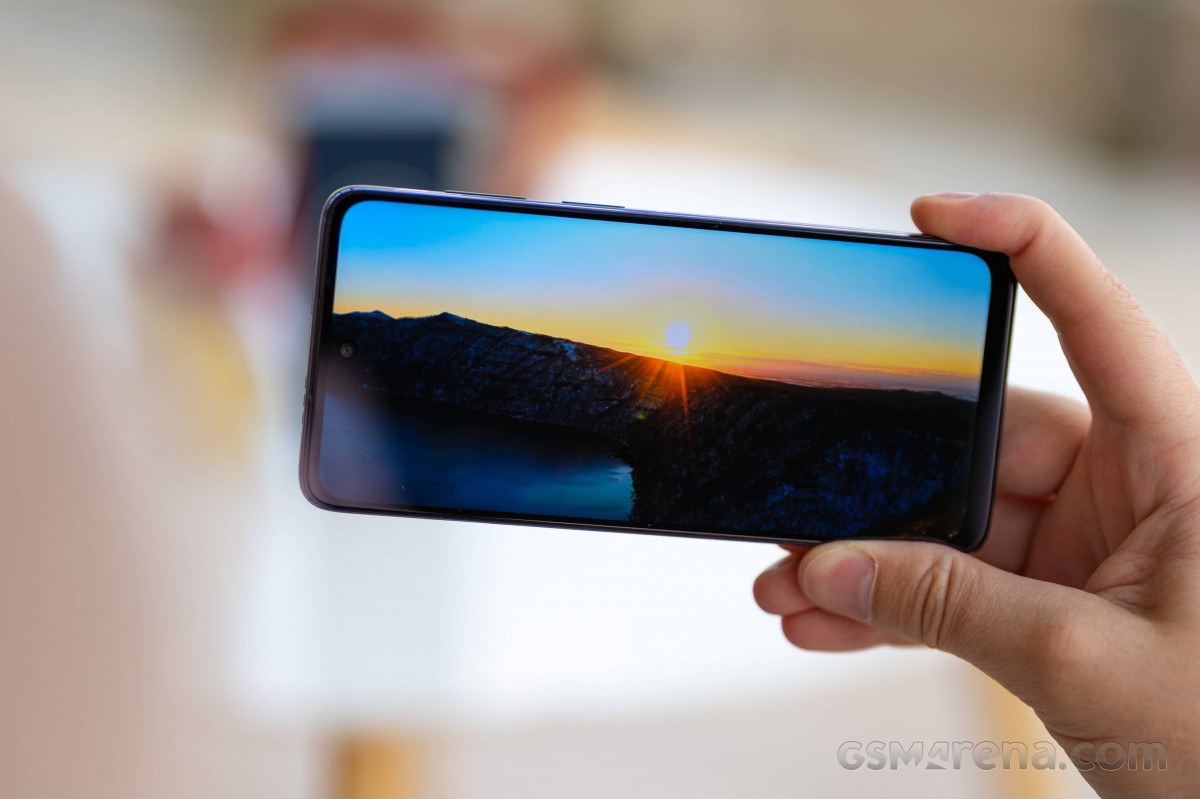 Unfortunately, the results from our tests don't make a good case for the display It peaked at 454 nits of brightness in manual mode and only boosted up to 553 nits in Auto mode. That would have been somewhat acceptable maximum brightness for an OLED, but the more reflective nature of LCD panels makes its colors wash out under direct sunlight. The G62's panel is still perfectly usable, but not looking great.
Display test
100% brightness
Black,cd/m2
White,cd/m2
Contrast ratio
Motorola Moto G62
0.289
454
1571:1
Motorola Moto G62 (Max Auto)
0.37
552
1492:1
Motorola Moto G51 5G
0.298
487
1634:1
Motorola Moto G51 5G (Max Auto)
0.36
595
1653:1
Xiaomi Redmi Note 11S 5G
0.318
418
1314:1
Xiaomi Redmi Note 11S 5G (Max Auto)
0.364
509
1398:1
Xiaomi Redmi Note 11 Pro 5G (Max Auto)
0
746
∞
Xiaomi Redmi Note 11 Pro 5G
0
470
∞
Poco X4 Pro
0
477
∞
Poco X4 Pro (Max Auto)
0
754
∞
Poco M4 Pro 5G
0.264
410
1553:1
Poco M4 Pro 5G (Max Auto)
0.33
510
1545:1
Poco M4 Pro
0
462
∞
Poco M4 Pro (Max Auto)
0
737
∞
Realme 9 Pro
0.288
461
1601:1
Realme 9 Pro (Max Auto)
0.385
567
1473:1
Samsung Galaxy A33 5G
0
407
∞
Samsung Galaxy A33 5G (Max Auto)
0
728
∞
Color accuracy isn't great either, at least with the default Vivid color preset. The Natural one makes colors more accurate but doesn't fix the blue-ish tint completely.
HRR control
The way the Moto G62 handles the high refresh rate of the display is pretty simple and hasn't changed since we first tried out a Motorola smartphone with HRR panel. The system seems to prioritize 120Hz refresh rate in pretty much every app or system menu we tried, except video playback apps such as Netflix and YouTube. The OS also lowers the refresh rate to 60Hz once you stop interacting with the screen.
Battery life
As we expected the combo of a big 5,000 mAh battery and not-so-demanding Snapdragon 480+ chipset, gives the Motorola Moto G62 excellent power autonomy. We have previously tested the same setup in the Moto G51, so it's not a surprise that the two devices performed similarly in our endurance tests. The small difference could be down to some of the other components, most notably the different display.
In any case, the Moto G62 achieved an amazing 122h endurance score in our battery test with great results in the web browsing and video playback on-screen parts.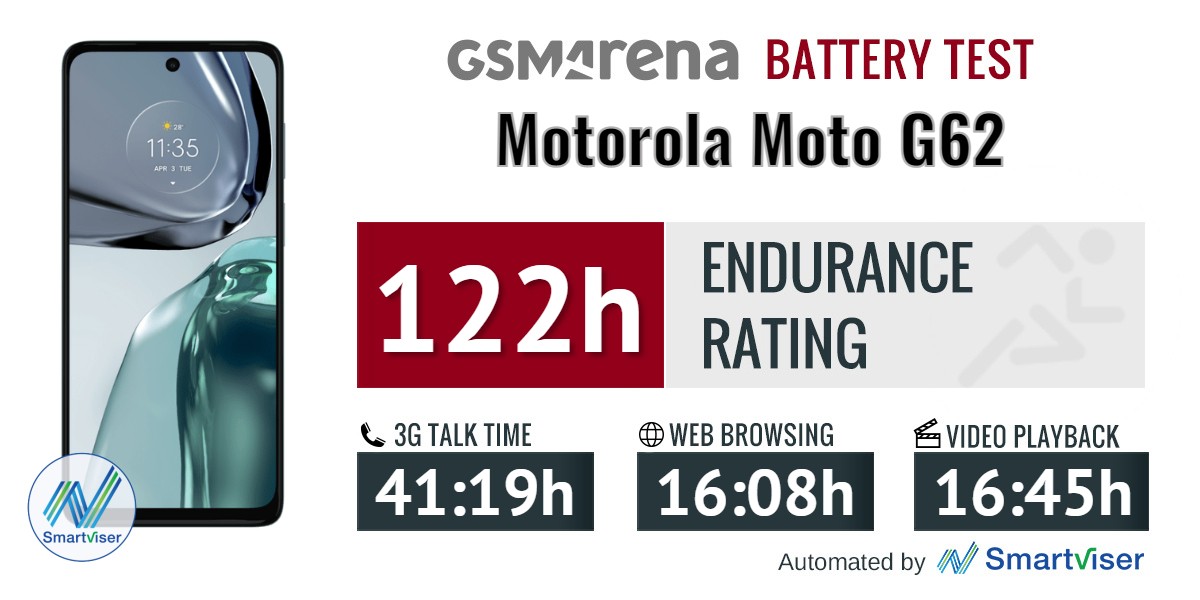 Our battery tests were automated thanks to SmartViser, using its viSerDevice app. The endurance rating denotes how long the battery charge will last you if you use the device for an hour of telephony, web browsing, and video playback daily. More details can be found here.
Video test carried out in 60Hz refresh rate mode. Web browsing test done at the display's highest refresh rate whenever possible. Refer to the respective reviews for specifics. To adjust the endurance rating formula to match your own usage patterns check out our all-time battery test results chart where you can also find all phones we've tested.
Charging speed
In stark contrast to the phone's battery life, its charging speed is outright disappointing. The international Motorola G62 comes with a 15W charger, which matches its charging speed. Meanwhile the Indian version ships with a 20W charger, but seemingly retains the same 15W charging speed cap.
In any case, the phone is way behind the competition getting just just 24% charge in 30 minutes. A full charge from a dead battery takes 1 hour and 46 minutes.
30min charging test (from 0%)
Higher is better
Poco X4 Pro 5G
75%
Xiaomi Redmi Note 11 Pro 5G
74%
Poco M4 Pro 5G
54%
Realme 9 Pro
52%
Xiaomi Redmi Note 11S 5G
51%
Poco M4 Pro
51%
Samsung Galaxy A33 5G
50%
Motorola Moto G51 5G (Global variant, 10W)
26%
Motorola Moto G62
24%
Time to full charge (from 0%)
Lower is better
Xiaomi Redmi Note 11 Pro 5G
0:45h
Poco X4 Pro 5G
0:49h
Poco M4 Pro 5G
1:07h
Poco M4 Pro
1:10h
Realme 9 Pro
1:14h
Samsung Galaxy A33 5G
1:15h
Xiaomi Redmi Note 11S 5G
1:17h
Motorola Moto G62
1:46h
Motorola Moto G51 5G (Global variant, 10W)
2:35h
Speakers
The Moto G62 features a standard dual speaker setup, with the earpiece having to double as the second channel. We were kind of surprised by the audio quality the Moto G62 delivered. Music tracks sound full and clear with pronounced vocals and decent bass. In fact, there aren't that many phones that offer the same level of bass, regardless of price.
We would only recommend keeping the volume a couple of clicks below the maximum as the highs start to distort. We've also noticed the bottom speaker being considerably louder than the top one.
Loudness-wise, the Moto G62 scored "Very Good" with -25.9 LUFS and it appears to be on par with the competition in this regard.
Use the Playback controls to listen to the phone sample recordings (best use headphones). We measure the average loudness of the speakers in LUFS. A lower absolute value means a louder sound. A look at the frequency response chart will tell you how far off the ideal "0db" flat line is the reproduction of the bass, treble, and mid frequencies. You can add more phones to compare how they differ. The scores and ratings are not comparable with our older loudspeaker test. Learn more about how we test here.