Budget IPS panel but with a small notch
Moto G50 ships with a 6.5-inch IPS LCD screen with a relatively low 720 x 1600px resolution. Many similarly-priced phones, as well as even cheaper ones, offer a 1080p display as a standard so it was surprising to see this level of display here but we guess, something had to give to make for the advancements in connectivity.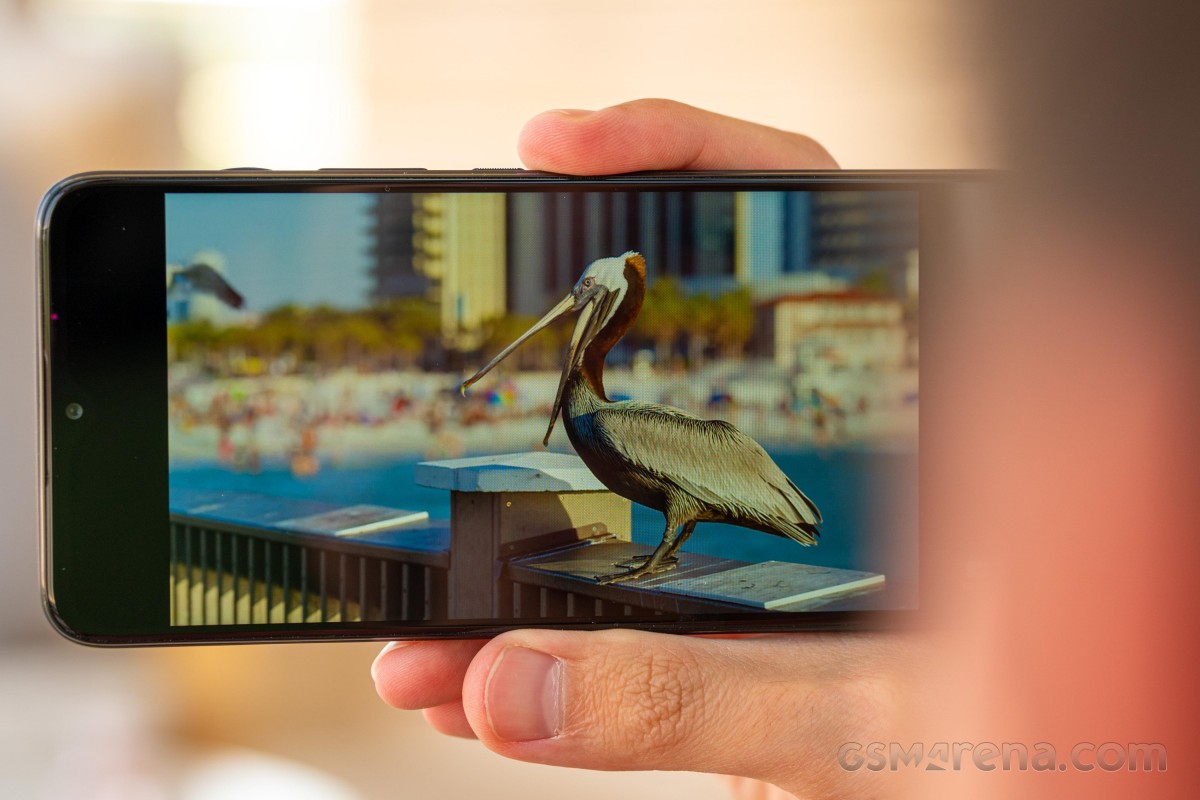 Motorola tries to compensate for the lack of sharpness with a higher refresh rate. And yes, the 90Hz display does make a difference but the rather slow response time of the presented IPS LCD panel produces a smearing effect with fast-moving images (e.g. when scrolling). Not a big issue for most users, though, especially at this price range where such tiny details don't matter all that much.
Display test
100% brightness
Black,cd/m2
White,cd/m2
Contrast ratio
Motorola Moto G50
0.199
362
1819:1
Motorola Moto G10
0.197
370
1878:1
Motorola Moto G 5G Plus
0.349
443
1269:1
Motorola Moto G 5G Plus (Max Auto)
0.466
543
1165:1
Motorola Moto G 5G
0.341
484
1419:1
Samsung Galaxy A22 5G
0.236
385
1631:1
Poco X3 Pro
0.327
458
1401:1
Poco X3 Pro (Max Auto)
0.4
534
1335:1
Xiaomi Redmi Note 10 5G
0.21
377
1795:1
Xiaomi Redmi Note 10 5G (Max Auto)
0.275
492
1789:1
Realme 8 5G
0.334
472
1413:1
Realme 8 5G (Max Auto)
0.408
577
1414:1
What matters more, however, is the maximum brightness achievable, and that seems to be an issue, too. There's no Max Auto mode to boost the brightness in bright outdoor conditions, so you are stuck with the manual boost of up to 362 nits. And since this is an IPS panel, which tends to offer lower sunlight legibility compared to its OLED counterparts at the same brightness, the Moto G50 is pretty hard to use outside on a sunny day.
Color accuracy is another small annoyance, which we would have probably skipped if it wasn't for the blatant blue-ish whites and grays. You can make things a tad better if you opt for the Natural color preset.
We still want to end this section on a high note, and luckily, Motorola gives us a reason to do so. Motorola's refresh rate control works in a simple and yet elegant way. Leaving the refresh rate at Auto is probably your best bet because you get the best of both worlds. The software tones down to 60Hz while you are not interacting with the screen and will always switch back to 90Hz once you touch it. This eliminates the need for Motorola to track individual apps and set parameters on per app basis, such as video playback apps, for example. Once you enter full-screen mode and stop touching the display, the refresh rate scales back to 60Hz to save on power. We've tried this successfully on both Netflix and YouTube.
Battery life
Moto G50 is equipped to offer some great battery life. It has a modern 8nm chipset with generally low power consumption. Then it has a low-res 720p display, and it packs a battery with the respectable capacity of 5,000 mAh.
The Moto G50 posted an impressive overall score of 133h with excellent screen-on times. The numbers appear very similar to the Moto G10's. The standby power draw probably needs a bit more optimization, which is the reason for the lower overall score compared to the Moto G10.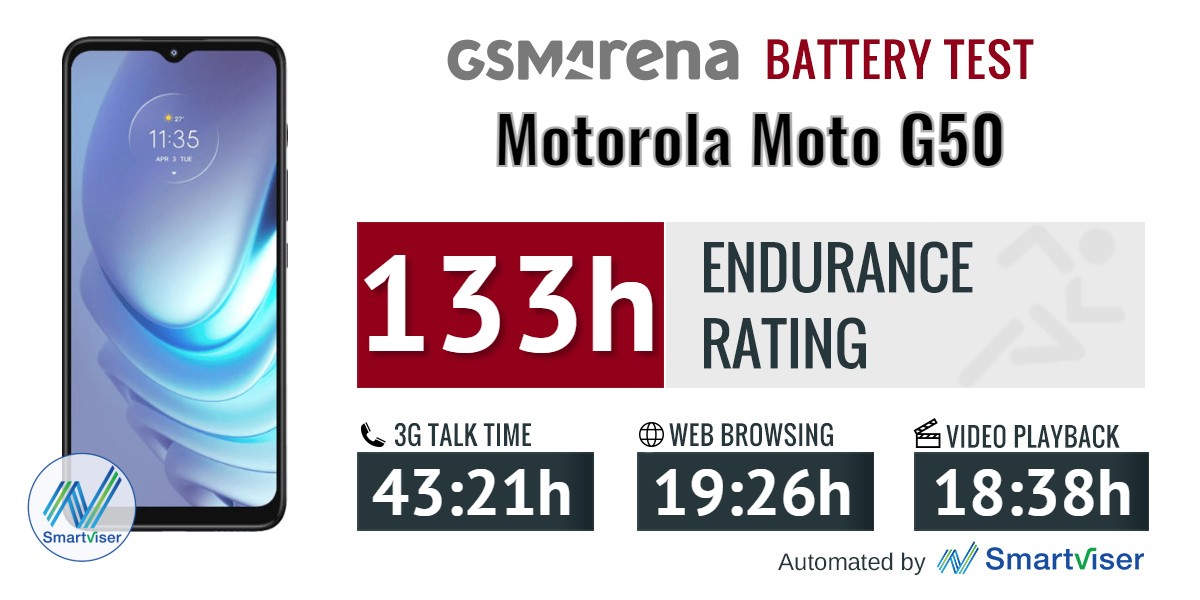 Our battery tests were automated thanks to SmartViser, using its viSerDevice app. The endurance rating denotes how long the battery charge will last you if you use the device for an hour of telephony, web browsing, and video playback daily. More details can be found here.
Video test carried out in 60Hz refresh rate mode. Web browsing test done at the display's highest refresh rate whenever possible. Refer to the respective reviews for specifics. To adjust the endurance rating formula to match your own usage patterns check out our all-time battery test results chart where you can also find all phones we've tested.
Charging speed
Charging is quite slow, at least with the included charger. Remember, the Moto G50 ships with a 10W charger, while the phone itself supports up to 15W charging. Not only does the G50 drag behind the competition in this respect, but it also posts objectively poor scores in our charging tests.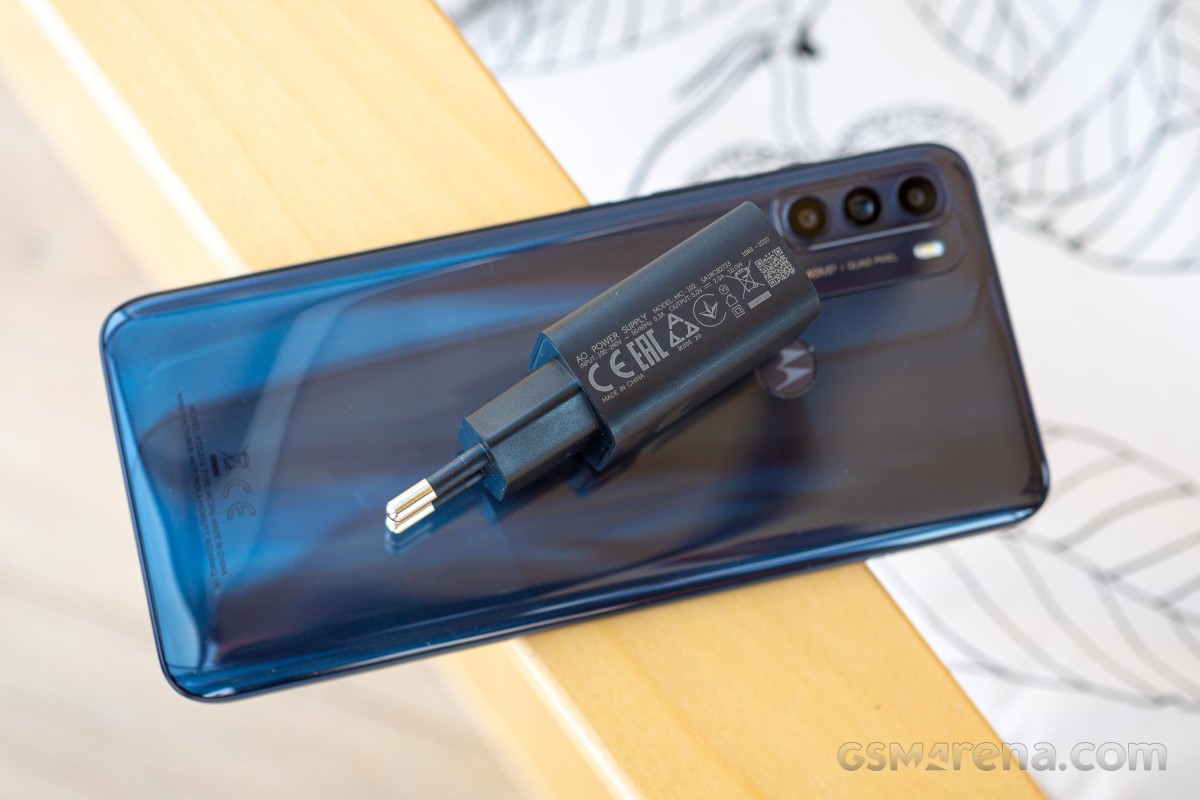 Getting from flat to 100% takes about 2 hours and 35 minutes. A 30-minute charge from 0% would give you only 23% of charge.
30min charging test (from 0%)
Higher is better
Poco X3 Pro
50%
Motorola Moto G 5G
36%
Motorola Moto G 5G Plus
35%
Xiaomi Redmi Note 10 5G
33%
Realme 8 5G
29%
Motorola Moto G50
23%
Samsung Galaxy A22 5G
23%
Time to full charge (from 0%)
Lower is better
Poco X3 Pro
1:08h
Xiaomi Redmi Note 10 5G
2:00h
Motorola Moto G 5G Plus
2:10h
Motorola Moto G 5G
2:11h
Realme 8 5G
2:20h
Samsung Galaxy A22 5G
2:29h
Motorola Moto G50
2:35h
Speaker
As almost all budget phones in this price segment, the Moto G50 lacks stereo speakers, so it relies on a single, bottom-firing loudspeaker. It didn't do all that impressively in our loudness test, but it's enough to gain a "Good" score.
Sound quality-wise, the speaker isn't impressive either. Expect rather flat-sounding music without any bass, and distortion starts to creep in when you get in close to the maximum loudness level.