Clean, close-to-stock Android 11
The clean and almost stock Android experience remains one of Motorola smartphones' key selling points. We say almost stock because Motorola has introduced a couple of custom features on top. Almost all of these are organized in a single settings app that lets you toggle them on and off.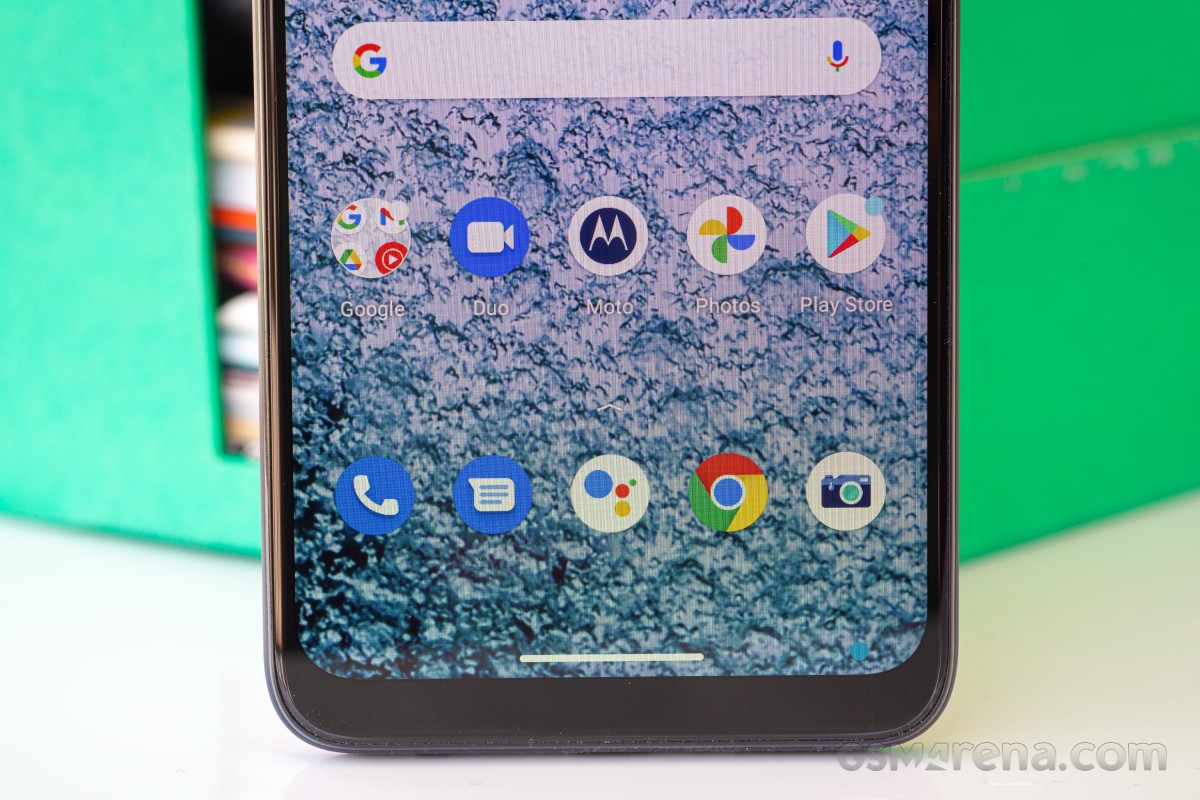 All of the settings can be accessed through the general settings menu, but there's also the Moto app that greets you on the home screen. Starting it up for the first time will prompt you with a quick guide around the features. The personalization options are the first in focus, allowing you to choose between a wide selection of stock wallpapers, some of which are interactive. The Styles sub-menu offers a choice of app icon packs and shapes, fonts, accent colors and even quick toggle icons for the notification shade.
Speaking of which, it has the brightness slider positioned on top of the toggles, and there's no quick switch between adaptive and manual display control, which is kind of annoying. We are also used to seeing the slider below the toggles for easier reach with your thumb. We found the slider to be used quite often, so why not make it more accessible?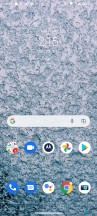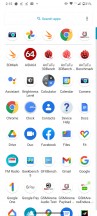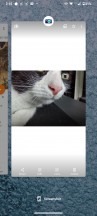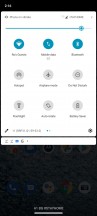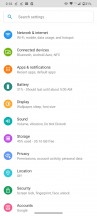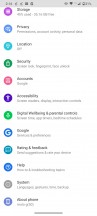 Home screen, recent apps, notification shade, general settings menu
The Gesture section stems back to earlier days of the Moto G series as some of the available screen-off gestures are well-known to the Motorola user. A karate chop motion turns on the flashlight, a twisting motion with the wrist starts up the camera, and a lift to wake gesture seems to be working pretty well in combination with the face unlock. You don't even have to touch the fingerprint reader in most cases when reaching for your device.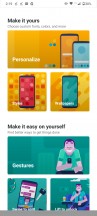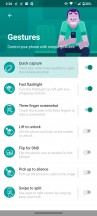 Screen-on and screen-off gestures
This leads us to the display-related features named Peek Display and Attentive Display. The former allows for the lock screen to wake up once the phone detects motion, and it's enabled by default. It would display the clock and notifications. Depending on the settings you choose, you can interact with the said notifications, perform a quick reply, or dismiss the said notification. You just have to tap and hold on to the app icon from the lock screen to interact with the notification.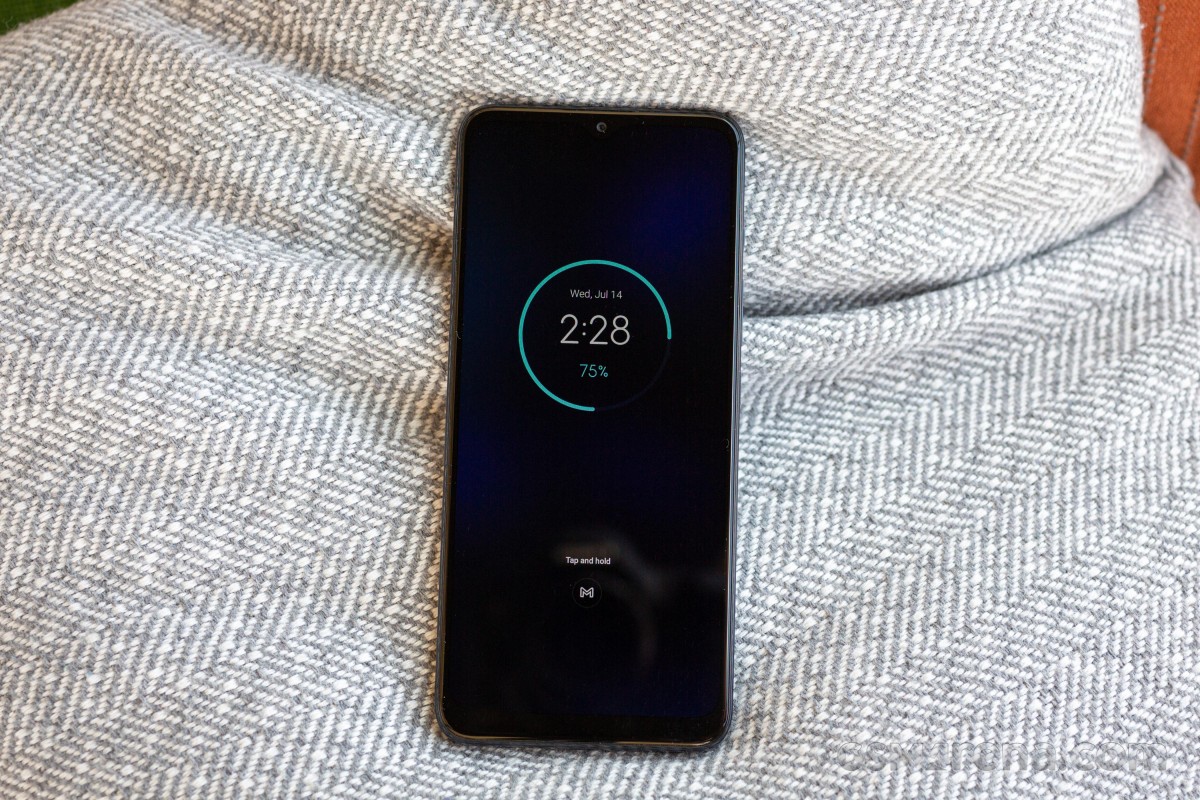 As for Attentive Display, the system uses the front camera to detect your face and keep the display up and running, ignoring the screen timeout timer. It's quite useful when reading long articles, for example, and you've set your screen timeout a bit short.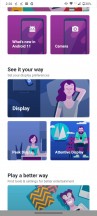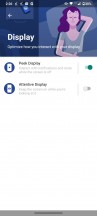 Attentive display and Peek display
Having Android 11 means that some of the basic features from Google's OS are at hand. Even though these features are not Motorola-specific, the company has organized them in a neat way inside the Moto app itself. The slideshow explains the new chat bubbles, the Nearby Share function, the new power menu design, one-time permissions and notification segregation for ongoing conversations in the notification shade.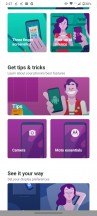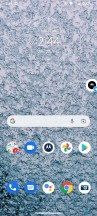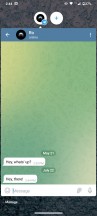 Android 11-specific features, chat bubbles
Arguably the most important feature from the ones above is chat bubbles. You can open up the chats in small, interactive bubbles as an overlay on top of your apps and home screen. Essentially, Messenger's Chat Heads for all messaging apps that support it, which should be pretty much all of them by now.
A rather new feature is the Overcharge protection toggle in the Battery menu, and it's different from the Optimized charging. The latter learns from your charging habits and adjusts the charging curve accordingly, so the battery doesn't spend too much time in a fully charged state before you unplug the device in the morning, for example. The Overcharge protection, on the other hand, will cut off charging once it detects that the phone hasn't been unplugged for 3 days straight. It will then keep the battery charged at a much healthier 80% mark.
Lastly, we can't miss mentioning the fast and responsive fingerprint reader. Even with this low-end chipset, the device unlocks with a light and a brief touch of the scanner. As we've already pointed out in the Design section of the review, our only complaint is the high positioning of the reader.
Otherwise, the OS ran pretty smoothly with no major hiccups. We didn't even notice any big slowdowns except for launching some apps in particular. Perhaps the well-optimized Snapdragon 480 is enough to run Motorola's almost stock take on Android. The UI doesn't feel heavy on the eye, nor does it take a toll on the hardware with excessive effects or animations.
Performance
The Moto G50 proudly carries the Snapdragon 480 5G - a low-end 5G-enabled chipset for the masses built on a modern 8nm manufacturing process. It employs an octa-core CPU that consists of two clusters - 2x Kryo 460 Gold cores (Cortex-A76 derivatives) clocked at 2.0 GHz and 6x Kryo 460 Silver cores (Cortex-A55 derivatives) ticking at 1.8 GHz. The Adreno 619 takes care of the graphically intensive tasks.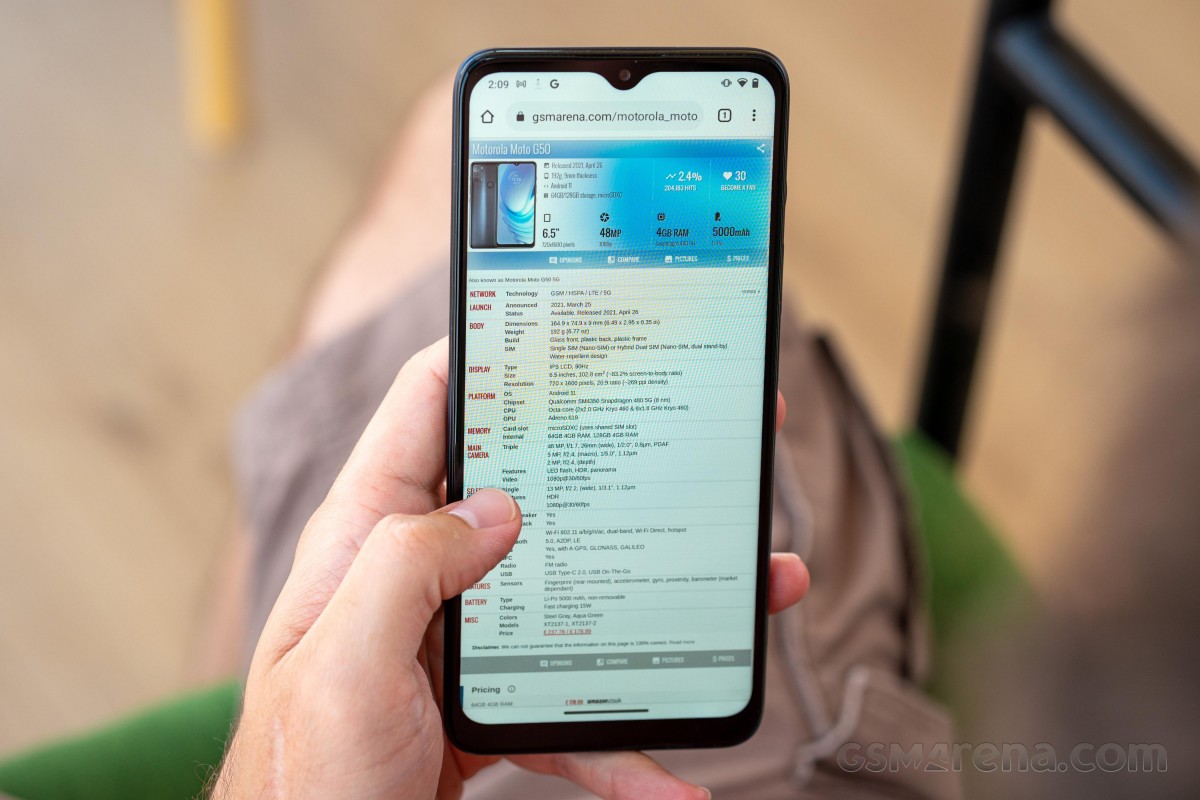 The unit can be configured with either 4GB/64GB memory combo or 4GB/128GB, and in both cases, the storage can be expanded via a microSD card.
And as for the benchmark results, while the Moto G50's scores are rather low, keep in mind that there's nothing inherently wrong with the Snapdragon 480 5G, it's just that this phone competes against considerably more powerful alternatives in the same price bracket.
GeekBench 5 (multi-core)
Higher is better
Poco X3 Pro
2574
Motorola Moto G 5G
1980
Motorola Moto G 5G Plus
1898
Realme 8 5G
1784
Samsung Galaxy A22 5G
1719
Motorola Moto G50
1620
Motorola Moto G10
1139
GeekBench 5 (single-core)
Higher is better
Poco X3 Pro
735
Motorola Moto G 5G
659
Motorola Moto G 5G Plus
589
Realme 8 5G
569
Samsung Galaxy A22 5G
560
Motorola Moto G50
505
Motorola Moto G10
247
AnTuTu 9
Higher is better
Realme 8 5G
361505
Motorola Moto G50
286916
Samsung Galaxy A22 5G
223188
GFX Manhattan ES 3.1 (offscreen 1080p)
Higher is better
Poco X3 Pro
75
Motorola Moto G 5G
34
Motorola Moto G 5G Plus
33
Motorola Moto G50
29
Realme 8 5G
25
Samsung Galaxy A22 5G
24
Motorola Moto G10
9.4
GFX Manhattan ES 3.1 (onscreen)
Higher is better
Poco X3 Pro
67
Motorola Moto G50
53
Motorola Moto G 5G
30
Motorola Moto G 5G Plus
29
Realme 8 5G
22
Samsung Galaxy A22 5G
21
Motorola Moto G10
19
GFX Aztek Vulkan High (onscreen)
Higher is better
Poco X3 Pro
27
Motorola Moto G50
20
Motorola Moto G 5G
12
Motorola Moto G 5G Plus
11
Samsung Galaxy A22 5G
7.8
Motorola Moto G10
6.3
GFX Aztek ES 3.1 High (offscreen 1440p)
Higher is better
Poco X3 Pro
17
Motorola Moto G 5G
7.4
Motorola Moto G50
6.4
Samsung Galaxy A22 5G
5.5
Motorola Moto G10
2
The phone does particularly well in onscreen GPU-intensive benchmarks because the low 720p resolution works in the Adreno 619's favor. Fewer pixels to render, higher framerates, whereas other 1080p+ phones with Dimensity 700 SoC struggle to get that framerate up.