6.7-inch waterfall OLED gets bright, not very accurate
The Motorola Edge+ is equipped with a 6.7-inch OLED display that spills over to the sides making it look narrower than the number of pixels suggest - it's, in fact, in a 19.5:9 ratio with a 2340x1080px resolution. That works out to a 385ppi density, which isn't bad, but isn't overly flagshippy either in a world of 1440p displays.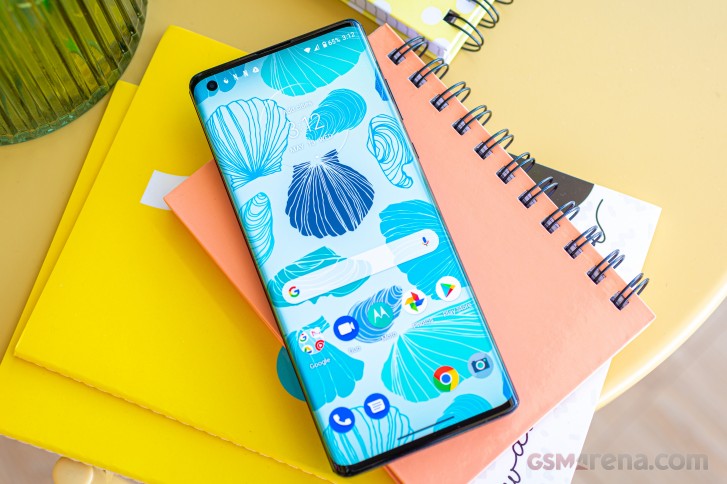 In our brightness measurements we got 422nits out of the Moto Edge+ when adjusting the slider manually and 607nits when shining a bright light at it and leaving the adaptive brightness in charge - a handful of nits above the non-plus Moto, but such minuscule differences can easily be attributed to sample variation.
Top-tier smartphones of the day can push high 800s in auto mode, and the Edge+ is trailing in this regard. Having said that, the other two 'waterfall' displays we've had at the office, the Mate 30 Pro and the vivo NEX 3, aren't quite up to the flat-screen standard either.
Display test
100% brightness
Black,cd/m2
White,cd/m2
Contrast ratio
Motorola Edge+
0
422
∞
Motorola Edge+ (Max Auto)
0
607
∞
Motorola Edge
0
416
∞
Motorola Edge (Max Auto)
0
595
∞
Huawei Mate 30 Pro
0
464
∞
Huawei Mate 30 Pro (Max Auto)
0.028
683
24393:1
vivo NEX 3
0
415
∞
vivo NEX 3 (Max Auto)
0
610
∞
Samsung Galaxy S20+
0
379
∞
Samsung Galaxy S20+ (Max Auto)
0
797
∞
Oppo Find X2 Pro
0
536
∞
Oppo Find X2 Pro (Max Auto)
0
871
∞
Oppo Find X2
0
518
∞
Oppo Find X2 (Max Auto)
0
850
∞
Xiaomi Mi 10 Pro
0
510
∞
Xiaomi Mi 10 Pro (Max Auto)
0
858
∞
Huawei P40 Pro
0
425
∞
Huawei P40 Pro (Max Auto)
0
531
∞
OnePlus 8 Pro
0
538
∞
OnePlus 8 Pro (Max Auto)
0
888
∞
vivo iQOO 3 5G
0
518
∞
vivo iQOO 3 5G (Max Auto)
0
848
∞
LG V60 ThinQ 5G
0
511
∞
LG V60 ThinQ 5G (Max Auto)
0
622
∞
Color reproduction on the Moto Edge+ is handled in the default Android way with a three-way Natural-Boosted-Saturated setting and no fine adjustment options of any sort. The out of the box state is Saturated and that offers a wide color gamut. It has a pronounced blue shift to the whites (to the tune of a deltaE of 8) but a decent average deltaE of 3.7 when examining a set of DCI-P3 test swatches.
Boosted mode bumps the average deltaE to 4.5 for the same swatches and covers a slightly narrower color gamut. Natural mode should be tuned for sRGB content, and it does indeed match that color space with an average deltaE of 3.9, bluish whites (~8), you get the drift.
All of this is in addition to the strong blue shift around the sides of the display, which is an inevitable result of the extreme curvature. Your brain is likely to quickly learn to ignore it in everyday operation, but it's there nonetheless.
The Motorola Edge+ is HDR10+ certified. The most easily accessible source of HDR10+ content is Amazon Prime Video and we did see an HDR icon next to compatible titles. The same goes for YouTube and HDR content there and with both sources, you can see the phone shift its display color reproduction when you play an HDR video. It actually even fixes the cold blue shift of the whites in this state - so it can be done, just not by yourself in settings.
Netflix, on the other hand, wouldn't serve our review unit HDR of any sort, with the HDR support field in the app's playback specification page showing a discouraging 'None'. That's not overly surprising since the supported devices page on the Netflix website doesn't list the Edge+ or any other Moto for that matter. That could, of course, be resolved in the future. The phone does cover the required Widevine L1 for DRM so it's up to Netflix.
Motorola Edge+ battery life
The Motorola Edge+ is powered by a 5,000mAh battery - quite the sizeable capacity. The Galaxy S20 Ultra does have the same capacity, but the Mi 10 Pro and the OnePlus 8 Pro are in the 4,500mAh ballpark, while the Find X2 Pro and the P40 Pro pack the least amount of juice at 4,200mAh or thereabout.
The Moto is quite frugal with it too, and we clocked some impressive numbers. Offline video playback worked out to over 20 hours, while Wi-Fi web browsing took fourteen and a half hours to deplete a full battery. Some 38+ hours of voice calls are more than plenty as well. Standby performance wasn't as great, but even so, the Motorola Edge+ posted a class-leading Endurance rating of 100 hours.
That's with the display set at 90Hz (a setting which the phone does observe in both web browsing and video playback). We measured no appreciable difference in battery life when setting it at 60Hz.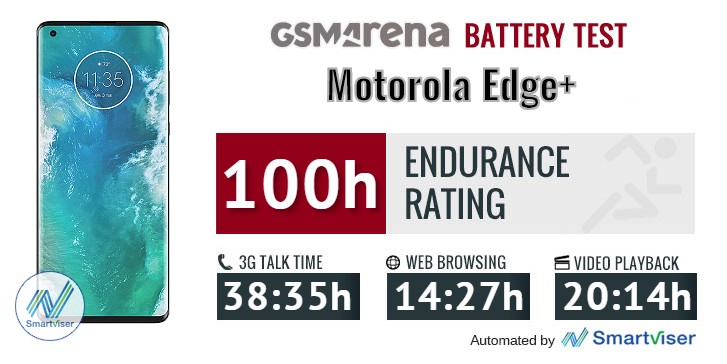 Our battery tests were automated thanks to SmartViser, using its viSer App. The endurance rating above denotes how long a single battery charge will last you if you use the Motorola Edge+ for an hour each of telephony, web browsing, and video playback daily. We've established this usage pattern so that our battery results are comparable across devices in the most common day-to-day tasks. The battery testing procedure is described in detail in case you're interested in the nitty-gritty. You can check out our complete battery test table, where you can see how all of the smartphones we've tested will compare under your own typical use.
What's nowhere as impressive - disappointing, in fact - is the charging speed, though it was to be expected from the 18W charger. Still, the 30% in half an hour and 2:37h to a full charge aren't numbers befitting a 2020 flagship smartphone. It is a big battery, admittedly, but faster charging solutions do exist too. The Galaxy S20 Ultra takes just under an hour to a full charge (with the bundled 25W brick), the Mi 10 Pro and P40 Pro need 50 minutes for that, while the Find X2 Pro does it in just 36 minute. The 30-minute results on these are similarly way better than on the Moto.
Speaker test
The Motorola Edge+ has a stereo speaker system with a fairly conventional configuration - there's a main driver that fires out the bottom and the earpiece doubles as a second speaker. The earpiece gets the left channel in portrait orientation, and it switches if need be to match the correct direction in landscape.
The speakers have been allegedly tuned by a company called Waves with the goal of providing class-leading loudness and output quality.
The Edge+ earned a Very Good score in our speaker loudness testing, matching the scores of the Mi 10 Pro, OnePlus 8 Pro, and Galaxy S20 Ultra.
It also delivers reasonable sound quality - we can safely call it Above average if not better - it's all a bit too subjective. But we feel there's hardly any punch in the lower register, and the highs come out a bit harsh. It's okay, but it's no Mi 10 Pro or iPhone 11 Pro.
Use the Playback controls to listen to the phone sample recordings (best use headphones). We measure the average loudness of the speakers in LUFS. A lower absolute value means a louder sound. A look at the frequency response chart will tell you how far off the ideal "0db" flat line is the reproduction of the bass, treble, and mid frequencies. You can add more phones to compare how they differ. The scores and ratings are not comparable with our older loudspeaker test. Learn more about how we test here.
Audio output quality
We've recently discontinued our audio output quality test.
The reason for that is that most phones that arrived for testing were already excellent in this regard and whatever difference there was, it was marginal and probably indistinguishable to anything but our lab equipment.