Nothing less, nothing more
Moto Z2 Force review: Nothing less, nothing more
Display
The Moto Z2 Force's display is pretty much unchanged since the previous iterations of the Moto Z. It's a 5.5-inch OLED display with the standard 16:9 aspect ratio. The display is about 10% brighter than the Moto Z and 8% brighter than the Moto Z Force. The use of an OLED display is a no-brainer for power efficiency features like Moto Display, which only powers the pixels that are being shown.
The Z2 Force also features Moto's ShatterShield, which is Motorola's branded term for being shatter proof. Instead of using any type of Gorilla Glass (or any glass, for that matter), the Moto Z2 Force uses a plastic-based lens.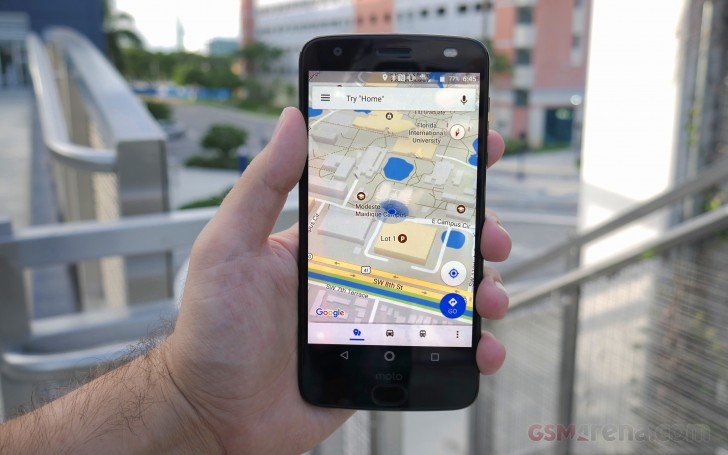 The tradeoff, however, is that you never need to worry about the Z2 Force's display cracking or splitting. Motorola even had a drop station at the launch event where Moto reps were dropping the Z2 Force on patio tiles. Still, we'd only used the Moto Z2 Force for a couple of days when we noticed a couple of deep marks already in the display's lens. Motorola offered factory screen lens replacements for a couple of its other ShatterShield devices, but has since discontinued them for the Z2 Force due to lack of awareness. Motorola should have included a free protector with a note that they can be purchased from Motorola's website or a carrier store instead of passing the responsibility on to the customer.
In addition to very light scratches, there were indentations in the screen. Moderately pressing a fingernail into the display will also result in a permanent marking: This definitely should never be a characteristic of a smartphone of this price range. Do get a screen protector of some kind to protect the Z2 Force's display. We'd even recommend you apply it as soon as you pull it out of the box.
Display test
100% brightness
Black, cd/m2
White, cd/m2
Contrast ratio
Apple iPhone 7 Plus (max auto)
0.50
681
1362
Samsung Galaxy S8 Max auto
0
618
∞
HTC U11 (Max Auto)
0.373
583
1563
Apple iPhone 7 Plus
0.41
573
1398
Motorola Moto Z2 Force (Max Auto)
0
559
∞
Huawei P10 Plus
0.335
547
1633
Lenovo Moto Z Force Droid (max auto)
0.00
517
∞
Lenovo Moto Z max auto
0.00
506
∞
HTC U11
0.308
483
1568
Google Pixel
0.00
445
∞
Samsung Galaxy S8
0
440
∞
OnePlus 5
0
435
∞
Google Pixel XL
0
432
∞
Motorola Moto Z2 Force
0
376
∞
Lenovo Moto Z
0.00
371
∞
Lenovo Moto Z Force Droid
0.00
352
∞
The display's brightness tops off at 376 nits when manually adjusted. However, when in Adaptive mode, the display is able to crank out up to 559 nits, which is bright enough for comfortable use outdoors. Otherwise, the phone's display is able to get as dim as 7 nits, which is about average.
We do wish that Motorola took more time to correctly calibrate this display. On our review unit, in standard mode, we found an average deltaE of 5. Whites appear cooler than they should and colors were a bit oversaturated, a typical result of an OLED panel.
There is also a standard mode which does tone the colors down a bit and is typically selected for more accurate use of the screen, such as when adjusting photos. This mode is sometimes called sRGB, as well. Anyway, the average deltaE of this mode was a little lower at 3.8, but the reds, ironically, are even further from accuracy with a max deltaE of 11.2 when displaying the reds, so while in vibrant mode, reds were too saturated, in standard mode, reds are too dark.
This means, if you are a photographer or a graphics designer and you are nitpicky with color accuracy, you might want to look elsewhere. Otherwise, this isn't a deal breaker for the casual smartphone user, so don't take inaccurate reds to heart when making a decision.
Connectivity
Motorola boasted that the Moto Z2 Force supports 1Gbps download speeds thanks to the Snapdragon 835's X16 modem. While there aren't many areas that will support the download speeds just yet, T-Mobile and Verizon have already shown us they are working toward this in the US. Under usual conditions, you can expect speeds between 100-300 Mbps.
The Moto Z2 Force is compatible with CDMA and GSM networks (market dependent). You can expect Quad-band GSM: 850 / 900 / 1800 / 1900, HSPA+ 850 / 900 / 1900 / 2100, (worldwide) LTE bands: 1, 2, 3, 4, 5, 7, 8, 12, 13, 17, 20, 25, 26, 28, and 66.
Other connectivity options include: Wi-Fi a/b/g/n (2.4GHz) + ac (5GHz MIMO), Bluetooth 4.2 (A2DP, EDR, LE) with Bluetooth 5.0 arriving in a future software update. A-GPS, Wi-Fi Direct, Android Beam, and NFC with support for tap-to-pay services.
It's worth mentioning that the NFC radio on this thing has a really strong signal. Merely putting the phone next to another one will engage NFC. No more hunting for the antenna for an Android Pay transaction to go through.
The Moto Z2 Force has a USB-C port where audio is also streamed through (with the included 3.5mm to USB-C headphone adapter). If you were looking for a built-in FM radio, sorry. You won't find one here.
Battery Life
The battery situation is strange on the Moto Z2 Force. You see, last year the Moto Z had two trims: the Moto Z and Moto Z Force; the latter of the two was a Verizon-exclusive version, but it also had a 35% larger battery pack (3,500 mAh) than the standard Moto Z (2,600 mAh). And the Moto Z had terrible battery life.
This time around things are different. The battery in the Z2 Force is 2,730 mAh, and there is no version with a larger power pack. However, the battery scores are quite interesting.
The Moto Z2 Force scored a higher-than-expected Endurance rating of 69h overall. By contrast, the Moto Z scored 53h, overall, in our endurance tests. There are significant improvements across the board in terms of battery endurance, despite the incremental battery update. The call endurance time was 40% better at 15:04h, web browsing saw a 58% increase in score at 9:52h, and video playback was the most improved category with a 71% improvement, yielding a score of 18:21h.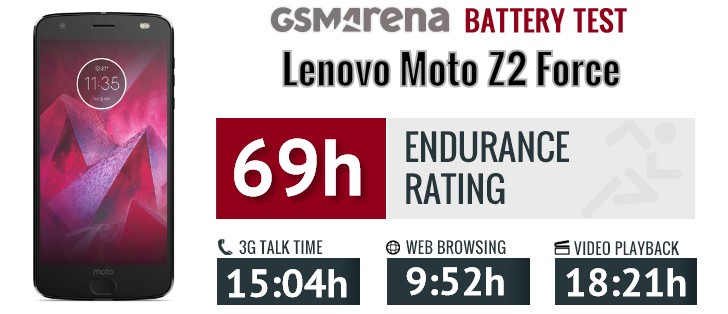 The numbers were so unexpected, we had to run the endurance tests multiple times. However, where the numbers didn't see as big of a change was in standby times. While the Snapdragon 835 yields much longer usage time, it also yields a higher battery draw, which weighed the overall scored down to 69h. Regardless of the standby time, our expectations were still surpassed in terms of battery endurance.
You can quickly glance at the phone's projected battery life by tapping on the battery icon in the Quick Settings and there's even a toggle for the battery saver. There's a shortcut to the battery settings screen, too. Here, you can view battery statistics and set the Battery saver to come on automatically or never.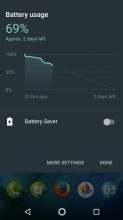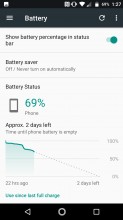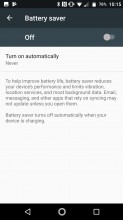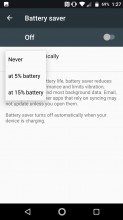 Battery Quick setting • Battery options • Battery saver
The battery charger has received an update. In addition to now being a separate piece from the cable, the included wall adapter uses three power modes: 5V @ 3A (15W), 9V @ 1.6V (14.4W), and 12V at 1.2A (14.4W). The previous TurboPower adapter only supported the first power mode: 5V @ 3A, which is USB PD (Power Delivery) -- the same fast-charge method as found on the Google Pixel.
The difference is that the new TurboPower adapter is also compatible with Qualcomm Quick Charge 2.0 devices. This also means Moto Z2 Force is compatible with both Quick Charge 2.0 adapters and USB Power Delivery adapters, we applaud Moto for using dual fast-charging standards. The TurboPower charger brought the Moto Z2 Force to 60% power capacity in 30 minutes.
Our endurance rating denotes how long a single battery charge will last you if you use the Moto Z2 Force for an hour each of telephony, web browsing, and video playback daily. We've established this usage pattern so our battery results are comparable across devices in the most common day-to-day tasks. The battery testing procedure is described in detail in case you're interested in the nitty-gritties. You can also check out our complete battery test table, where you can see how all of the smartphones we've tested will compare under your own typical use.