IPS LCD with a punch-hole
The Moto G Pro features a relatively compact by today's standards 6.4-inch display fitting a tall 1080 x 2300px resolution. The also features a small punch-hole in the upper-left corner housing the front-facing camera. It's one of the smallest cutouts we've seen but it's mostly due to the fact that Motorola used a tiny 1/3.06" sensor to begin with.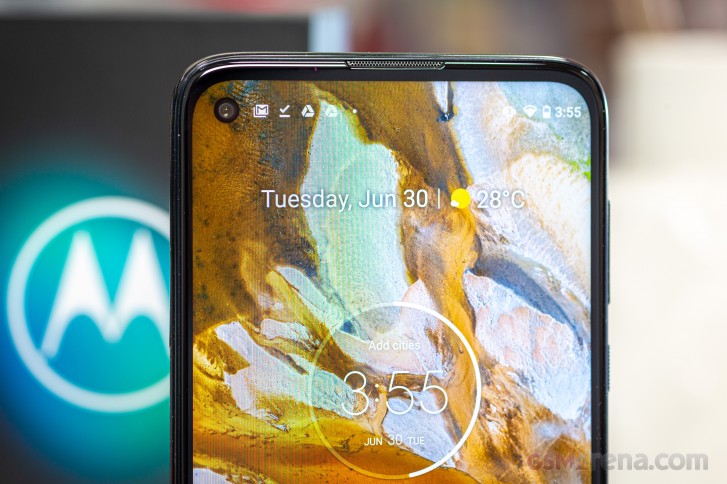 The maximum brightness is good. In manual mode, the display peaks at 421 nits and in auto mode, the panel can reach as high as 642 nits - enough to provide comfortable viewing experience even in bright sunlight.
Display test
100% brightness
Black,cd/m2
White,cd/m2
Contrast ratio
Motorola Moto G Pro
0.296
421
1422:1
Motorola Moto G Pro (Max Auto)
0.452
642
1420:1
Xiaomi Mi 10 Lite 5G
0
442
∞
Xiaomi Mi 10 Lite 5G (Max Auto)
0
610
∞
Xiaomi Mi Note 10 Lite
0
424
∞
Xiaomi Mi Note 10 Lite (Max Auto)
0
596
∞
Realme 6
0.343
451
1315:1
Realme 6 Pro
0.318
421
1324:1
Motorola One Fusion+
0.319
454
1423:1
Motorola One Fusion+ (Max Auto)
0.4
562
1405:1
Motorola One Zoom
0
494
∞
Motorola One Zoom (Max Auto)
0
690
∞
Color accuracy, on the other hand, isn't its strongest suit. In its default Saturated mode, the average dE2000 is 6.3 with pronounced blue-ish whites and grays. Switching to Natural mode, which is supposed to be the most accurate of them all delivers an average dE2000 of 5.8.
Battery life
The Moto G Pro sports a 4,000 mAh battery, which would have been enough by 2018 standards but today, the battery capacity of most competitors exceeds the 4,000 mAh mark already. And that's probably part of the reason why the phone didn't score great in our tests. In particular, the screen-on tests aren't impressive while the talk and standby times are just about right.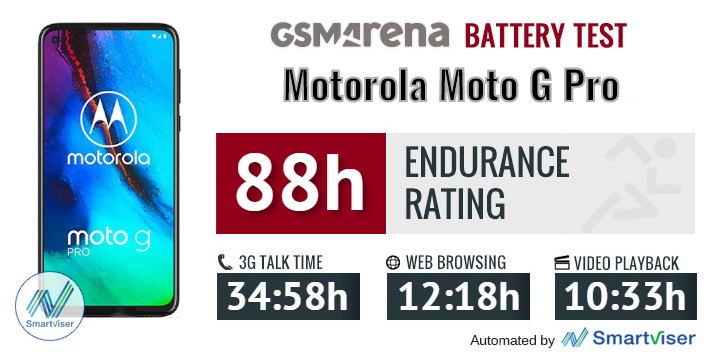 Our battery tests were automated thanks to SmartViser, using its viSerDevice app. The endurance rating above denotes how long a single battery charge will last you if you use the Motorola Moto G Pro for an hour each of telephony, web browsing, and video playback daily. We've established this usage pattern so that our battery results are comparable across devices in the most common day-to-day tasks. The battery testing procedure is described in detail in case you're interested in the nitty-gritty. You can check out our complete battery test table, where you can see how all of the smartphones we've tested will compare under your own typical use.
Charging speed isn't particularly impressive either. With the included 15W charger, the phone replenished just 36% of its battery in 30 minutes. A full charge takes approximately 1 hour and 55 minutes.
Speaker test
The phone carries a set of loud stereo speakers - one positioned at the bottom and another one that doubles as an earpiece. The loudness of both speakers seems to be well-balanced and vocals sound clear but the bass is virtually non-existent. We weren't expecting great bass anyway, so we are just happy to see stereo loudspeakers on this budget phone.
Use the Playback controls to listen to the phone sample recordings (best use headphones). We measure the average loudness of the speakers in LUFS. A lower absolute value means a louder sound. A look at the frequency response chart will tell you how far off the ideal "0db" flat line is the reproduction of the bass, treble, and mid frequencies. You can add more phones to compare how they differ. The scores and ratings are not comparable with our older loudspeaker test. Learn more about how we test here.
Audio output quality
We've recently discontinued our audio output quality test.
The reason for that is that most phones that arrived for testing were already excellent in this regard and whatever difference there was, it was marginal and probably indistinguishable to anything but our lab equipment.